Tripod Heads
What most people call a tripod is actually a combination of two parts - 1) the three legs and centre-column plus 2) the tripod head.
Both parts are normally bought separately.
There are primarily three types of heads...
1. Pan-tilt head
This head is normally used by video photographers and very seldom by wildlife photographers.
It is also called a 3-way pan-tilt head because you can pan it left and right, tilt it forwards and backwards and tilt it to the side. (You also get 2-way heads with just panning and forward/back tilt).
A separate twist handle is used to unlock, move and lock each movement making it a cumbersome, bulky and heavy head.
These handles also tend to get in the way as they stick out and tend to catch on clothing and on other items.
We know of just one professional wildlife photographer who uses this head, namely Nigel Dennis
2. Ball Heads
Ball heads are lighter, smaller, and quicker to use than pan-tilt heads. You can compose an image with one motion and lock the camera with a single control. This makes them ideal for nature photography.
It's also easier to carry and backpack a tripod with a lighter ball head because it doesn't weigh as much or have the protruding handles that a pan-tilt head has.
The best heads are manufactured by Kirk, Really Right Stuff and Arca Swiss...
but they can be expensive. If price is an issue then we suggest you look at the Manfrotto ball heads.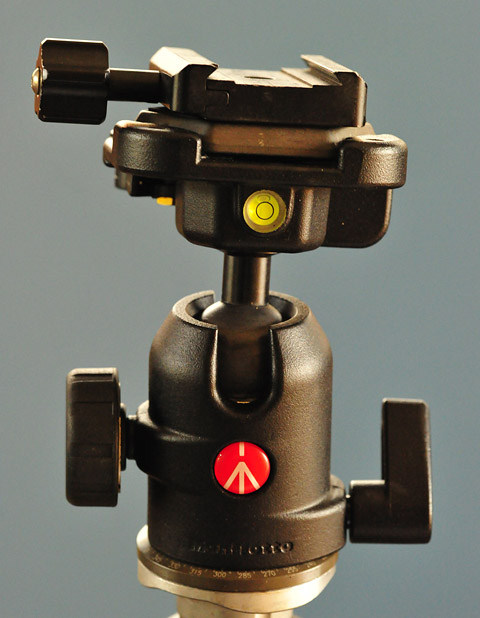 3. Gimbal Tripod Heads
Gimbal tripod heads allow you to mount large, heavy lenses and camera bodies so that they are perfectly balanced on their centers of gravity.
With a camera and lens, such as a Nikon D3S and Nikon 600mm f4, mounted on a gimbal head this whole combination of more that seven kilograms feels weightless!
You are able to effortlessly follow moving subjects (pan and tilt combined in an arc) using one or two fingers if you so desire!
Wimberly Sidekick tripod head
We have an Arca-Swiss B1 ball-head that we mount the Wimberley sidekick onto. The sidekick is used with either the Nikon 200-400 or 80-400mm lenses...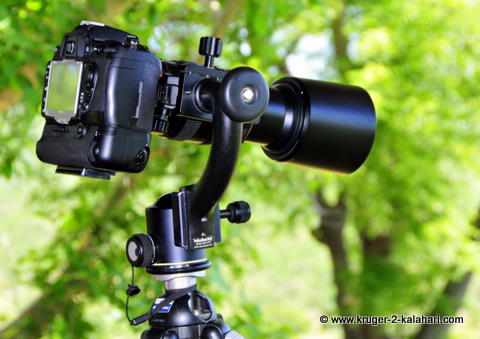 The sidekick has been designed for use with lenses up to 300mm f2.8 or even 500mm f4 and 200-400 f4 but for 400mm f2.8 and 600mm f4 lenses you need to look at the Wimberley head or the two cheaper alternatives: the Manfrotto gimbal head or tha Benro gimbal head GH-2.
Manfrotto 393 Gimbal Head (or Bogen 3421 as it is known in the USA)
I want to assure you that this head has proven to be more than just another 'poor man's Wimberley'! It is solid, well built, smooth in operation, and the lens stays exactly where you point it, no matter the angle, down or up...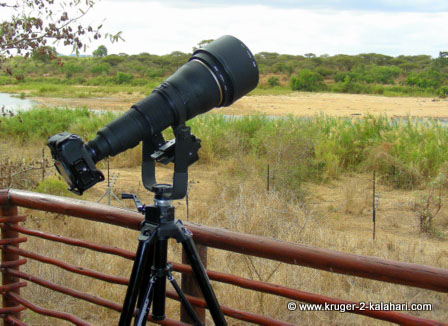 Some people criticize this head yet they have never even owned one. Wimberley heads are very good but not everyone can afford a Wimberley head (the Manfrotto 393 costs 300% less than the Wimberley) and not everyone wants the Wimberley. Some people have had stability issues with their Manfrotto head as the head can wobble a bit if you do not tighten the panning base. (Actually, ALL heads should be tightly screwed onto the tripod to ensure that the head doesn't loosen – that is why Manfrotto tripods have 3 small screws on the centre column plate that you should screw up into the head to hold it fast.
Many people do not use this feature and wonder why their heads are not stable). For the Manfrotto gimbal head all you need is an Allen key or screwdriver to loosen or lock the neck and panning knob.
This photograph shows the two holes - one tightens the gimbal head onto the tripod while the other is for the panning resistance...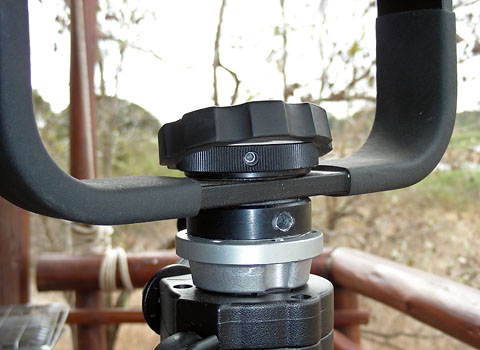 You need to tighten the panning knob (like you need to tighten the two side knobs on the U-frame) to ensure the right resistance for the weight of your lens and camera and for your panning. The Wimberley works in a similar way where you have to tighten or loosen the two knobs to ensure optimum resistance for your photo gear.
The only difference is that with the Manfrotto you need a screwdriver or Allen key to get the right resistance. I asked our local hardware dealer to make me two Allen keys...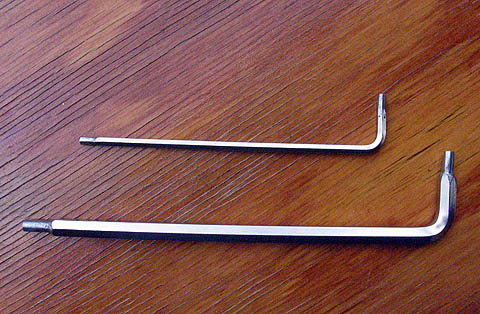 Benro Gimbal Head GH-2.
This head costs nearly half the price of the Wimberley head - not as cheap as the Manfrotto but reasonably-priced for those who want a head that takes up less room than the wider Manfrotto gimbal head.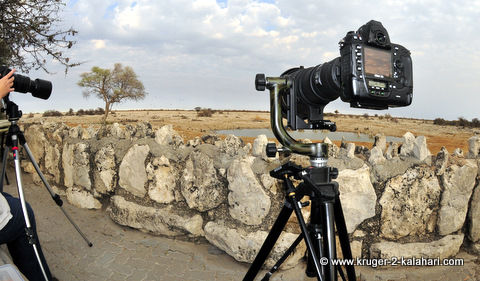 I like this tripod head especially if I want to use my window-pod, as the Manfrotto head takes up too much window space while this Benro head is half the width and therefore doesn't interfere with my view or flash placement.
The Benro knobs are not as precise as the Wimberley head so it takes a bit of loosening and tightening to get the perfect feel for panning.
---
Return from Tripod Heads to Nature Photo Gear page
---
---

To make a safari rental booking in South Africa, Botswana or Namibia click here
---