Quick Release Clamps
Quick release clamps and plates were designed to provide photographers with a quick and easy way to mount their cameras onto tripods.The quick release (QR) clamp could be built onto the tripod head or you may have to attach a separaet QR clamp to your tripod head.
Then you attach the relevant plate to your lens foot...
or to your camera body...
Mounting is easy - you simply slide the plate (on the lens foot or camera body) into the clamp on the tripod head and then tighten the knob. Removing the camera and lens is the reverse - loosen the knob and slide or lift the camera out!
There are two types of quick release systems...
The Manfrotto (Bogen in the USA) System
Manfrotto has a lever-operated clamp with hexagonal plates...
Because the plate is hexagonal it is not so easy to just slip the camera onto the clamp as you need to ensure the edges match. Sometimes you will get it right first-time while other times you will fiddle around for a few seconds.
Gitzo also makes a lever-operated clamp but the plate is square. Gitzo is good quality but a bit too expensive for us.
The Arca-Swiss System
The Arca-Swiss clamp has a channel with "jaws" that can be closed and tightened with the turn of a knob. The lens foot-plate dovetails into the clamp for a very quick and secure fit...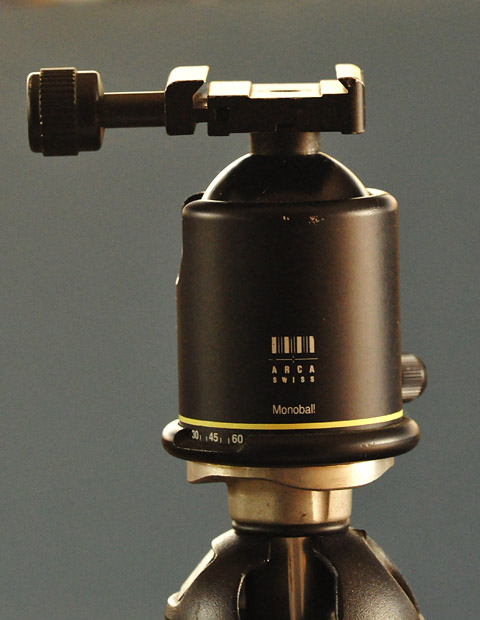 You can easily add an Arca Swiss clamp to these hexagonal plates...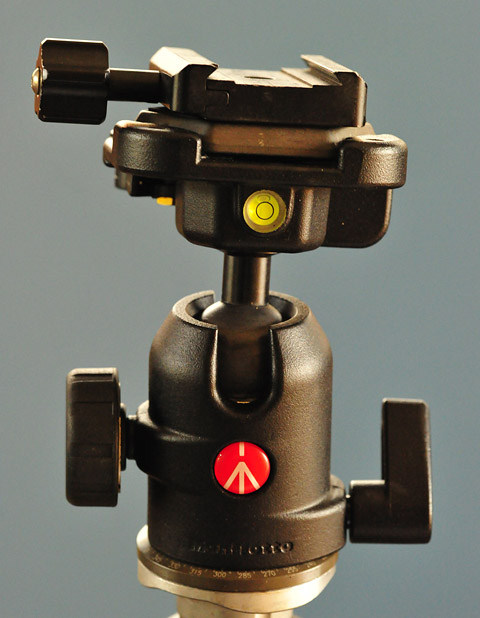 and square plates...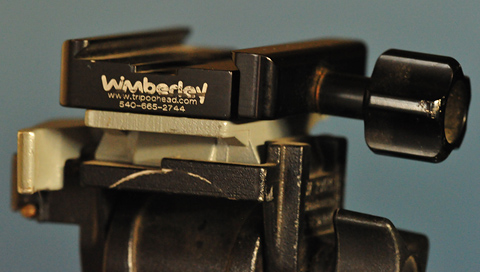 Please ensure that the clamp and plate are very tight as you now have extra connections that can come loose.
These Arca Swiss clamps and plates are manufactured by Kirk, Really Right Stuff and Wimberley.
They are very good quality and have some nice features such as stopper screws on each end of the lens plates to prevent your camera and lens falling out the head should the clamp loosen...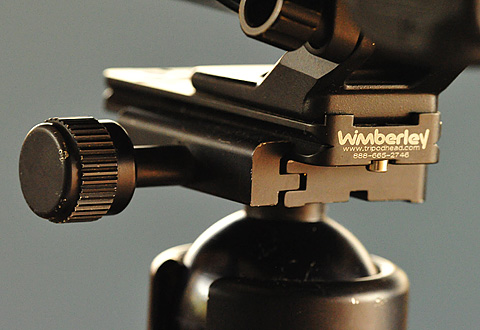 You are also able to slide the plate backwards and forwards to get optimal balance for gimbal heads and macro photography and some plates have extra space for you to attach flash brackets.
Our advice for you when purchasing:
- Get a bigger tripod head than what you currently need. We have sold a few heads as they were too small for our new heavier bodies and lenses.
- The same goes for the lens foot plate - get one a bit longer than you need, especially if you are using a gimbal head where you have to move the camera and lens backwards and forwards to get optimal balance.
You'll see in the above photograph that our QR plate is about an inch longer than the lens foot.
Both the Wimberly and Benro gimbal heads come with Arca Swiss QR clamps.
---
Return from Quick Release Clamps to Nature Photo Gear page
---
---

To make a safari rental booking in South Africa, Botswana or Namibia click here
---