Photography in Durban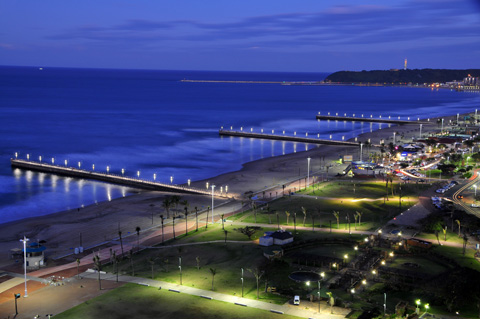 Many overseas visitors to South Africa stay in Durban for a few days before going to the Big-five game reserves on their photo safari.
We suggest you don't pack your cameras away as there are many opportunities for you to practice in Durban before you get to the national parks.
We stayed at the Maharani Hotel in July 2011 and we got some great shots.
We had just interviewed Freeman Patterson and one of his suggestions for photographers wanting to improve their vision was for them to stand in one spot and then see how many different photographs they could get in order to stimulate their creativity and vision. This was our opportunity to try out Freeman's suggestion.
Here are some of the images we made over a few days from just one hotel window...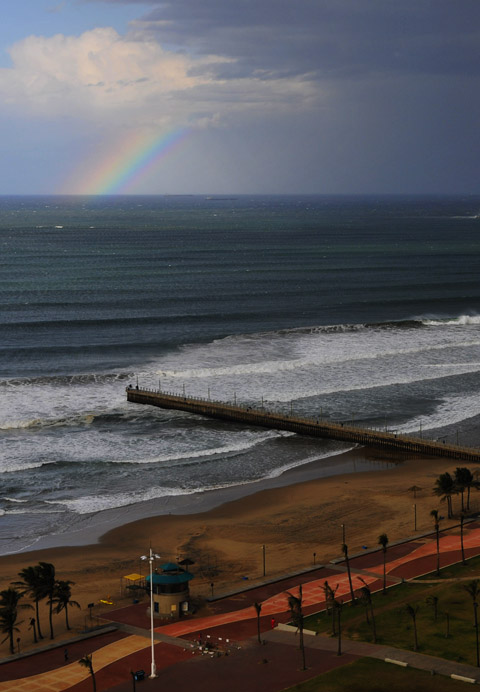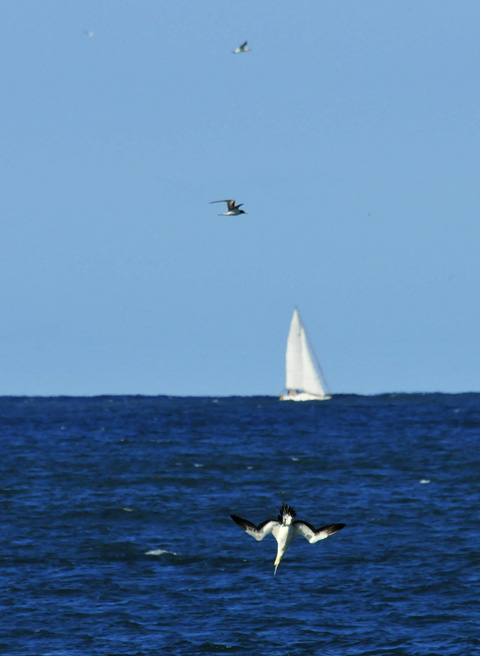 Every year, around July, millions of sardines travel northwards up the east coast past Durban in giant shoals up to 20 kilometers long with sharks, dolphins and gannets in pursuit.
Fortunately we saw the header shoal arrive and that is the image below with hundreds of people on the beach catching the sardines...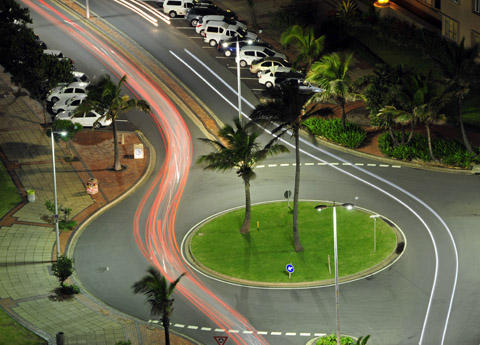 Photography in Durban - our photo gear
We had the following photo equipment:
• Nikon D300
• Nikon 18-200 VR lens
• Nikon 80-400 VR lens
• Small tripod
• Combination Warm Polarizing filter with Neutral Density filter
• Reverse graduated neutral density filter
• Remote cord (cable-release)
Our tripod was not tall enough so we had to improvise and use some of the furniture...
We just had to make sure the wind didn't blow the camera over!
When shooting surfers with her lens handheld from the pier, Jenny braced herself against the rails...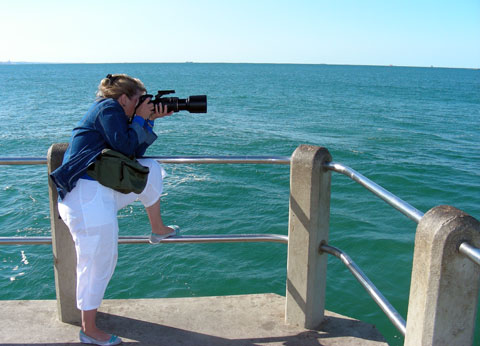 Please clean your lenses and filters every day - the salt will coat your gear even when shooting from the hotel.
Photography in Durban - Other Hotels
In addition to the Maharani Hotel we can recommend the Elangeni Hotel (right next door to the Maharani) and also the Oyster Box Hotel in Umhlanga Rocks for good views and good photographic opportunities - the food and service, however, at the Oyster Box leaves much to be desired!
The Oyster Box Hotel is a 5-star hotel yet we had to wait nearly an hour for our meal, when it arrived one order was wrong the other two meals were cold - not a good experience.
The excuse from the manager "the air-conditioning is too cold and therefore makes the food cold"!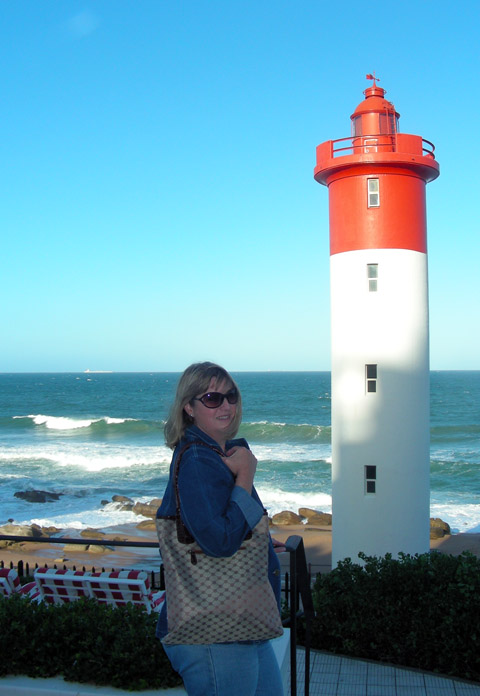 We also stayed at the Suncoast Hotel and Casino but the rooms do not provide a good view of the sea (palm trees block the view of many rooms) and the rooms do not have a nice layout - the bed faces the bathroom and toilet while the bed at the Maharani faced the window that looked onto the sea - that's what I call a sea-view, especially from the 21st floor!
On a more recent trip we stayed in Ballito and can highly recommend Zimbali View Eco GuesthouseThey provide delicious breakfasts, great service and the views of the sea are stunning. I stayed there for three nights and saw the dolphins twice.
If you want dinner there is a superb Indian restaurant not even a kilometer from them called Thava Indian Restaurant, located in The Boathouse Hotel.
I slept at Zimbali each night (they are the top-rated B&B in Ballito and rightly deserve this ranking!) and did training at the Boathouse each day so I sampled most of the Thava curries at lunch and dinner times - all meals were great!
The Boathouse is close to the sea but does not have the grand views that Zimbali has as Zimbali is perched high up on a ridge.
On the way to Durban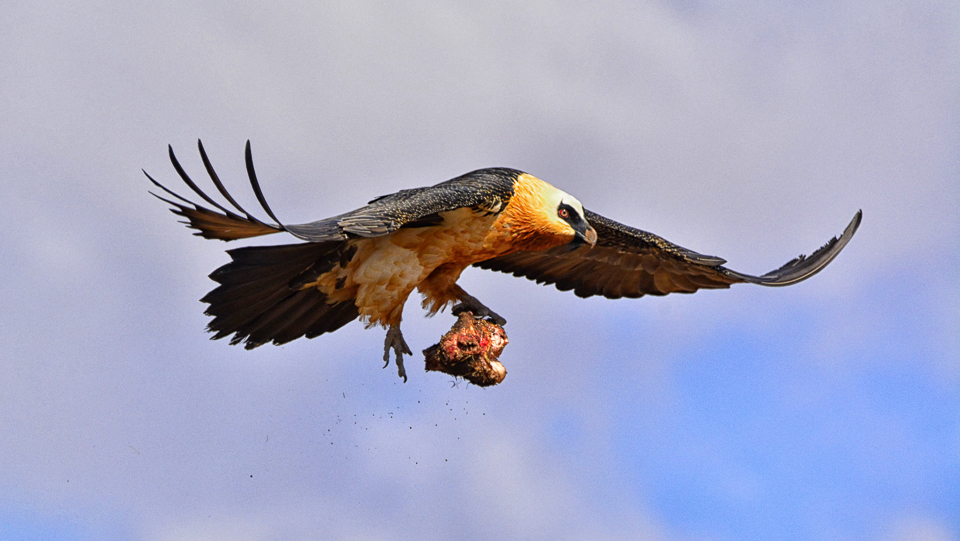 About halfway between Johannesburg and Durban there is an amazing lodge in the Drakensberg Mountains called Witsieshoek. Here you will be able to photograph the rare Lammergeier or bearded vulture as it is also known.
You can read more about Witsieshoek on our trip report page.
Safety Advice
We saw a lot of police activity on the beachfront - there were police officers on foot, in cars, and on horses so we felt safe when walking from the hotel to the piers to photograph the birds on the sardine run.
We don't suggest you advertise the fact that you have cameras so rather keep your cameras in their bags and take them out only when you are on the pier.
We saw a few police vehicles at night patrolling the bachfront but we don't recommend night walks. Rather stay in the hotel or drive to your destination.
We felt very safe at the Southern Sun North Beach. There is 24-hour security at the front and at the rear of the hotel but some other hotels in Durban do not have such good security as you will see from this Sunday Tribune article where a lady was robbed in her hotel room in the Blue Waters Hotel.
This is the third robbery that we know of in the Blue Waters Hotel in a 12-month period!
Bryan, a pensioner and resident at the hotel for 8 years was robbed a few months before the lady above had her ordeal. Bryan could see the hotel was not really interested in their horrific ordeals so he told them he was going to release this 2-page Press Release detailing these terrible incidents and instead of discussing the solution with him, management evicted him!
(The 2-page press release forms part of Bryan's new book 'A Bridge Too Far' that will be published as an eBook so watch this space!)
If management had implemented some form of security after the first robbery, these last two robberies (that we know of) may have been prevented.
When I walked in the Blue Waters Hotel one evening (in 2011) at about 21h30 there was no security guard, no receptionist - not one person in sight! Soft target for criminals I would say!
---
So as you will see from the above photographs there are many good opportunities for you to practice before you get to your safari destination - the last thing you want is to be fiddling with camera controls and filters while your once-in-a-lifetime photo opportunity fades away!
Make sure you are familiar with your photo gear before reaching the national parks by using every opportunity you get and photography in Durban provides this.
---
Return from Photography in Durban to Practice Makes Perfect page
---
---

To make a safari rental booking in South Africa, Botswana or Namibia click here
---