Photographic Accessories
There are many photographic accessories to choose from – here we list the ones that have been indispensible to us on our wildlife safaris.
Right-angle viewing attachment – this has proved to be indispensible, especially when shooting at ground level or when shooting something above you in a tree while you are in a vehicle without a sunroof.
Some cameras, such as the Nikon D5000, have Vari-angle monitors that provide right-angle viewing but the D5000 body does not have a motor, which means your lenses, if you want autofocus, will all need to have motors.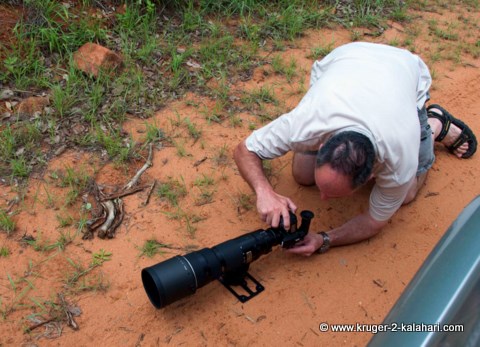 When it comes to photographic accessories, flashes must be the most important for both day-light fill and for nocturnal photography.
the Flash – We have one Nikon SB 800 flash and two SB 900 flashes – these are powerful flashes that provide the light for us when shooting in camps at night or fill-flash for daylight.
The "Better Beamer" Walt Anderson Flash Extender – this accessory enables you to increase your flash output by 2 to 3 stops with lenses of 300mm and longer. It is small, light, folds flat and takes just a few seconds to fit onto the flash.
RRS Flash Brackets – These brackets fit snugly around the lens allowing the flash to be positioned at different points along the arm.
TTL Remote cord – this enables the flash to be mounted off the camera body to avoid red eye.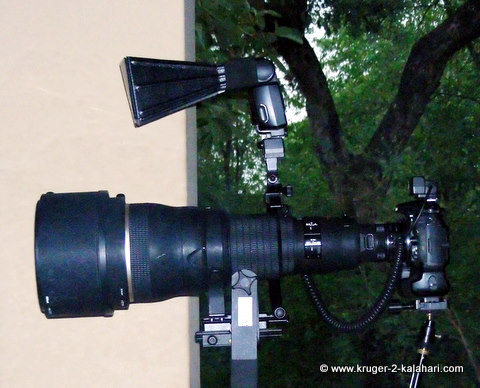 Filters – we use UV or skylight filters for protection on the smaller lenses and a polarizer to reduce glare from water or to enhance colors. We also use split neutral density filters for landscapes. We used to use warming filters but Photoshop is able to replicate these results quite easily and you can set the saturation in-camera.
Cable release – this is a crucial accessory when shooting long exposures from a few seconds to star trails of a few hours.
Spirit level – most tripods come standard with a built-in spirit level as it is important to keep the horizon level in your pictures but what do you do when shooting from a car? You use a Kaiser Duplex Double Bubble Spirit Level of course! This item fits in the flash-shoe of your camera and is useable in both portrait and landscape modes.

Battery Grip – The Nikon MB-D10 Multi-Power Battery Grip allows the use of a EN-EL4a Rechargeable Lithium-Ion Battery that lasts much longer than the standard EN-EL3e battery and enables shooting of up to eight frames per second
Extension tubes – these accessories are great for either macro work or when we need to focus even closer with our long telephoto lenses.
'L' Plate – these plates are manufactured by RRS (Really Right Stuff) and Kirk and are available for most popular camera makes and models. By mounting the L-plate, camera bodies can be clamped in either horizontal or vertical format. You don't need to flop the ball-head's stem over into the drop-notch for vertical. To swap from one mounting orientation to another, you simply remove from the clamp, rotate, and re-mount – it's as easy as that.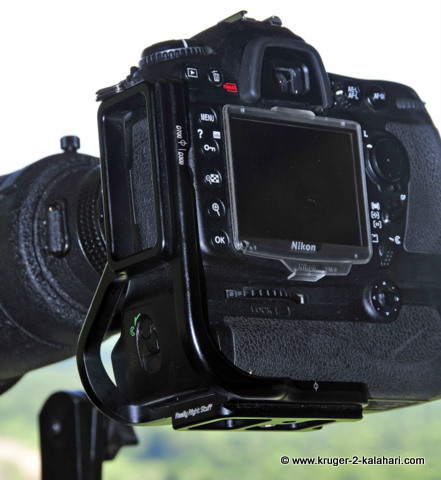 There are other photographic accessories but we have found the above items to be of the most use to us while on safari in big-five African game reserves and national parks.




---
Return from Photographic Accessories to Nature Photo Gear page
---
---

To make a safari rental booking in South Africa, Botswana or Namibia click here
---