Interview with Kathryn Haylett - Wildlife Photographer & Safari Guide
1.     Where does your passion for Africa, and in particular Namibia, come from?
African wildlife has been my passion since I was 6 years old when my parents took me to see "Born Free" but it took me another 34 years to fulfil my dream when I first visited South Africa. Two years later I became a professional safari guide and discovered Namibia and Etosha and it was love at first sight.
Whilst I also organise safaris in many other African countries, Namibia has my heart. The country is simply the most stunning place I've ever visited and the National Park is without doubt the best place to see and photograph African wildlife.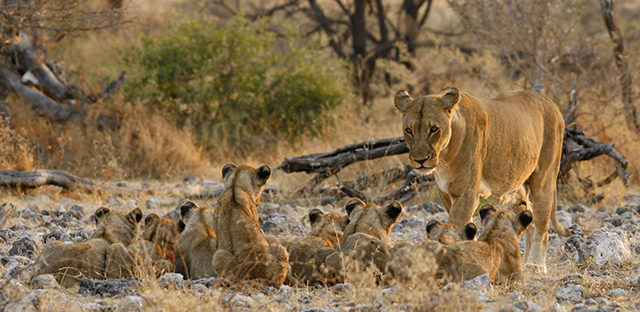 2.     When and how did you start YourSafari.co.uk?
Your Safari started in 2002 after I passed my guide exams quite honestly as a means to enable me to visit Africa more often than my meagre finances would allow.
I then discovered that not only was I quite good at it but was shocked to find that very few safari companies offer totally flexible itineraries for their clients and would rather shoehorn people into pre arranged tours that may not always suit their needs rather than spend time organising something especially for them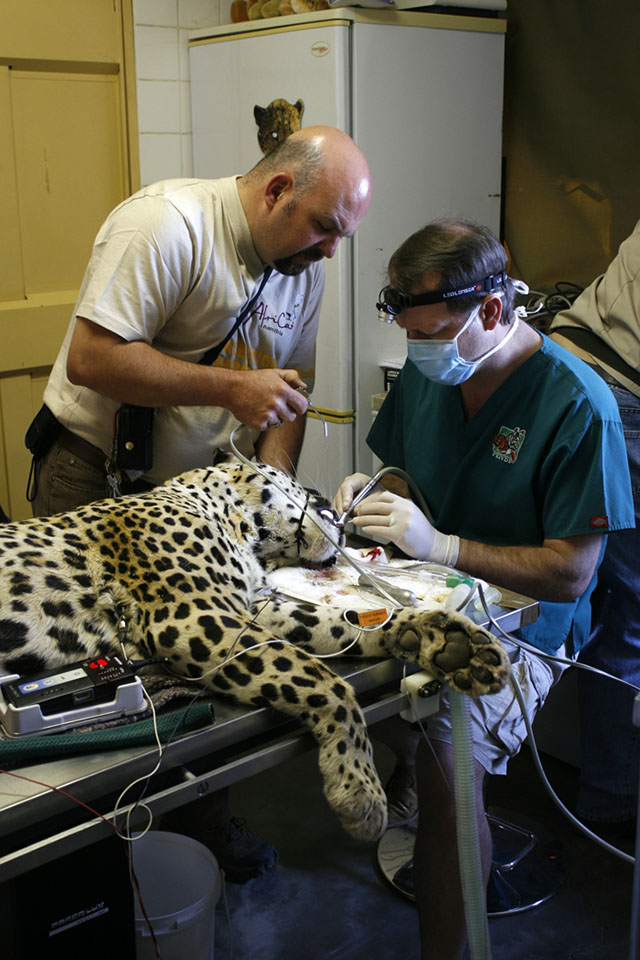 Kathryn often takes her guests to the Africat Foundation for whom she has enormous respect.
3.     What separates YourSafari.co.uk from the other top safari-tour companies?
We believe that our itineraries should be as individual as our clients and whether people decide on an adventurous camping tour or would prefer to stay in some of the continent's amazing accommodation – we can organise a perfect safari based on their personal wish list and not just Itinerary A, B or C.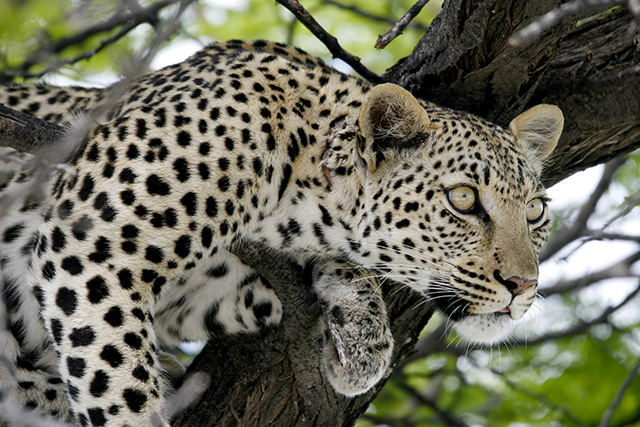 4. What type of clients do you tend to attract?
Our clients vary widely with differing budgets and expectations but usually they all have a strong love of nature and photography and want to spend the majority of their trip watching wonderful wildlife rather than staying in 5 star luxury.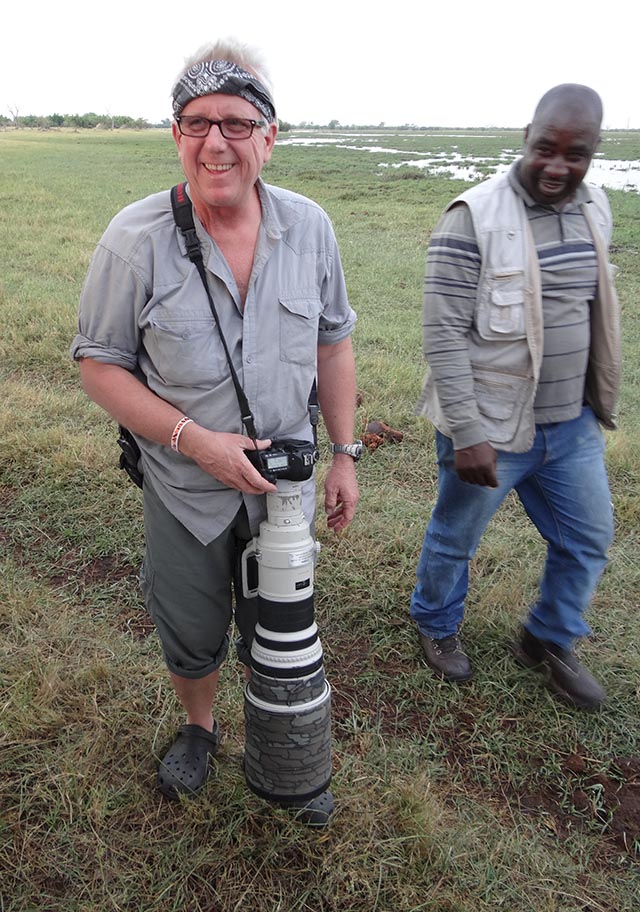 (Steve Winter was crowned BBC's Wildlife Photographer of the Year in 2008 for his photograph of a snow leopard)
We always try to accommodate our clients inside National Parks wherever possible and in Namibia our guests often stay 8 nights or more in Etosha – after all, the longer you stay, the more you see!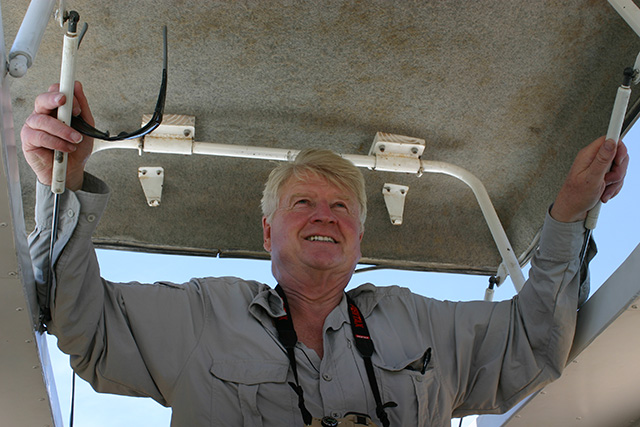 (Kathryn has safari clients from North America, Europe, Africa and Australia but one of her more well-known clients is Stanley Johnson, who is the Lord Mayor of London's father, author of many books on conservation and a noted expert on environmental and population issues.
He is very well travelled but when he wanted to visit Namibia the Namibia Tourist Board asked Kathryn to be his guide to ensure he experienced the very best of the country.
5.     Wildlife photographers have very special needs when on safari – how do you cater for these unique needs?
I took a special course in endless patience! Only joking – as a photographer myself I understand what is required for a perfect photo tour. For our guided tours our vehicle has10 opening windows and a pop up roof for great visibility and we only take a maximum of 3 photographers to ensure everyone has enough room to manoeuvre.
I am also extremely lucky in working with Dr Richard Estes, the leading exponent on African mammal behaviour, and armed with his knowledge and our intimate knowledge of Etosha we can often predict animal behaviour more accurately and that leads to our clients getting better images.
6.     Let's chat about your wildlife photography safaris for a minute – give us an idea of a typical day on one of your photo safaris.
If Namibia is our destination we would normally try and incorporate macro photography in the sand dunes with the Namib Desert expert, Tommy Collard and landscape photography in stunning Damaraland, but in Etosha we endeavour to cover all areas and camps as the wildlife and topography changes throughout the park.
Tommy Collard and Dr Richard Estes in the Namib
(Kathryn works with a lot of scientists, including the incredible Dr Richard Estes, with whom she organises photo safaris and training courses. He is the author of the bible for all safari guides "The Behaviour Guide to African Mammals" and "The Safari Companion". Kathryn believes that the better you understand wildlife behaviour the easier it is to find subjects and the more you can anticipate what they'll do the better her clients' photos will be!
A typical day (if there is such a thing) would naturally be to try and be first out of the gates and spend time at the most productive waterholes while the light is at its optimum, moving as required depending on our luck.
We try to get back for lunchtime so people can download memory cards during the day while the sun is at its most harsh and then either go out again to take advantage of the late afternoon light or set up our cameras around the camp's floodlit waterhole for our evening session there.
Naturally, all this goes out of the window when we have terrific sightings in the morning and it is not uncommon for us to stay out all day if the photography dictates it – after all it's "Your Safari!"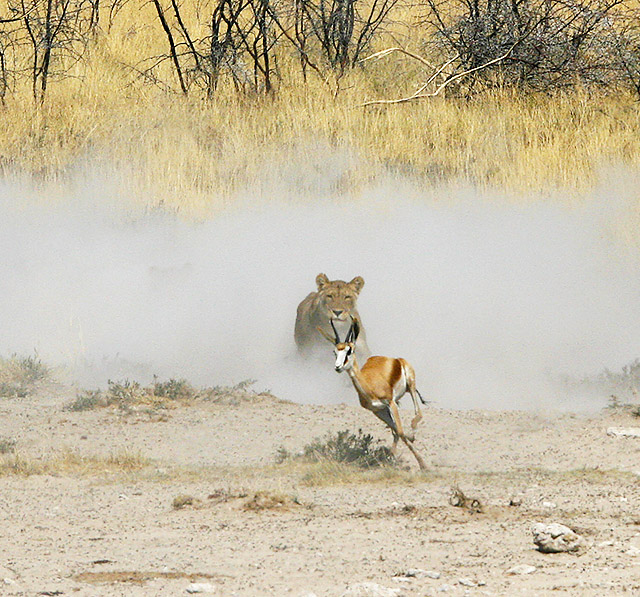 7. Do you offer only guided safaris or self-drive safaris as well?
No we organise a lot of self drive safaris, I still believe it is still the optimum for photographers; however my clients are convinced they wouldn't see as much without me and at least on a guided tour they can concentrate on their photography and nothing else.
If you are unable to come on one of our guided tours then the next best thing is for you to combine a self-drive safari with our eBook, The Photographer's Guide to Etosha National Park.
The eBook is the next best thing to having me there as I share everything that I have learned about Etosha over the past ten years.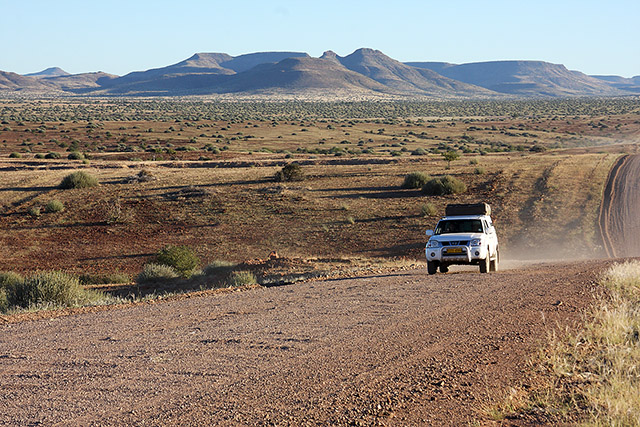 8.     Please describe the process of planning a custom-tailored itinerary. Do people simply make their booking and get on a plane or is there more to it?
When people first contact us we have to spend a lot of time finding out exactly what they want from their trip.  If they are photographers it is usually a fairly simple process and we suggest spending the majority of the time in Etosha.
However, everyone has different interests, budgets and expectations from a holiday so there is usually a period of e-mail tennis where we send ideas back and forth until we are happy that we have the perfect itinerary for our guests.
9.     What seems to be the most popular safari destination?
Etosha, Namibia without a doubt, however there could of course be an element of bias here from my side! However, as far as photography is concerned, I honestly believe Etosha to be the premier wildlife destination in the whole of Africa and the light and ever changing landscapes are simply amazing.
10.     Are there any special safety measures that clients should take before traveling to Southern Africa?
Both South Africa and Namibia are very safe self drive safari destinations with inexpensive national parks and an infrastructure geared up to ensure that tourists from all over the world have a memorable and exciting holiday.
The majority of both countries are malaria free and there are no specific inoculations required for visitors. The only bug you are likely to contract is the "Safari Bug" that will bring you back year on year always looking for the ultimate leopard shot!
11.     African safaris have a reputation for being 'expensive'. What is the cost of an average safari tour?
Obviously the main cost of a tailor-made tour is dependent on what type of accommodation you choose - this can range from around £1,200 to £2,800 per person on a self-drive tour.
Also keep in mind that South Africa and Namibia are considerably cheaper safari destinations than other African countries largely due to the inexpensive National Park fees and the ability to self drive rather than have to rely on expensive organised tours
12.

     Have you had any especially memorable moments on safari?

Too many to mention really – if you check out our website www.yoursafari.co.uk then some of the images will illustrate just how amazing my life is.

But something I always find especially memorable is being able to share my world and my passion with our guests and watching as their understanding and love for African wildlife develops throughout their trip and then stays with them for life. Now that's what I call job satisfaction!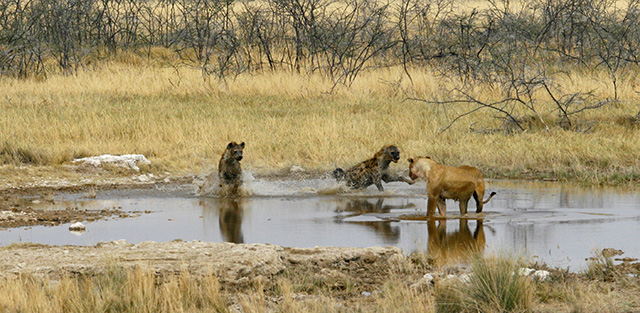 ---
About Kathryn Haylett...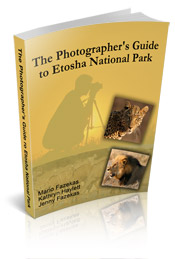 Kathryn Haylett founded 'Your Safari' in 2002 and she spends several months a year leading private safaris for family groups, friends travelling together or photographers on safaris in Etosha, Kruger and other African national parks.
She has spent over 24 months just in Etosha so we think she knows the animals better than they know themselves!
Kathryn is the co-author of The Photographer's Guide to Etosha National Park eBook.

---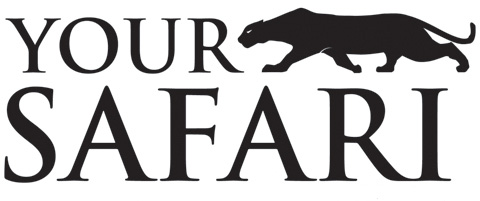 ---
If you would like to book a guided safari or self-drive safari please contact Kathryn by email on kathryn@yoursafari.co.uk or phone her on +44 (0) 1273 400 706 
All images copyright Kathryn Haylett
---
Return from Kathryn Haylett Interview to Interviews page
---
---

To make a safari rental booking in South Africa, Botswana or Namibia click here
---