Digital Photo Technology
Camera Bodies
I don't know about you, but digital photo technology is making my head spin! When I think back to our film days my camera model, the Nikon F5, was the top of the range for five years. Now you buy a camera body and 8 months later it has been overtaken by another body that has more megapixels, higher ISO, lower noise etc.
Gemsbok fighting in Kgalagadi - Nikon F5 plus Nikon 300mm f2.8 lens with 2X tele-converter
When digital cameras first came out in 1999 we were reluctant to change, as were some professional photographers. Today we are happy we made the change as the image quality of digital far surpasses that of film but we did have anxious moments as the Nikon D1 did have exposure problems and we had to bracket nearly every shot.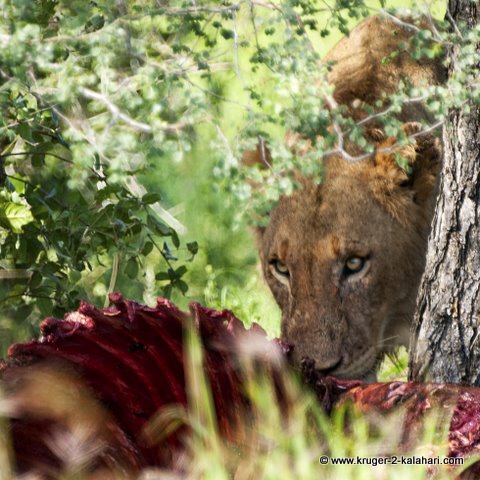 Lion with zebra kill in Kruger Park - Nikon D1X with 300-800mm Sigma zoom lens
Compact Flash Cards
Then of course you compare 36-exposure film to compact flash cards - what a pleasure not having to fumble around wasting valuable time replacing a spool of film!
Our first cards were 250 meg and could hold about 80 RAW files of 3 megapixels each then as we progressed from the D1H to D2 and D3 series Nikon cameras the RAW file sizes increased to 12 megapixels and our cards went from 256 megs to 1gig, then 2gig, then 4gig and today we are using 8gig and 16gig cards.
I have two 16gig cards in my Nikon D3S, which means I can shoot about 1800 RAW files! And yes, once again we are lagging behind because there are also 32gig, 64gig and 128gig compact flash cards available with higher transfer speeds!
The new Sandisk 128gb CF card, as as January 2011, costs UD$1499,00! Keeping up with Digital photo technology can be very expensive!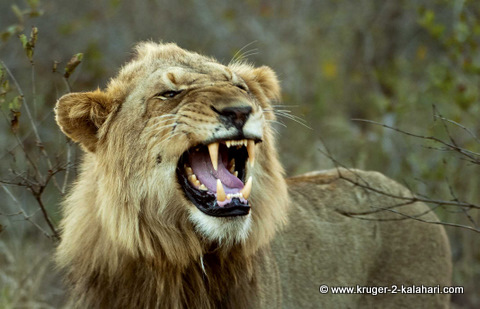 Male lion in Etosha - Nikon D2H with Nikon 80-400mm zoom lens
Another plus is being able to see your image immediately and not having to wait until the lab has developed the spools. Every time we went away and took spools to the labs they would come back with scratches and of course they would blame our camera bodies.
And the final plus is not having to find place to store all the transparency strips. In the following photo, Jenny is holding all the transparecy strips from just one 2-week trip to Etosha...!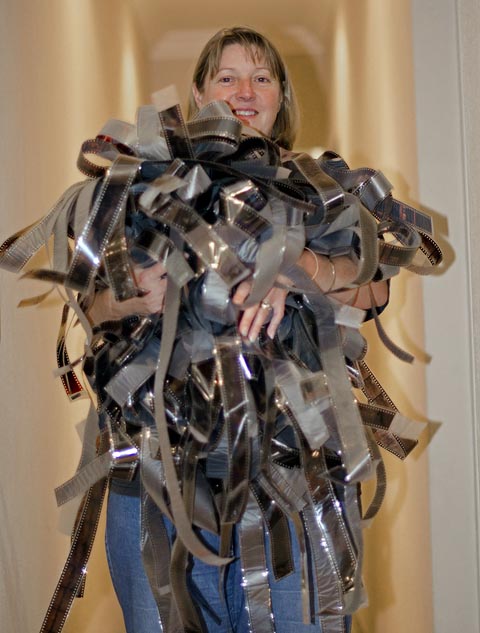 Laptops and Portable Data Storage Devices
What about our Laptop I hear you asking? Well a laptop is part of a person's digital photo technology toolkit and for the past three years we have been using a Fujitsu Siemens laptop with a 120 gigabyte hard drive and 2gig of ram.
This is no longer sufficient so we have bought an ASUS with a 1 terabyte hard drive and 8gig of ram. Hopefully this will be sufficient for at least the next 12 months!
We do not use portable data storage devices as we had a bad experience with a Hyper-drive where we downloaded hundreds of RAW files and then could not transfer them to our laptop! We much rather download to our laptop or external hard drive. (We take a 500gig external hard drive with in addition to the 1tb laptop hard drive).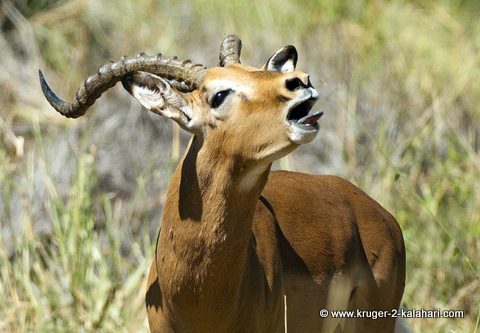 Impala in Kruger Park - Nikon D2X with Nikon 200-400 vr lens
Digital Workflow
Digital workflow is the part of digital photo technology that happens to an image from the moment you capture it with your camera to the final delivery on your computer screen or website as a photographic print.
The two post production software programs most used by professional photographers and advanced amateurs for digital workflow tend to be Adobe Photoshop and Lightroom.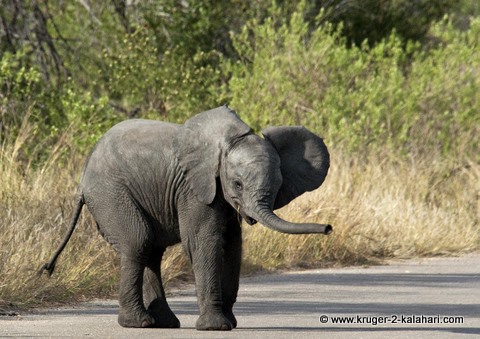 Baby elephant in Kruger Park - Nikon D200 with Nikon 80-40mm zoom lens
We have the latest version of Lightroom but still use the 'old' Photoshop CS4. We were happy with Lightroom 2 but the latest Nikon body, the D7000, did not work with version 2 hence we upgraded to version 3. Where do the upgrades end? About US$180 every year for an upgrade is crazy - CS4 is more than adequate for our current needs but who knows...!
The camera manufacturers marketing is also very good and tempts us to lust after the newest models with high ISO, low noise and more megapixels. I was happy using Nikon Transfer, a free program, but it is not compatible with the newer bodies so I was 'forced' to look for something else hence I bought Lightroom in 2009 and upgraded to version 3 in 2010. I should have checked compatibility issues before buying the new bodies!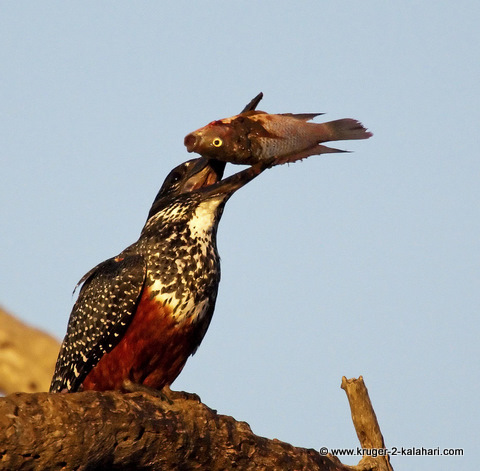 Giant Kingfisher with catch at Sunset Dam, Kruger Park - Nikon D300 with Nikon 600mm f4 lens and Nikon 1.7X Tele-converter
Gear is good - vision is better!
It seems that some of the photo contests contribute to this new camera model mania as well - their criteria for digital photo technology keeps increasing.
The Veolia Environment Wildlife Photographer of the Year contest had a minimum criteria on entries of 6 megapixels, which increased to 10 megapixels in the 2010 contest. Soon it will most probably be 14 or 18 megapixels, which means images shot with our Nikon D300 and D3S will not be eligible for entry!
I wonder if this a conspiracy between the camera manufacturers, software manufacturers and photographic competitions!?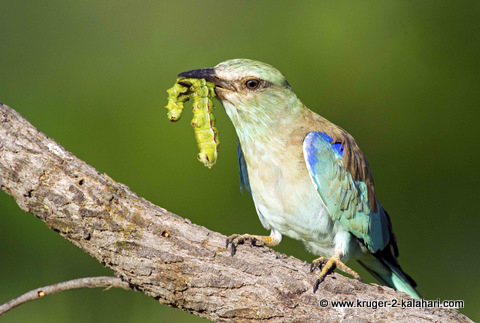 European Roller with worm in Kruger Park - Nikon D3X plus Nikon 600mm f4 lens and Nikon 1.7X TC
At the end of the day the camera and lens is a tool that enables you and me to be creative and capture images of what we see so we should be satisfied with what we currently own.
This is where I like David Du Chemin's slogan of "Spend $5 - Improve your Craft Without Buying Gear!"
I think he's got it right - people wanting to improve their photography should first be investing in tuition such as hard books, e-books, site guides and park guides instead of just buying new gear.
The latest digital photo technology without vision, skill and practice is useless, so use the gear you have to first improve your techniques and skills!
(David du Chemin is a world & humanitarian photographer, best-selling author, and international workshop leader based in Canada).
---
Return from Digital Photo Technology to Nature Photo Gear page
---
---

To make a safari rental booking in South Africa, Botswana or Namibia click here
---