Memory Cards
We currently use compact flash cards and SDHC (secure digital high capacity) memory cards as our 'digital film'. Your camera records and stores the images on these cards.
How to choose memory cards
There are two primary things you need to look for: size and speed.
We began using 250 megabyte cards with our Nikon D1 and then progressed to 1 gigabyte cards with our D2H and then to 2 & 4 gigabyte cards with the D200 and now we are using 8, 16 and 32 gigabyte SanDisk cards with our Nikon D3s and D800 bodies.
If you are shooting RAW files with the newer 24 and 36 mega-pixel cameras you will need at least 16 gigabytes of storage. If you're shooting only j-pegs then you'll obviously need less storage.
Size is simple but things can get confusing when it comes to speed as card manufacturers don't state card speeds in the same way.
Our Sandisk cards say 90 mb/sec while our Lexar cards say 1000x - how do you tell what the difference is?
Well, for Sandisk it's easy, the speed that data is written to the card is 90 megabytes per second. For Lexar you need to do a quick calculation:
1x = 150 kb/s and 1000 kb = 1 mb, so
150 x 1000 = 150 000 / 1000 = 150 mb/s
Downloading and storing images
If you carry spare cards and you need to use a fresh card while out shooting be careful to keep the full card in a safe place and don't reuse it before downloading! We have a small wallet that we keep the spares cards in and if the card is full we insert it up-side-down with the reverse side up. If the card is unused it will be stored with the SanDisk logo-side facing up.
We have tried various portable storage devices and have found them all wanting. (The Epson storage device seems to get the best reviews but it is costly). Instead we carry our laptop with us and download via a USB card reader to the laptop should we need to download.
A laptop with 250 - 500 gigabyte hard drive now costs as much as one of these more reliable storage devices so you need to ask yourself if you really need a portable device - will you be shooting thousands of photographs in a morning or afternoon game drive?
We use Nikon Transfer or Adobe Lightroom to transfer and view the files. After all the cards have been transferred you should check to ensure that all the photographs are there and that none are corrupted – only then should you format the cards!
When you are transferring your images from the cards to the laptop you should have a process that you follow to ensure that you don't miss any cards.
We line the cards up on the left of the laptop facing up and once the card has been downloaded we put it face-down on the right of the laptop or card reader.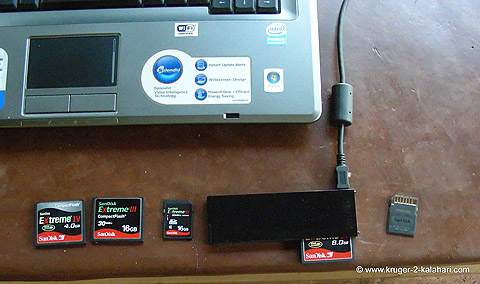 This process ensures that we don't mix the cards up and so download the same card twice or, even worse, miss one!
For more information on memory cards, laptops and external hard drives please see our Digital Photo Technology page.


---
Return from Memory Cards to Nature Photo Gear page
---
---

To make a safari rental booking in South Africa, Botswana or Namibia click here
---