Kruger Trip Report December 2010 Part 3
Bateleur Bushveld Camp
The last part of our Kruger trip report saw us travelling from Olifants to Bateleur camp where we started to see some big tuskers...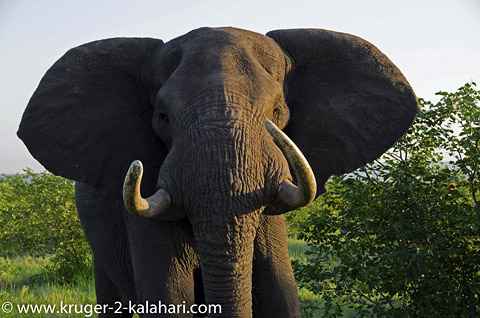 And learnt that animals also do not like the no-entry signs...!
The Bateleur area and camp provided us with many bird photographs...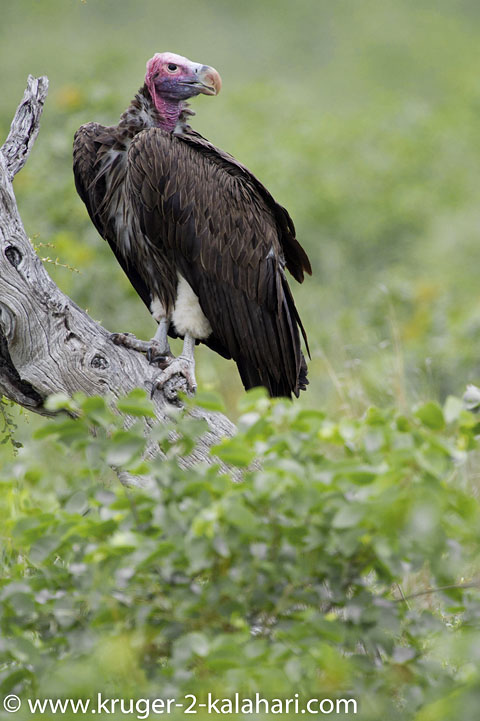 And we had some small visitors...!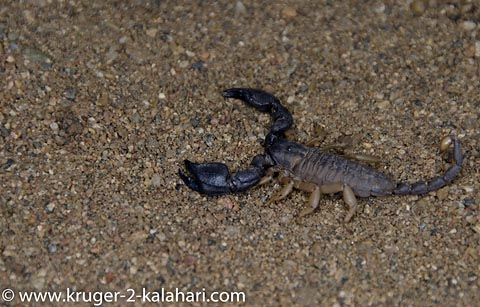 The low level Shingwedzi bridges were also very good for activity and we got some nice croc and bird photographs...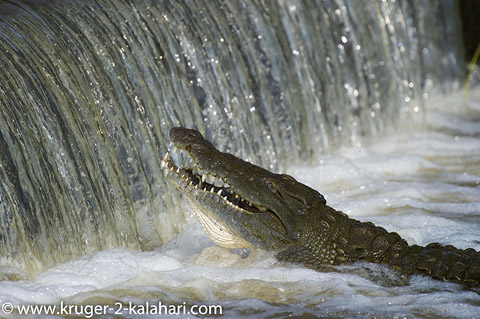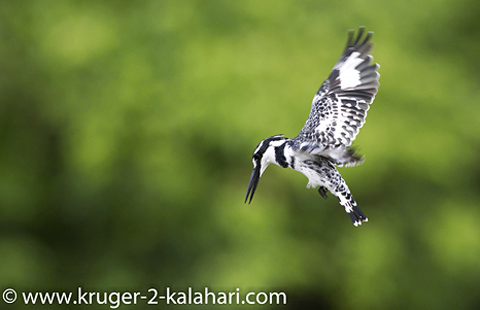 On Christmas day we had a lovely beef fillet on the braai with our 'bushbaby beans' (Chili beans that are irresistible!)...
And we had another small visitor (sun spider)...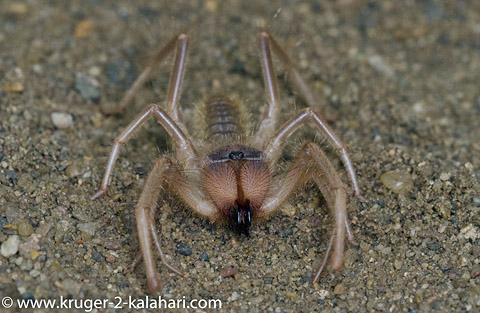 ... who managed to get Linda up on her chair...!
We had a great sighting at a hyena den...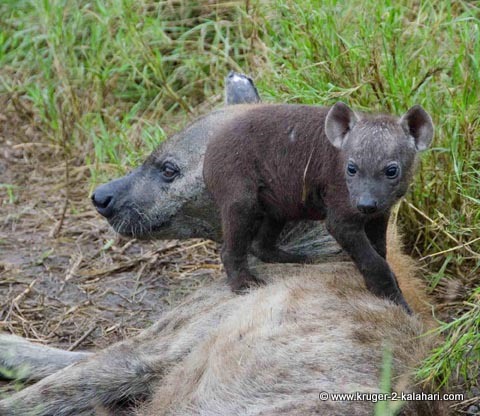 We also saw a huge herd of buffalo...
and it was great seeing the rare yellow-billed oxpeckers on the buffalo...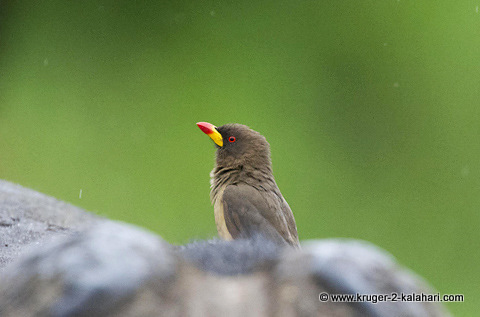 We spent our last day at Pafuri where we had a lovely breakfast...
and saw this European roller with his breakfast...
We also saw thousands of Mopani worms crossing the roads...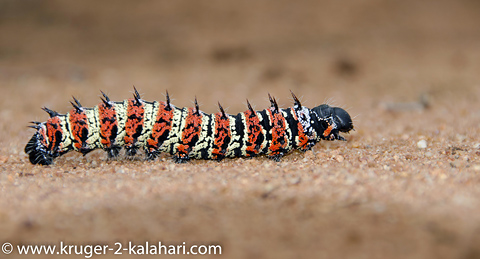 A pair of black (verreauxs) eagles along Nyala Drive (our very first sighting of these birds in the Kruger Park)...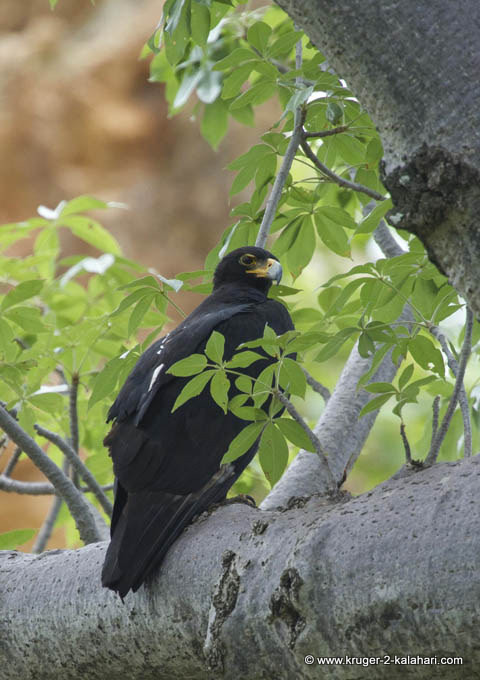 We saw a huge herd of waterbuck and these two entertained us by sparring...
The day after Christmas unfortunately provided us with sightings of road kill all between Shingwedzi and Punda, from birds like this roller...
a squirrel...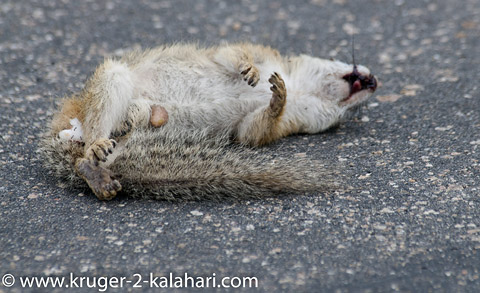 and a blackbacked jackal...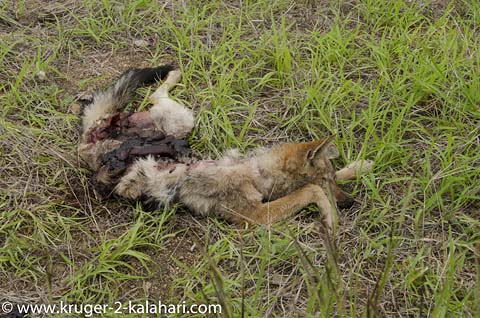 These animals are pretty quick so my question is 'what speed were the vehicles driving that enabled them to kill these animals so easily!?'
What happens is many taxis, and other vehicles, bring day visitors to camps like Shingwedzi and they have lunch and then speed from the camp to Punda Maria gate in order to get out by closing time.
There were so many day visitors at Shingwedzi on Christmas day that cars were parked in the camp entrance road and in the petrol station, thereby blocking the main entrance. Fortunately Shingwedzi has a back entrance that takes you over the low level bridge.
Eventually the duty manager or camp manager ordered the camp gates to be closed and no new day visitors were to be let in. I wonder what happened to the traffic police and the 'park gate quotas' that were supposed to be strictly enforced over the busy Christmas period?! Here is part of a media release dated 20 December 2010...
"Christmas is at hand and Day Visitors to the Kruger National Park (KNP) are encouraged to be aware of gate quotas when planning their visit.
Day Visitors are advised to make prior booking arrangements in order to secure their entry and reminded that gate daily quotas will strictly be enforced throughout the festive season period.
Each gate has its limited number of Day Visitors that can be allowed per day e.g. Phalaborwa – 550 and small ones like Pafuri it is 330. The KNP has 10 entrance gates i.e. Pafuri, Punda Maria, Phalaborwa, Giriyondo, Orpen, Paul Kruger, Phabeni, Numbi, Malelane and Crocodile Bridge."
We did not want to spoil this Kruger trip report with these disturbing photos but it's time that people knew what is being allowed to happen in the park. We will also be posting these photos on the SANParks forum in the hope that something will be done about speeding in the park.
Our advice to visitors to the park on public holidays such as Christmas, New Year and Easter - don't stay at main camps that have day visitor areas inside the camps, like Shingwedzi and Mopani - rather stay at the small peaceful bushveld camps!
On day 13 we left Bateleur early...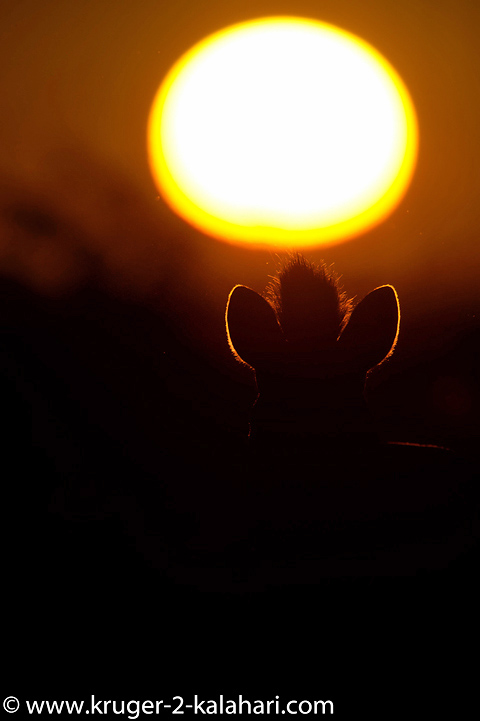 and headed out Punda Maria gate but not before seeing a huge herd of elephant crossing the road...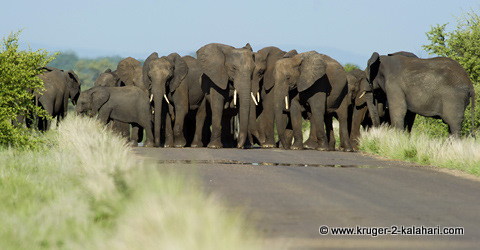 And that concludes our December 2010 Kruger trip report.
The next Kruger trip report will be in mid 2011 - we will be going to the north of the park looking for the Pel's fishing owl!
---
Return from Kruger Trip Report part three to Trip Reports page
---