Kalahari Gallery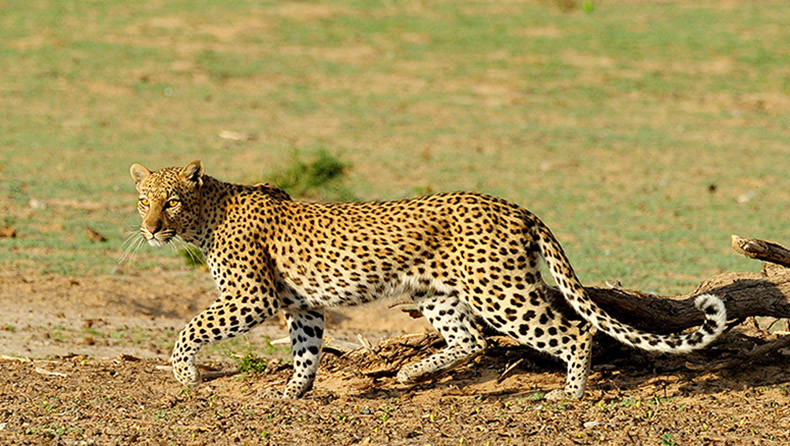 This selection of Kalahari Gallery photographs has been chosen to give you an idea of the animals you could see when visiting this Transnational Park.
They were all photographed at waterholes in the dry Auob and Nossob rivers or along the dune roads of the Kgalagadi Transfrontier Park.
Click on each thumbnail for a larger view.
| | | |
| --- | --- | --- |
| | | |
| This is the view from the dune cabin at Urikaruus. In summer there are many animals that come down to drink here and the waterhole is just 50 meters from the cabins. | We have had great sightings of Cheetah along the lower dune road - this one was drinking at Tierkop waterhole. | The summer clouds in the Kalahari can provide impressive backdrops to your photographs. |
| | | |
| --- | --- | --- |
| | | |
| The Bushman Poison Bulb is a most impressive plant when flowering. This one was growing on the lower dune road. | These Ostriches took off when we drove past - the photo was taken as they reached the top of the dune. | Leopards are difficult to see when in a tree. This one was in a Camel thorn tree in the Nossob riverbed. |
| | | |
| --- | --- | --- |
| | | |
| A pride of lions had killed four wildebeest the previous evening near Mata Mata camp and the next morning we found them feeding on the carcasses. | In summer the yellow Devil's Thorn flowers add some colour to your photographs. These two Gembok were at Tierkop waterhole. | This male lion was feeding on the wildebeest and when we pulled up he stopped, put his paw on the carcass and glared at us. |
| | | |
| --- | --- | --- |
| | | |
| We photographed this Devil's Claw seed against the rising sun in Twee Rivieren Camp. | There is always something to photograph in the camps. This Gecko was catching insects in our cabin at Kielie Krankie camp. | We photographed this bat-eared fox crossing the lower dune road against the morning sky. |
| | | |
| --- | --- | --- |
| | | |
| Black-backed jackals use a high- pitched, whining howl to communicate with each other. This one was in the Nossob road. | The summer months in the Kalahari are a riot of colour that includes the dark purples and mauves of the Devil's Claw trumpet-shaped flowers. | We photographed this African Wild Cat in a Camel Thorn tree in the Auob riverbed. At Kielie Krankie we had a wild cat living under our cabin with her kittens. |
| | | |
| --- | --- | --- |
| | | |
| This young male lion caught a baby springbok in the Auob riverbed and then guarded it for about half an hour before eating it. | The Bat-eared fox popped its head out of its hole as we drove past it on the Auob road. | The sun had already set when we saw this spotted Hyena in the Auob road. Because there was insufficient light we decided to pan and get a motion blur photograph. |
| | | |
| --- | --- | --- |
| | | |
| This is the Yellow flower of the Devils Thorn plant or dubbeltjie / duwweltjie as it is also known. After the first rains the dunes erupt in yellow with millions of these flowers. | The two giraffe were mating on top of a sand dune near Mata Mata camp. | We were having sundowners on our porch at Kielie Krankie camp when we heard thunder. I grabbed my D200 camera and managed to shoot this lightning bolt. There was no time to set up our tripod so the camera was handheld - VR helped get a sharp picture! |
Did you enjoy this Kalahari Gallery?
Have You captured any magical 'Kalahari moments'?
WHAT DO YOU DO WITH YOUR PHOTOGRAPHS?
Photographs freeze these moments and allow you to share them with others. Many visitors to Big-5 game reserves take hundreds of great animal pictures but then never look at them or share them – they remain on a computer or CD for the rest of their days – what a waste!!
We have two suggestions or bits of advice for you:
1. Enter some of your photographs into contests
We entered some of our Kgalagadi photographs into the Captured Experiences contest and the Gecko in the gallery above won third place in round two of the Reptiles and Insects category...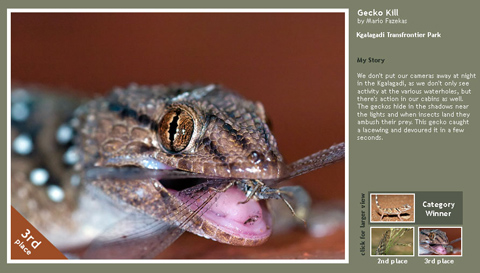 2. Display your photographs on a website
We have sold some of our photographs just by displaying them on this website.
This is how it tends to go - we get an email from a publisher saying that they have seen one of our photographs, while doing a Google image search, that they would like to use in their next magazine issue and they are prepared to pay us US$175,00 for the photograph.
We then email them a high resolution JPEG of the image and they post us a cheque!
The photograph of the Devil's Claw in the gallery above was published in Martha Stewart's Whole Living Magazine, June 2010...
---
If you do not have your own website you can display your photographs on this website. You have two options...
A. General Kalahari Stories and Photographs...
Your Kalahari Stories and Photographs


B. Your Kalahari Stories relating to specific Camps...
Twee Rivieren Camp

Nossob Camp

Mata Mata Camp

Kieliekrankie Wilderness Camp

Urikaruus Wilderness Camp

Gharagab Wilderness Camp

Kalahari Tented Camp

Grootkolk Wilderness Camp


---
Return from Kalahari Gallery to Kruger-2-Kalahari home page
---
---

To make a safari rental booking in South Africa, Botswana or Namibia click here
---