General Accessories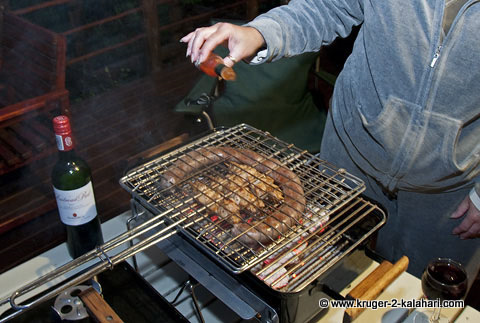 In addition to our photographic accessories we have found the following general accessories to be most helpful to us:
Weber Go Anywhere Braai: When we go on self-drive safaris we always take this braai with us. It is about the size of a shoe-box and we store items in it when travelling so it takes up minimal space. Unlike most park braais, this braai can be moved, which is great if it rains. The image above shows us braaing at Punda Maria camp.  
Chargers: We have known people who have forgotten their camera battery charger/s at home. These specialized items, such as Li-on batteries and their respective chargers, are not available for purchase at the camps so this would be a disaster! If you have the optional Nikon MB-D10 Multi-Power Battery Grip, however, then you will get a MS-D10 AA Battery Holder, for use with 8 AA-size batteries, which will save the day, if you remember to bring it with!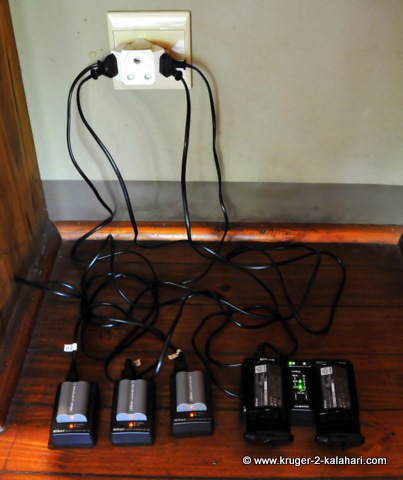 Double-adapters: If you have many batteries to charge you will need double-adapters to allow you to charge more than one battery at a time. In addition, an extension cord may also be helpful.
Screwdrivers: a set of small screwdrivers is very handy if you need to tighten screws on lenses that may have come loose or any other item that is held together by screws. Constant vibration from driving on dirt roads can cause screws to loosen.


Instruction manuals: We are amazed at how many people leave their manuals at home and when something goes wrong with their camera, battery charger or flash they have no idea where to start looking for the problem. We take all our manuals with – rather have them with you and not need. If you don't want to lug paper manuals with you than download soft copies and have them on your computer.
Spare batteries: Camps in the Kruger Park are generally well stocked and have AAA and AA batteries plus some other popular sizes but we would suggest you don't take chances and bring your own batteries, especially when visiting Etosha, Pilanesberg and the Kgalagadi.
We have used all the top brands and have found Energizer Lithium AA batteries to last the longest as this Yahoo Consumer Report confirms. We have been most disappointed with the performance of Duracell batteries and even the Energizer Alkaline batteries, which we use in our Nikon SB-900 flashes, outperform the Duracell.
Spare fuses: You may need these for your battery, fridge or spotlight.
Inverters: These items allow you to charge camera batteries and laptop batteries in the car while driving. We use the Mobitronic portable inverter made by Waeco.

Binoculars: We have found that, for us, the 10 X 50 is ideal. 10 refers to the magnification (so 10X means that a lion standing 500 meters away will appear as it would from 50 meters with the naked eye) and the 50 refers to the objective diameter of the front lens (the larger the diameter the brighter and clearer the image).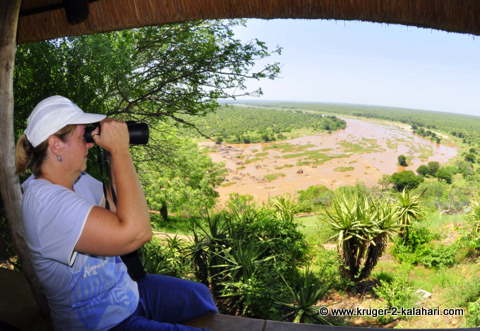 Obviously most people want more magnification and the brightest image but there is a price to pay. We have found that more than 10X magnification tends to magnify hand movement, wind and other shakes or tremors and the larger the diameter the heavier and bigger the binoculars.
Fridge: Out of all our general accessories, our Engel fridge / freezer has been the most appreciated, - keeping our holiday food frozen and our drinks chilled! We have had our Engel fridge for over thirteen years with no problems.


A few more Nifty General Accessories:

---
Return from General Accessories to Nature Photo Gear page

Return from General Accessories to Kruger-2-Kalahari Home page
---
---

To make a safari rental booking in South Africa, Botswana or Namibia click here
---