Franco Kubile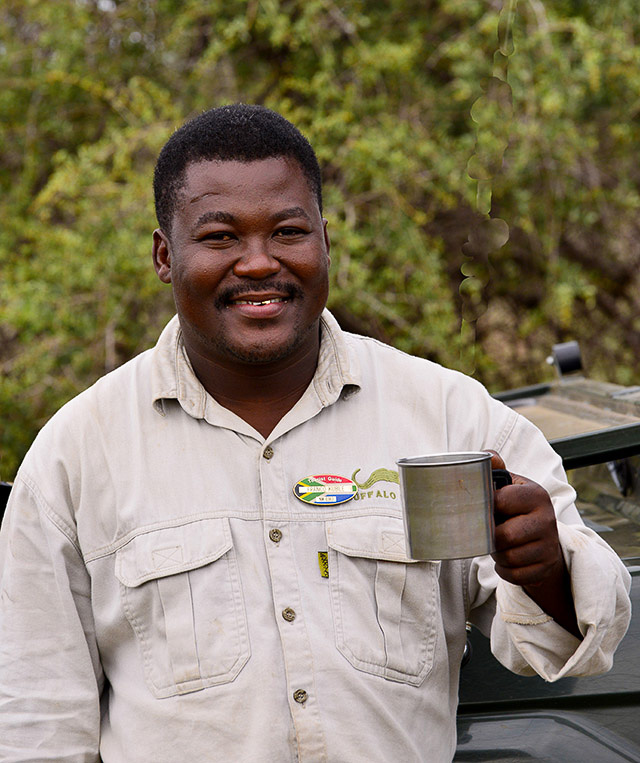 Franco Kubile - the Lion-Tamer
This is Franco - the lion-tamer - a field guide at Buffalo Ridge Safari Lodge in Madikwe.
After our disastrous game drives at the previous lodge the pressure was now on Franco to provide us with sunsets plus our, and other guest's, animal requests.
He achieved this without even raising a sweat! He's not a photographer but understood animal behavior and actually listened to his client's requests - and never once boasted - even though he had much more to boast about!
Thanks to Franco we got some nice shots of lions playing and climbing trees.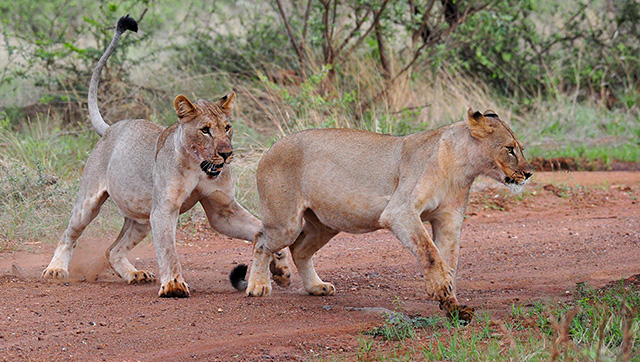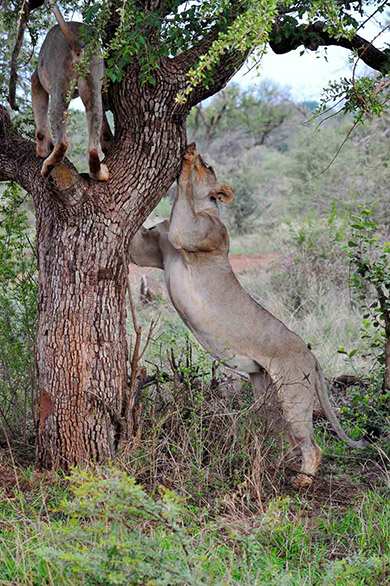 Most of the other vehicles had rushed back to the zebra carcass but Franco stayed with the lions that were slowly walking back to the carcass and we got the action while the lions at the carcass were sleeping under a tree.
We also captured the lions in front of a plane on the western Madikwe runway...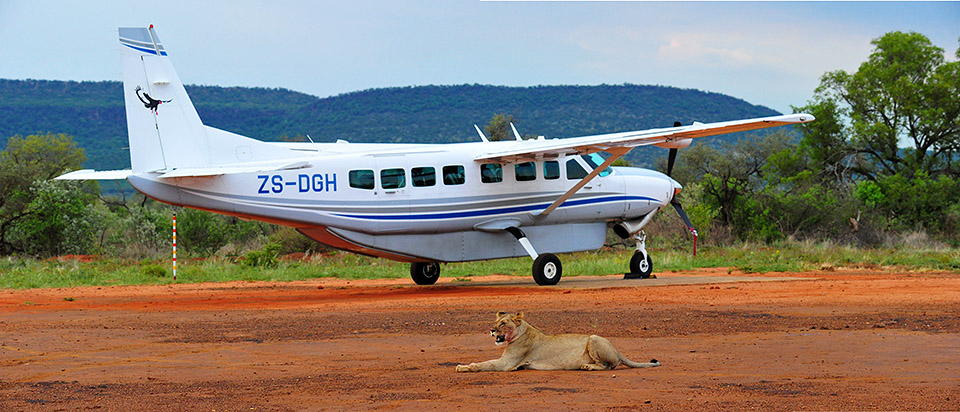 We had also requested that Franco please stop for sun-downers at a place with a view as so many guides stop near fences, power-lines or in dongas and sun-downer time is ideal for capturing the sunset so why waste these opportunities!?
Franco, in addition to fulfilling all the guests' requests for that day (wild dogs, cheetah, lions and rhinos) he still managed to get us to a viewpoint where we could enjoy our sun-downers and capture some amazing landscapes...
Franco Kubile - the 'Lion-tamer'
You may be wondering why we called Franco 'the lion-tamer'? If so, here is the story:
Allowing guests to disembark from game-viewing vehicles for coffee and sun-downer breaks is standard practice in private game reserves. The guests stretch their legs and if they need to go to the toilet, they find a bush or tree ('lavatree') to pee behind.
Franco explained, "We came to an open piece of veld (Shauns' Rest) and I got out and took a look around to make sure there were no animals in the vicinity, so the guests could also get out. 
During this time a few of the guests made use of a large, bushy tree close by to go to the toilet and I went back to the vehicle to fetch some coffee cups. That was when I heard people yelling and saw a mother and her toddler daughter running away from a lioness". 
Still holding the coffee cups, Franco ran and jumped between the charging lioness and running mom with toddler, shouting "Stop, Stop!" and he threw the coffee cups at the lioness that eventually backed away!
"There's a 50/50 chance that a lion will run away when you take it on, however, as soon as you start running it sees you as prey," said Franco. 
Franco later realized that the lioness had hidden her cubs in the thicket that the guests had used as a toilet and so was simply trying to protect them. 
The news24 article, dated 17th May 2013, was called 'Ranger saves little girl from lioness'. 
---
For more information or to book your stay, please visit the Buffalo Ridge Safari Lodge website

---
Return from Franco Kubile to Good and Bad Field Guides page
---
---

To make a safari rental booking in South Africa, Botswana or Namibia click here
---