Canyon Lodge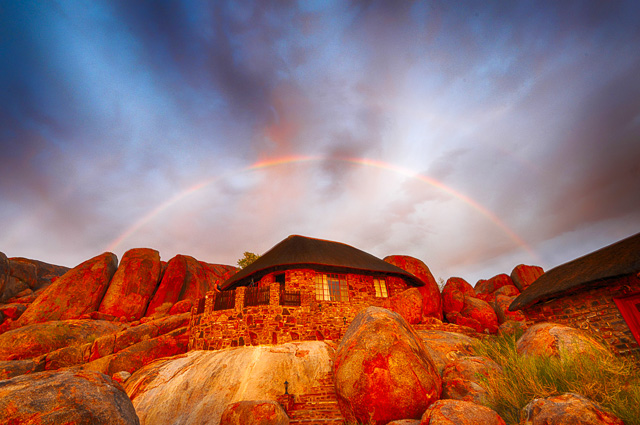 Location
Canyon Lodge is situated just off the C37 in the Gondwana Canyon Park and only 2.2 km from its sister lodge, Canyon Village, lies this beautiful lodge.
The Fish River Canyon is only 20km making it an ideal place to stay when wanting to explore the Canyon and other interesting places in the area.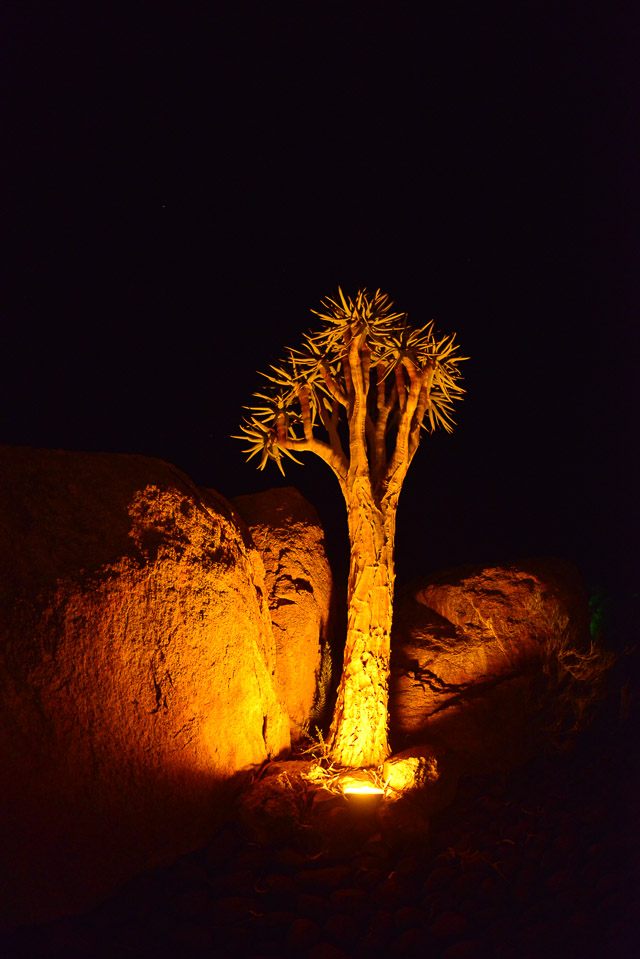 About the Lodge
When you arrive the first thing you see is a building with a tower- it looks a lot like a clock tower. This is the main area of the lodge which give you that lovely farmhouse feel with farm implements on the walls and in the garden.
As you enter the main building tucked away in a corner on the left is the reception area with a few curios, while on the right you will find some more curios. 
An archway leads through to the WiFi area, from here you will find a tea/coffee station tucked away to the right (the best coffee I have tasted in a long time), a bar on the left and through another arch the restaurant.
Just behind the coffee station is a small lounge area that leads onto a back patio, with lovely views of the rocky outcrops and the beautiful gardens.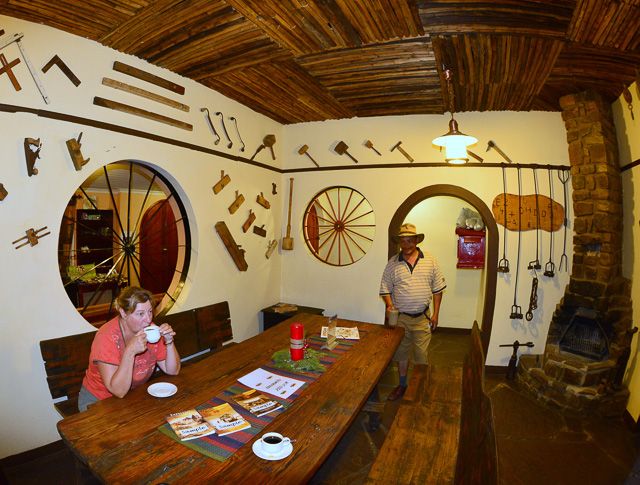 An inviting swimming pool with great views of the desert plains is a considerable walk from the main area; down a long paved pathway through the chalets you will find this isolated but yet a peaceful oasis. A thatched lapa not only provides shade but also an honesty bar, towels and poolside lounger for your comfort.
Food & Drinks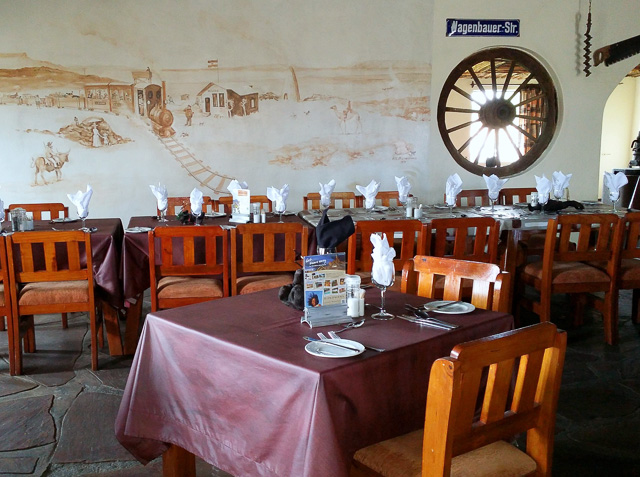 The large, cosy restaurant has ample seating but we enjoyed sitting outside on the large patio that overlooks the gardens and koppies.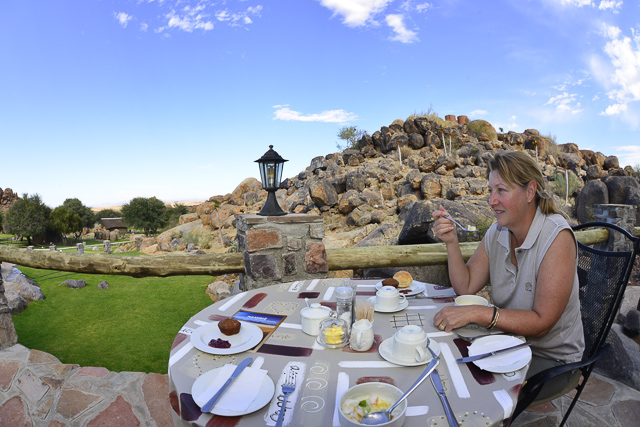 Breakfast and dinners are buffet style but our desserts were served to us at the table - all our meals were delicious and well presented.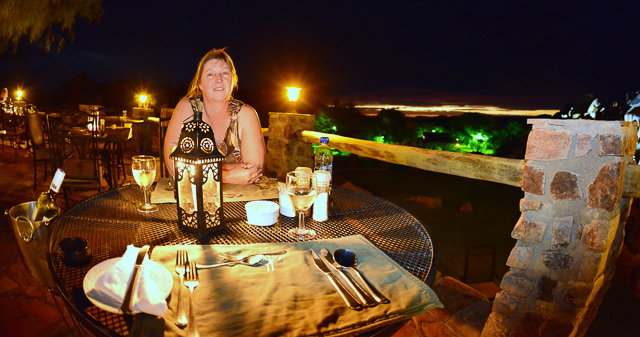 Lunch is al a carte with a wide range to choose from; Mario had game salad and I had Cajun chicken salad and both were very good.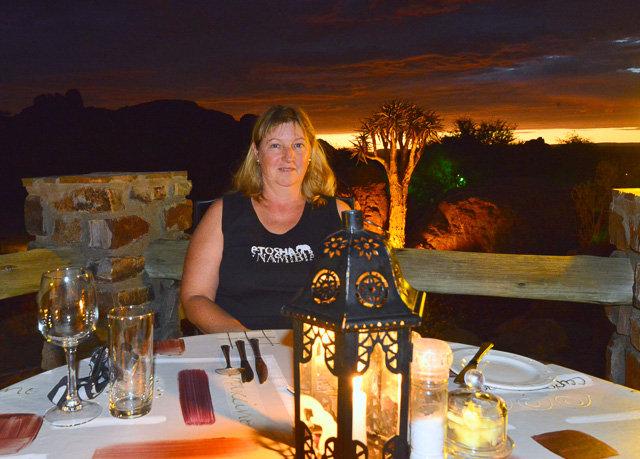 Dinner dishes like Oryx, kudu and springbok steaks or beef and roast lamb were on offer, then for desert lemon or strawberry tart.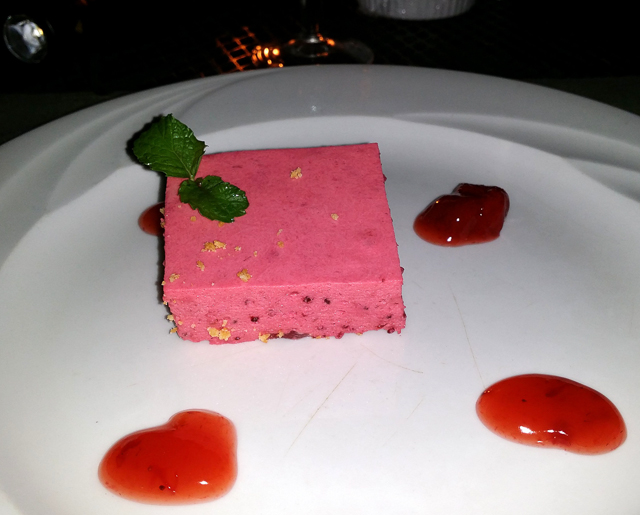 Accommodation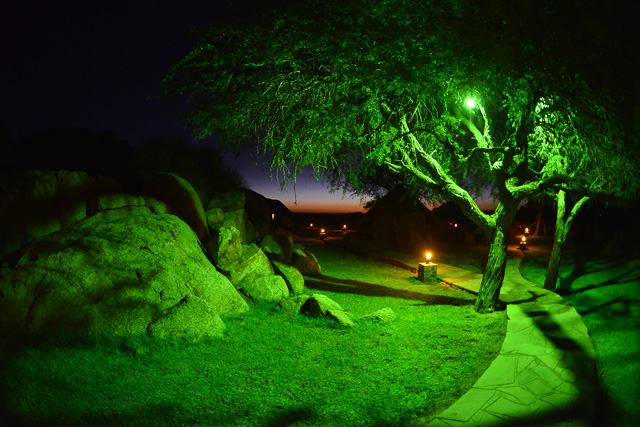 Down a network of stone pathways you will find 30 beautiful stone and thatch chalets perfectly positioned in among the huge boulders. Some are built around the boulders, giving you a feeling of living in the mountains.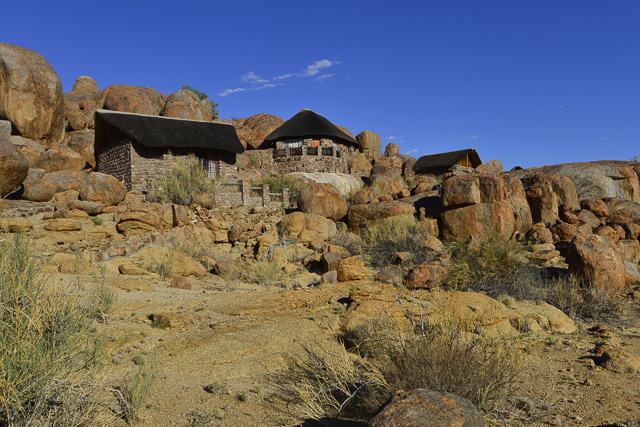 Each chalet has either a double bed or twin beds but all have en suite bathroom with shower, hand basin, toilet and air conditioner.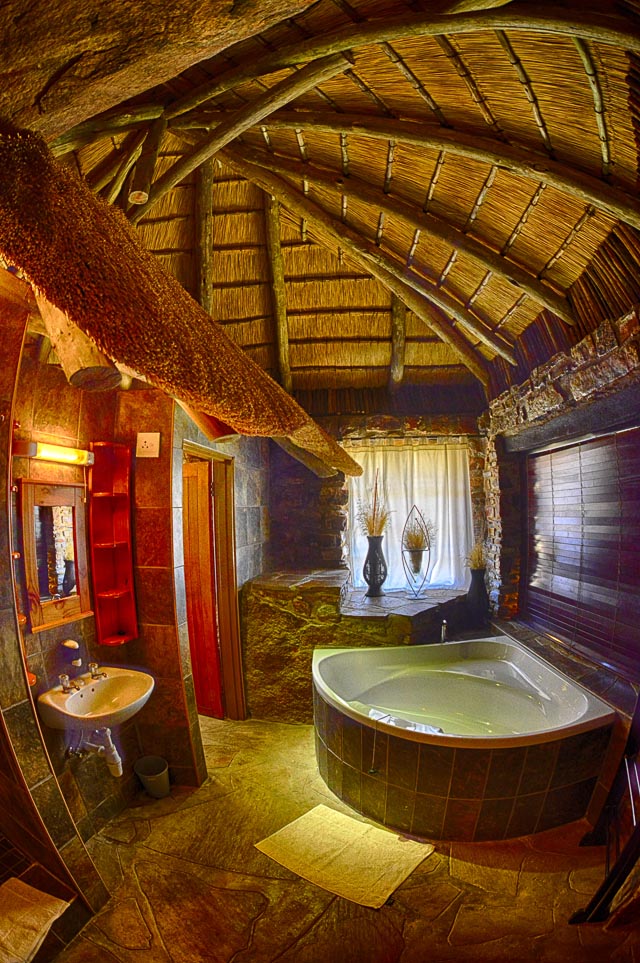 We just loved our chalet with its great views over the desert plains.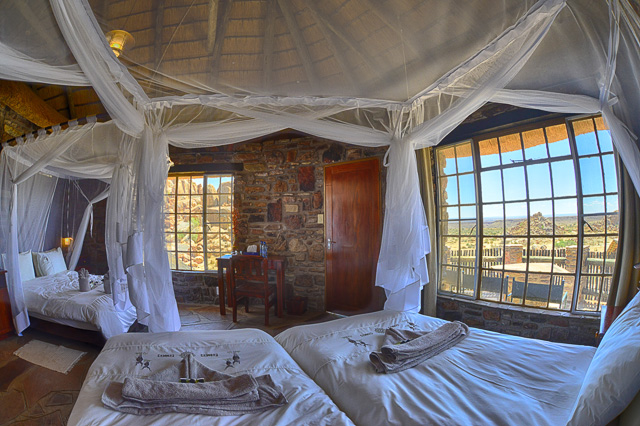 All the chalets have small verandas with a stone table and chair where you can sit and enjoy your surroundings and the amazing sunsets...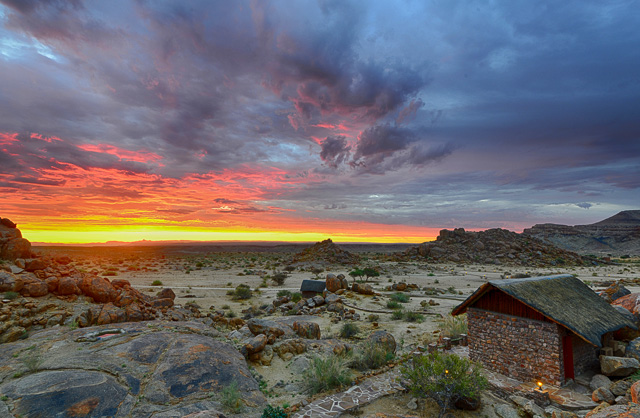 Activities
Mario and I did the very scenic Wildebeest Drive- this is a 4 X 4 self-drive route through the Gondwana Canyon Park; animals you may see along the way- Gemsbok, Springbok, Blue Wildebeest, Hartmann's Mountain Zebra and many other species.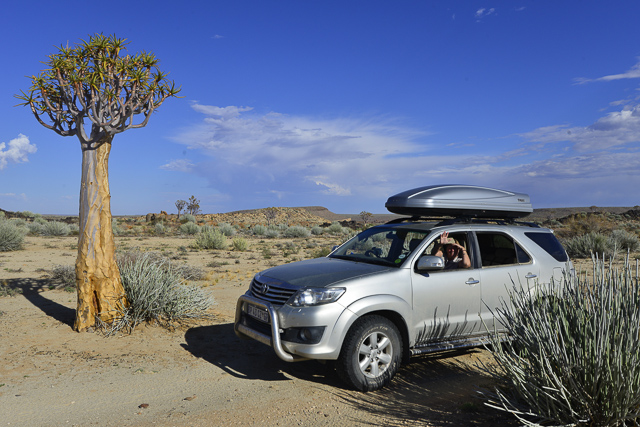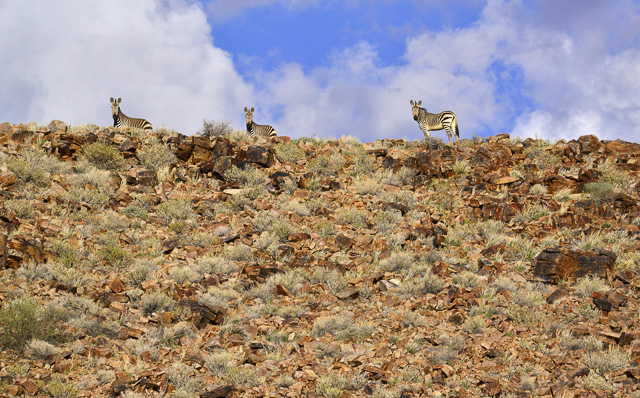 Walking trails are done from the lodge; short sunrise or morning hikes - a longer hiking trail from Canyon village takes you up the mountain which is about 2 to 3 hour hike.  
A short sundowner walk takes you up the local rocky outcrop and allows you great views of the setting sun. 
There are also sunrise and sunset game drives where you are taken to a scenic spot and you have the traditional sundowners.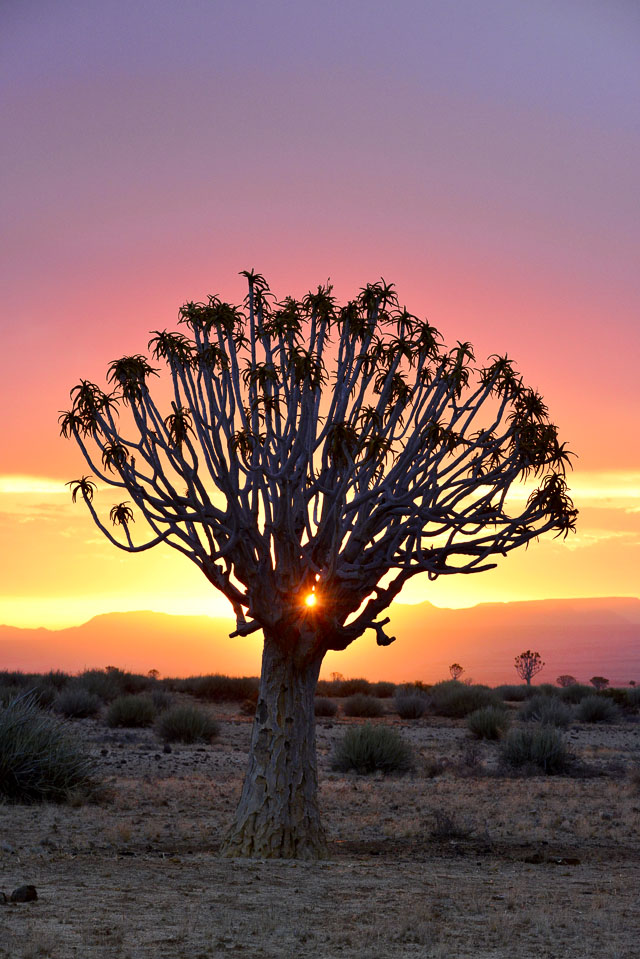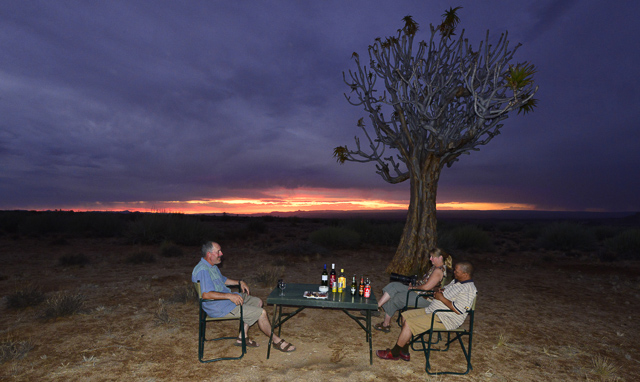 Early morning or sunset guided game drives are on offer or a drive to the Fish River Canyon.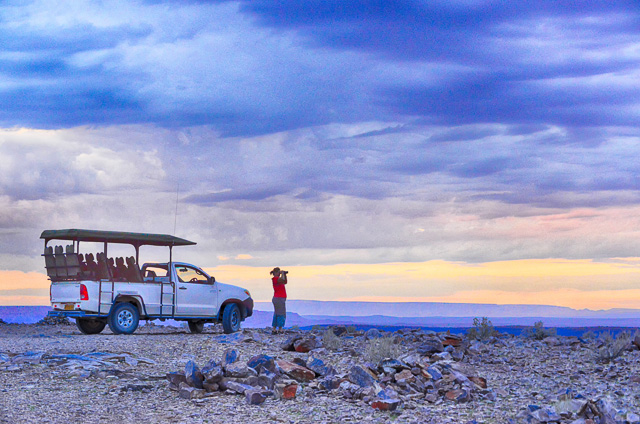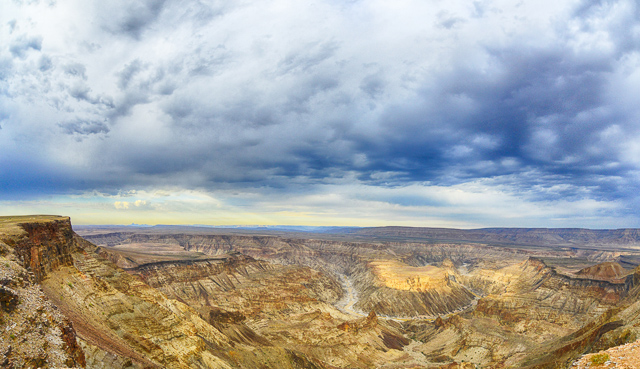 This is truly a lovely place for a stopover and to explore the surrounding areas. The staff members were helpful and always smiling, nothing was too much trouble. Thank you Canyon Lodge!
---
For more information on Canyon Lodge and to make your booking, please click here
---
Return from Canyon Lodge to Photographing Namibia page
---
---

To make a safari rental booking in South Africa, Botswana or Namibia click here
---