Southern African Mammals - Where to Find What
If you are visiting the Kruger, Kgalagadi, Pilanesberg or Etosha and you are looking for certain African mammals, we make your task a little easier by listing the most common mammals and where they are found.
The Super-Seven mammals are highlighted in red while the Elusive-Eleven animals are highlighted in blue...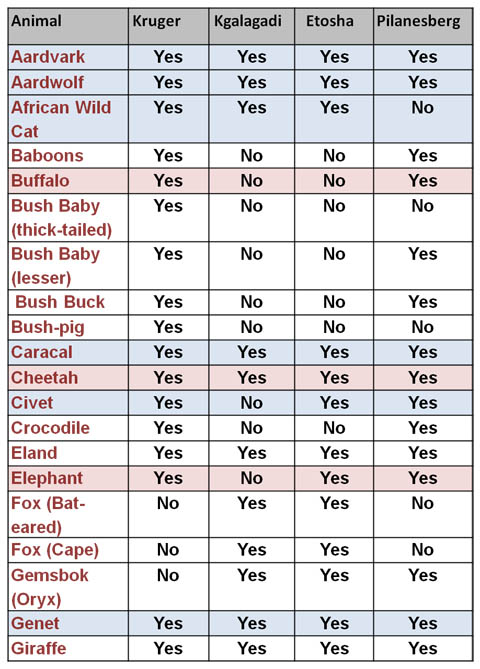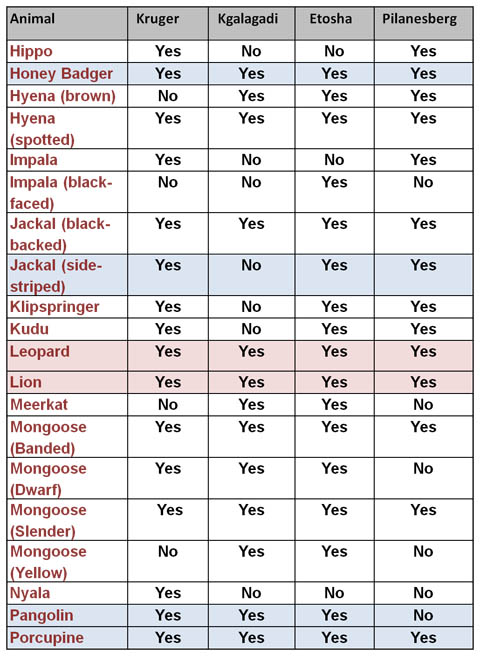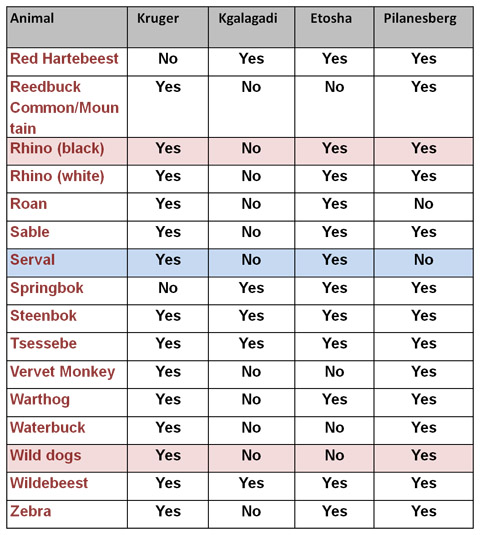 Even though a mammal may be found in a certain park, there are areas where they are more common. Here we pinpoint the areas you are most likely to find certain of them:
Honey Badgers are easiest to find in Satara and Orpen Camps in the Kruger and in Halali Camp in Etosha.
Giraffe are found mainly in the northern Auob around Mata Mata and Urikaruus camps in the Kgalagadi.
Black Rhino are easiest to see in Etosha at night at the Halali and Okaukuejo waterholes.
White rhinos are easiest to see in the Pilanesberg and Southern Kruger around Berg en Dal camp.
Sable are easiest to see in the Pilanesberg and near Tshokwane in the Kruger.
Roan and Eland are found in the Northern Kruger between Shingwedzi and Punda Maria.
In addition, some mammals that we have listed as not being present could come into the parks. For example people have seen buffalo, wild dogs and baboons in the Kgalagadi but these animals 'strayed' into the park and are not normally resident there.
One brown hyena was seen in the Kruger in the last 20 years so they cannot be considered as being present!
---
Return from African Mammals to Game Viewing Tips page
---
---

To make a safari rental booking in South Africa, Botswana or Namibia click here
---