Zelda Guest Farm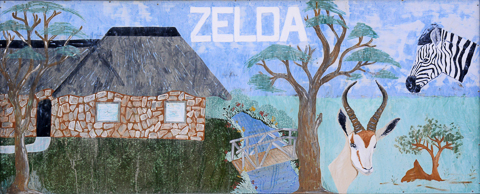 Location
Zelda Guest Farm is truly an Oasis, located just 20 km west of Mamuno/Buitepos, the Botswana Borderpost that takes you along the Trans-Kalahari Highway to Gauteng.
The game and guest farm is situated on 10 000Ha that is divided in two - 5000Ha for cattle farming and the remaining 5000Ha is the game reserve on which the guest farm stands.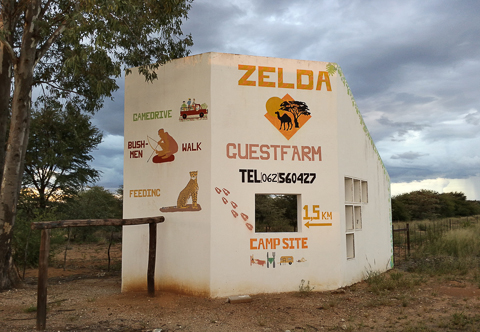 About Zelda Guest Farm
Zelda's as we call the farm is ideally situated and we have used it often as our stopover when travelling between Johannesburg and Etosha. The drive is 1800 kms (to Namutoni) and by stopping off at Zelda Guest Farm for a night or two breaks the journey into a 1000km and 800km trip.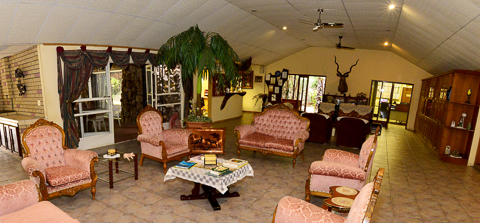 This large rustic guest farm has a wonderful atmosphere of old charm - on entering you go through the lush garden, over a small bridge or pathway that leads to the main entrance.
Wireless internet is accessible but at a small fee.
Food and Drink
The Baboona bar is a great place to relax before dinner or after dinner and to share your bush experiences. The Baboona bar has a good selection of South African wines and Namibian beers or any other refreshment you may want.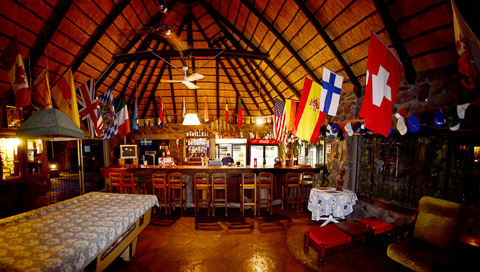 The dinners are typical Namibian style cuisine - delicious game like Gemsbok, Eland or Springbok are prepared with fresh salads and vegetables followed by desert of the day.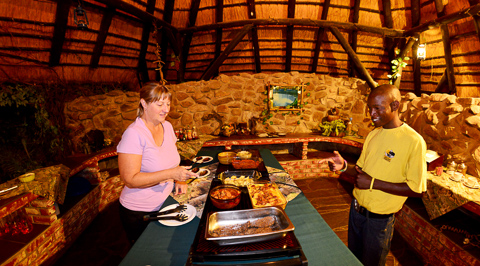 There are two dining areas, one is the outdoor rustic lapa or in the smaller cozy restaurant, depending on the weather.

Just off the Lapa is the lounge with a fireplace to ward off those cold Namibian winter nights.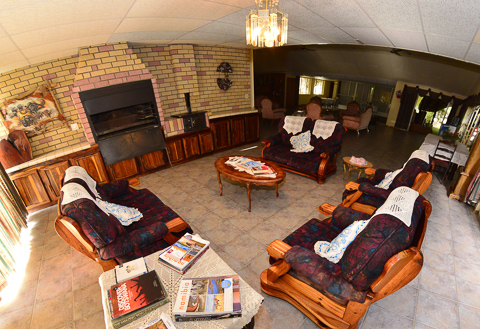 Breakfast is served in the covered lapa just off the main building. There is a lovely display of fruit, fruit juice, toast followed by a hot breakfast, tea and coffee. They will also do a breakfast pack if you are leaving early in the morning, but you need to tell them when you check in so they have time to prepare something for you.

Zelda Guest Farm Accommodation
Zelda's has 16 individually furnished rooms- each has an en-suite bathroom, tea and coffee facilities and a patio or terrace. There are 12 twin rooms and 4 family units, suitable for 2 adults + 2 children and 3 rooms are disabled-friendly. To ensure a restful night's sleep you have air-conditioning in every room.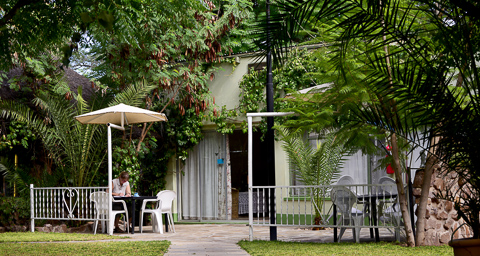 The décor is on the old fashioned side and could be described as 'old-English' but, reading the comments in the guest books, most people like this as do we.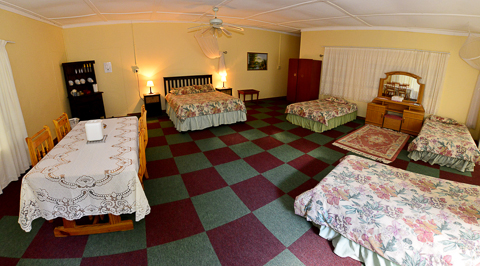 There is a 10 site camping area with loads of shade from surrounding trees. Clean ablution facilities, access to hot water, electricity, braai areas and washing-up facilities are available.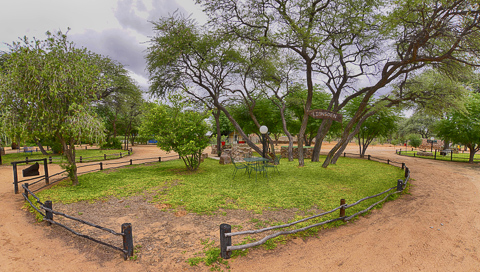 ---
"Your time and money are valuable & the information in this book will help you save both." -Don Stilton, Florida, USA

"I highly recommend the book to anyone visiting Etosha National Park to photograph the animals - Anne Darling, Cognac, France

"Overall it is a great book that I highly recommend." - Lovelyn Bettison, London, UK 

---
Activities
The combination of these activities below will make your stay at Zelda Guest farm an unforgettable experience. A variety of wildlife roams freely on 5 000ha of the farm that has been fenced off to form the game farm.  
There is a sparkling swimming pool, which is always welcome for a cool down after a hot summer's day in the Kalahari Desert.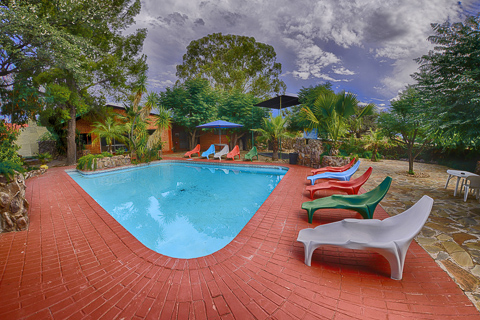 Children are welcome to explore the farm or take part in the many activities- there is a trampoline, a playground, volley ball court or take a walk to see the farm animals.
There are several walking trails on the farm and there is a hide and waterhole where you can sit and wait for game and birds to come and drink.
A bushman Experience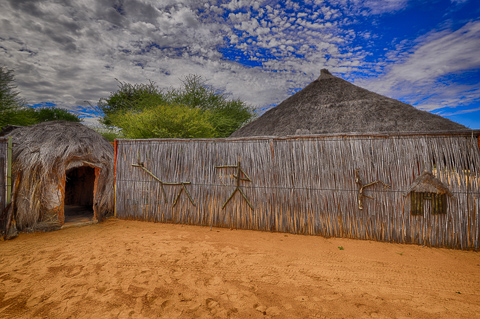 The resident Nharo Bushmen families, who have lived in the area for hundreds of years, are proud to share their fascinating heritage and traditional knowledge with guests.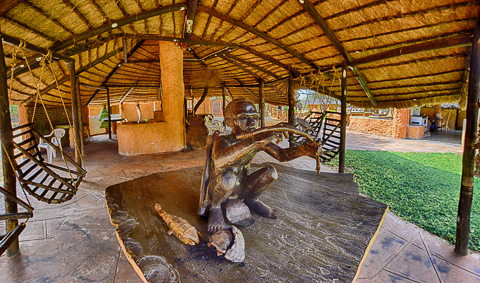 Guests are taken to this lovely village about 3km from the main guest farm where you are treated to a walk and then sit round the fire for the Bushman dancing.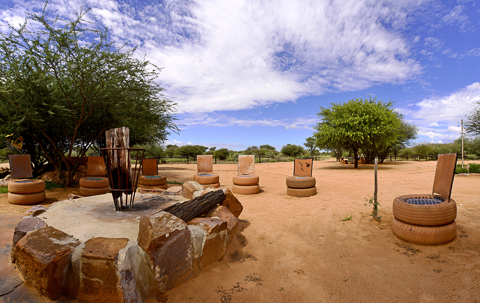 You can sleep over at the village – all the rooms are clean but we like rooms 5 and 6 because they have a bush feel to them and seem newer.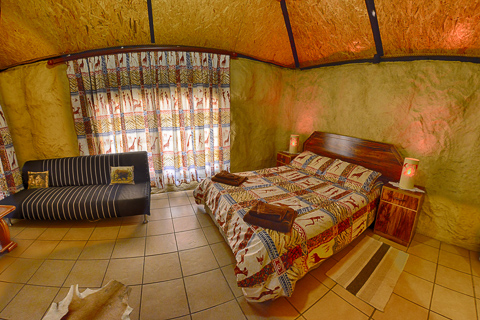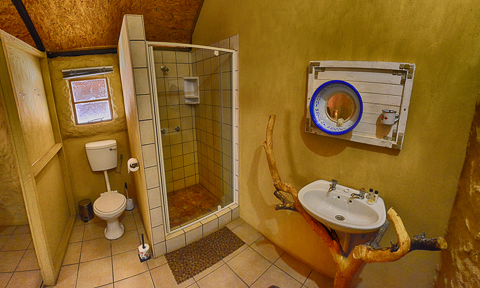 Animals at Zelda's
Zelda's always have some animals that are being rehabilitated or have been rescued from traps or from road accidents. 
While we were at the lodge they had a 4-week old baboon whose mother had been run-over by a car. They had named him Ben, after the person who had found him clinging to his dying mother on the road.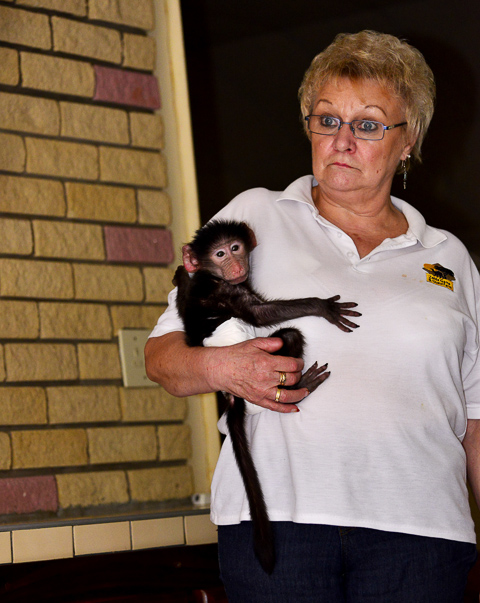 They also feed Piet the Porcupine, who comes out after dark; you can visit him any time after dinner and see how this prickly guy enjoys his meals.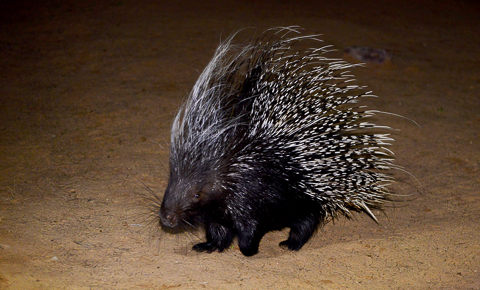 The highlight for us is Tornado, the female leopard that has lived on the farm all her life. Her mother was shot by a hunter and she was hand raised as a cub.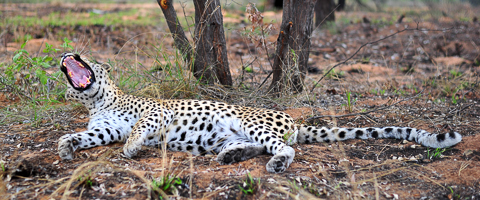 She is now 17 years old but you would not say by looking at her, she still looks and acts just like a young cat.
We spent a lot of time with her and got some amazing photographs.
Because Tornado was brought up by humans she craves company and enjoys visits from guests. She doesn't like large groups and if just a few people go to visit her she tends to appreciate the visits and may put on a show for you, rolling, purring and growling.
Here is a gallery of images captured of the photogenic Tornado during the course of one day.
Click on any image to see a slideshow...
Most visitors only visit the animals at feeding time (18h00) yet they could get to see so much more in terms of behaviors, and get better photographs, by visiting the animals during the day.

Game Drives
Three one hour game drives are on offer per day (morning departure - 08h00, afternoon 15h00 and a night drive- 20h00) this is where you could see the 20 different species (giraffe, zebra, kudu, impala, wildebeest, springbok and a few of the nocturnal animals)
---
For more information or to make your booking, please visit the Zelda Guest Farm website.
---
Return from Zelda Guest Farm to Safari Stopovers page
---
---

To make a safari rental booking in South Africa, Botswana or Namibia click here
---