Safari Pants
What safari pants you bring with will depend on the season. In winter (June to August) we wear jeans at night and early in the morning...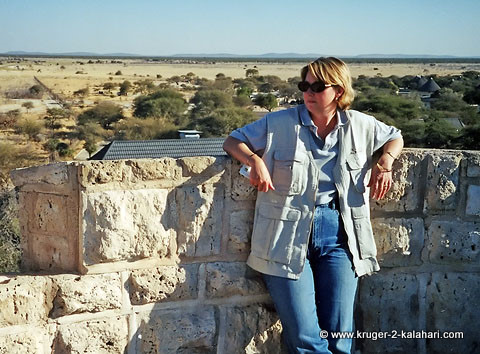 By late morning, however, it tends to be hot so we change into shorts and sandals. This applies to the Kruger Park, Kgalagadi, Etosha and Pilanesberg.
In this photograph Jennifer is wearing cotton shorts at the Pafuri picnic spot in the Kruger Park. She is pointing out the flood level from the 2000 floods...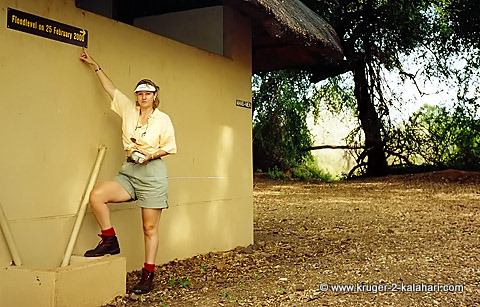 In the following two photographs - taken at the Train in Skukuza camp, Kruger Park, - both Jenny and I are wearing cotton safari shorts...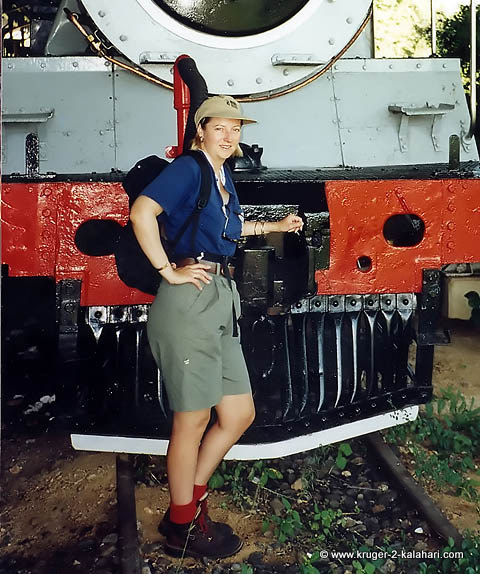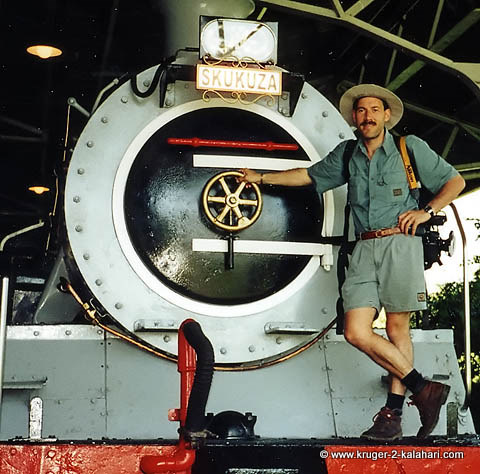 In summer we tend to wear shorts all day but at night we may put on tracksuit pants or jeans when braaing.
Keep in mind that you can get cotton long pants that have zip-off legs so they serve as shorts as well.
As far as material and colors go we suggest cotton as this is a fabric that can breathe and the best colors are beige, olive, tan or khaki.
If you are going on bush walks color becomes very important as animals can easily see reds and yellows and you don't want an inquisitive rhino coming to 'investigate' you!
If you are doing only self-drive or going on guided tours then color is not as important.
---
Return from Safari Pants to Safari Gear
---
---

To make a safari rental booking in South Africa, Botswana or Namibia click here
---