Safari Jackets
Safari Jackets are a must for African safaris - in both winter and summer - especially if you intend going on morning and night drives!
In Southern Africa the coastal areas are hotter than inland areas and most of the national parks such as Kruger, Kgalagadi, Etosha and Pilanesberg, are inland and at higher altitudes so the nights and early mornings can get cold, even in summer.
The one year we were staying at Punda Maria camp in December, one of the hottest months, yet the days and nights were freezing!
If you go on night drives or morning drives you will have the wind-chill factor coming into play as you will be in open vehicles.
When buying a jacket you should ensure it is comfortable and warm. We would recommend a medium cotton jacket - a light wind-breaker will not suffice for cold nights and a big thick, heavy jacket may be too hot and bulky.
In terms of colors try and stick to the neutral 'bush' colors of beige, brown, olive or khaki.
Some jackets have zip-off sleeves so this could be your vest and jacket, saving valuable packing space.
Jennifer has a light-weight tartan safari jacket...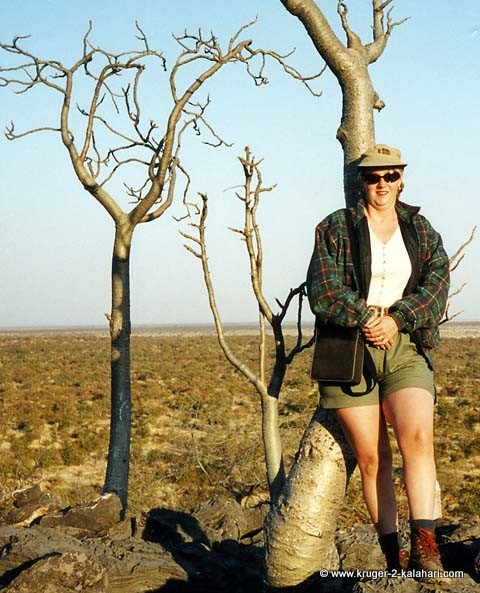 In the above photograph Jenny is wearing the jacket at the Moringa waterhole in Halali camp, Etosha. She is leaning against one of the Moringa trees.


I wear a thicker, yet lightweight, safari jacket...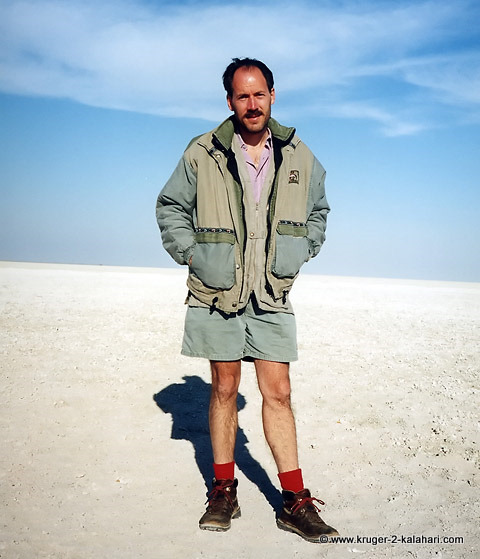 In the photo above I'm wearing my jacket on the Etosha Pan. You'll notice I have my safari vest underneath and a short-sleeve cotton shirt under that.
Layered clothing is best for an African safari as you can remove items as the day gets hotter.
---
Return from Safari Jackets to Safari Gear
---
---

To make a safari rental booking in South Africa, Botswana or Namibia click here
---