Safari Footwear
When we visit big-five national parks or game reserves we always take two types of safari footwear - boots and sandals.
Some people have said you don't need boots when going to these parks - well, we beg to differ! If you intend going on walking safaris then a good pair of hiking boots is a must, but even if you just intend staying in the camps a comfortable pair of boots is advisable.
The one year we were staying at Twee Rivieren camp in the Kgalagadi and while having a braai, Jennifer was about to step off the porch onto the sand and, just before stepping, she asked me to shine the torch - right under her foot was a black Buthidae Scorpion - this is the thick-tailed poisonous scorpion.
There are snakes, scorpions and insects in all the camps as well as outside them!
In addition there are thorns on the ground that have fallen from trees. These thorns can puncture vehicle tyres so think what they can do to your foot...!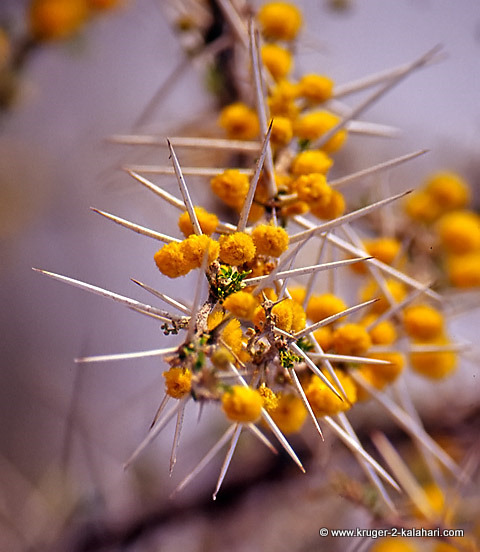 The soles of your safari footwear (both boots and sandals) should have thick, non-slip soles and must be comfortable.
Safari Sandals
We bring two types of sandals:
a thick soled 'bush-sandal' for outside use...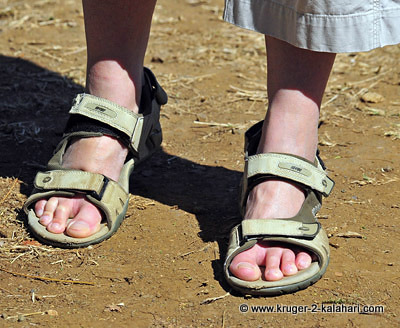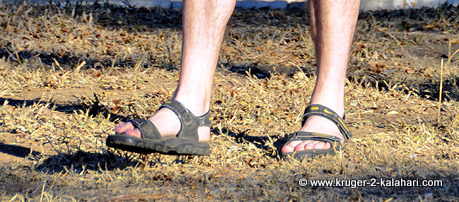 and a thin-soled sandal for inside the bungalow...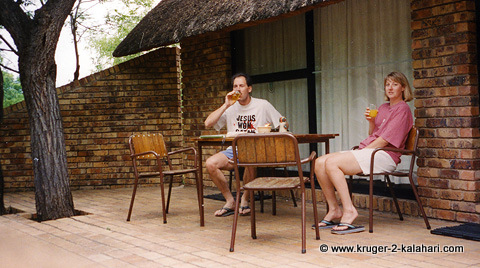 This thin-soled sandal will not prevent thorns from penetrating - I have often gone walking outside only to stand on a thorn and suffer the consequences!
Once the thorn has penetrated, if it is small, the end normally breaks off in the sole when you try and extract it and then you keep getting stabbed so try and ensure that you keep these sandals for indoors!
In 2011 I bought a pair of Courteney sandals. (Courteney specialize in safari footwear). They were a size 11 but the straps were too big - they hung loose on my ankles. I then ordered a size 10 and a half to match my Courteney boot size but when they arrived the straps were too short plus they were a size 10.
When I queried why I did not get the size I requested the answer was that they did not have half size templates for the sandals. As to the straps being too long and then too short I still do not have an answer.
The Courteney boots are very good quality, look good and fit nicely but their sandlas do not live up to their good reputation. Our advice is to buy their boots but don't even look at their sandals.
I now have a pair of sandals that I bought from Cape Union Mart and they look good and fit perfectly.
Safari Boots
In the past we have had boots that were very uncomfortable - they were heavy and the uppers were not supple at all.
We now wear boots that are very comfortable with supple uppers and thick but light soles...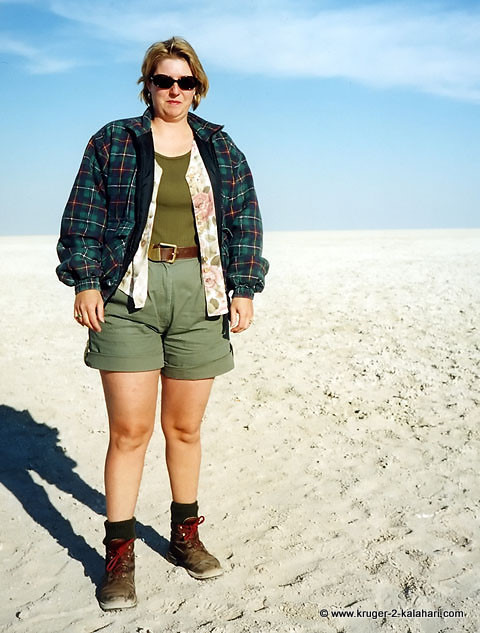 When purchasing your hiking boot try and look for the following combination of six key characteristics:
• Boot Weight - The lighter your boots, the easier your walking will be but the boot must obviously still maintain the arch support and lateral and longitudinal rigidity.
• Water Resistance - moisture can be one of your biggest enemies especially in the wet season. Keep in mind that moisture causes painful blisters so you must try and keep your feet dry.
• Tongue - the flap in the boot where you insert your foot. The tongue should be 'fully gusseted'; this means it should be stitched not just along the bottom but along each edge to the upper so that stones, sand and water cannot get into the boot.
• Scree Collar – This collar protects your Achilles tendon and ankle from chafing and should have padding that keeps sand out of your boot. We have found the best scree collars are ones that have a half-moon cutout at the back – this allows your ankle to flex more when walking and prevents chafing...
• Sole – this should have an aggressive tread to ensure good grip and should have some sort of stiff shank. This is a thin piece of metal in the sole to protect the foot against thorns, rocks, glass or other sharp objects you may stand on, from penetrating to your foot. It can be likened to a tire that has a steel belt.
• Laces – these should be braided nylon cords. Flat laces have less strength and will break more easily. If your 'hiking boot' has flat laces it is most probably a fashion boot and not a genuine hiking boot!
Ideally you want a boot that is comfortable and that looks good. Some boots are very ugly!
The Kruger shops do sell safari footwear but it is limited mainly to veld-skoens (bush shoes).
We suggest you bring your own safari footwear, especially your boots, as you should wear them in before coming on safari otherwise you risk getting blisters.
Safari Footwear - Which make is best?
Our first make of boots were Trailbusters, which we purchased in 1995.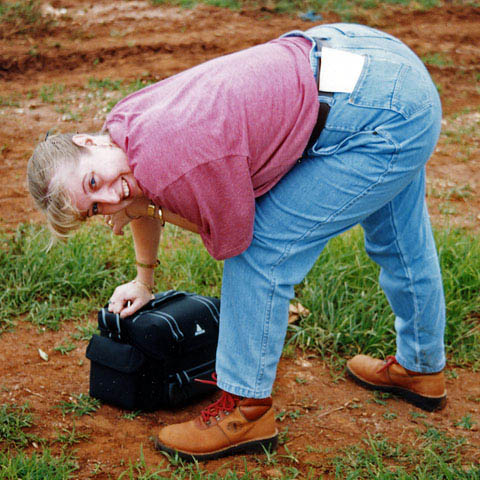 Jennifer is still wearing her pair after 16 years! These boots have seen Etosha, Kruger, Kgalagadi and Pilanesberg on over 100 safaris during these years.
My pair of Trailbusters lasted 13 years and I got rid of them in 2009 and bought a pair of CAT boots - not even two years and the side has split...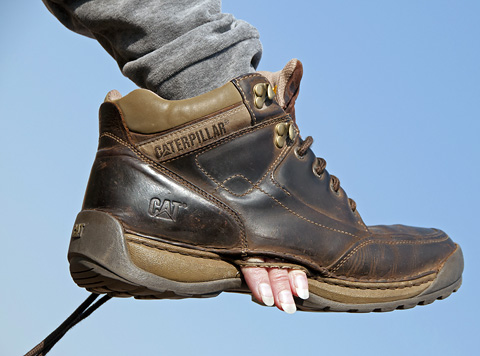 I wore my Trailbusters much more than the CAT boots and I would go on mountain hikes with the Trailbusters but the CAT boot was used to just walk around camps. Just goes to show the variance in quality with products of the same price and I would have expected better from Caterpillar!
I would have bought another pair of Trailbusters but I read on a few forums that the new owners of the company do not have the same quality product and the new Trailbuster boots don't last even half as long as the old boots used to.
I have now bought a pair of Courteney boots that are manufactured in Zimbabwe and are said to last ten years or more.
I bought the Safari style and from day-1 they were very comfortable- no 'wearing-in' needed!
I also wore them on a 2-week safari in Etosha during August 2011 and they were superb. I was walking through the bush, walking out on the salt pan photographing flamingos and climbing the dolomite hill in Halali camp (sharp rocks!) and the boots performed very well!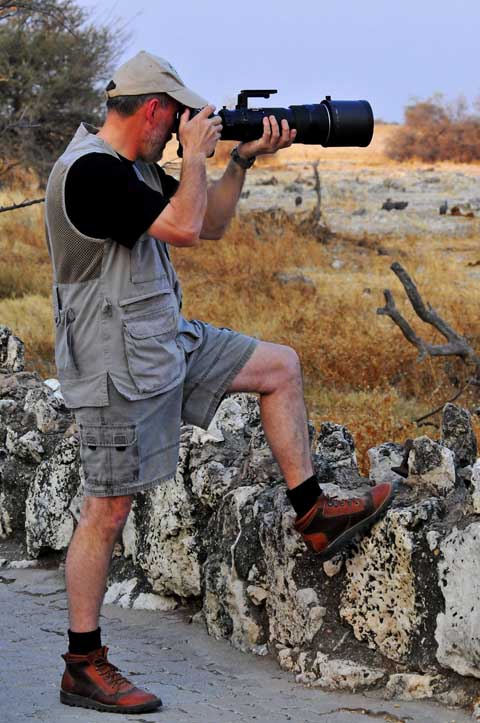 Caring for your safari footwear
You obviously need to apply polish every few months or after every safari to preserve the leather.
If you go on bush walks you will most probably cross streams and the insides of your boots may get wet. Please don't use a hair-dryer or put them near the fire to dry them out! This will dry out and stiffen the leather.
You should let your safari footwear dry naturally - we crumple up newspaper and stuff paper balls into each boot and then leave the boots in the sun (only during winter as the summer sun will be too hot).
Check the newspaper every few hours and keep replacing the wet paper with dry. The paper acts like a sponge and draws the moisture out the boots.
If the outside of the boots are muddy just use water and a soft brush to get the mud off.
---
Return from Safari Footwear to Safari Gear
---
---

To make a safari rental booking in South Africa, Botswana or Namibia click here
---