Sabi Sand Trip Report - Cheetah Plains Lodge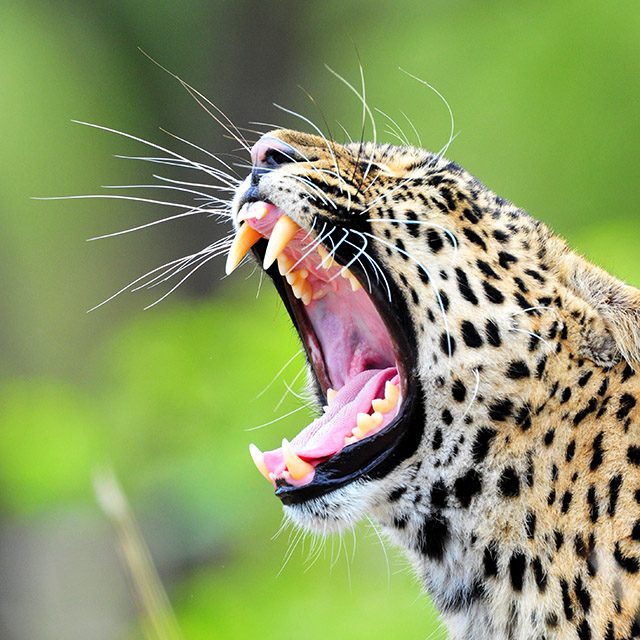 This trip to the Sabi Sand Wildtuin started early - we left home on Thursday 14th March at around 3am and the weather was fine.
We headed towards Nelspruit on the N4 and then we took the R540 towards Dullstroom. We were warned the R540 road was full of pot holes but we had a very good run even though by now it was still dark and it was raining with mist!
Most of the pot holes are just before, in and just after Lyndenburg.  We drove towards Ohrigstad on the R36 through the Strijdom Tunnel then down towards Klaserie and Acornhoek. We then took the D406 eastwards and entered at the Gowrie Gate into the Sabi Sand Reserve.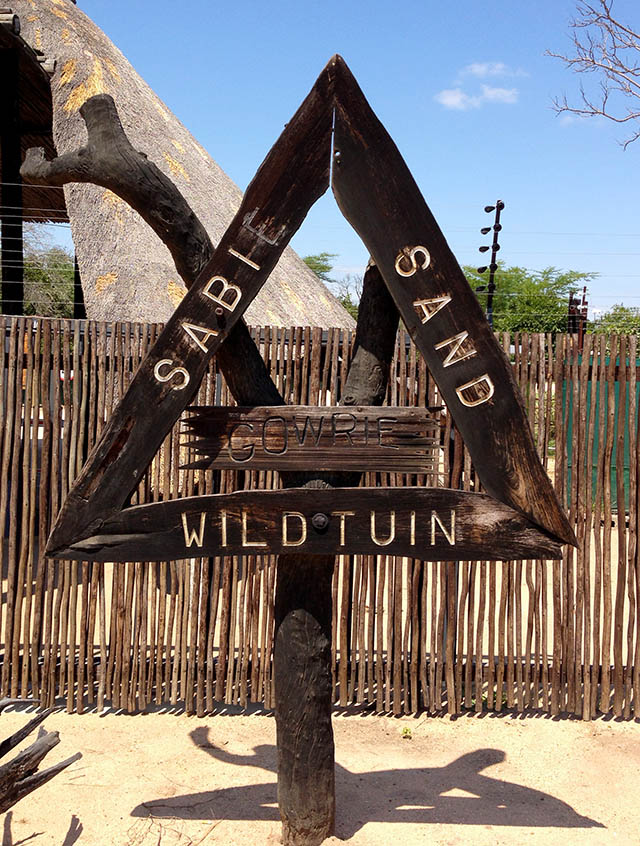 We arrived at Cheetah Plains at 11am - it took us nearly eight hours travelling with a few stops along the way. Don't make the mistake we did and carry on along the D406 to Manyeleti Gate - we did this and had to turn back for another 5km till we found the 'Seville' turnoff, which then leads to the Gowrie Gate. 
The roads in the Sabi Sand Reserve are in good condition considering all the rain they have had. We saw a few Giraffe and some Zebra along the way to the lodge.
When we arrived at the lodge we had no idea what to expect because it was our first time at Cheetah Plains. We were warmly welcomed by Kelly and Justin and then introduced to Candice, Collen and Goodman, all of who would be our hosts through our 3 night stay at the lodge.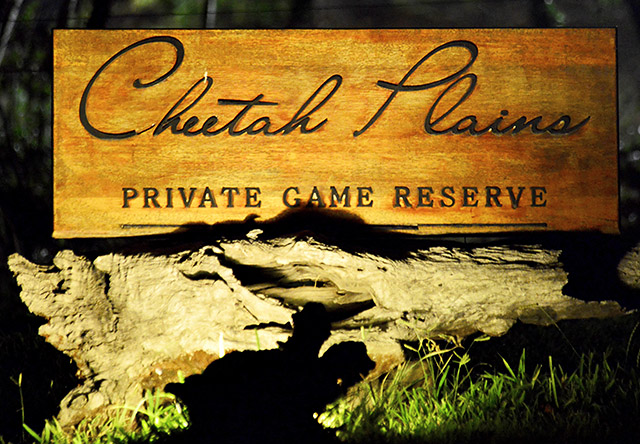 The Lodge is beautifully laid out and you can read more and see the lodge photographs on our Cheetah Plains Lodge page.
After settling in we went down to the lounge for high tea, which is served at 15h.30, just before our afternoon game drive.
Our first sighting on the first of our six game drives was, most appropriately, a cheetah...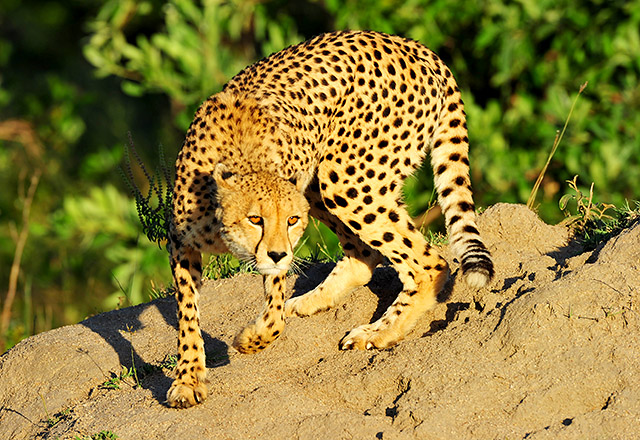 with her three cubs! (Third one is lagging behind).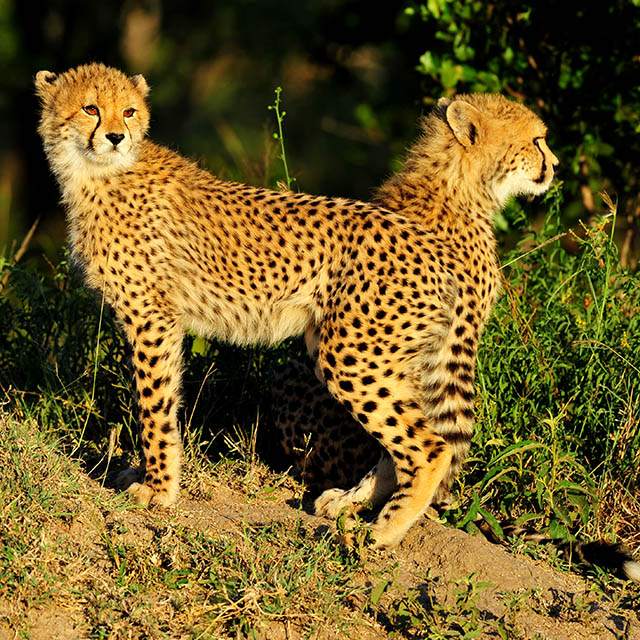 Still on the first game drive we found a pride of lions – one male a few females and cubs.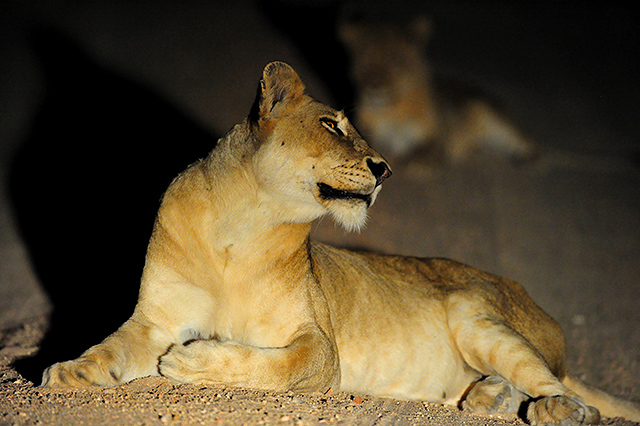 Thereafter the sightings came fast and furious on the remaining 5 game drives.
Keep in mind that the morning drive starts out before the sun has risen and the afternoon drive carries on until 20h00 so it will be dark for part of each game drive and photography can be challenging if you don't have the right photo gear.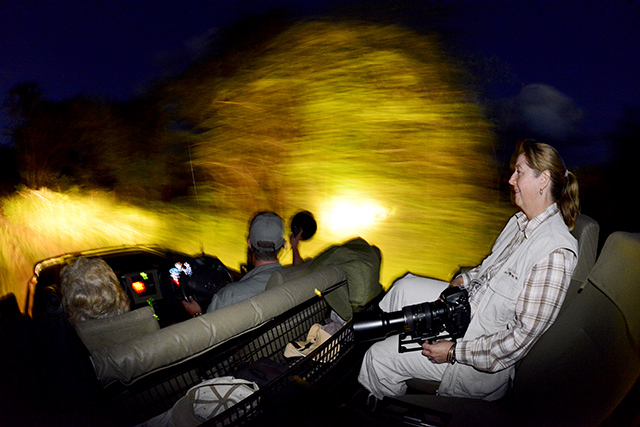 We saw four different leopards under different lighting conditions, overcast, sunny and at night. The night photos, however, did not come out good but we are happy with the day photos!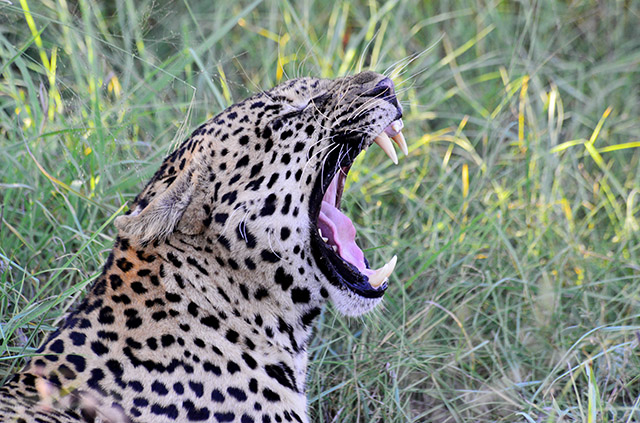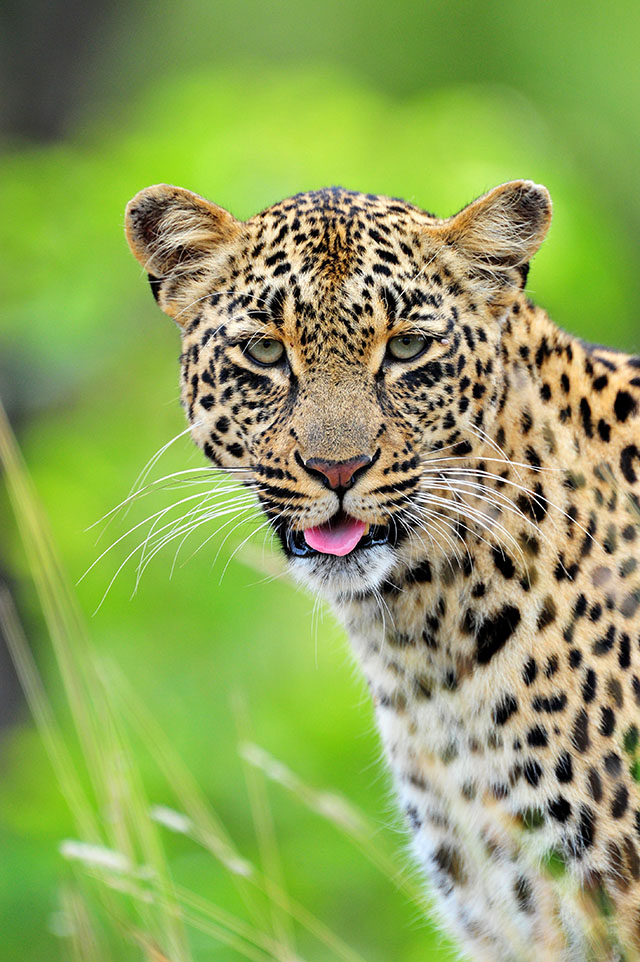 Some important advice for those of you who will be going on a guided safari – PLEASE DON'T PUT YOUR CAMERAS AWAY WHEN NEARING THE LODGE! We have had a few instances when other visitors on the vehicle put the cameras away as the lodge is in sight and they are thinking of a nice shower and dinner – and then a rare caracal or African wild cat steps out into the road for just a few seconds before disappearing back into the grass!
Another highlight for us was watching two male waterbuck having a huge fight, with the victor chasing the loser into the dam!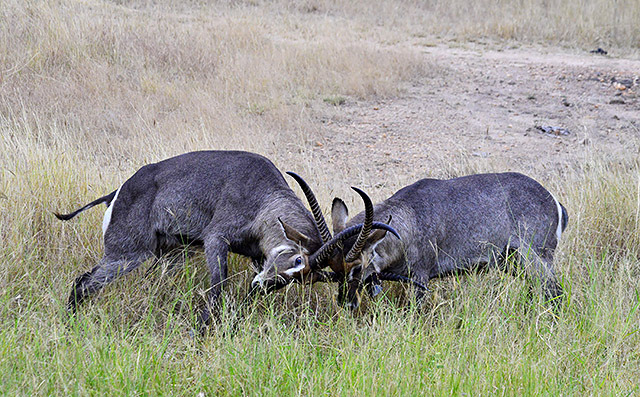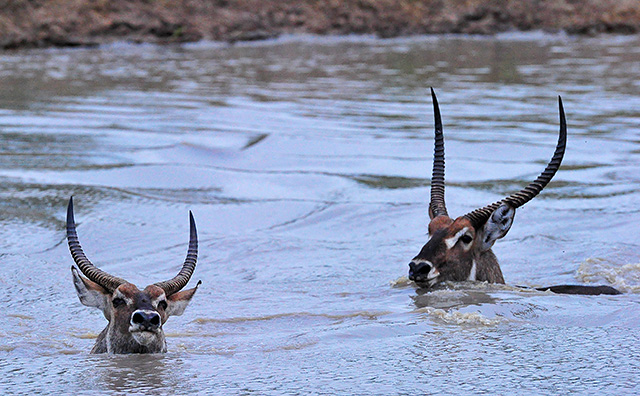 And yes, we also saw the rest of the big-five animals, namely buffalo, elephant and white rhinos...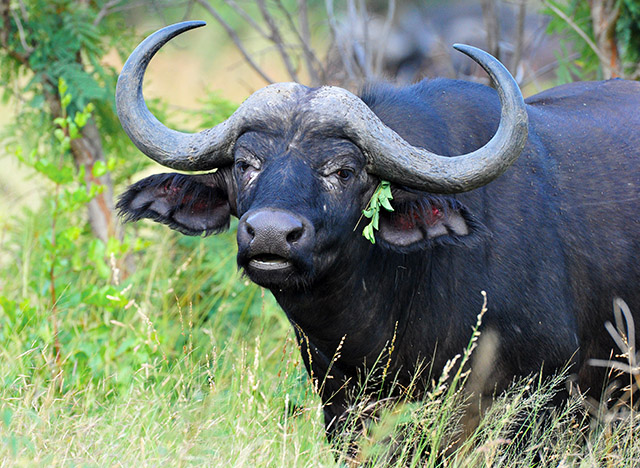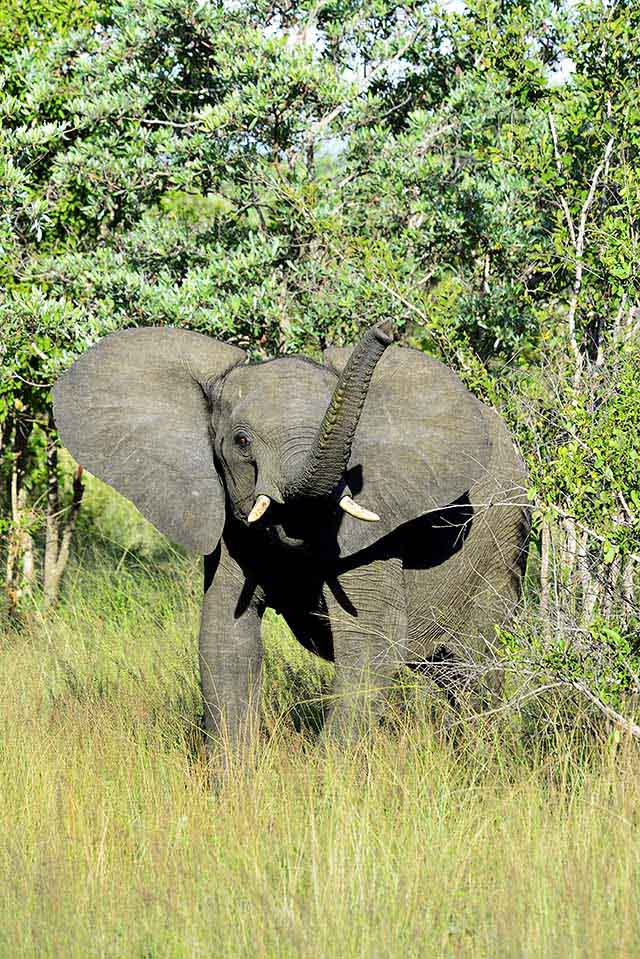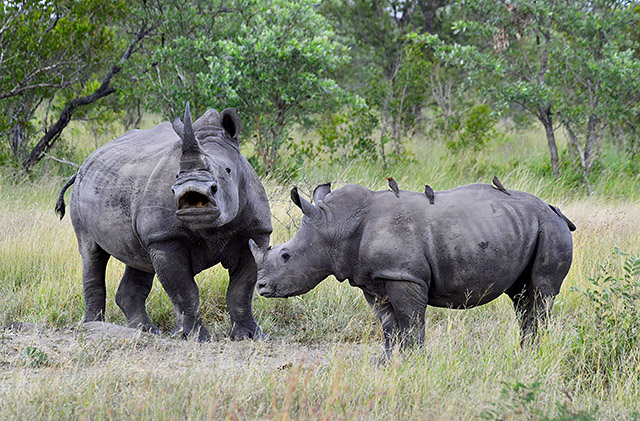 Our field guide, Justin, was great – he knew his animals and he knew how to please his guests. Normally the requests from guests are to see the big-five animals but he had a few unusual requests such a giraffe (may sound like an easy request but we had not seen any for the first two days), a bark spider plus hippos and he found them all.

On our last game drive Justin got a call to return to the lodge as a leopard had killed a warthog right in front of the lodge and was in the process of dragging it to a bush. We should have stayed at the lodge that morning!
We arrived in time to find the leopard with the warthog still kicking! (Yes, Justin was 'just-in' time for all these great sightings!)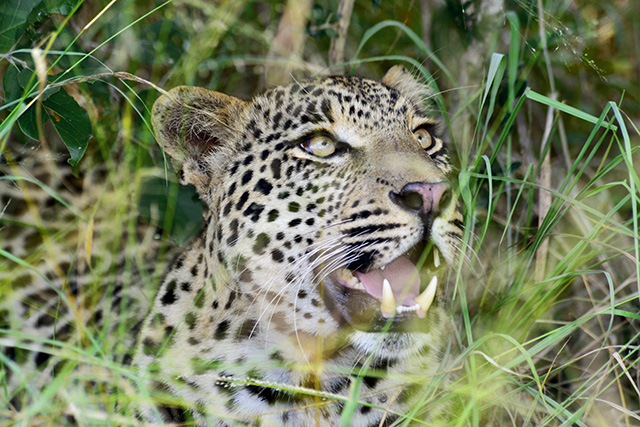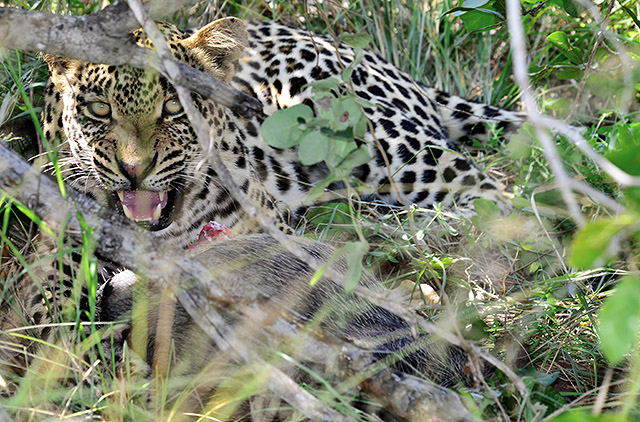 The moral of this story is that you don't need to go out on game drives every day as you can get good sightings from the lodge. The dam attracts many animals plus there are hundreds of birds and we found a few scorpions at night. The curio shop sells UV torches that will allow you to find scorpions as they fluoresce a bright yellow under the light. 
Just don't walk around at night by yourselves as the camp is unfenced - you will have a guard who will accompany you on your search. 
You can also capture some lovely landscape images from the lodge like we did with this knob thorn tree and star-points...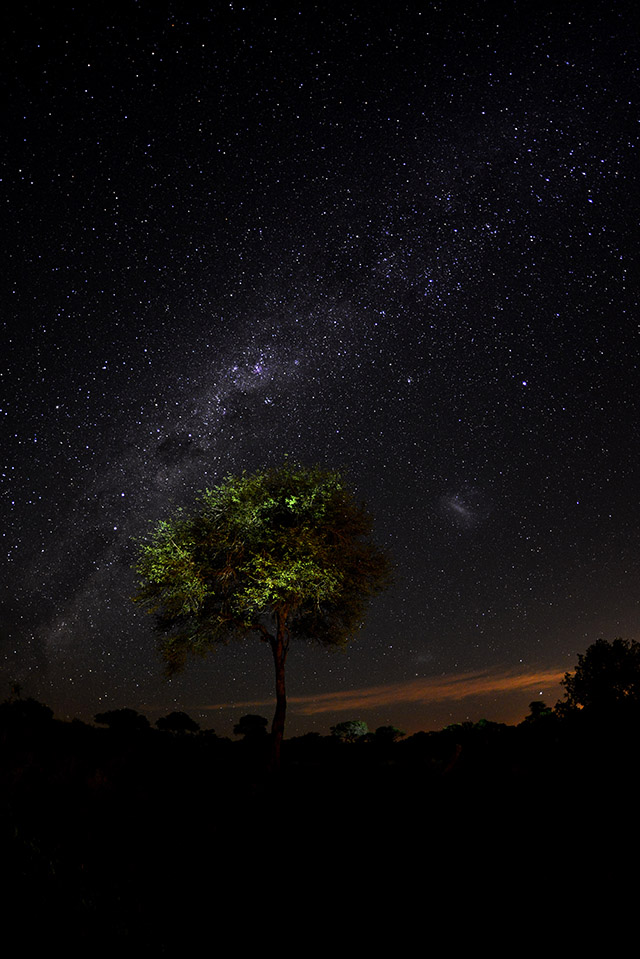 What else made our stay special? Well the Sabi Sand Reserve basically has three parts, the southern, western and northern areas. Cheetah Plains is situated in the less crowded north so we had nearly all the sightings to ourselves!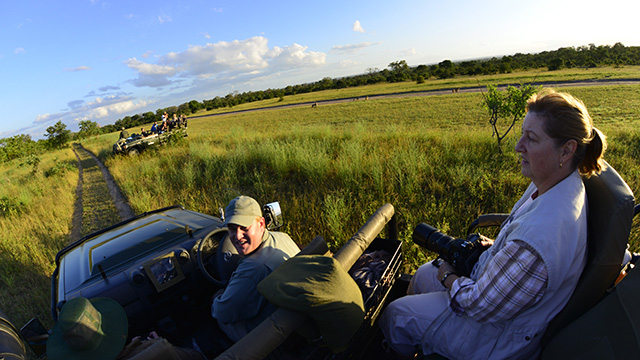 It's also not often that wildlife photographers get the opportunity to photograph a back-lit male lion…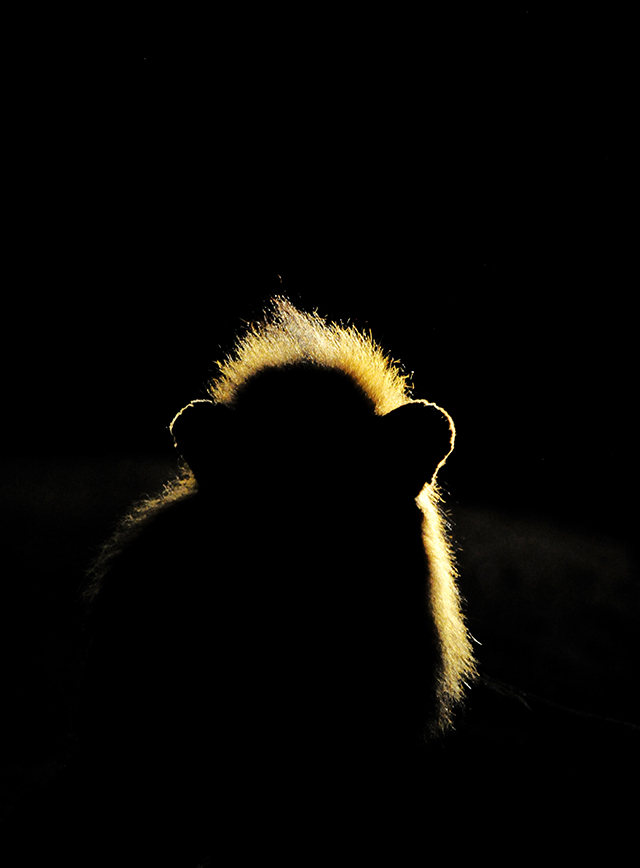 To get this shot the field guides worked together – at the lion pride sighting, which was at night - Justin asked the second Cheetah Plains field guide (Doctor) to position his vehicle behind the male lion and to shine his spotlight so that we could get some backlit photos – that's teamwork!

The game drives were special not just for the sightings but also the places where we stopped for sun-downers or our early morning coffee breaks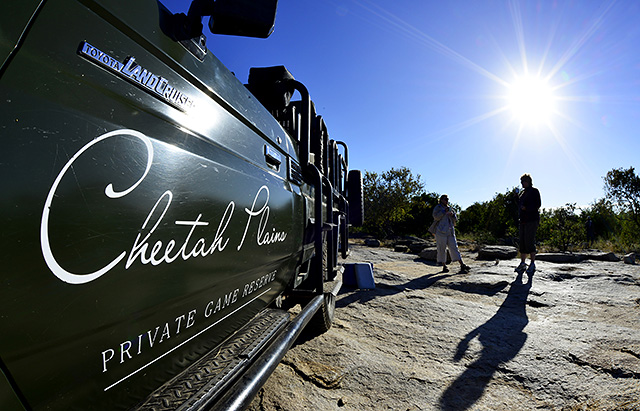 and we didn't have the normal boring peanuts and biltong snacks –we also had fresh fruit, Snacker chocolate bars and Amarula coffees!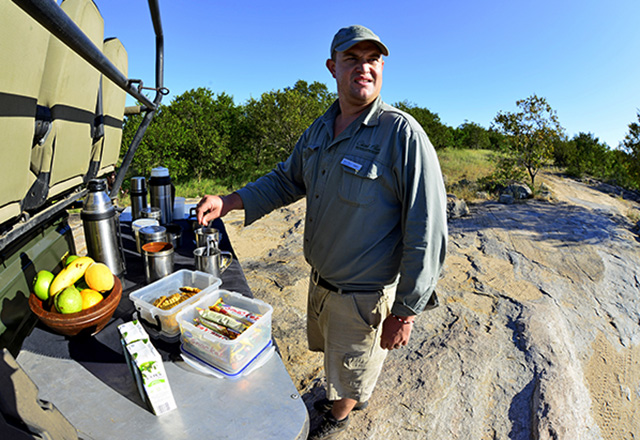 Sabi Sand Trip Report Summary
What made this trip unforgettable was the friendliness of the staff who all went out of their way to accommodate our every need, while keeping us well fed and our camera cards full. We returned home with many quality images, so for photo safaris this lodge has to be one of the top destinations.
A very big thank you to a wonderful Cheetah Plains team - we will be back because one visit is just not enough!
---
Return from Sabi Sand Trip Report to Trip Reports page

Return from Sabi Sand Trip Report to Sabi Sand Reserve Page

---
---

To make a safari rental booking in South Africa, Botswana or Namibia click here
---