Photographing from Picnic Sites in the Kruger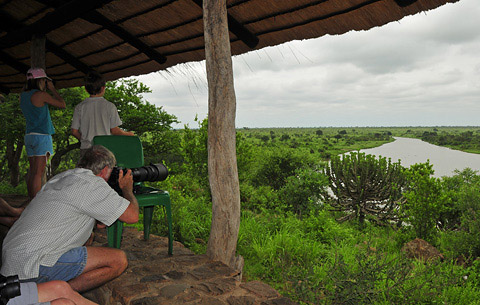 Mlondozi Picnic site
Photographing from Picnic sites can be rewarding, especially in the Kruger National Park. The Kruger has about 17 picnic spots but we have four favorites that provide us with superb photographic opportunities for wildlife, birds, landscapes and macros.
• Pafuri – the ambiance here is amazing with thick riverine forest inhabited by unusual animals such as crested guinea-fowl and nyala, plus forests of fever trees, baobabs around nearly every corner and stands of palm trees.
If you are a birder then Pafuri is for you as it is one of South Africa's birding hotspots as it has many 'special' species that are not found in the rest of South Africa.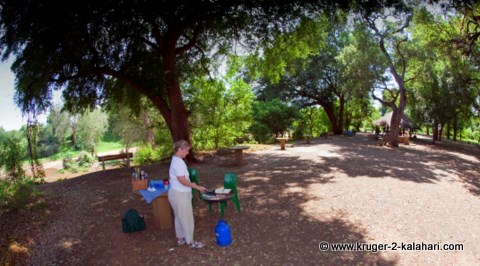 • Nwanetsi – the highlight here is the view of the rugged Lebombo Mountains and the river below. Unlike Mlondozi you don't cook your food where there is a view; the braai area is below the lookout so you need to walk up to the top to appreciate the view.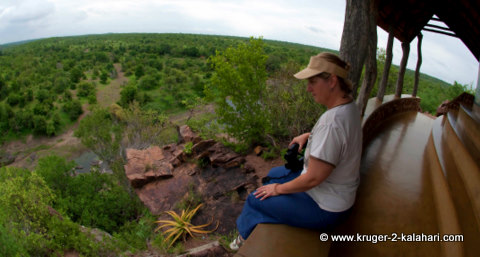 • Mlondozi – this has to be the number one picnic spot as it is situated on top of a hill with a view of the dam and plains below. We have had amazing sightings from here. Picture this – we get to the picnic spot cook our bacon and eggs and just as we are about to eat a heard of about 2000 buffalo appears on the plains walking in single file towards the dam.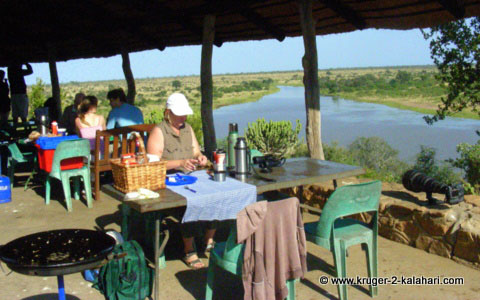 Someone says that they can see a lioness down below in the bushes. We take a few pictures of the buffalo then, on the way back to our breakfast table, we see a herd of elephant coming down to drink on the opposite bank of the dam - we take more pictures. We see hippos in the water below with waterbuck, impala and baboons on the bank.
Then a few rhinos appear next to the elephants and they drink – we take more pictures, then a car pulls up and the people getting out say they have just seen a cheetah lying on a log at the turn-off to the picnic site – we guzzle down our cold breakfast and head off to see the cheetah! Eating breakfast at Mlondozi is certainly not a relaxing experince!
• Nkulu – this site is situated right next to the Sabie River and we have eaten our breakfast here to the sounds of lions roaring from across the river and leopards are sometimes seen patrolling along the river banks.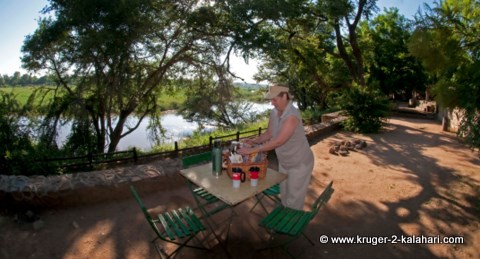 Picnic areas are a great place to relax but you still need to be wary. The one year we arrived at Pafuri early in the morning and Frank, the site attendant, had big eyes. We asked what was up and he said that a cheetah had just chased a nyala through the picnic area!
These types of events happen now and again – we also know that a pride of lions killed a buffalo at Nkulu Picnic site and a leopard killed a bushbuck right next to Timbavati picnic spot.
Antelope get accustomed to people or maybe people feed them so they hang around the picnic areas and, being prey, predators are attracted to them.
---
Return from Picnic Sites back to the Safari Photo Tips page
---
---

To make a safari rental booking in South Africa, Botswana or Namibia click here
---