Photographing from Vehicles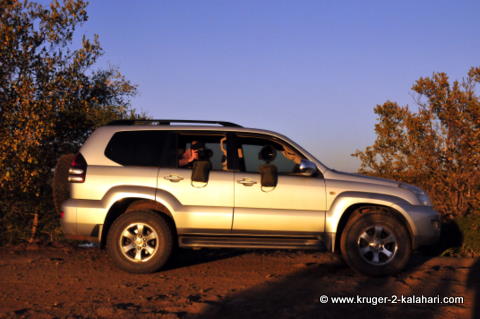 All the game reserves that we recommend are self-drive reserves so we will show you how photographing from vehicles can bring great rewards.
Currently we drive a Toyota Fortuner 4X4 but in the past we have driven a Land Rover, various Jeeps, a Toyota Prado and even a Toyota Camry that performed better than our Freelander!
Photographing from vehicles - Window Pods  
There are various window pods or window mounts available such as the Rue Groofwinpod (ground-roof-window pod), the Kirk Window Mount, both made in the USA to the Eckla Eagle Car Door Lens Support that is made in Europe and the Badger window mount and cheaper CamStedi window mounts, both made in South Africa...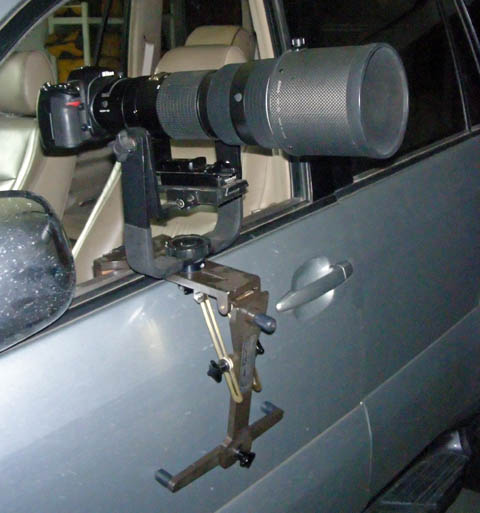 Camstedi window mount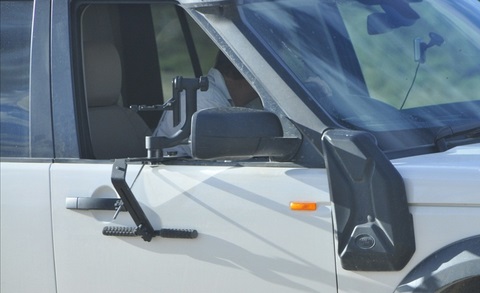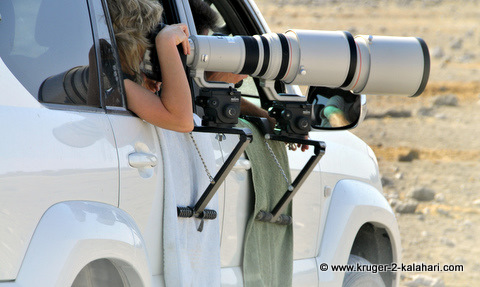 Badger Window Mount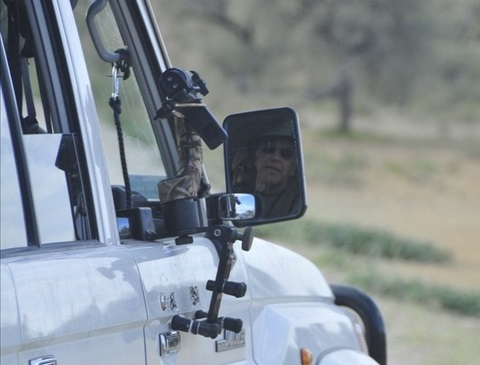 Kirk Window Mount
I have used all the above window mounts for photographing from vehicles and my preference used to be for the Kirk window mount as it clamps onto the window while the others just rest on the door and rely on the weight of the camera and lens to keep them stable.
All the window mounts have a flat plate that you mount your head onto except the Kirk. Its plate is made in a 'Z' shape which means the head is lower. Many photographers do not like this as you then need to bend forward to photograph.
In the photograph above you will see that this photographer has inserted a metal block, about two inches high, to raise his Wimberley head.
I also don't like the height of the Kirk so I cut a block of wood that I inserted between my old Kirk (I now use the Camstedi) and my Arca-Swiss ballhead to raise the height...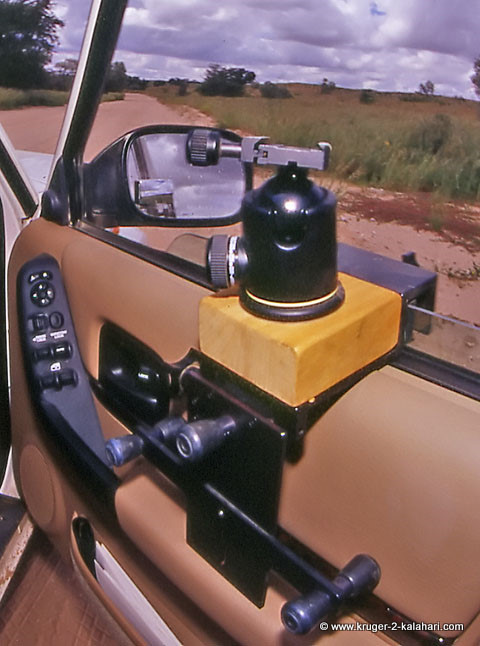 Ron McKechnie, who makes the CamStedi window mount, has made two new accessories - a clamp attachment so you can now clamp the unit to your window (like the Kirk but without the 'Z' design) plus an L-plate that you attach to the end of the CamStedi and slide into your window recess.
Both new additions will provide more stability and 'hold', keeping the CamStedi on the vehicle while driving or shooting.
I do, however, still recommend you use some form of security strap from the window mount to your car in case the window mount comes loose - especially if you want to drive with your lens mounted to it - accidents can and do happen!
The CamStedi is sold by Ron for about R1000,00 (about USD150,00). This makes the CamStedi the cheapest and most practical window mount on the market in my humble opinion.
He produces the CamStedi in very small quantities and should you want to purchase one please contact Ron on ronmck@lantic.net or phone him on +27 (0)18 468 5203.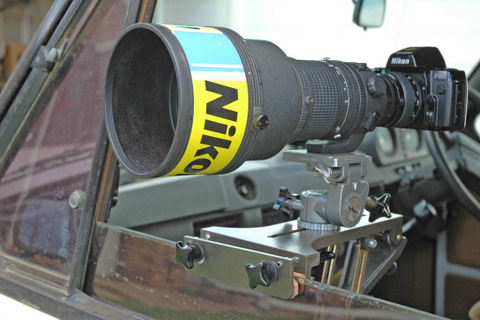 If you want to drive with your lens mounted onto the window-mount, regardless of which make you choose, then you need something that will not come off! We have seen people that have had their 600mm f4 come tumbling off while driving as they went over a bump in the road.
Many people have learnt this lesson and now use some sort of cable or 'stretchie' to secure the window mount to their vehicle...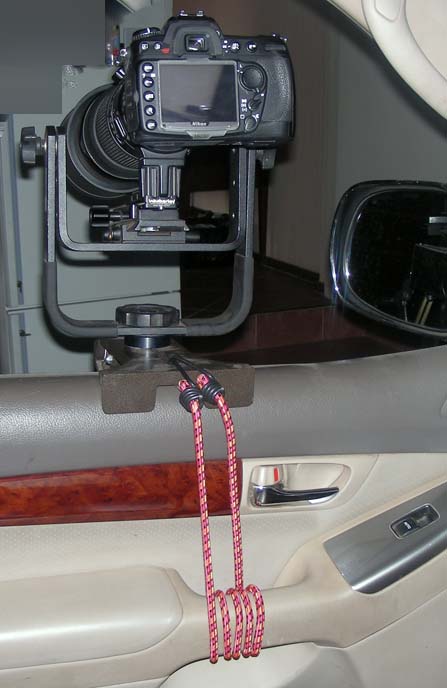 We don't feel comfortable with the stretchie scenario and if we drive with our lens mounted there is only one window mount that we will trust and that is the Eckla Eagle...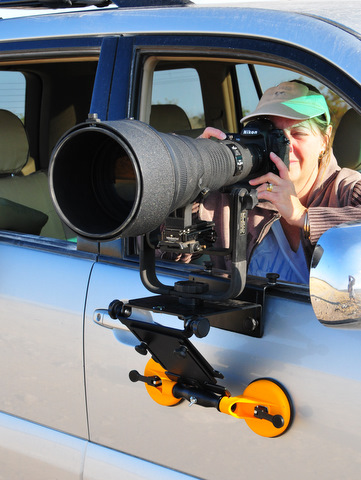 Click here to see the two small modifications we made to our Eckla Eagle window mount to make it the best window mount for us.
If you shoot out of sunroofs then you could consider using a Todd-pod, which is a metal T-mount that fits on the corner of a safari van's roof-hatch.
The Todd-pod was created by Todd Gustafson a professional wildlife photographer who specialises in East African safaris.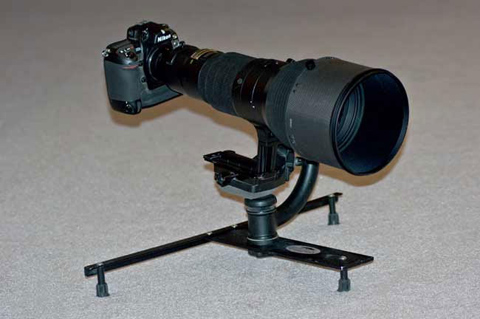 With a Wimberley or Manfrotto head mounted to the Todd-pod it provides more height than shooting off a bean bag and will alleviate hunched shoulders and sore neck from bending down.
Stedilens
Peter Derichs, the author of the Peter's Guide series of books, has created a simple but effect support called Stedilens. This video shows how easy it is to use, either on a beanbag or on your vehicle window...
Photographing from vehicles - Bean Bags
We have used various Bean bags for photographing from vehicles and have found The Molar Bean Bag manufactured by Vertex Photographic in the USA to be a fast and easy way to provide a window mount for a photographer's camera and lens.
Designed to fit properly on a car door or window the Molar Bean Bag™ provides superb camera support for any camera and lens combination.
Its unique molar shape (like a molar tooth) wraps around and hugs a car door or window. It provides a very solid platform for our big 600mm lens and also works well with any other heavy lens/camera combinations.
Not only does it work great on a vehicle door or window it can also be turned upside down and placed on a flat surface like a vehicle roof. In the upside down position the molar 'roots' provide excellent support for large lens and camera combinations. The Molar Bean Bag can even be placed on its side and used to support a big lens combination.

Recently I started using the Badger Gear Beanbag as a second support. There are times when the subject is constantly moving around and changing position so here I will have the 600mm f4 on the Molar Bag and the Badger Bag will have the 200-400mm f4 on it. This allows me to change magnification quickly depending on the subject's closeness to our vehicle.

We have kept our old Kinesis bean bags as we use them in some hides that have a narrow wooden shelf where the Molar bean bag would big too big and bulky. When photographing from vehicles the Kinesis bean bags were too light and would fall off the window when driving.
The Walt Anderson Panning Ground Pod - The ground-pod consists of a metal base plate with 4 small rubber feet and a small Arca-Swiss style clamp mounted on top that makes it is easier to follow moving subjects.
The ground-pod was designed for use on the ground (with camera in either vertical or horizontal position) so that you don't end up placing your camera in sand or mud but it is also ideal for use on the Molar Bean Bag as well...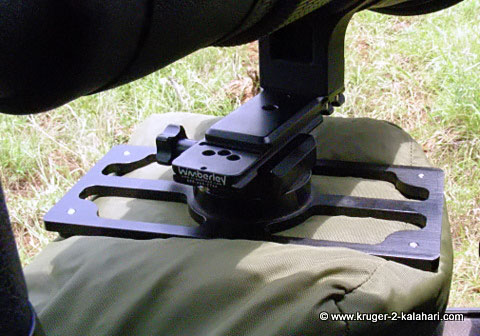 A final piece of advice regardless of the support system you use when photographing from vehicles – please switch off your engine before taking the photograph. You won't notice the lack of sharpness when viewing the image on the camera but you will when the files are downloaded to your computer.
This photograph shows a chap photographing an eagle - he is handholding and the engine is idling...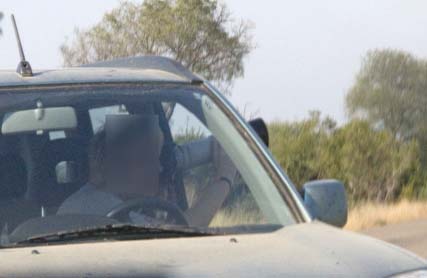 If you are doing a self-drive safari you are in control so make sure you switch off the motor and use some sort of support system!
If you go on a game drive ask the driver to switch off his engine, even if it means he must switch off every few minutes. What's the point of going on a safari and your pictures are not sharp? Even Canon's IS (Image Stabilization) and Nikon's VR (Vibration Reduction) will have their limits, especially in low light.
At the end of the day you need to use the support system that you are comfortable with even if you wrap a towel around your side mirror or use the side of the game-viewing vehicle...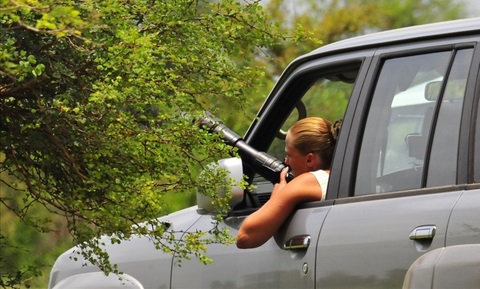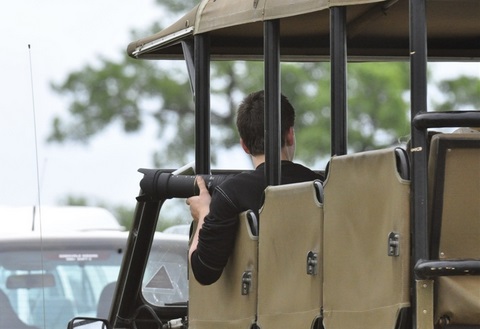 And there are many other support options for photographing from vehicles, in addition to those we have mentioned, that may suit you and your photographic style...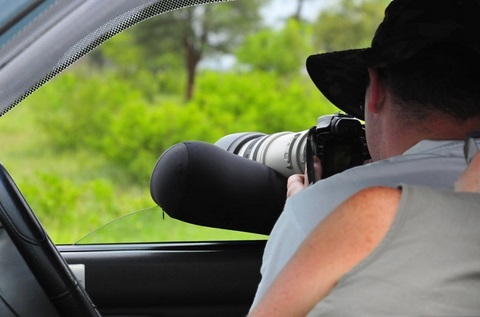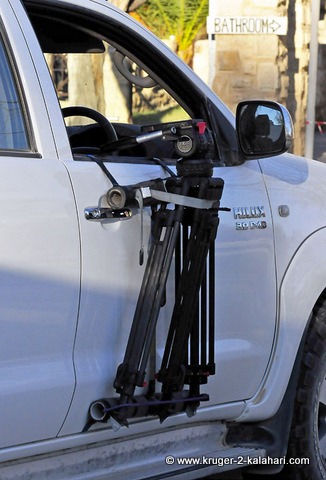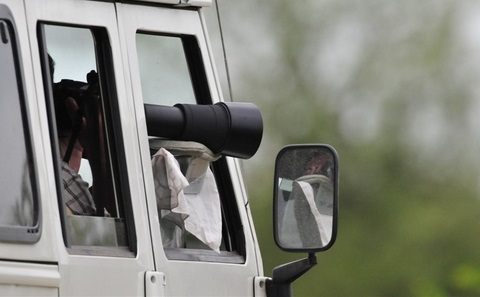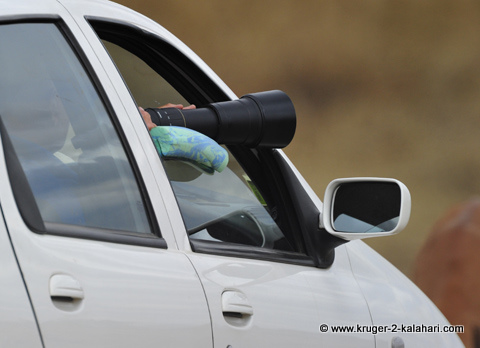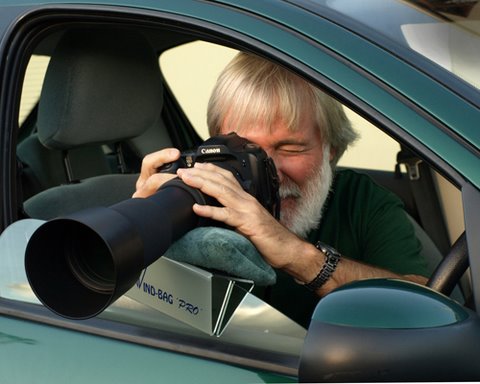 There are so many products for you to choose from for photographing from vehicles but the bottom line is that you should not skimp on cost when choosing your support system.
You have invested thousands of Rands or Dollars on photography equipment and you want to ensure sharp photographs and protect your photo equipment and vehicle from damage.
If you have big heavy lenses - from 400mm f2.8 up to 600mm f4 and 800mm f5.6 with heavy pro bodies like the D3S then you should be looking at the molar bag or badger bag with a panning plate or a window mount (Eckla Eagle, Kirk, Camstedi, or Badger) with Wimberly or Benro gimbal head.
The Apex Beanbag provides the best of both worlds for photographing from vehicles - it is similar to the molar bag but it also has a plate that can be inserted at the top and you can attach your gimbal or ball-head.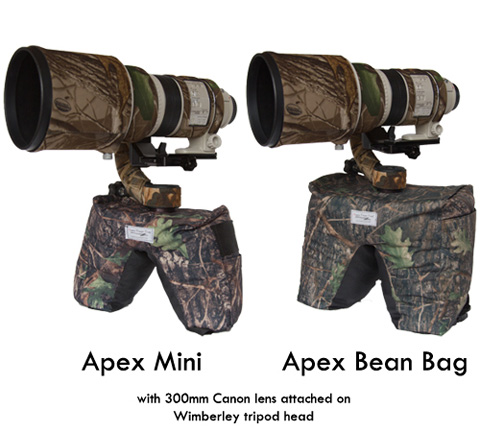 With this product you have a bean bag plus gimbal head option minus the window bracket - the best safari beanbag by far!
If you use small to medium weight lenses and cameras such as the Nikon 300mm f4, 80-400mm f5.6, Sigma 170 - 500mm, 50 - 500mm zoom etc. you could also use the above products but they may be overkill - a bit too big and bulky for your smaller items. The more appropriate supports could be the products that clamp onto your window, like the Windbag Pro or the new Apex Mini Beanbag.
We do not recommend these foam supports that sit on the vehicle window for use with the big heavy lenses. We used one of these products in the past with a Nikon D3S and Nikon 600 f4 lens and the weight pushing down on the window damaged the window motor.
My lens weighs 5 kilograms - add to this the body, panning plate and flash plus flash bracket and you are looking at 7 to 8 kilograms! In addition, good long lens technique says that you must push down gently on the top of the lens to stabilize it when shooting, for both tripods and beanbags, so there you would have even more pressure on the window.
Ideally, when photographing from vehicles, the pressure and heavy weight should be on the vehicle door and not the window hence a beanbag like the Apex works perfectly!
---
Return from Photographing from Vehicles to Safari Photo Tips page
---
---

To make a safari rental booking in South Africa, Botswana or Namibia click here
---