Patience Bogatsu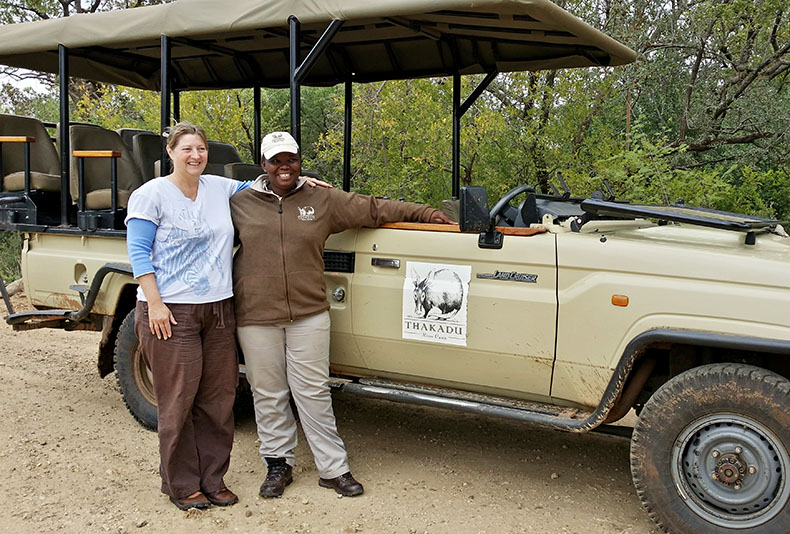 We spent a long weekend at Thakadu River Camp in Madikwe Game Reserve where Patience Bogatsu is the head field guide and we had the great pleasure of joining her on six game drives while staying at the newly renovated Thakadu River Camp in August 2015. 
Patience Bogatsu - SA's first black female field guide
Patience grew up in Molatedi village and was recruited from a youth culture project as she showed an interest eco-tourism.
In 2001 she was hired by Etali Lodge where she did housekeeping but in 2002 the owners of Etali promoted her to tracker. She used to herd cattle in her village and she had to look out for predators and their tracks every day so becoming a tracker, and later a head field guide, was a natural fit.
Patience chatting to us at the boma dinner
According to Alec Russel in his book 'After Mandela: The Battle for the Soul of South Africa', Patience was South Africa's first black female bush game guide. She has been a field guide now for over ten years but she is still most passionate about the bush and her job! 
As we have mentioned before, the field guide can make or break your safari and in this case we had a superb photo safari thanks to Patience.  
We requested Patience Bogatsu a few weeks before we arrived as we had heard how good she was; on a 7-day photo safari Patience found her guests 9 different leopards in 10 sightings! Leopards are notoriously difficult to find in Madikwe but she managed to find them on 10 out of 14 game drives!   
We stayed at Thakadu River Camp for 3 nights so went on 6 game drives with Patience - this is how the drives went… 
Game Drive number 1: Wild dog chase plus white rhinos, spotted hyena and brown hyena
We were on our way to the wild dog den when we saw the dogs running past us and they ended up cornering a wildebeest mother and calf against the fence. They tried for over an hour to get the baby but the mother kept chasing them off.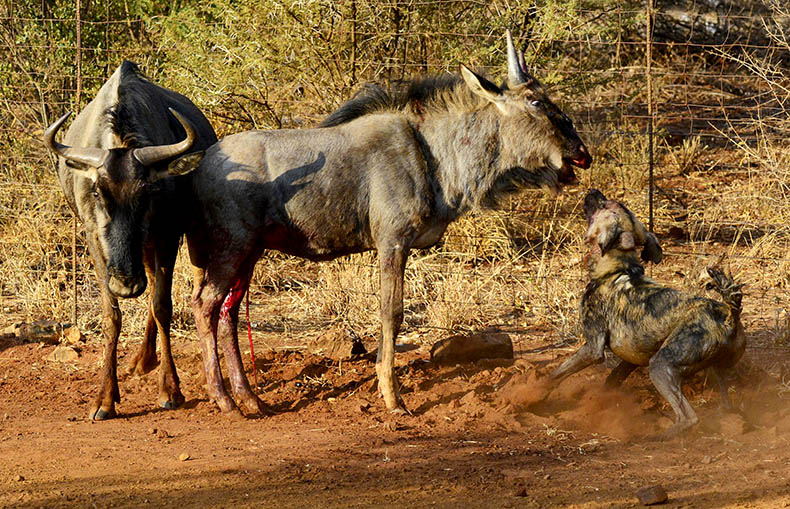 Brown Hyena waiting in the wings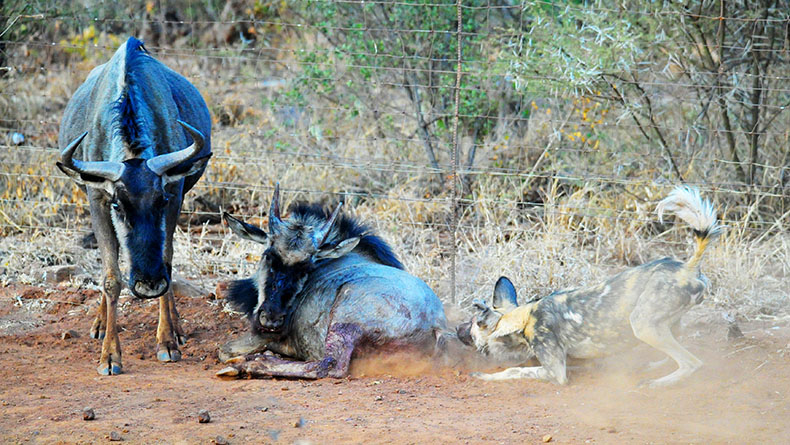 Game Drive number 2: Leopard with kill in tree, mating lions, black rhino, buffalo, white rhino and elephant
This leopard sighting was in the west of the park so we spent most of the morning driving there and back and when we eventually got there the other vehicles had put so much pressure on the cat that he ran away! We got a few seconds glimpse of him before he disappeared into the bush, leaving his kill in the tree.  
Game Drive number 3: Wild dog pups at den and Leopard at waterhole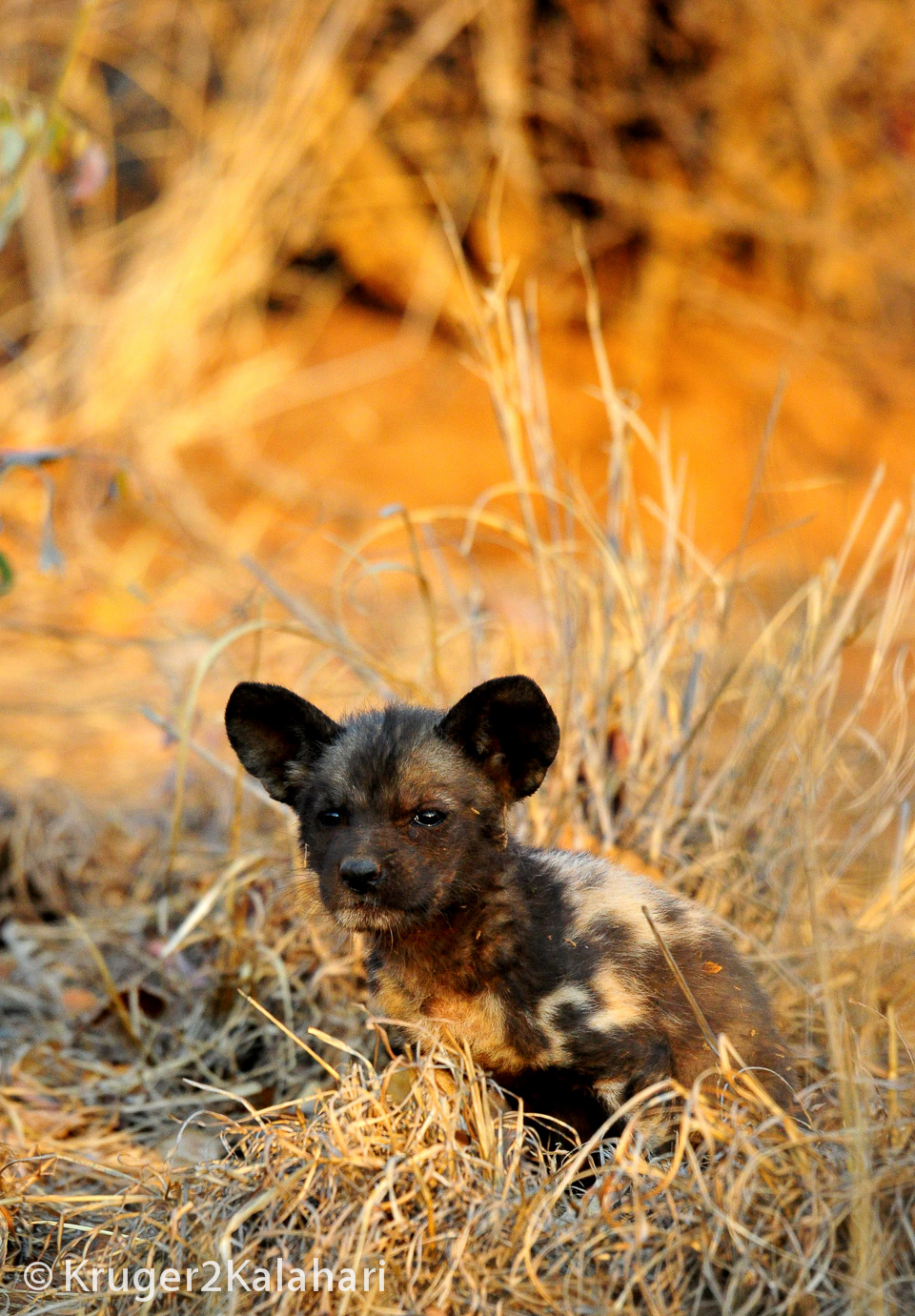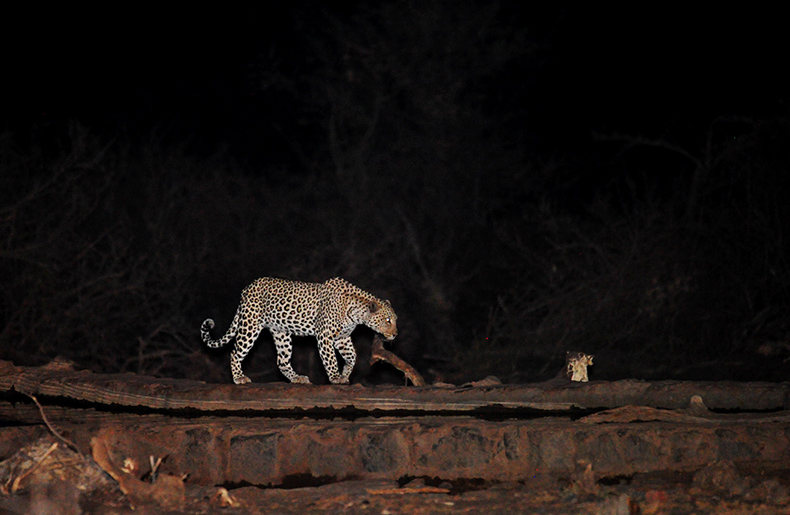 Game Drive number 4: Mating lions and elephants
Game Drive number 5: Wild dog pups at the den, elephants and white rhino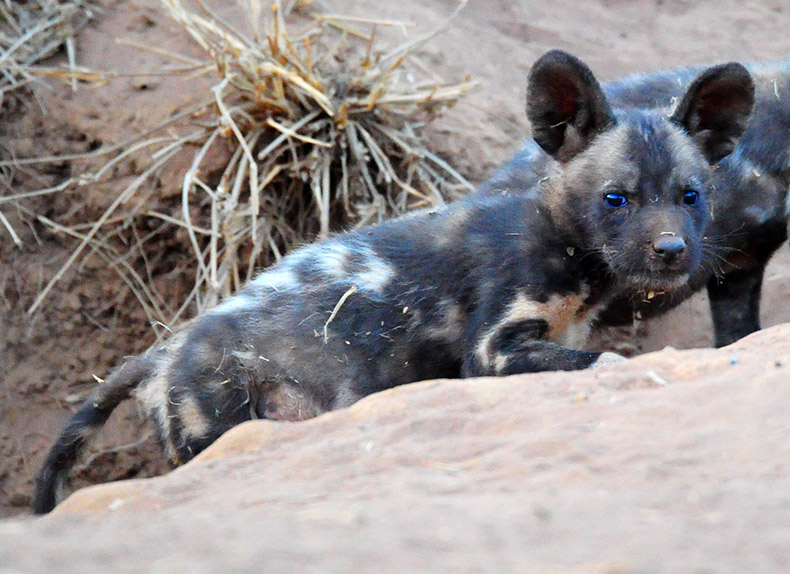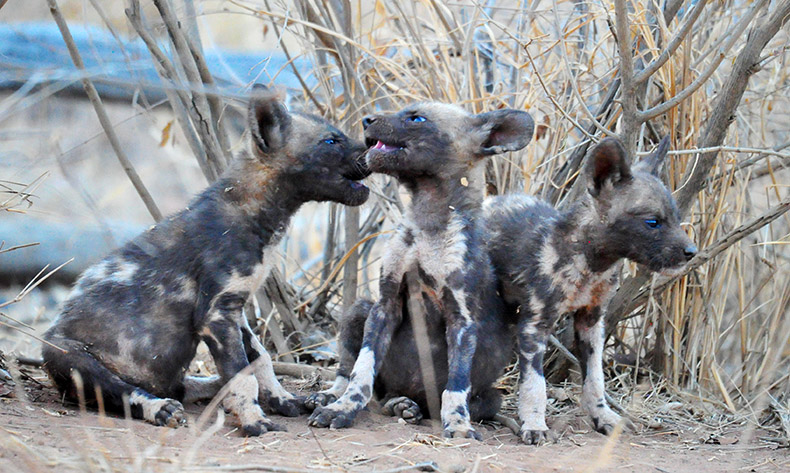 Game Drive number 6: Wild dog pups at the den and white rhino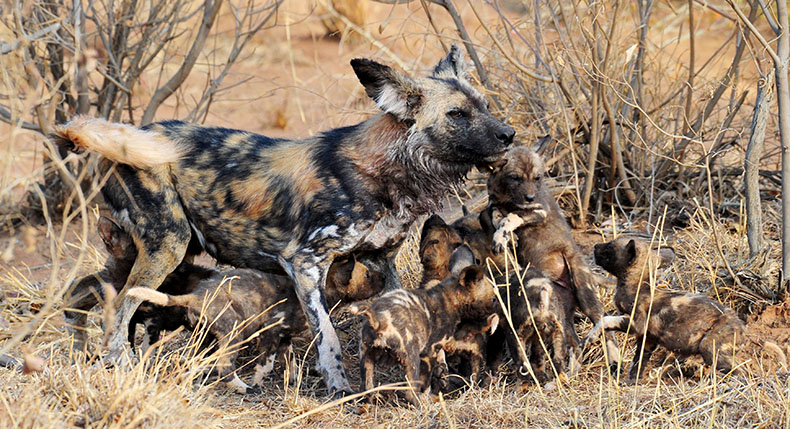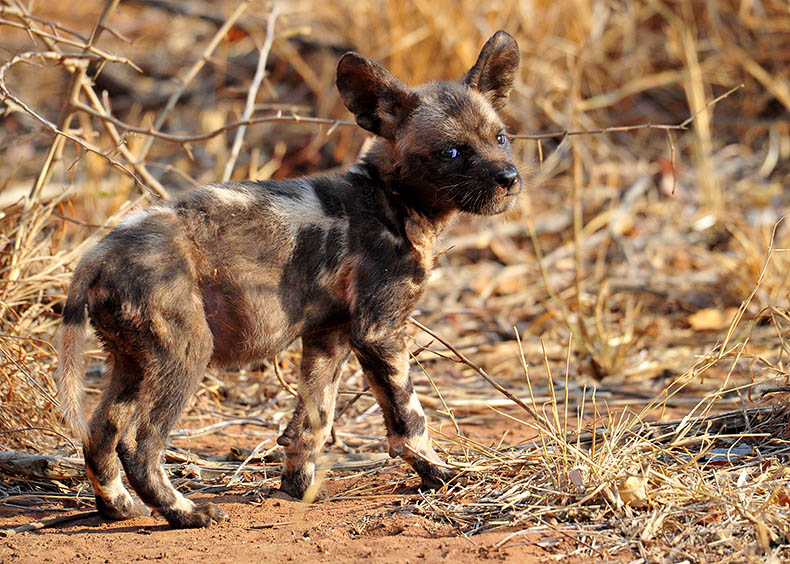 Patience made these sightings look easy but she had to plan each day to suit the different guest requests. As wildlife photographers, we could have spent all 6 drives at the wild dog den but the other guests on the vehicle would not have enjoyed that! (Most people want quantity and diversity instead of quality of sightings.) 
We have been photographing wildlife for over 20 years and have seen many adult wild dogs but never wild dog pups.

In November 2014 the wild dogs had pups at their den in Madikwe and we rushed to the park to see them only to be most disappointed – a field guide had allegedly got out his vehicle at the den and had walked around (leaving his footprints as evidence!) therefore forcing the wild dogs to move their den higher into the Dwarsberg mountain where they could not be viewed.
To prevent another incident like this the park management have erected a webcam to monitor the den and the guides' behaviors...!
The pups ended up dying in 2014 hence the wild dogs bred again in 2015 and were back in the original den so we were very keen to get to see and photograph them.

Patience knew this and so on the first drive we were headed to the den when we bumped into the adults hunting wildebeest! We ended up spending the whole afternoon with the dogs and the wildebeest mother that tried bravely to protect her baby.
We had to leave after sunset but heard the spotted hyenas eventually killed the baby wildebeest during the night.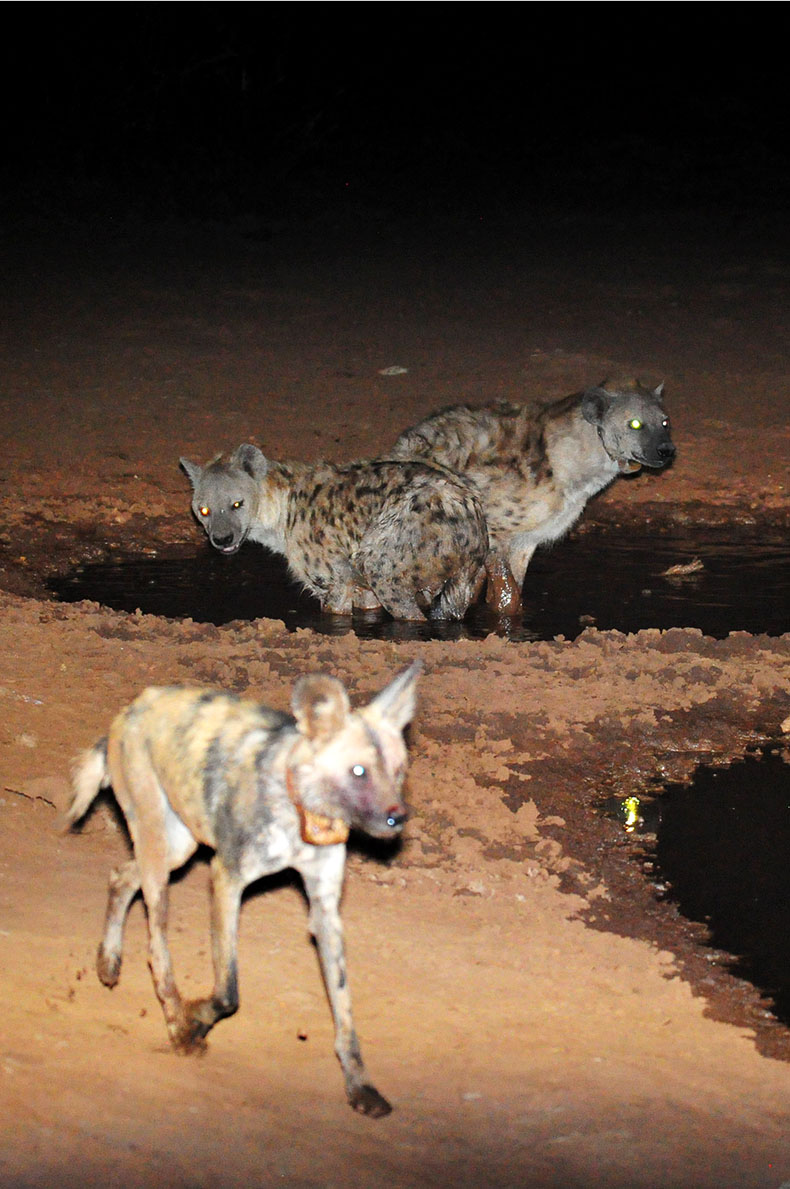 She then made sure that we went to the den three times so that we could get a variety of images plus she stopped for sun-downers at scenic spots and not at bushy places like many other guides do!

Patience made up for the many immature, lethargic, stubborn, ignorant and indifferent field guides we have endured. She is a passionate lady, a professional field guide and a huge asset to Thakadu River Camp.   
---
For more information or to make your booking, please click here

---
Return from Patience Bogatsu to Good & Bad Field Guides
---