Our Kruger Trip Report, camping holiday: 16 - 24 December 2010
by Melanie
(Gauteng, South Africa)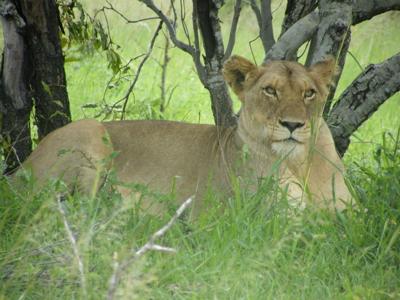 Lioness
We had the most fantastic holiday in Kruger Park. Friends Mario and Jennifer Fazekas suggested we enter at Phabeni Gate and to have camera's at the ready, because we were sure to see some sightings on route to our camp, Skukuza.


Well, indeed we did. Firstly, the staff at Phabeni Gate were extremely helpful, polite and friendly. Certainly made one feel enthusiastic about entering the Park.
Camera was at the ready // Four pair of eyes were open and studying the surrounds as we started our journey in the Park.
This was on the S1 Doispane Road. Our first sightings – BUFFALO, KUDU and IMPALA, wow. Thereafter Elephant; a spotted Hyaena and her two pups, right on the side of the road. They all looked in fantastic condition.
We were thrilled with this start of our animal sightings.
We arrived at Skukuza and went to the front desk. We were met with friendly staff, who assisted us with the greatest of ease. We then set off to find a suitable camp site.
After driving around and around we settled on one right next to a tar road. It was open with no trees to shade under, but that was per choice, as we didn't want our new Tent to face any damages from thorns, etc..
We set up camp and sat back to enjoy our first 'cold one' in the afternoon. Our two children (boys ages 16 and 13) decided they wanted to go and explore around the camp site. We found Mario and Jen on our travels through the site. There we all sat together planning our early morning trip for the following day. Up at 4am, ready to exit Skukuza at 04h45 on route to spot some of what Kruger has to offer. We were NOT disappointed.
Sightings made during this trip. Leopard (on the H1-1); Cheetah (on the H1-1); Lioness (on the H1-1); Elephant; Buffalo; Giraffe, Zebra, Hippo; Impala; Kudu; Wildebeest; Warthog; Klipspringer; Tortoise; Vultures; Baboons and Vervet monkeys; and Rhino's (on the S3 sand road) (wonderful to see that majestic animal roaming freely and complete with horn! The SanPark anti-poaching team were always at the ready and were spotted on a few occasions patrolling the 'hot zones')
Bird life a plenty too. Martial Eagle; Brown Snake Eagle; Lilac Breasted Roller;
European Roller; Red-crested Korhaan, Cape Parrot, African Fish Eagle, Yellow-billed kite; Juvenile Snake Eagle; Ground Hornbill; White-backed Vulture, Southern yellow- billed hornbill, to name but a few.
A visit with the Fazekas family to LAKE PANIC (just off the H11) was a treat of note. Camera's ranged as follows:
• Mario (big bazooka);
• Jen (a bit smaller, but still huge);
• Jen's Dad (hot on Jen's heels with camera size);
• my hubby (our own mini, mini bazooka);
• Me, well have a little Fujifilm S8000 "point and shoot" that didn't let me down;
• then lastly Jen's mom with a blackberry....! No matter what was required, we were ready!
We had a full range of sizes and abilities all ready for action, and we were not disappointed. Fish Eagle who skimmed the water, catching a water monitor and flew to a perch where she sat and battled with her prize. The water monitor not giving up easily and we witnessed a battle between the two of them for quite a while.
A few Malachite Kingfishers; Pied Kingfishers; Woodland Kingfisher; Thick Billed Weavers; Herons; Africa Jacana; Terrapins; Crocodiles. What a fantastic hide this was and one worth a revisit during our remainder of our stay in the Park.
Throughout our 8 day holiday, we covered the following area's using Skukuza as our base. From Skukuza to Phabeni Gate (the S1) // to Pretoriouskop Camp (the H1-1) // to Berg-en-Dal Camp (the H2-2, then H3 and S110) // to Lower Sabie Camp (via the S114, S25 and H4-2) // to the Nkuhlu Picnic site (on the H4-1 for a taste of their renowned Buffalo pie) and to the lapa overlooking Mlondozi dam (on the S29 sand road). This is where we had our first LEOPARD sighting and what an experience that was! Every day was a joy and an excitement for the whole family. Not one day did we return to camp disappointed in what we spotted on route.
On our last day, we packed up camp and decided to exit through Malelane Gate, travelling down the H1-1 and H3 all the way through, stopping only at Afsaal for some refreshments. On this road we spotted our three Ground Hornbills.
This holiday was very special and memorable – and one worth repeating again in 2011!