Makalali Private Game Lodge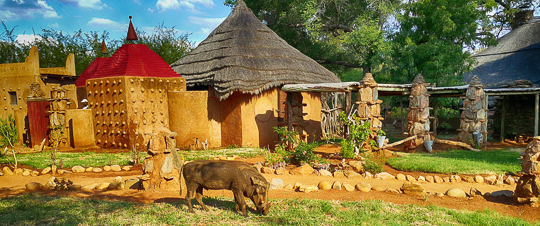 Location
Makalali Private Game Lodge is only 5 hours' drive from Johannesburg and is situated in the Hoedspruit region on a 26 000 hectare conservancy that lies just west of the Kruger National Park in the Limpopo province.

About Makalali Private Game Lodge
As you arrive at Makalali you go straight to reception, which is a stand-alone building that also houses a lovely curio shop.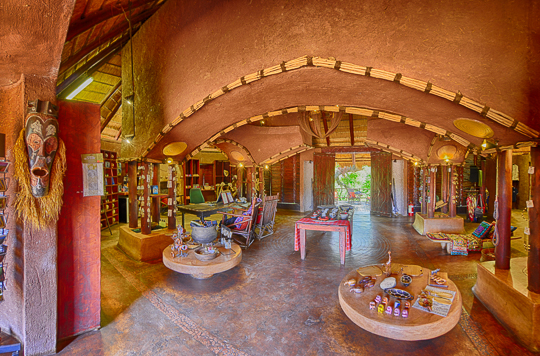 Shop & reception
The lodge consists of three private camps - Tandane, Mkhiwa and Emtomeni, which are within easy access of one another and are all situated on the banks of the Makhutswi River. The camps are beautifully designed with unique architecture and many lovely features to photograph.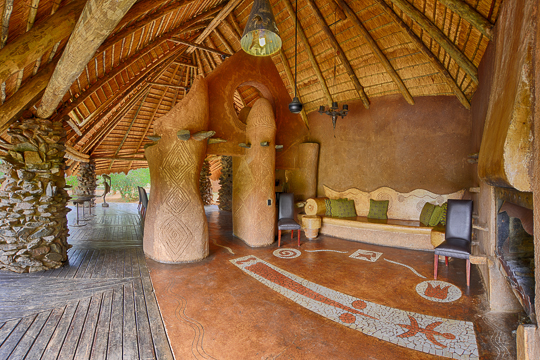 Lounge
Tandane, the camp we stayed at, means "place of love". It has a thatch-covered main building, kitchen, seating area, dining area, and two swimming pools - one infinity pool in the front of the camp overlooking the Makhutswi River...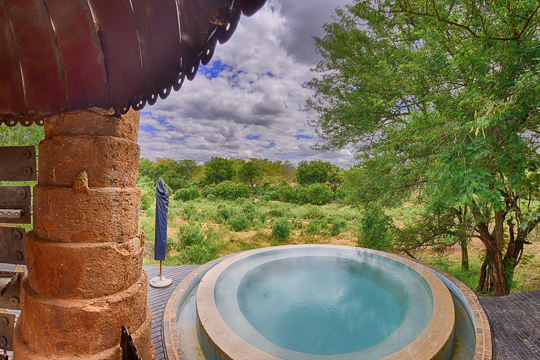 and one behind near the boma...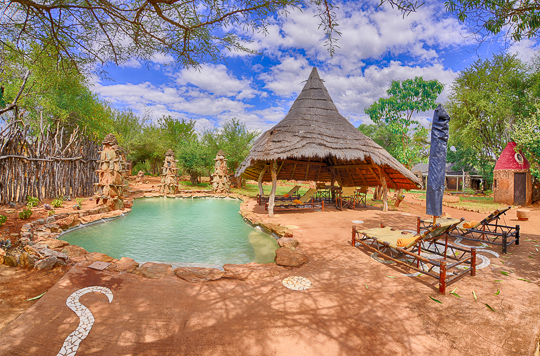 At the entrance to the camp are two flame torch bins which create a mystical, fiery African ambiance to welcome you back from your evening game drive.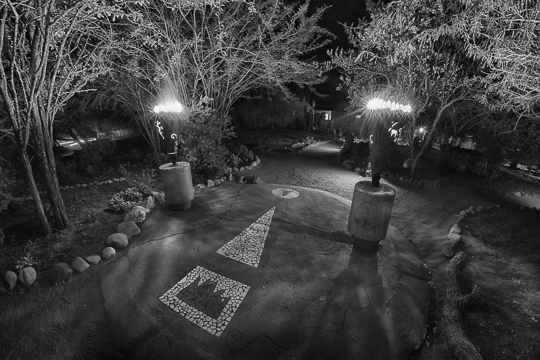 Flaming torches welcome us back to camp
We loved the swing bridge that links you to the other two camps and the reception building, but you cannot walk around un-escorted because the lodge is un-fenced.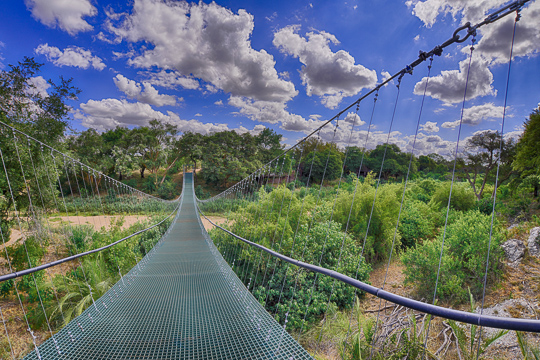 Swing bridge
Mkhiwa means Sycamore Fig and is named after the large fig tree that stands over the main area creating some welcome shade.

Emtomeni, Mkhiwa's sister camp, means Jackelberry tree. These two camps are able to accommodate groups who require more than six rooms at a time. However they can still run separately with their own dining area and swimming pool to create that personal touch and privacy.
Food & Drink
Makalali provides some interesting dining experiences, from breakfast or dinner in the bush, to a boma dinner under the stars or meals in the thatched dining area where you can enjoy a 3-course plated dinner with the other guests.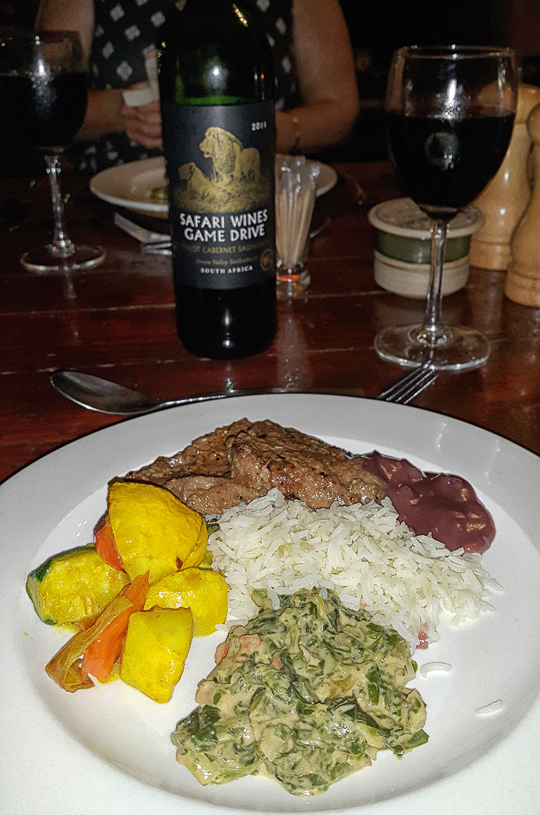 Dinner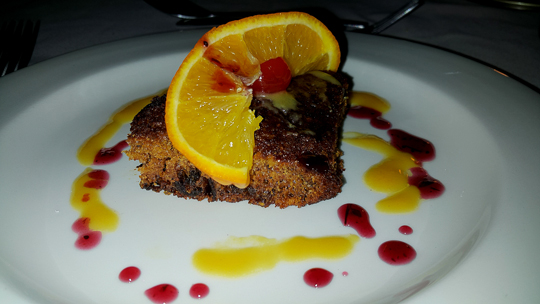 Dessert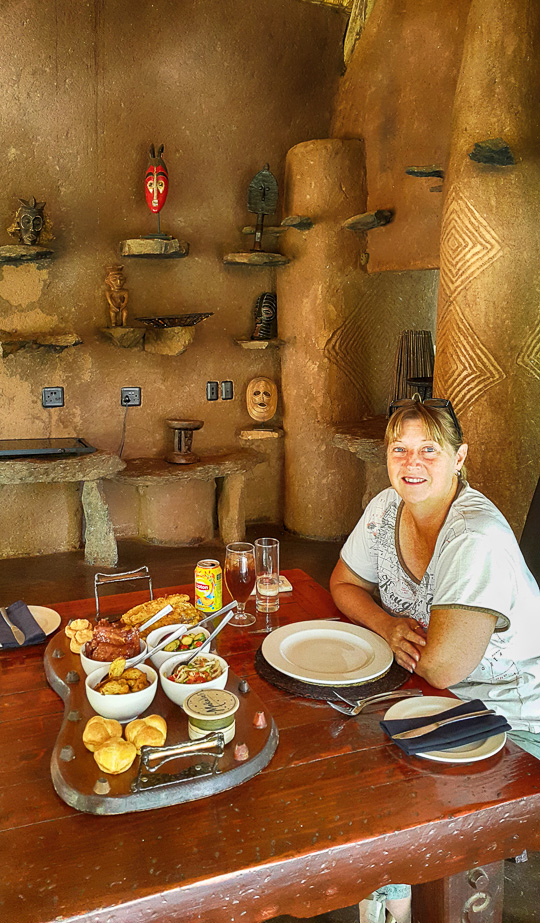 Lunch
The 'sala' provides a romantic setting for an intimate dinner...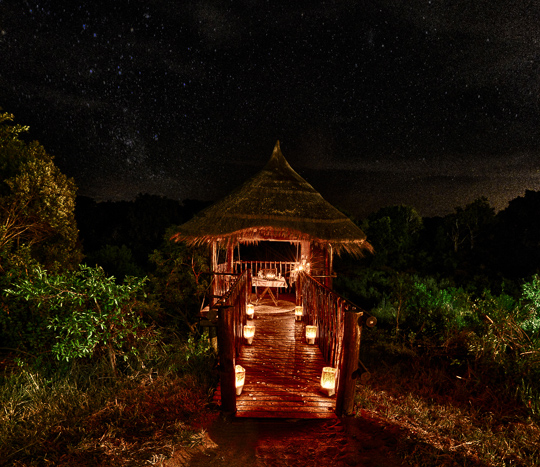 Romantic dinner in sala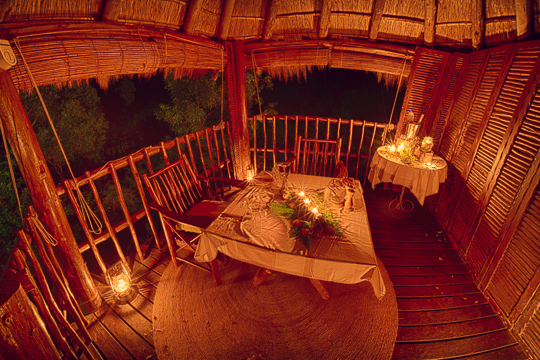 Dinner setup in sala
The chefs prepared lovely appetizing meals using fresh, healthy ingredients. We had three wonderful meals each day and one surprise was breakfast in the bush – lovely!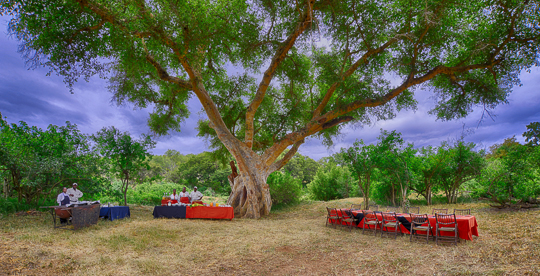 Bush breakfast!
---
Should you wish to get the eBook, click on the book cover above, then click 'Add to Cart' where you'll see a button called 'Add Promo Code' - click on it then add the word K2K and the 33% discount will be automatically applied. This code is valid until the end of the month, so don't delay!


"...the majority of images are really impressive, each chosen for a practical reason, sometimes annotated to stress a point.

The authors clearly know what they are doing. For decades they have mapped their sightings, and in explaining how they achieved their images, they're sharing invaluable tips on understanding wildlife behavior, reading the signs and getting yourself in the best position for the shot. There is a phenomenal wealth of information here; real substance."


- Craig Rix, Editor,Travel Africa Magazine, UK
---
Accommodation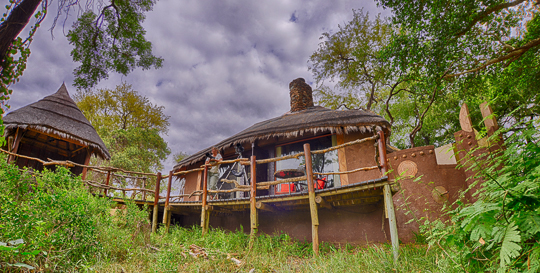 Sala and suite
The Lodge has 18 well-designed thatched suites; each has an en-suite bathroom with bath, indoor shower and outdoor shower with great view, separate toilet (also with a good view), large fireplace and a raised wooden viewing deck and sala.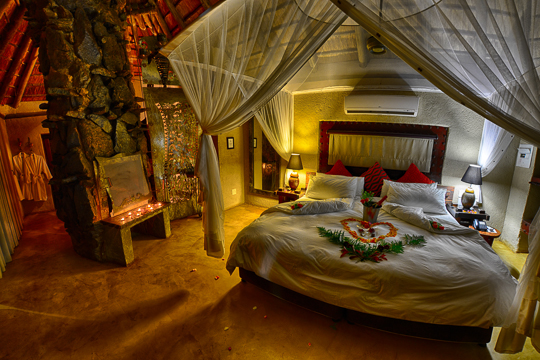 bedroom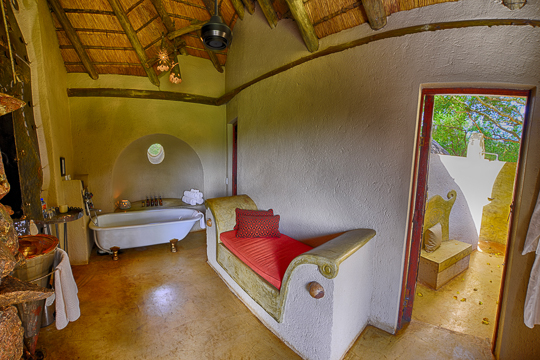 bathroom
The sala is a great place to relax with a good book and a pair of binoculars; it also doubles as a romantic spot for a private lunch or dinner.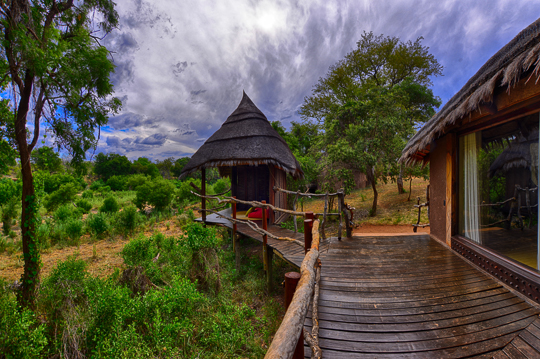 Our sala
Each suite is named after a small creature and there is a little metal work of art outside each suite to help you to remember which one is yours - we had the spider suite.

Activities
Each day you have two game drives in open 4 X 4 vehicles with a guide and a tracker. Our experienced tracker, Godlove, and our guide, Marval, had a wealth of knowledge of the bush, game and birdlife.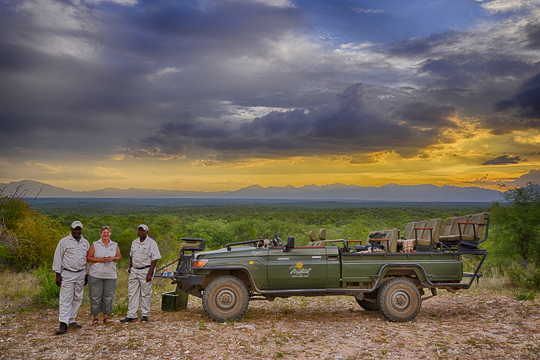 Sundowners
We had coffee and rusks before our early morning game drive and a coffee stop on the morning game drive and we enjoyed our sun-downer stops on our evening game drives.
Game Drive times fluctuate through the year depending on the temperatures, but are generally as follows; Summer: 05h30-08h30 | 16h30-19h30 and Winter: 6h30-09h30 | 15h30-18h30
An additional night game drive after dinner, in search of illusive nocturnal creatures is available on request and at an additional charge.
Guided bush walks are done after breakfast along the bush tracks and animal paths. A qualified guide will enlighten you on the smaller things nature has to offer.
We stayed at Makalali Private Game Lodge for three nights and we saw many exciting animals such as elephants, rhino and lions but the highlight was finding 3 elusive leopards, of which we managed to photograph two!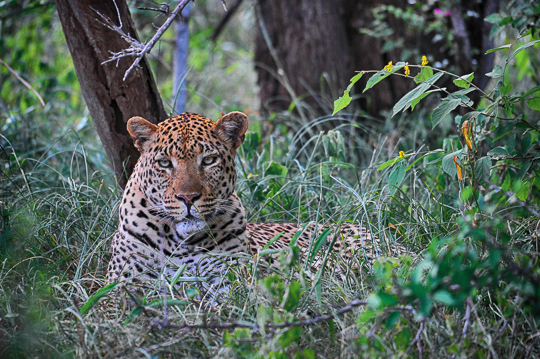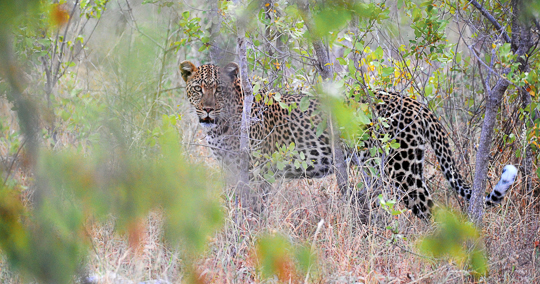 We also found a pride of lions on a zebra kill...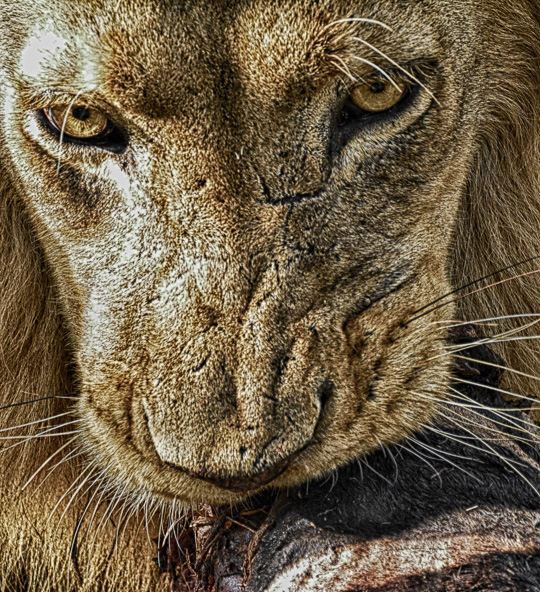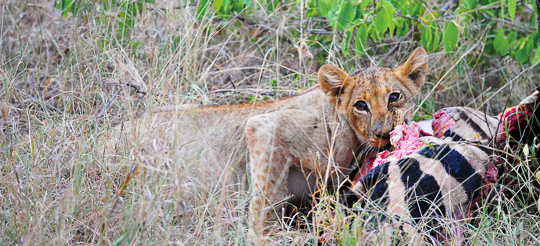 And saw some photogenic subjects out on the plains ...

And we had a few interesting visitors that came to visit us at night...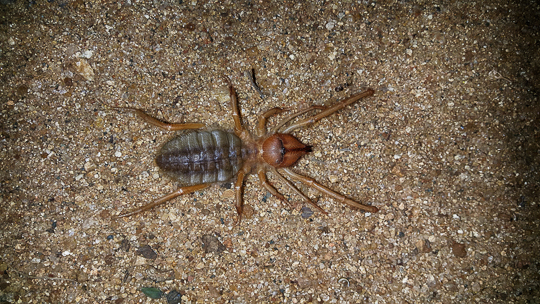 'Red Roman' Solifuge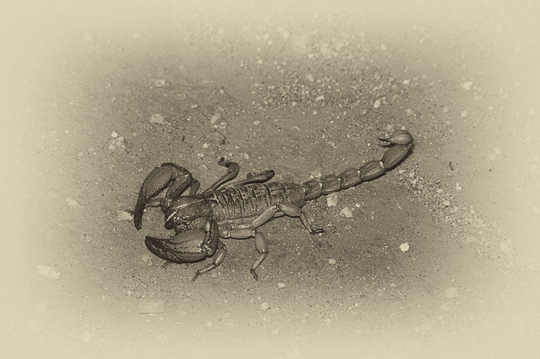 Scorpion
---
For more information or to book your stay, please click here
---
Return from Makalali Private Game Lodge to Kruger Park page

---
---

To make a safari rental booking in South Africa, Botswana or Namibia click here
---