Kgalagadi trip report part-3
Kieliekrankie Wilderness Camp
We had a long pleasant drive down the Nossob road to Kieliekrankie. The day we arrived was hot and sunny with 4 Gemsbok wanting to come down and drink but never did, they moved off into the dunes. Maybe they could see something we could not!
The cabins have been renovated and now the bedroom and kitchen areas have solid walls with wooden window frames...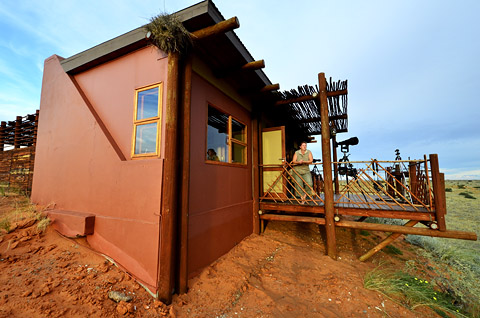 Only the bathrooms now have canvas, which will also be replaced sometime this year.
The sociable weavers have built their nests on each corner. We had a great time watching them collecting material for these nests...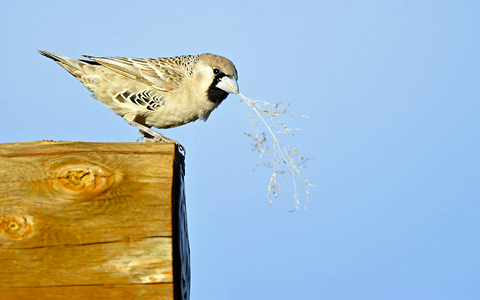 In addition, the old black netting that was on the deck railing has been removed so you can now watch the waterhole while sitting down...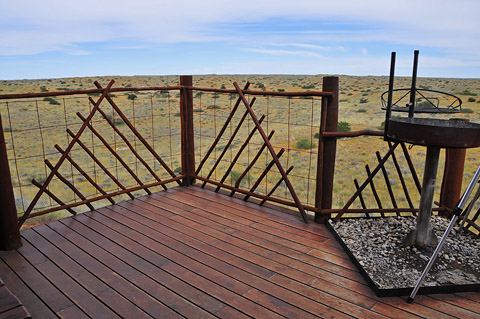 The summer rains were good in the Kgalagadi so we had a profusion of wildflowers in the park so for macro photography this was an ideal time in the park. Here is the Dubbeltjie or Devil's Thorn flower...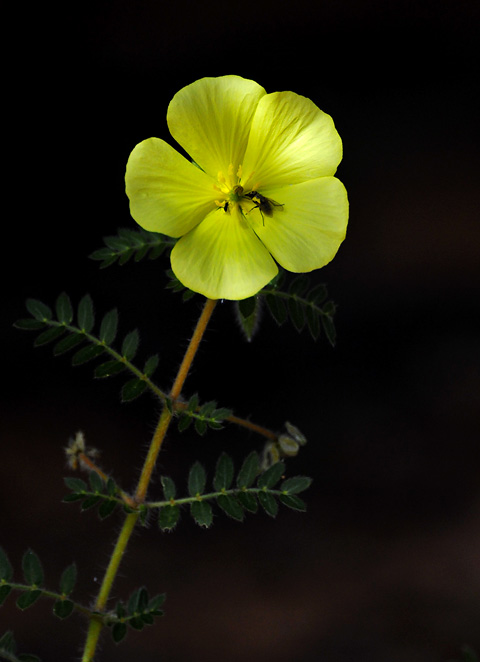 That night we had 4 spotted hyenas at the waterhole, one drank then moved off while the other 3 got into the water and started playing then the 3rd one left, leaving 2 very happy hyenas to play away in the water - it was such fun to watch them...
They were back on night two but this time they had a toy to play with...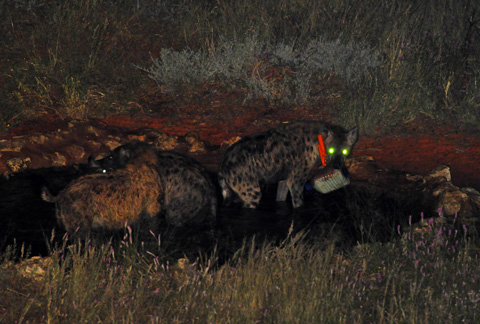 It is a 5-litre plastic water bottle containing two orange paint rollers that workers had left behind after renovating the cabins!
Kieliekrankie is a superb camp for landscape photography - we had the rising of the full moon...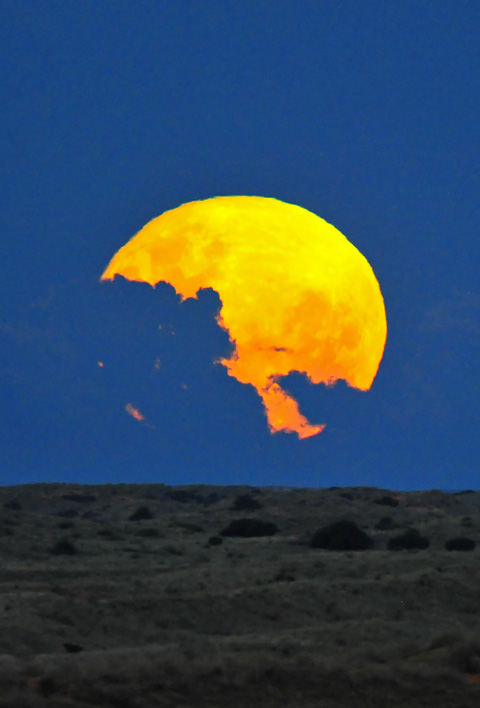 and wonderful sun sets with thunder storms and dust storms and magnificent sunrises...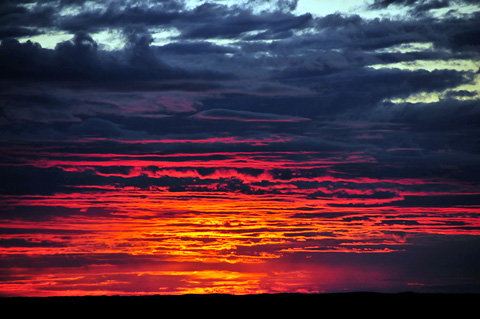 We were entertained by 3 Goshawks and a Honey Badger searching for food up and down the dunes - they were there for three days...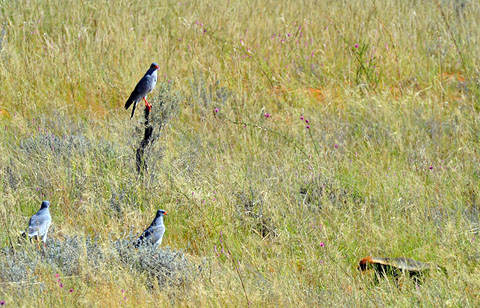 The Barn owls kept us on our toes at night as they wanted to land on Mario's camera while he was photographing the hyenas...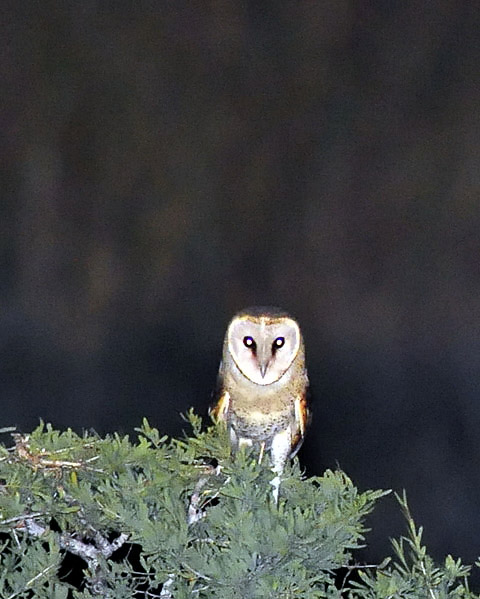 We had a visit from a Cape Cobra...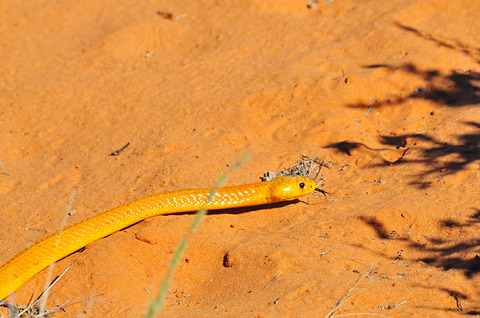 and many other little critters, like Geckos and armored ground crickets. We also had 2 Porcupines around the waterhole on our 2nd to last night...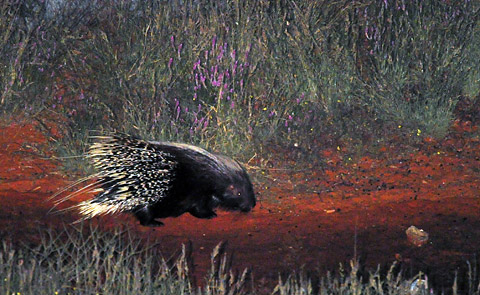 Our last night at Kieliekrankie was fun - we had a sand storm followed by heavy rain and high winds, but it was great to watch and we enjoyed every minute of it.
Here is a photograph of our dinner cooking on the braai...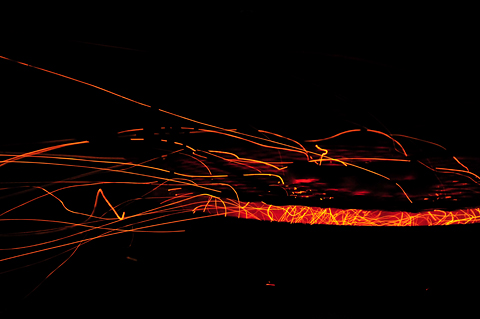 We left Kieliekrankie at 07h00 and got some nice wildebeest silouettes...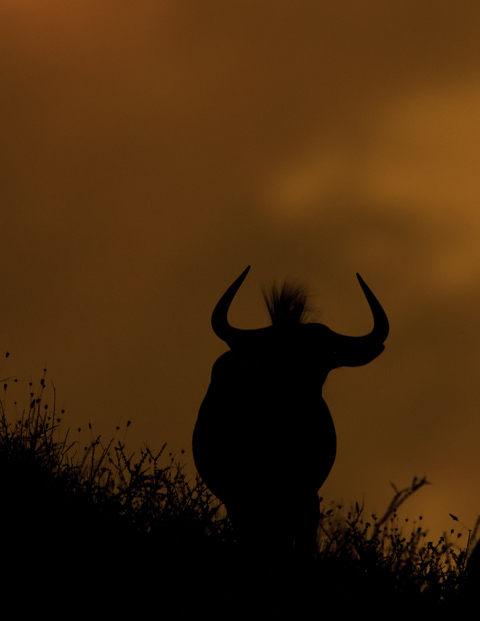 We left the park at 09h30 heading back to Joburg on the same route, arriving home around 20h00.
Please click HERE for the Kgalagadi Trip Report Part-4
---
Return from Kgalagadi trip report part-3 to Trip Reports page
---