Hidden Leopard
There are many causeways along the various Kruger Park roads and we try to stop on all of them and then scan the surrounds with binoculars for animals and birds.
We were travelling south on the S41 dirt road, heading towards Sweni hide, and we stopped on the N'wanetsi causeway and scanned the area with our 10 x 50 binoculars.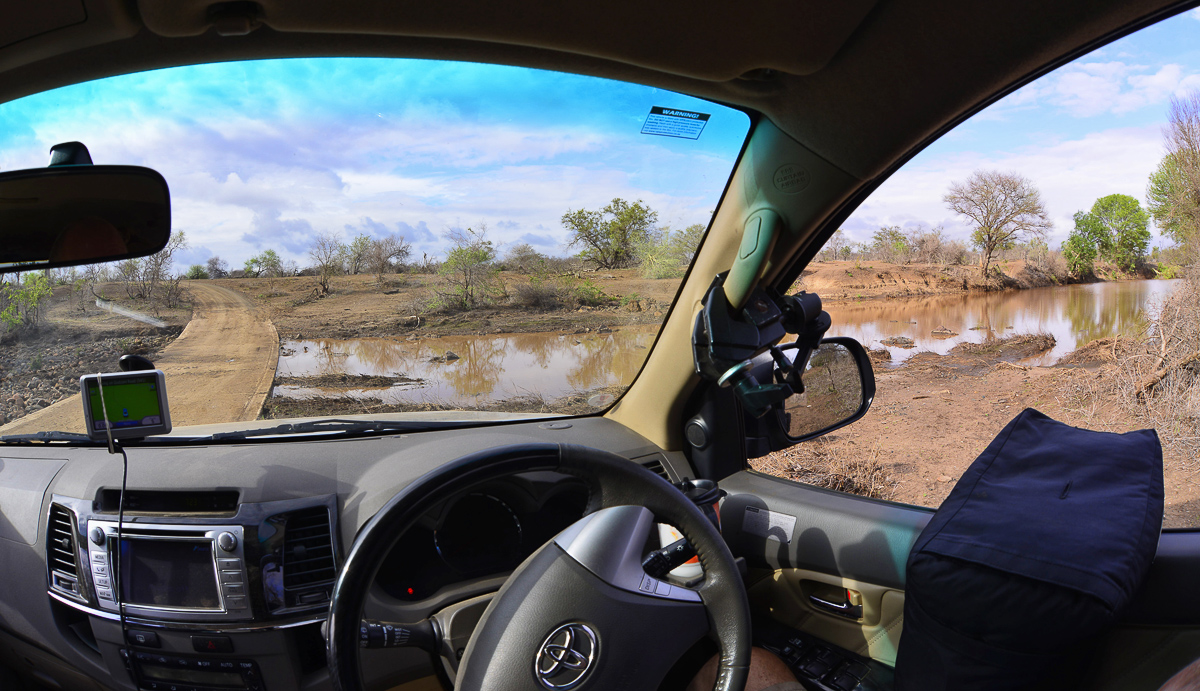 We scanned the east and couldn't see anything and then when looking to the west, this is what we saw: a peaceful riverine landscape, but no sign of any life...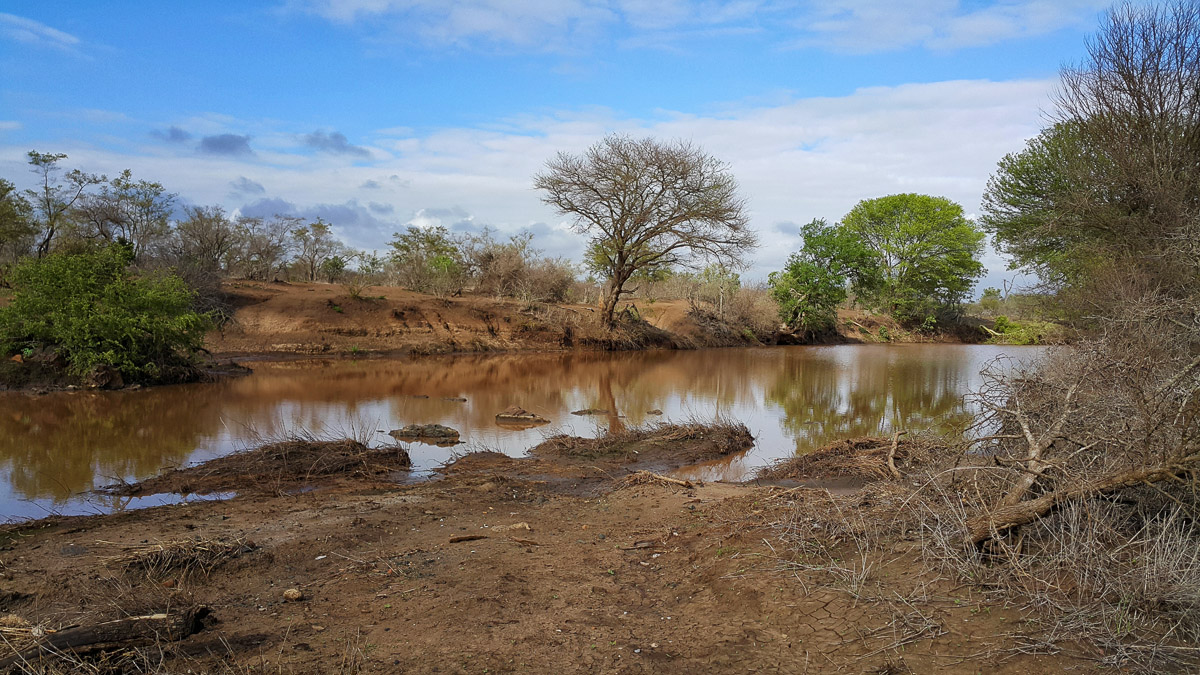 We then found something interesting…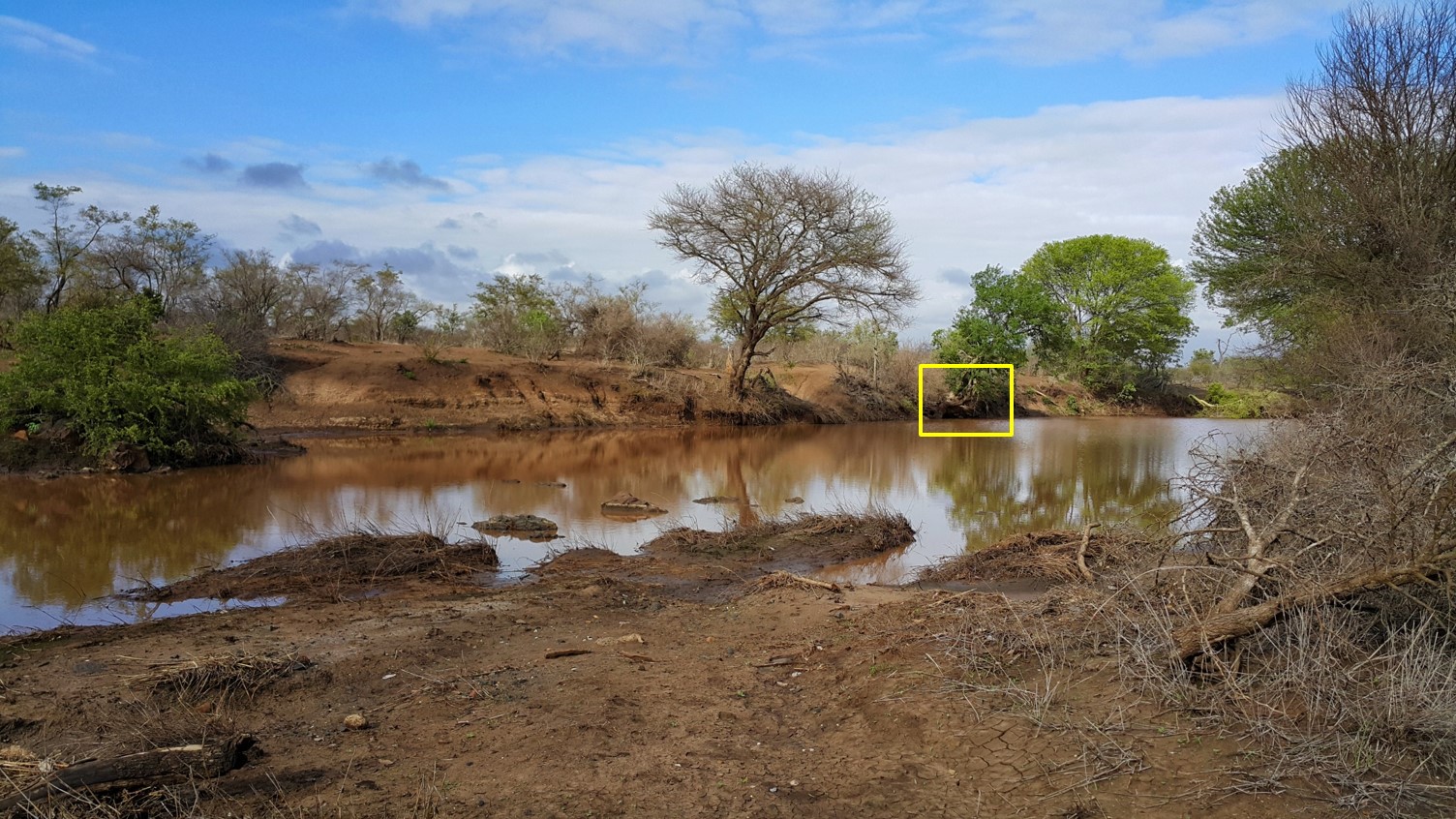 There was a small movement so we looked more intently...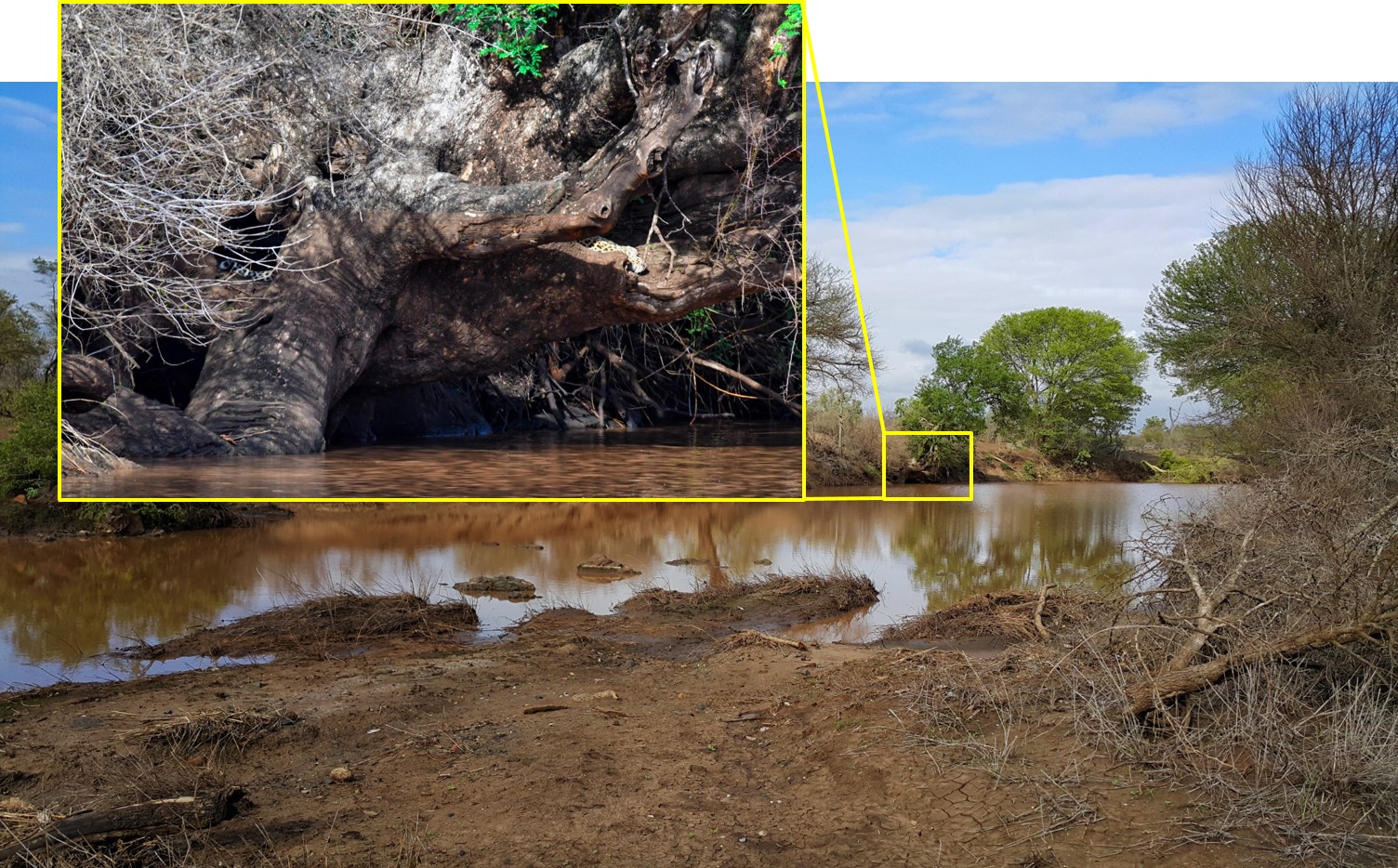 The hidden leopard revealed
… and saw a hidden leopard sleeping/resting in a hollow tree trunk!
You can see the tail and the paws at each end of the tree trunk!
We sat waiting for about 3 hours. The hidden leopard eventually decided to leave its cosy tree trunk and walked along the bank...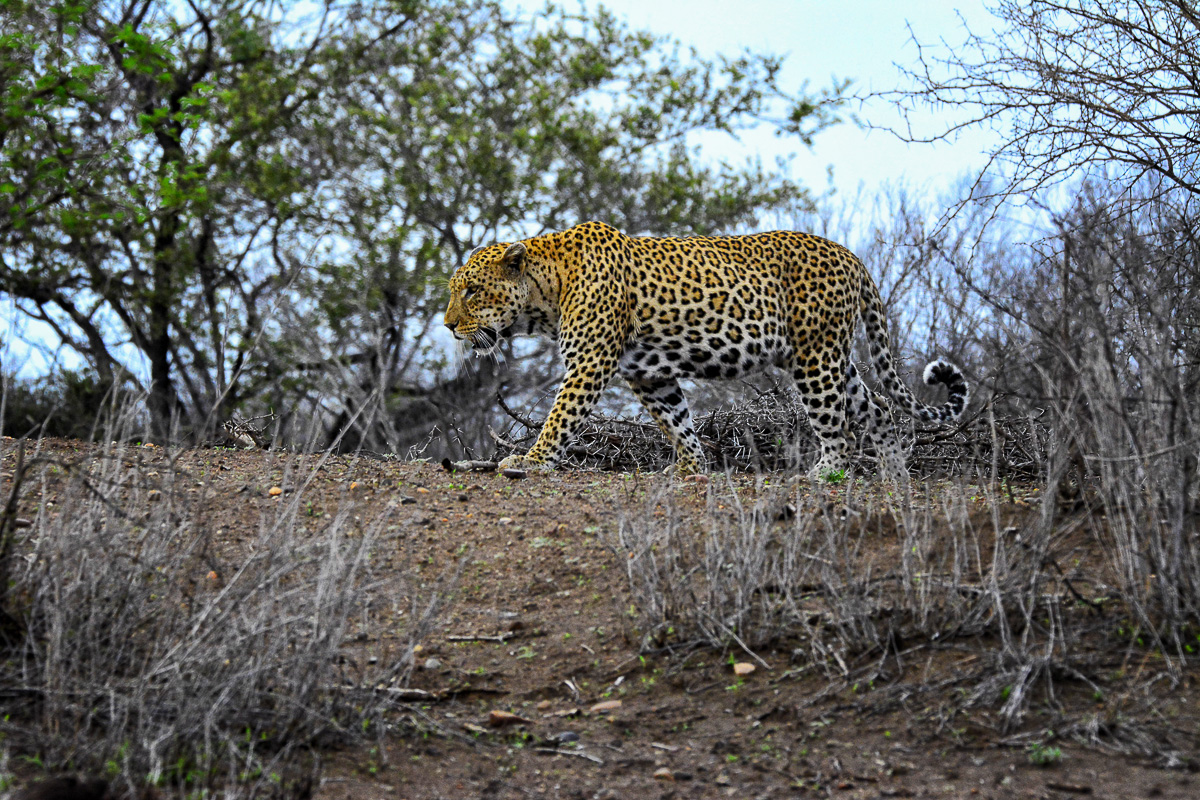 ...stopped to look at us and then crossed the road.
It then climbed up into one of the trees on the other side of the causeway where it had an impala kill! 
We didn't see the kill when we first looked as we were looking east, right into the rising sun.

If you don't have binoculars then use your telephoto lens to scan the areas. 
Causeways and bridges are 'hot-spots' and make the ideal places to stop and look, as water attracts many animals and the predators follow. We have spotted all of the big-five animals from bridges and causeways as well as wild dogs and birds. 
In addition, there are far less bushes to hinder your views as you are looking over the water.
Should you wish to get the eBook, click on the above book cover, then click 'Add to Cart' where you'll see a button called 'Add Promo Code'. Click on it then add the word K2K and the 33% discount will be automatically applied. This code is valid until the end of the month, so don't delay!


"This is an indispensable guide to getting the best out of Kruger, camera in hand or not!"

- Caroline Webb, Associate Editor, Getaway Magazine, South Africa
Patience rewards those who wait!
We know people who have been visiting the Kruger Park for over 30 years and have never seen a leopard and it's still on their bucket-list!
This is when you need to have patience and just wait - read a book, eat a snack, but keep looking regularly otherwise you could look up and the subject has left and you will still have no photos!  
One 'professional photographer' on a forum did not agree with our advice and stated: 
"..Waiting 15 mins in Prime Golden light hour in the hope of a frazzled leopard returning is a big no-no in my life ..I move on to the next sighting opportunity in order not to waste the Light"
He went on to say that he doesn't need a book to tell him where to find leopards as he prefers to find his own stuff.
I wonder how many leopards he's found and photographed...?!
The above lesson and leopard images are from the Photographer's Guide to the Greater Kruger National Park eBook. Over 700 pages of hints and tips to help you get the photos you would like to capture.
---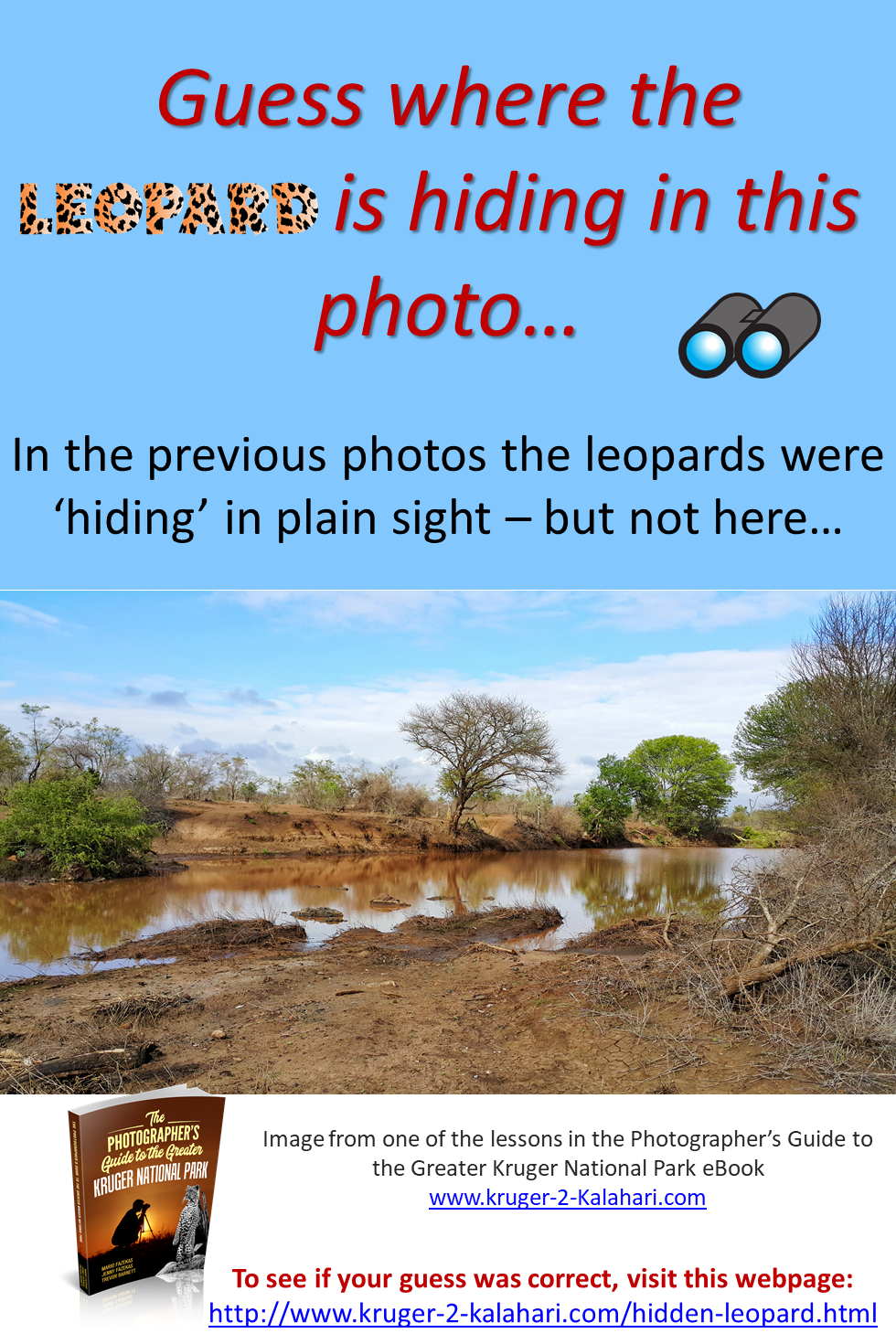 ---
Return from Hidden Leopard to Leopards of the Kruger National Park page

Return from Hidden Leopard to Kruger Park page
---
---

To make a safari rental booking in South Africa, Botswana or Namibia click here
---