Explore Every Angle
- by Joe McDonald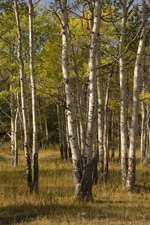 On our recent Yellowstone Fall Photo Tour, wildlife was a bit harder to find than we have usually experienced, so rather than waste gas and drive endless miles fruitlessly (as many photographers did), we had a great deal of fun working landscapes and scenics.
Aspens, with their vivid white bark and interesting black markings, make compelling images, and we spent some wonderful time working various aspen groves.
A five minute stop to take a couple of snaps of aspens simply never happened, as our groups worked the aspen groves, not just for traditional images but also some very wierd, but rather interesting, slow shutter speeds that involved using push-pull zooms, camera movements, and pseudo double exposures.
You may not like anything posted below, or, conversely, your imagination may be stimulated and you too may be motivated to try something new and different.
Here's how some of the Explore Every Angle shots were made: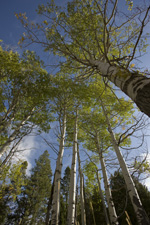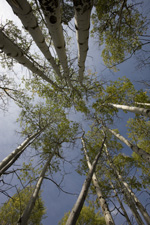 Left: Using a 16-35mm wideangle I laid down on my back and pointed upward, letting wide-angle convergence and distortion work for me. The trick in shooting up is to find symmetry, so that the image seems balanced. I felt that this image, even though weighted heavily on the right, still worked.
Right: Moving to another section of the woods I found a group of trees that filled most of the frame and converged into a small circle of blue in the center of the frame. This works, too, if a bit trite and overdone, but nonetheless it can be a refreshing look in a slide show or portfolio.


Below Left: Using that same set of trees I used a very slow shutter speed, using the Singh-Ray Variable Neutral Density Filter, to spin my camera in a circle. I was hand-holding the camera to do this, so the trick, really, was moving smoothly so that the blur did not look 'stuttered' or jerky.
Below Right: I either zoomed the lens or simply held by camera high overhead and then pulled straight down, earthward, to create this blur.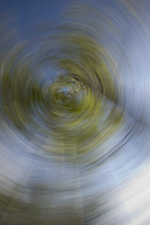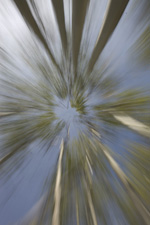 To create these 'streaky' blurs...
we used very slow shutter speeds and moved the cameras up and down.
That seems simple, but people are so accustomed to shooting only when a camera is motionless that you actually have to concentrate on firing the camera as you move. The effect is quite painterly, and can make wonderful backgrounds for title or text slides.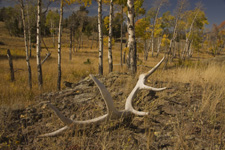 We feel that there is always something to shoot, and, with digital, experimentation is really painless since there is no cost involved. If you don't like what you're getting you can always delete those image files, and it hasn't cost you a cent.
But you may also find that you discovered magic, and that you're making shots that really excite you.
Perhaps another value here is that playing or experimenting will keep you in the field, and I can't tell you how often we've then lucked into incredible shooting opportunities simply because we were at a location where we had been playing by 'exploring every angle'.
Try it, I bet you'll like it!
---
To find out more about Joe and Mary Ann McDonald please visit their website and read their most interesting interview
---
Return from Explore Every Angle to Pro Photo Tips page
Return from Explore Every Angle to Kruger-2-Kalahari home page
---
---

To make a safari rental booking in South Africa, Botswana or Namibia click here
---