Etosha Trip Report: September 2010 - Part 2 of 2
Halali Camp...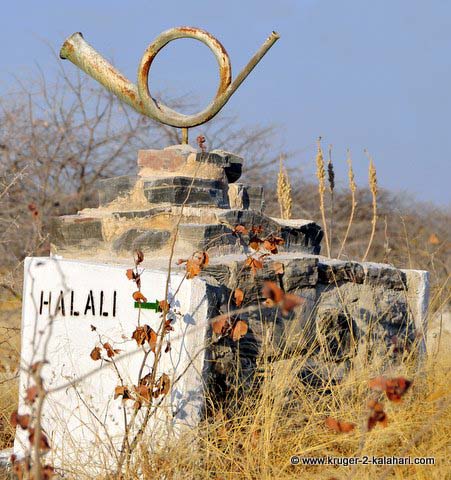 On day four we drove to Halali camp but before checking in we visited Goas Waterhole where we saw these two young male lions...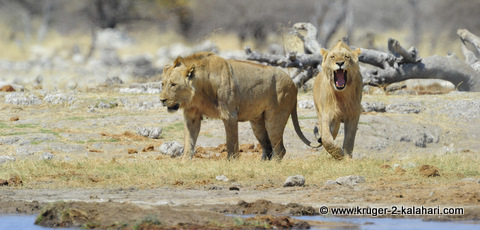 They were stalking Kudu, Red Hartebeest and Black Faced Impala but each herd saw them and bolted!
We spent the morning watching herds of elephants coming to drink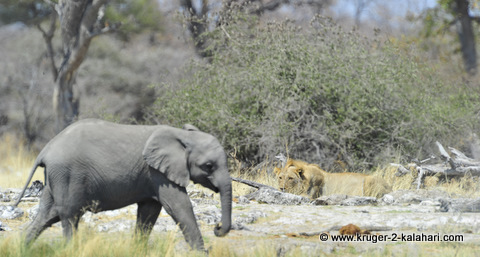 and then we left to check in at Halali where the check-in was much friendlier than at Okaukuejo.
That night we went to the camp waterhole and watched black rhinos, elephants and many other animals drinking...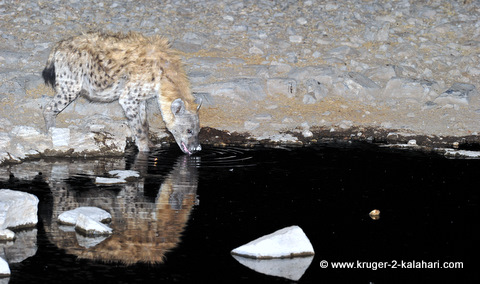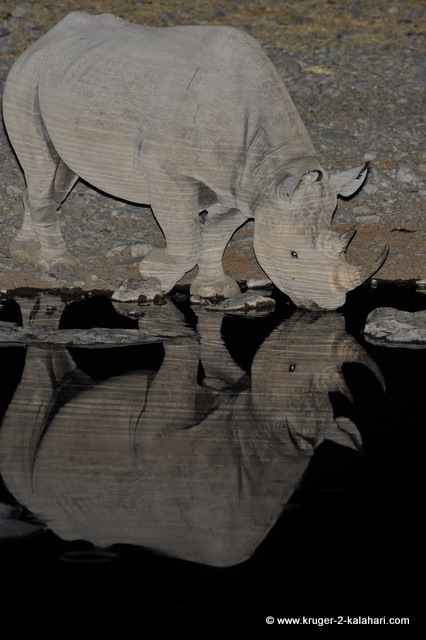 On day five we went to Rietfontein waterhole where we saw the resident pride of lions...

and a few excited people out their vehicles taking photographs of each other...!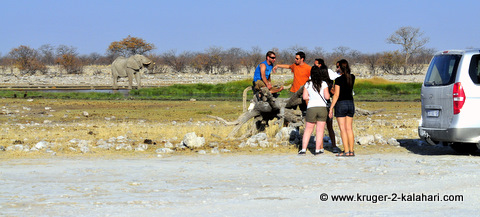 ---
For self drive or guided safaris to Namibia & South Africa contact 'Your Safari'
---
Fort Namutoni...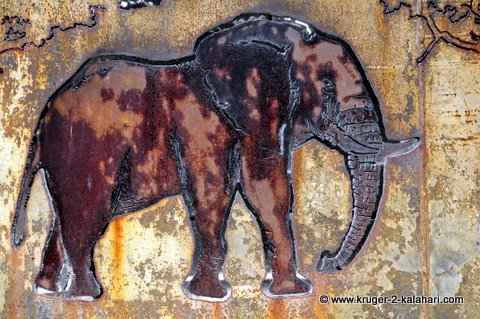 We then drove to Namutoni camp where we found the staff attitudes to be much improved over our 2009 experience.
We don't like the wooden walkways that lead from the fort to the swimming pool and chalets. The sun is already warping the planks and they are sticking up waiting for people to trip over them.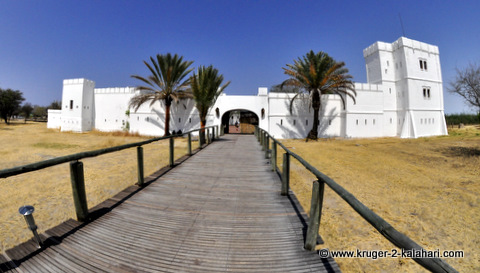 On the way to and from Namutoni we visited Chudop waterhole...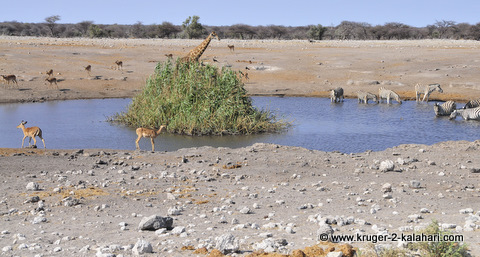 Kalkheuvel waterhole...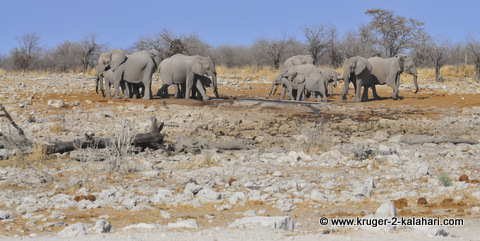 Koinochas waterhole...
and Klein Okevi waterhole...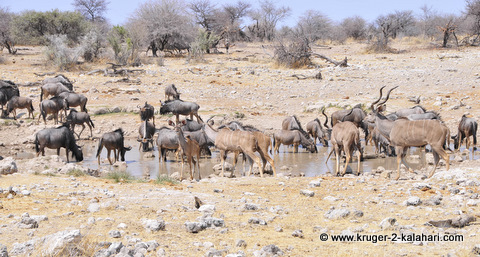 That night, back at Halali, we watched an African Wild Cat stalking sand grouse - very exciting!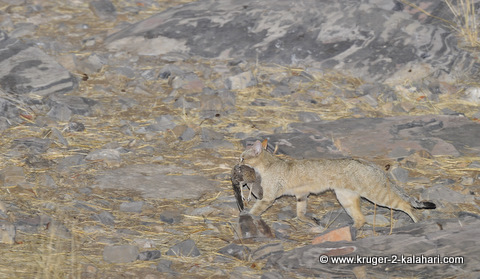 On the way back to our room we bumped into one of the resident honey badgers that was raiding one of the bins...!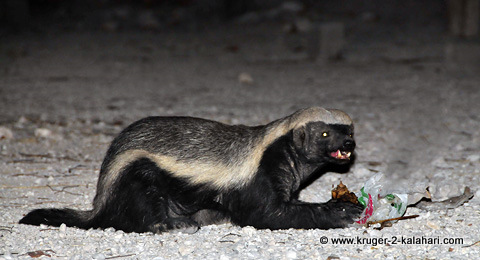 On day six we drove to Salvadora waterhole, which was very quiet...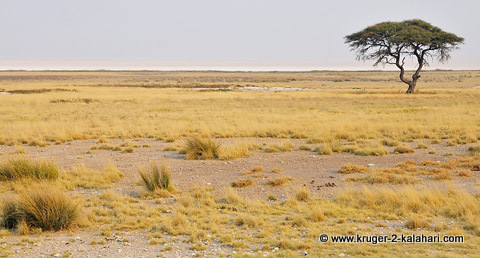 so went back to Moringa waterhole and photographed Kudu, Black-faced Impala and Guinea fowl drinking...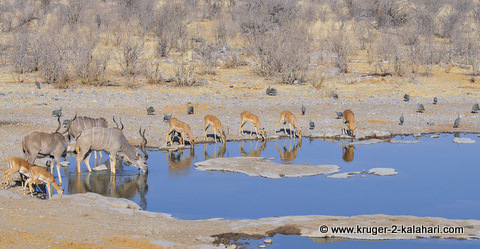 That night the African Wildcat was back stalking the sand grouse! But a visitor had his spotlight with him and you've heard the saying, "Have spotlight, will use spotlight"!
Well the floodlights were plenty bright for everyone to see what was happening but 'Mr. spotlight', as we'll call him, was determined to try our his new toy, so he proceeded to keep shining the light on the stalking cat and this enabled the sand grouse to see him so they landed on the other side of the waterhole.
End result - the cat went hungry and the photographers didn't get any photographs!
Here is a photograph of the cat looking in disbelief / disappointment at 'Mr Spotlight'...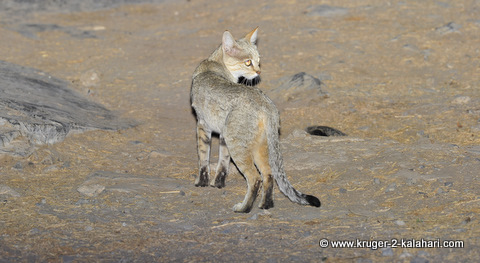 On day seven we checked out of Halali and drove through Okaukuejo Camp and out Andersson Gate.
On the way to Oakukuejo camp, however, we went past Nebrownii waterhole where we saw a huge herd of springbok but also several vehicles parked on the ridge...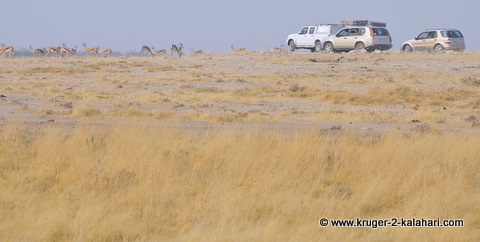 We thought that strange because springbok don't normally draw big crowds, so we drove up and then saw the male lion...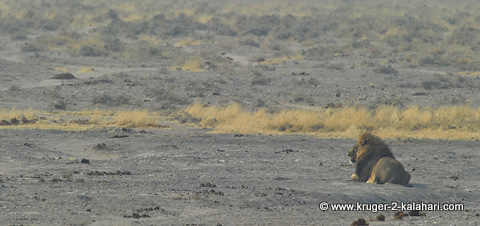 ...plus his pride behind him on a Gemsbok kill...!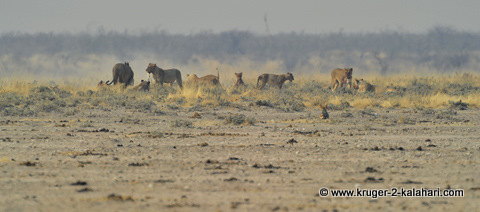 So, six nights in Etosha with six different lion sightings, an African Wildcat kill plus elephants, black rhinos, white rhinos, giraffe, hyena, black-backed jackals, falcons, vultures, and of course the Halali Honey Badger!




---
Return from Etosha Trip Report 09-10 Part-2 to Trip Reports
---
---

To make a safari rental booking in South Africa, Botswana or Namibia click here
---