Eagles Nest Chalets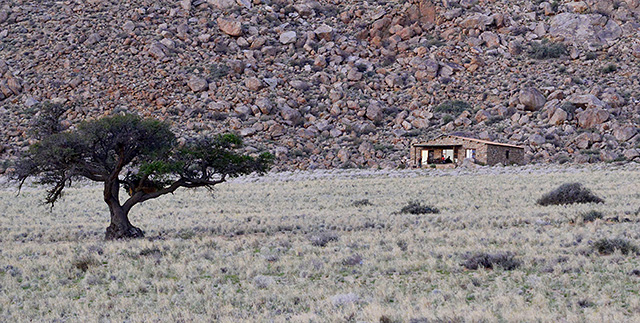 Location
Eagles Nest chalets are just 6km down the road from Desert Horse Inn but still in the Klein Aus Vista reserve and surrounded by mountains and semi desert plains.
About the Chalets
We just fell in love with this 'little Switzerland' as I call it. It is just so beautiful; each chalet is built out of the natural rock, some are built into the rock and some sit between massive boulders- like the chalet called "The Boulder". 
Most of the chalets have a lounge area; all have a cosy fireplace while some have a dining table with chairs. All have a veranda or private viewing deck- like the chalet called "The Rock".
They all have lovely views, some look onto the mountain while others have a view of the desert plains, where you can enjoy a great sunset or watch horses, gemsbok and ostrich right in front of your chalet.
Food & Drinks
All the chalets are self-catering but you can book for meals at the main lodge if you prefer not to cook yourself. Each has a braai/barbecue, a kitchenette with fully stocked bar fridge, hot plate, cutlery and crockery so you will want for nothing; just bring your own food to prepare. There is a kettle with tea, coffee, sugar, milk and cookies which are all supplied. Braai/barbecue packs or take-away breakfast packs are available on request from Desert Horse Inn.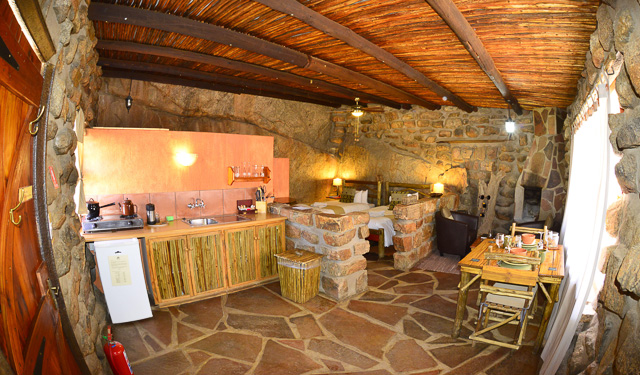 Accommodation
There are 9 chalets spread out along the foot of the mountain - some have double beds while others have twin beds. A few have a double and a single bed making them great family chalets. 8 chalets have en suite bathrooms with shower, toilet and hand basin and only one has an outside shower and toilet.
Five chalets are grouped together and so are ideal for groups of friends...
Although all of the Eagles Nest chalets are lovely we feel there a few that need a special mention: 
The Rock - which is our personal favorite because of the cosy and inviting feel it gives you when you enter- a long steep driveway sets it apart from the rest as it sits perched among the boulders in the side of the mountain. We loved its private viewing spot which is tucked away behind a large boulder but still giving you a great view over the plains.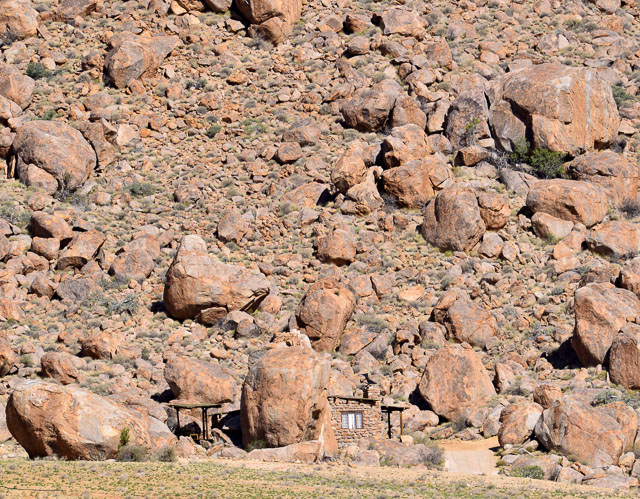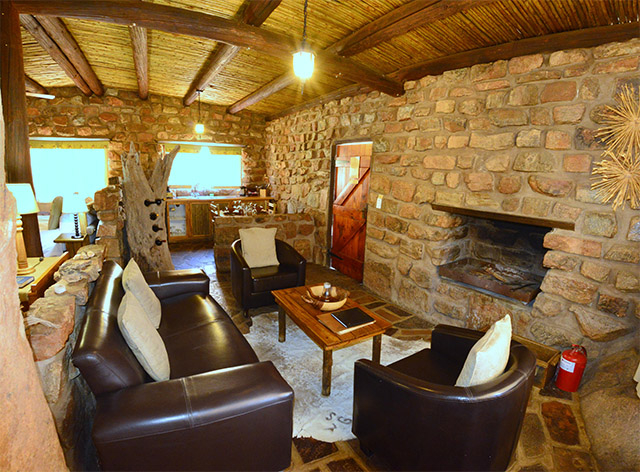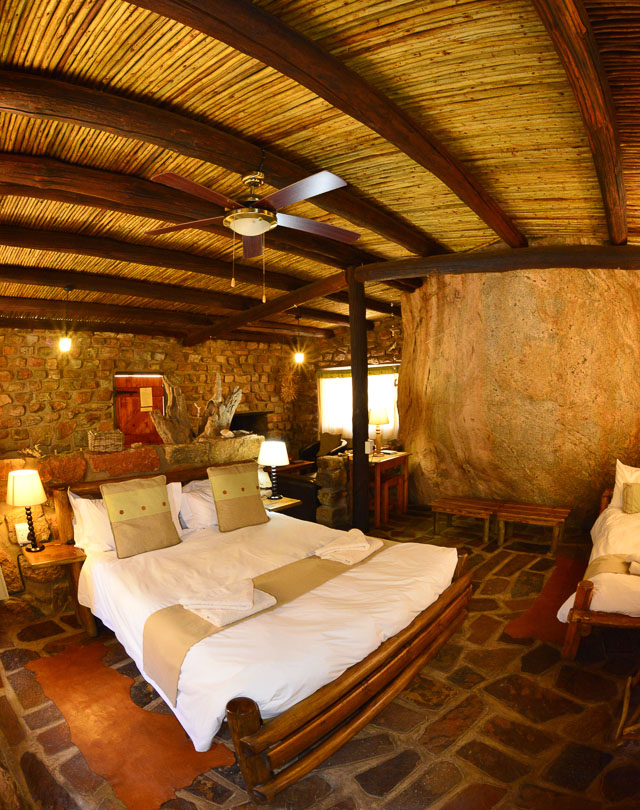 The Boulder - is great for a family – a large boulder sit between two chalets "North" and "South" each chalet has its own en suite bathroom. An inter-leading door leads to the main area that has a lounge with fireplace, dining area and kitchenette that are shared by both, while each chalet has its own private veranda.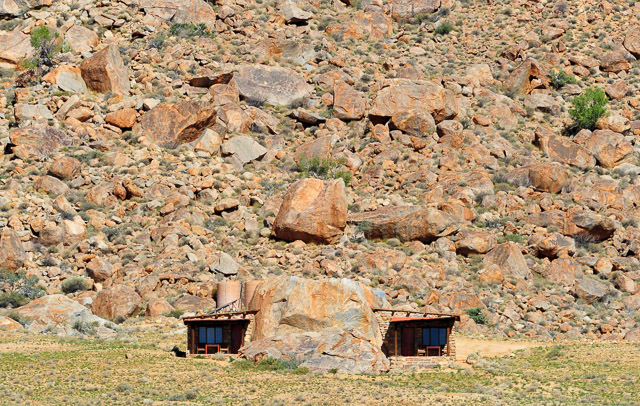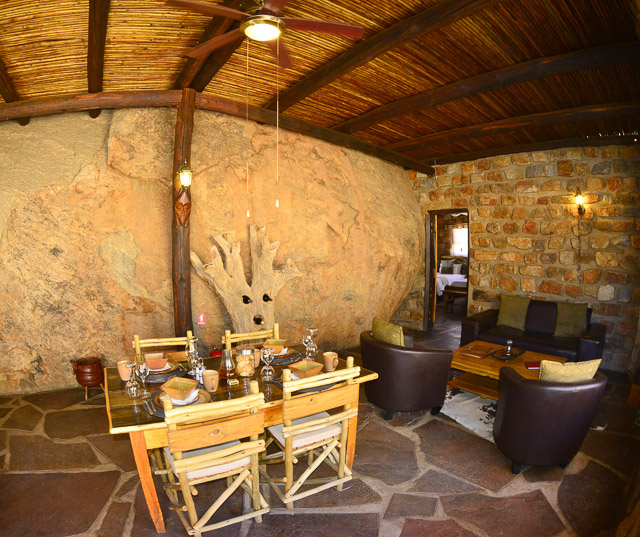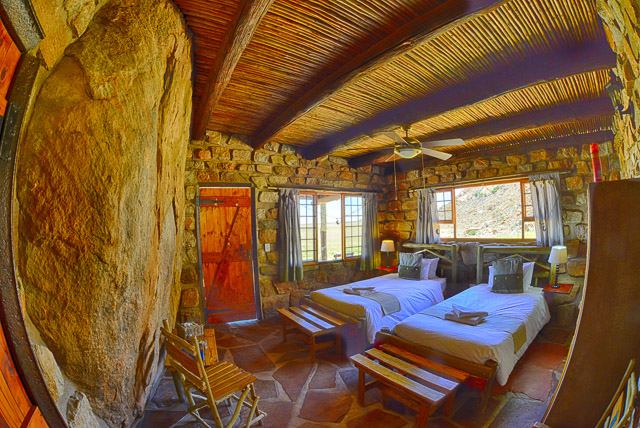 The Cave - is designed for one person and is quite small inside but very cosy, it has a small kitchenette and fireplace and a single bed, but the shower and toilet are not en suite they are separate from the chalet. It also has a veranda. This is most often used for the guide leading small tour groups.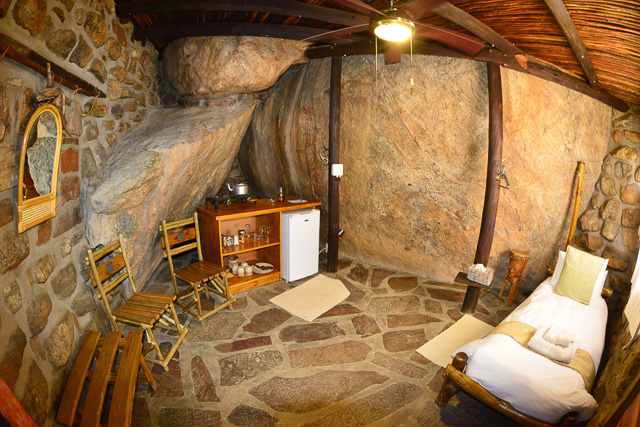 The Eagles View – This is another lovely chalet with a large boulder behind the double bed.  It also has a single bed on the right hand side making it nice for a small family. It has a lovely lounge with fireplace, dining area and a nice size kitchenette.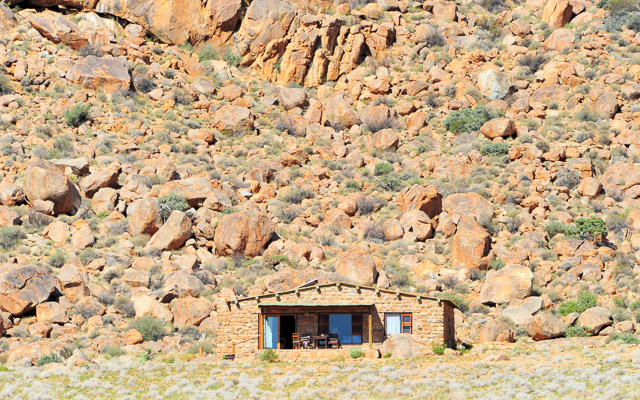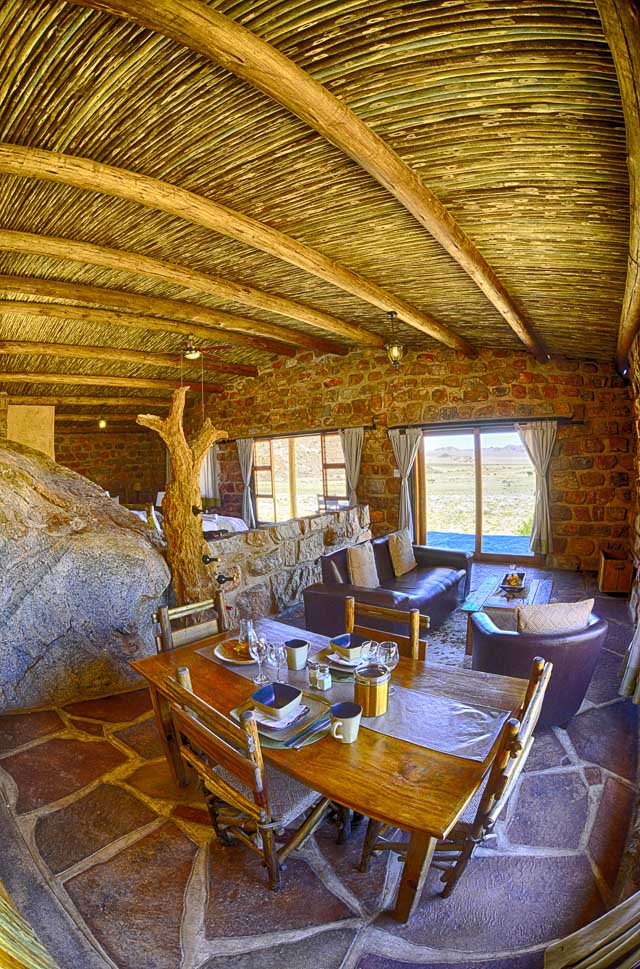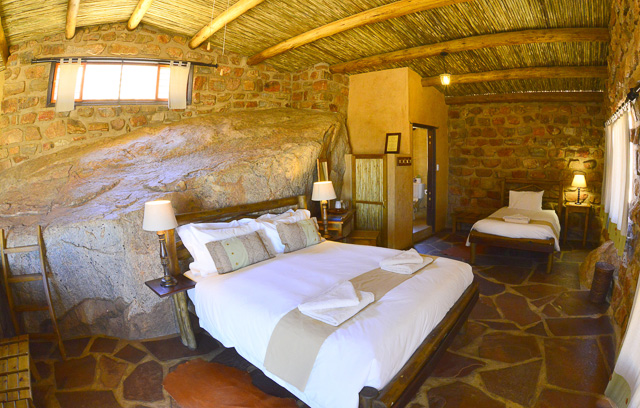 Desert Vista – This is a nice family chalet with a double bed and single bed. The bedroom area is slightly raised from the lounge and dining area.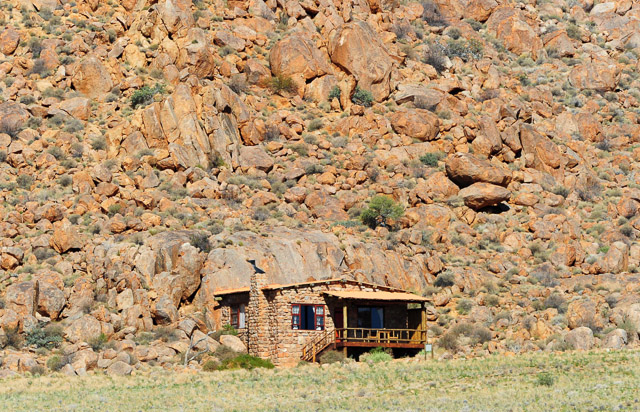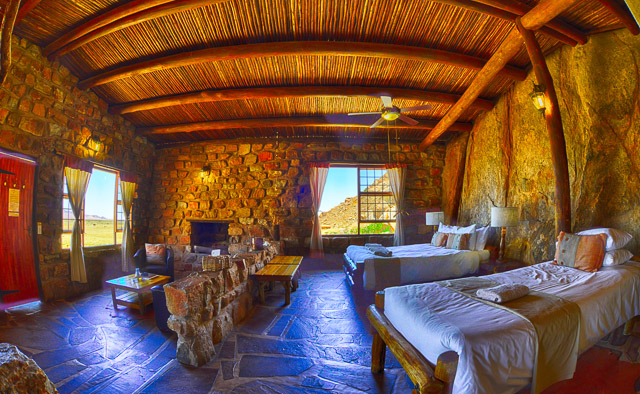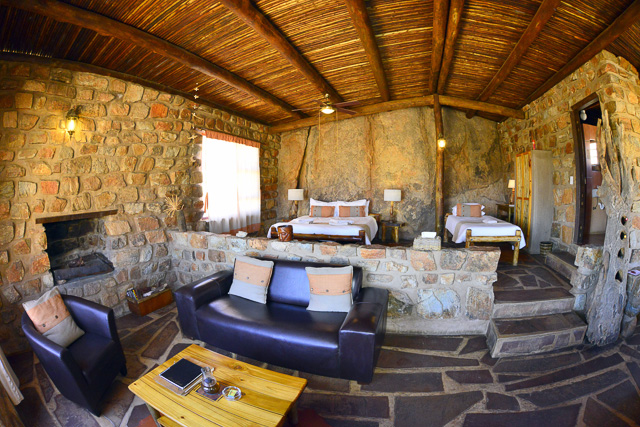 And all the dining tables at the chalets are set and ready for use.
Activities
These will be the same as the main lodge Desert Horse Inn
There is also an old car just down the road that has an interesting story about how it came about being in this spot. Two thieves who owned the car stole diamonds from the Sperrgebiet (Prohibited Diamond Area) and the police chased them into the canyon, where a gunfight ensued and the two robbers were shot dead. The car is full of bullet holes! Allegedly, the diamonds were never found. 
The 1934 Hudson Terraplane car makes a great photographic subject by day or night...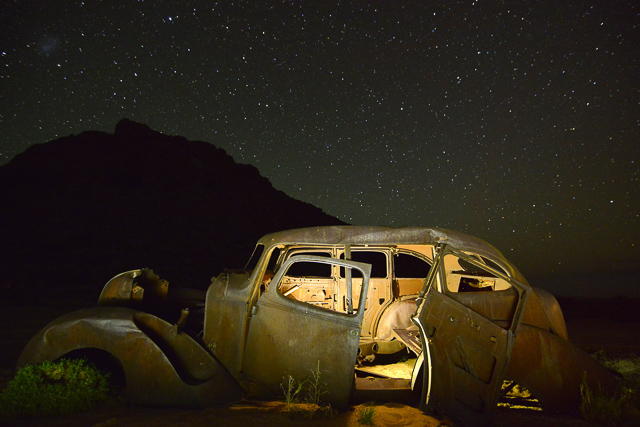 Stars above an old 1934 Hudson Terraplane rusting in the desert
---
For more information on these lovely Eagles Nest Chalets or to make your booking, please visit the Gondwana Collection website.
---
Return from Eagles Nest Chalets to Photographing Namibia page
---
---

To make a safari rental booking in South Africa, Botswana or Namibia click here
---