Buffelshoek Camp
P

lease Note that Buffelshoek Camp was refurbished in 2016 and is under new management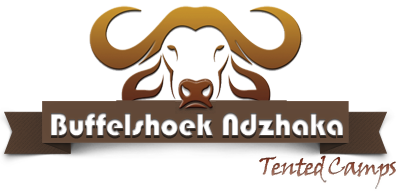 Location of Buffelshoek Camp
Buffelshoek camp, which has recently been upgraded, is situated in the south east corner of Manyeleti Game Reserve. It shares unfenced borders with Kruger National Park to the east and Sabi Sand Game Reserve to the south.
---
---
About Buffelshoek Camp
It's a lovely tented camp (and sister camp to Ndzhaka Camp) that offers a wonderful bush experience - the camp is unfenced and very open so animals move freely through and around the camp.
The new waterhole also attracts large herds of elephant and other game.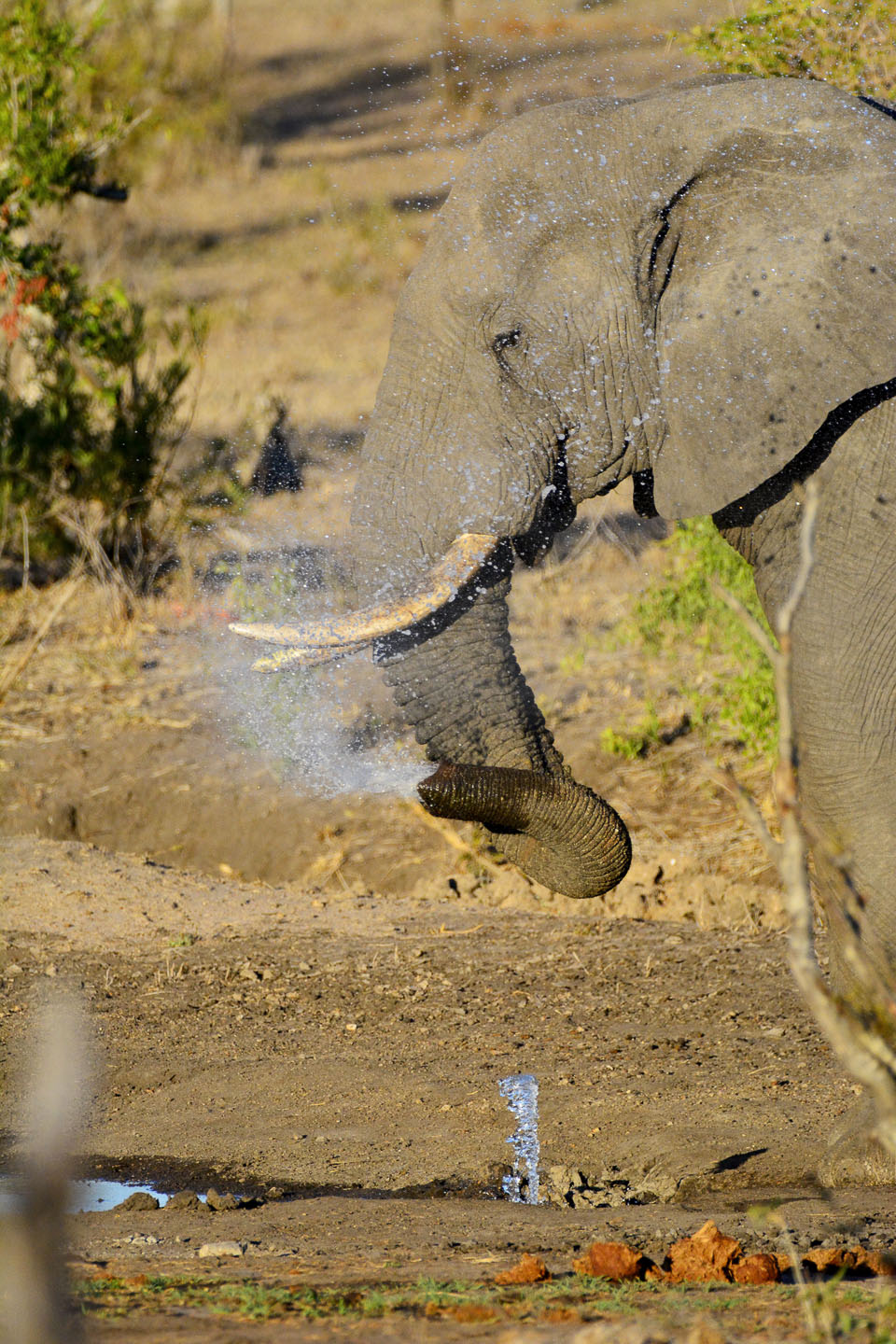 The main area has a cosy lounge with a gas heater with glass doors that lead from the lounge outside to the large covered dining area with an open boma and large braai and seating area.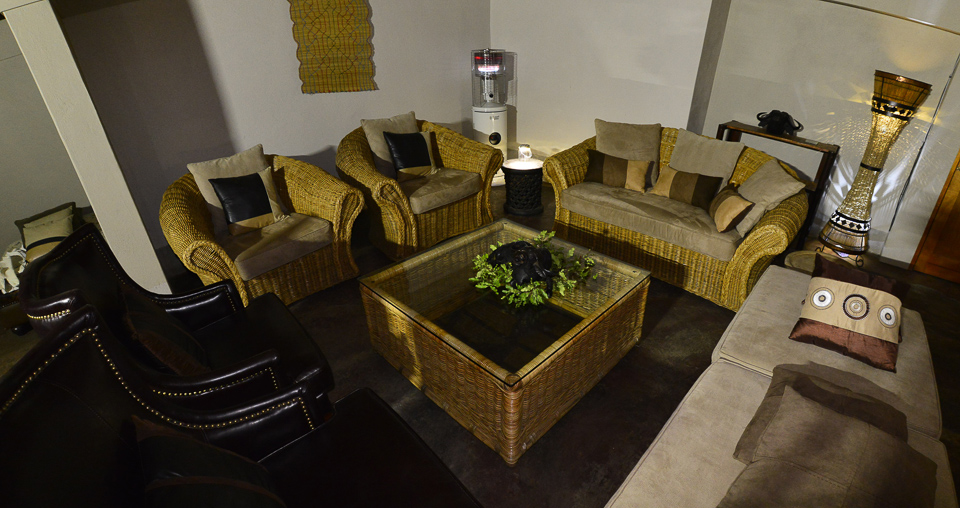 The camp does not have electricity, so hurricane lamps and solar powered lighting are used.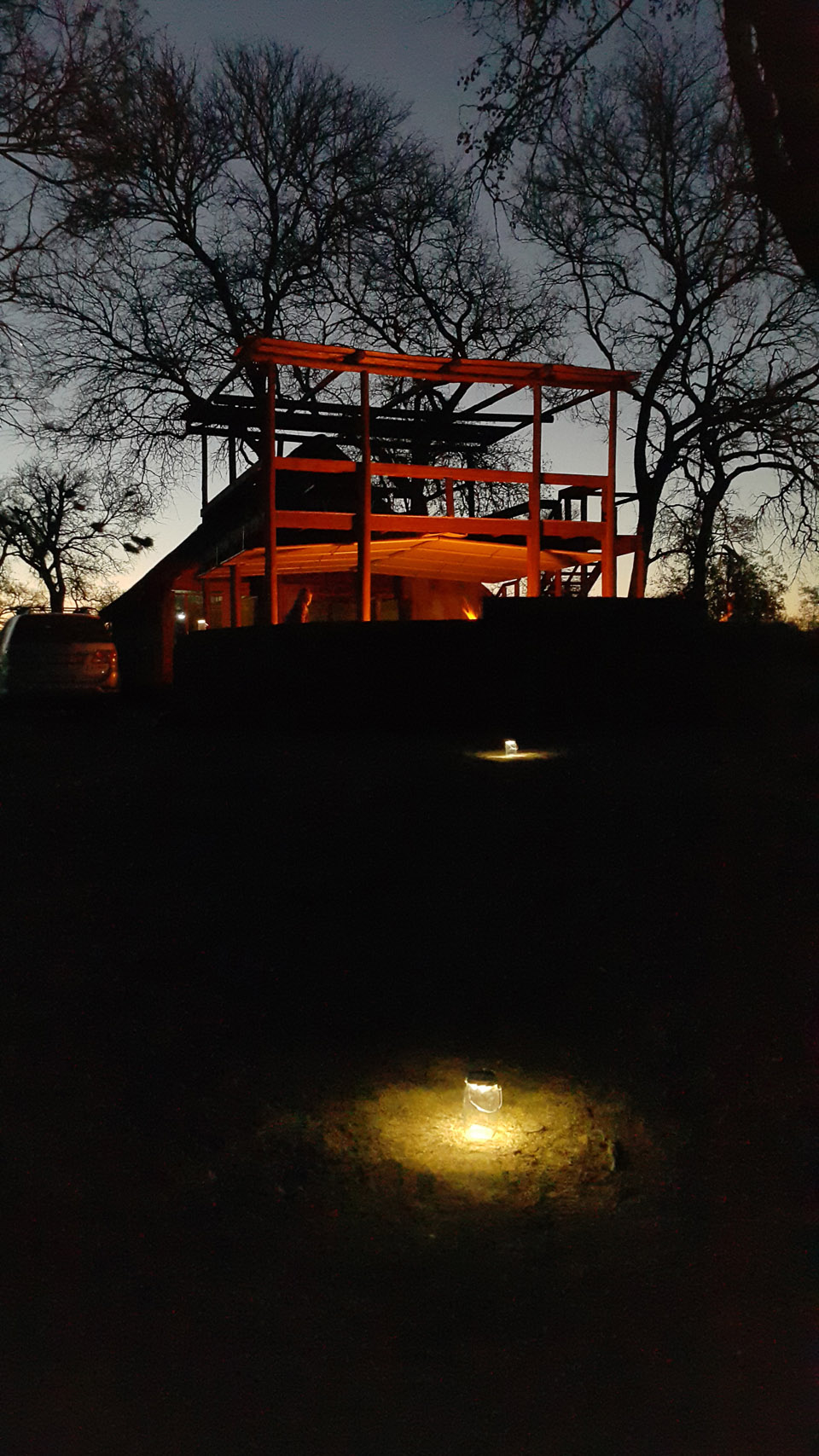 Above the dining area is a large Wooden viewing deck that gives you great views over the waterhole and surrounding veld.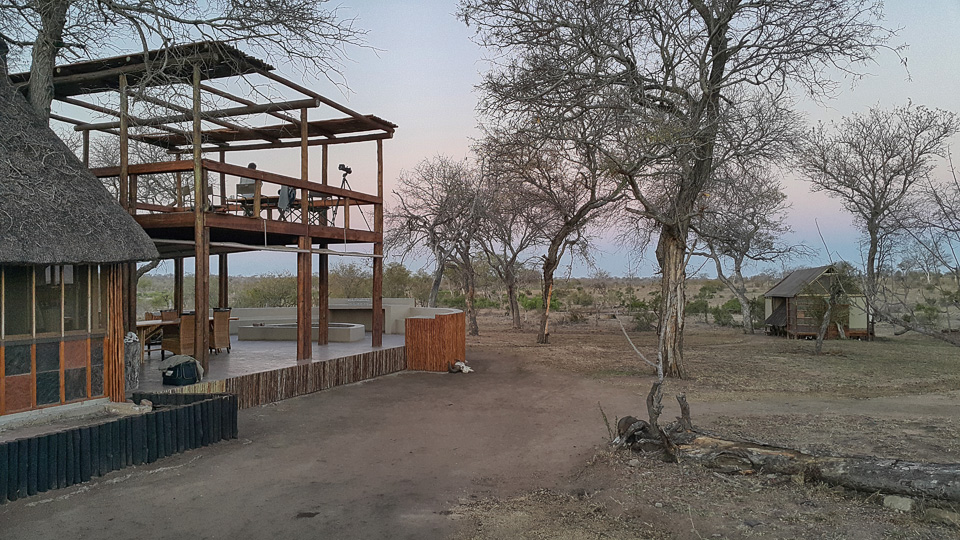 Food & Drink
Buffelshoek tented camp is now a fully catered lodge, no more self-catering and we had stunning food, thanks to Lynn and her staff.
All our meals were in the covered dining area next to the boma fire pit.
Dining under the night sky is fun because the camp is so open you will have no problem gazing at the stars or photographing them - you will see why Manyeleti, which means "place of stars", is indeed an appropriate name for this reserve.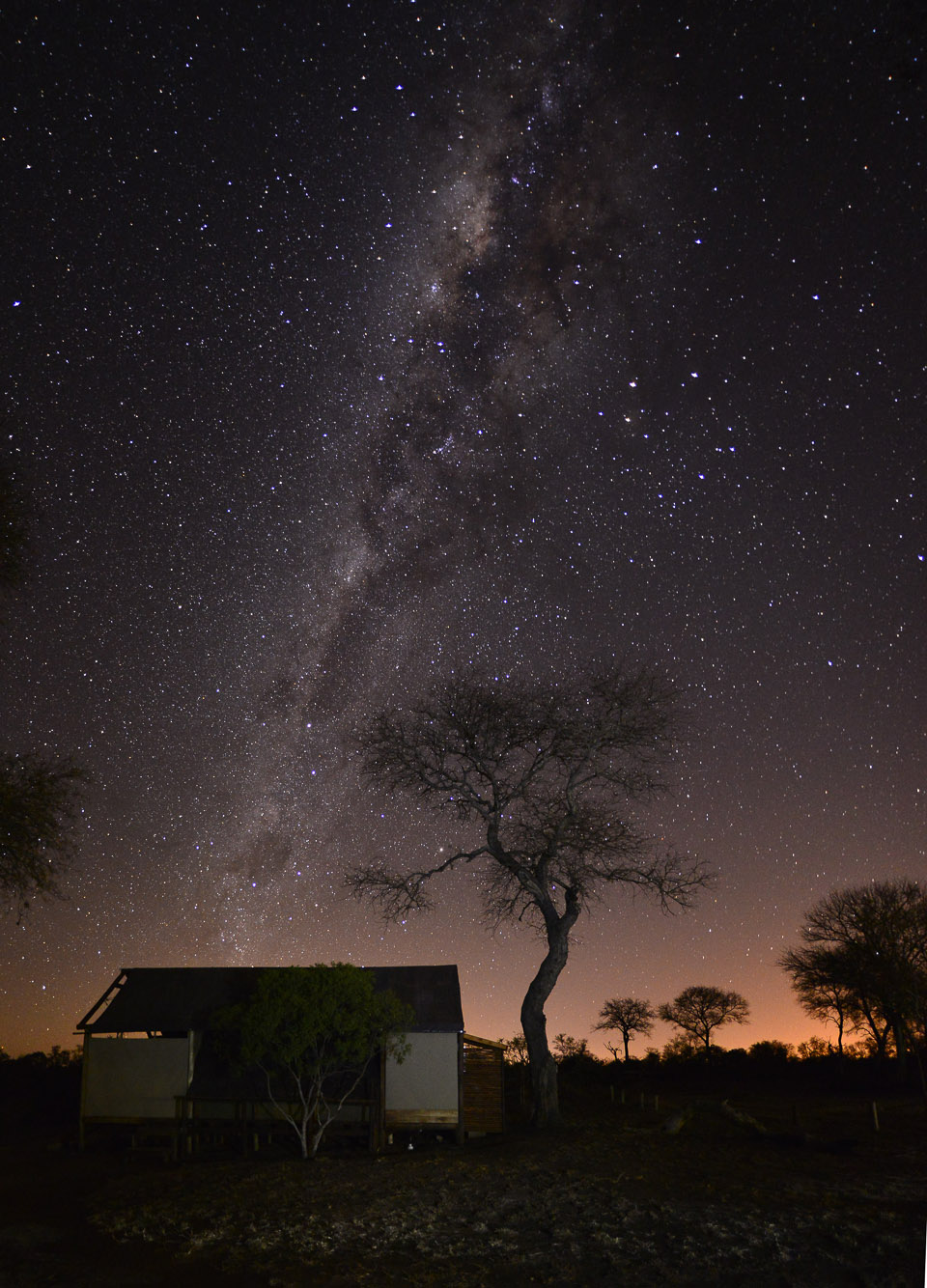 Lunch is light and fun – we had a lovely quiche and salad, while our dinners were an African braai with loads of meat and salads and good wine and then a tasty lamb stew, again with good wine.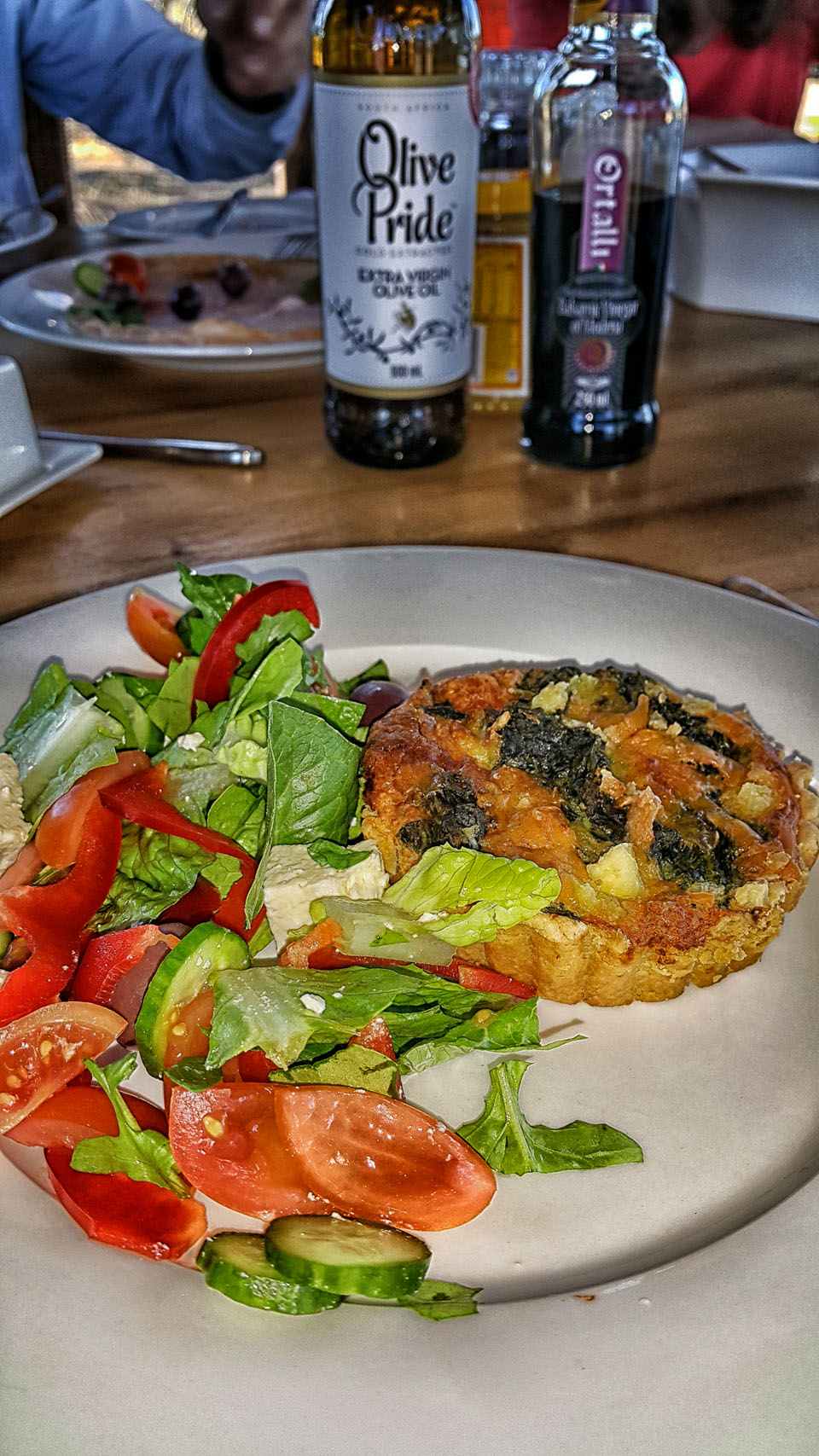 Breakfast was a treat of yogurts, fruit salad, juice tea coffee, toast, eggs of your choice, bacon, and mushrooms with fried tomatoes.

---
Should you wish to get the eBook, click on the book cover above, then click 'Add to Cart' where you'll see a button called 'Add Promo Code' - click on it then add the word K2K and the 33% discount will be automatically applied. This code is valid until the end of the month, so don't delay!


"...the majority of images are really impressive, each chosen for a practical reason, sometimes annotated to stress a point.

The authors clearly know what they are doing. For decades they have mapped their sightings, and in explaining how they achieved their images, they're sharing invaluable tips on understanding wildlife behavior, reading the signs and getting yourself in the best position for the shot. There is a phenomenal wealth of information here; real substance."


- Craig Rix, Editor,Travel Africa Magazine, UK
---
Accommodation
Buffelshoek provides the feeling of exclusivity with only five quaint two-sleeper thatch-roofed Safari tents, which are just in front of the main lodge area. 
Gone are the stretchers - each tent now has comfortable beds!
Each tent has en-suite facilities, a shower with hot running water, basin and toilet use to be outside with a reed fence, but now it is enclosed giving you more privacy.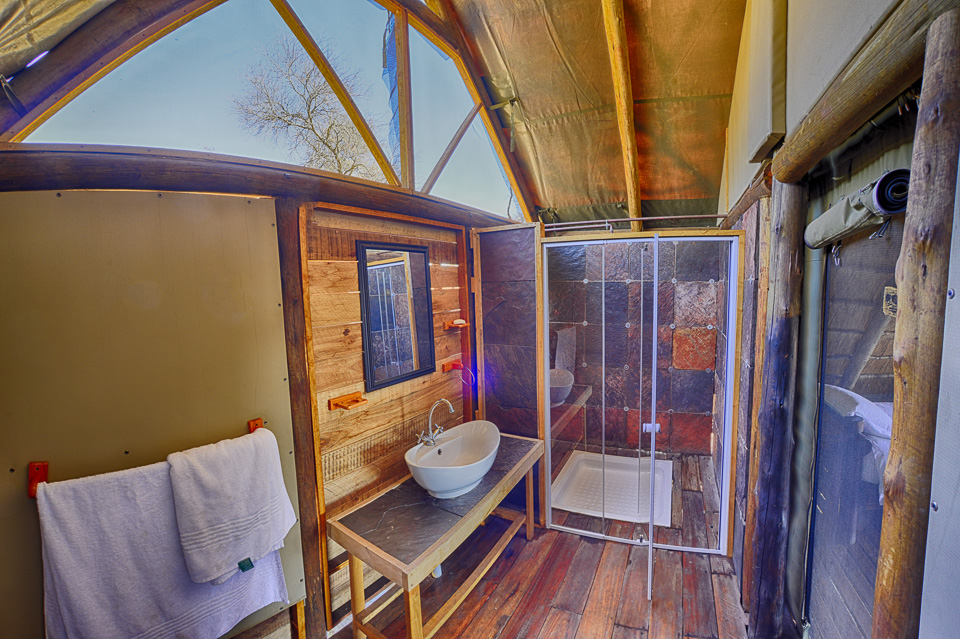 The wooden deck use to be a bit on the small side but now you have a larger deck with comfy chairs, which provides a place to relax during the day - animals are often seen walking past the tents, so keep your eyes peeled so that you don't miss anything.
Here is the view of the waterhole and surrounding area from our tent...
We had a rhino walk right in front of our tent during the day and an elephant during the night. 
The elephant was right next to our tent and Mario had his camera and lens set up on the tripod on the deck and the elephant was snapping branches off the trees and with each snap we would wince as we had images of the lens and tripod crashing to the ground but this elephant behaved himself! 
Activities around Buffelshoek camp
Self-drives are allowed in the Manyeleti game reserve but you have to stick to the main roads.  Buffelshoek does offer two guided game drives daily with a field guide in an open game viewing vehicle with a sundowner stop and morning coffee stop. 
Our field guide, Louis, was knowledgeable and humble, thereby making our drives most enjoyable.
Manyeleti Game Reserve has a low density of lodges and this means that there is generally no waiting in line at a sighting which in turn enhances your overall wilderness experience and great for photographers.

While the morning drives are great fun and can provide some lovely animal sightings, the night drives provide sightings of the elusive nocturnal creatures with a spotlight being used after dark to locate the predators as they begin their hunt. 
On our drives we saw an African Wild Cat...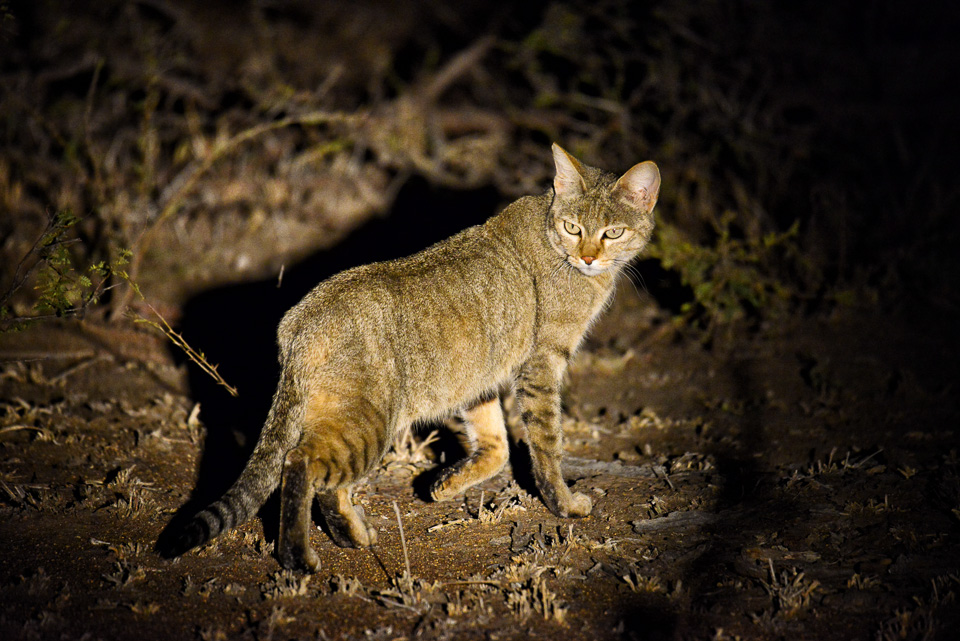 Bush baby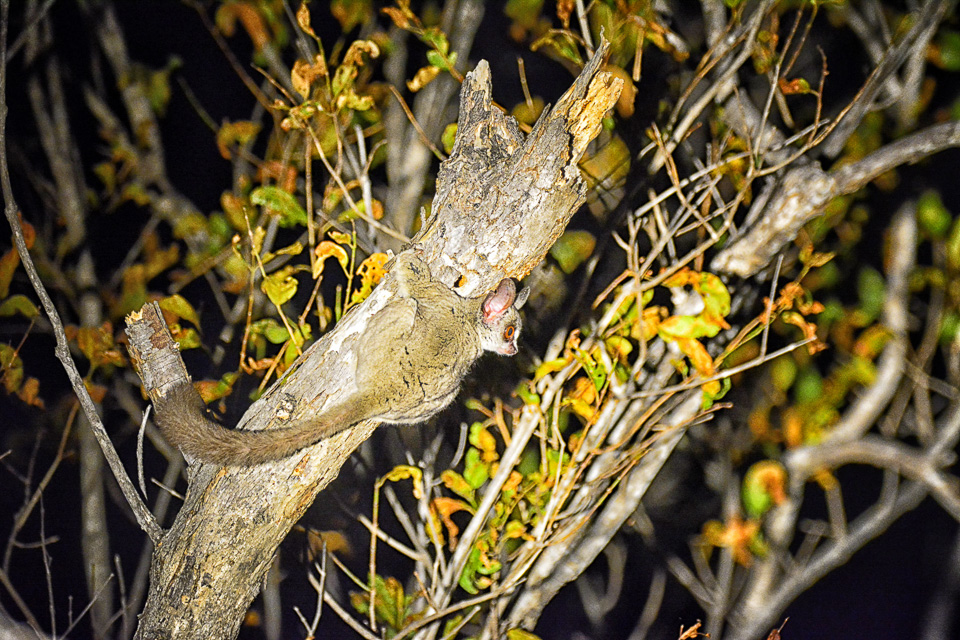 Cheetah
buffalo in the mist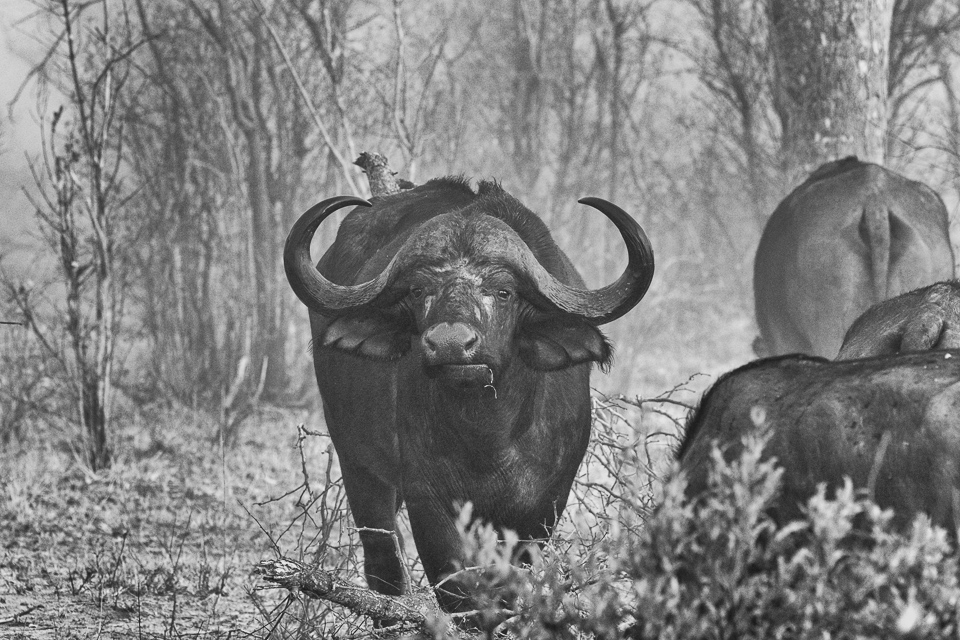 and a few great leopard sightings…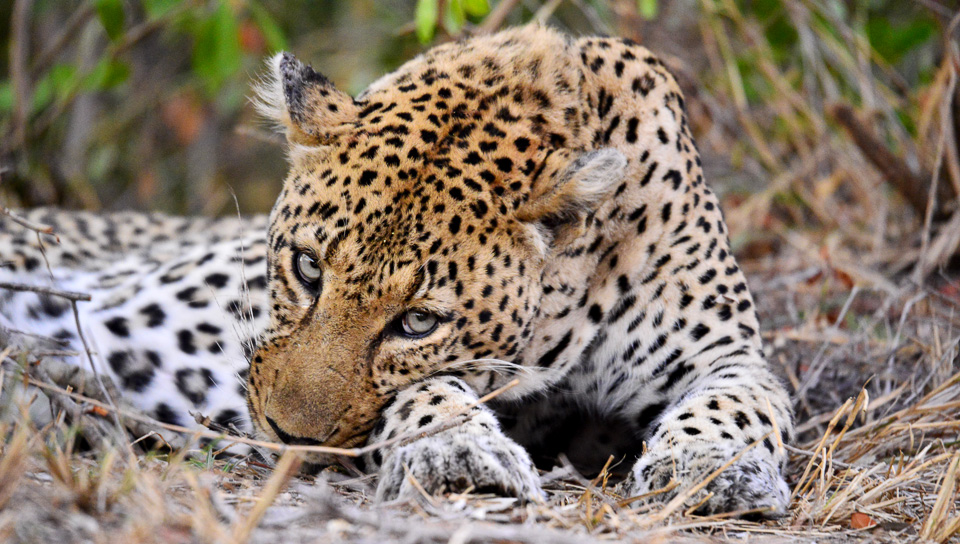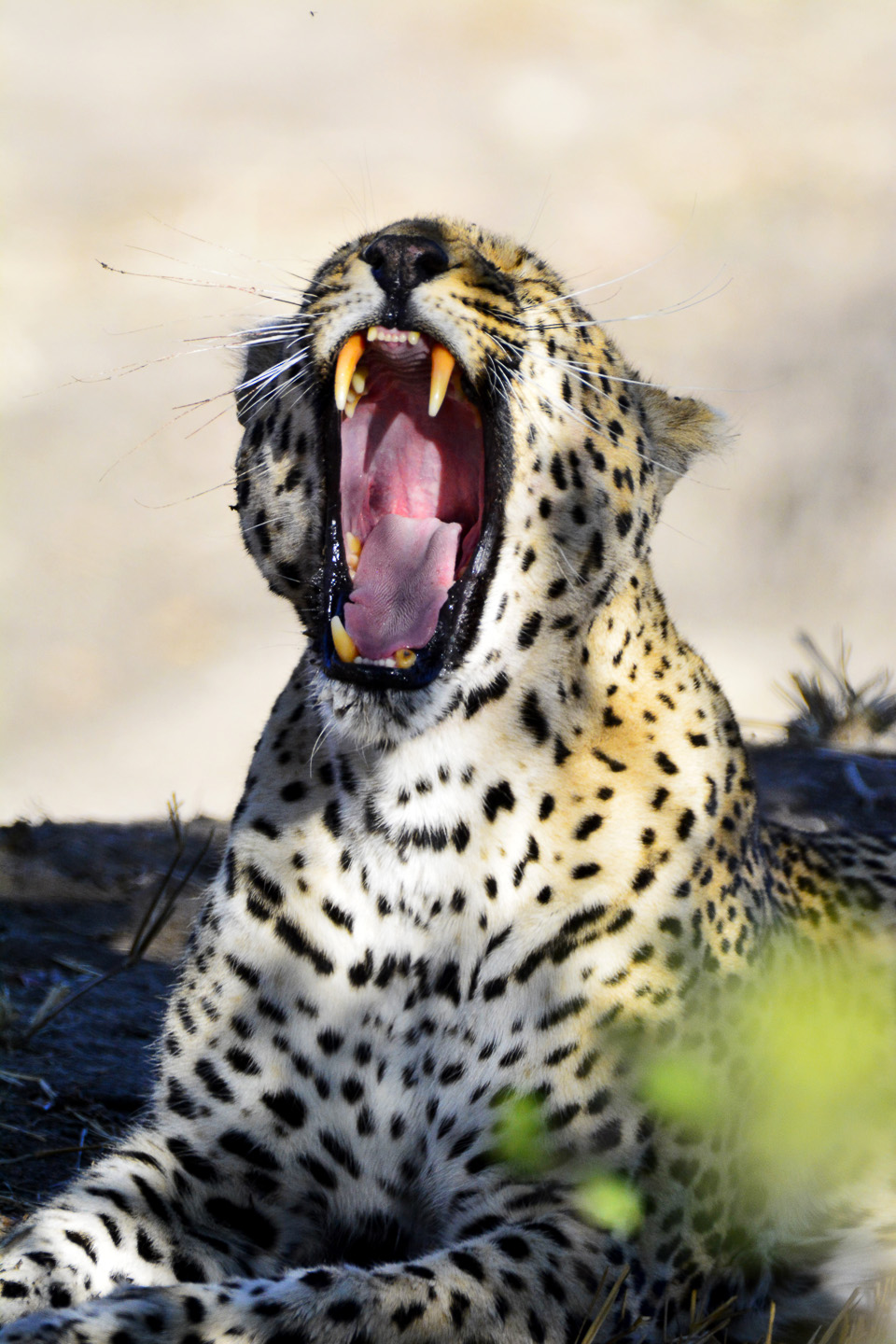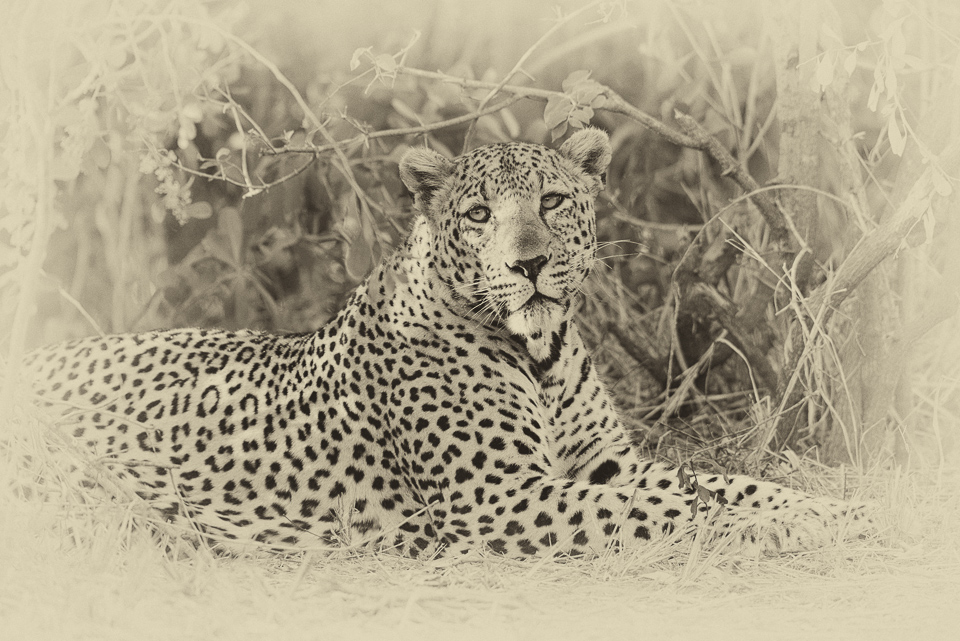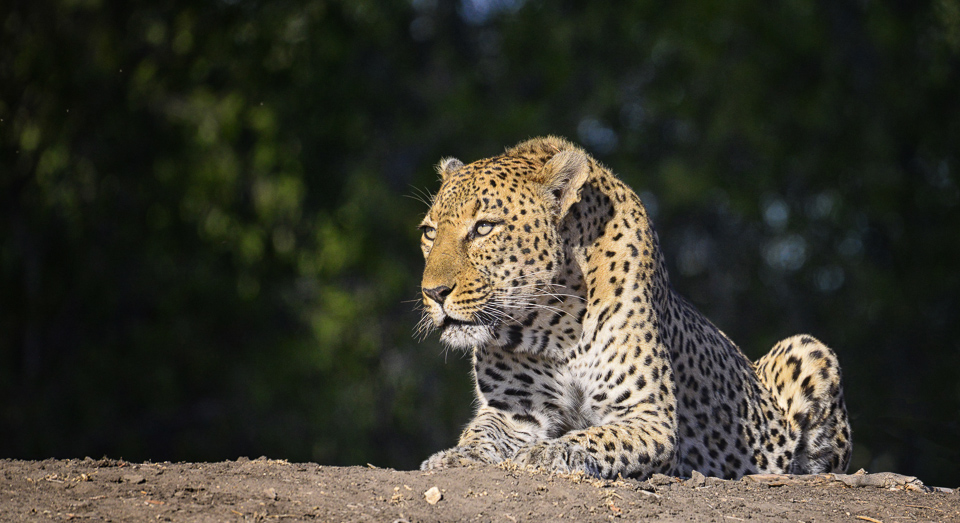 Our friend, Elmar Venter, went on the Manyeleti Big Cat Safari hosted by Armand Grobler, and the first animal they see when arriving at Buffelshoek is a leopard walking past their tent...!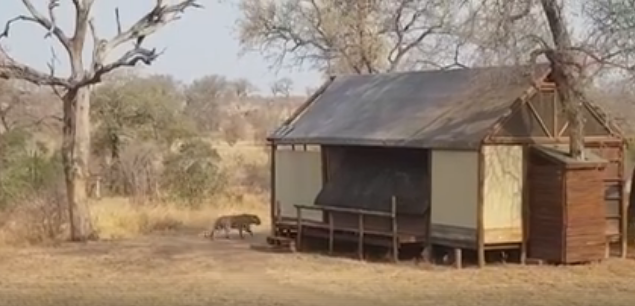 Screenshot captured from Elmar's video
Birding is excellent in this area and well worth a relaxing stay at camp, we watched as a Bateleur flew over camp and a secretary bird foraged in the veld. 
We had an African Scops Owl in the small tree behind out tent and nesting hornbills in the tree next to tent number two.
We also had a lion kill just 100m from camp, right on the side of the road in the open…
Your experience of the African bush will not get more up-close and personal than this!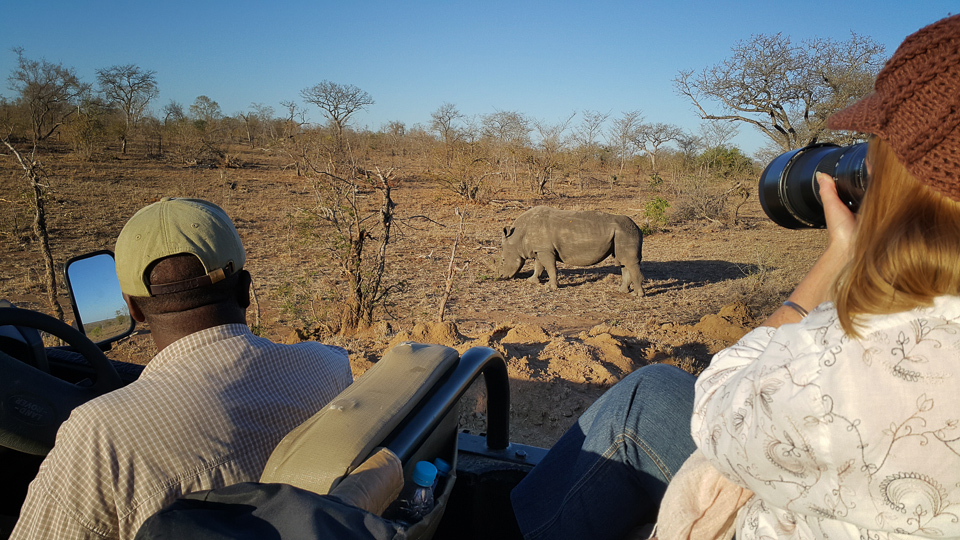 ---
For more information on Buffelshoek Camp or to book your stay, please click here
---
Read another guest's experience at Buffelshoek Camp here.
---
Return from Buffelshoek Camp to Kruger Park page

---
---

To make a safari rental booking in South Africa, Botswana or Namibia click here
---