Twenty Questions with Billy Dodson - Professional Wildlife & Landscape Photographer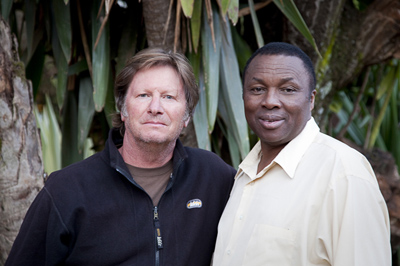 1) Billy, you became interested in photography after climbing Mount Kilimanjaro in Tanzania in 2001. What stimulated this sudden interest in wildlife and photography?
I've done a fair amount of traveling in the course of my life, but the trip to East Africa in 2001 was unique in my experience. No other place ever captivated me so completely … it was the people, the landscapes and, of course, the animals.
But travel is expensive and I knew that if I hoped to return to this most wonderful of all destinations, I'd have to find a creative way to pay for the travel. I'd purchased a Canon Rebel G film SLR with a cheap lens for the 2001 mountain climb and had some fun with it. And those first pictures actually received some pretty high marks from photographer friends, so I thought I'd give the photo thing a try.
I knew I only had about a 10% chance of making the plan work, but then I'd have a 0% chance if I didn't even try. So I took up photography only because I loved Africa to the point of obsession and wanted to try to find a means and an excuse to return.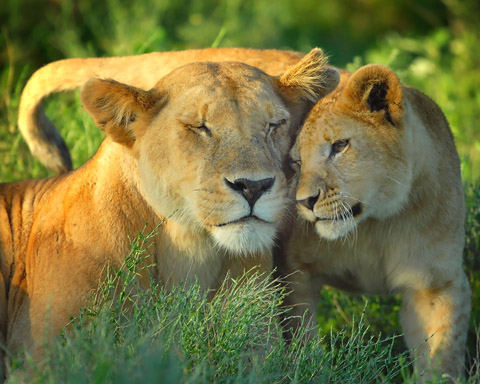 A large pride of lions rested under a bush at Ndutu in the late afternoon light. The cubs were active and there were so many photo opportunities I didn't know which way to turn, but this capture is my favorite of the 800 or so pictures I took.
2) In 2005 you purchased a used 500mm sigma lens with a Nikon D70 body and went back to Tanzania to photograph the wildlife. How soon after this first trip in 2005 did you start selling your images?
Almost immediately. I thought I'd captured enough quality images to exhibit in a local art show so I applied and was accepted. I returned from the trip in 2005 in July and sold the first pictures in September.
I still remember the first time I actually accepted money for my photos. It was an overwhelming experience, almost emotional, because when you're compensated for doing your favorite thing in the world, you are quite literally living the dream.
3) What happened between 2001 and 2005 - was this when you studied the art of photography? If so, how did you learn the basics of exposure, composition, light etc.?
That's exactly what I did in those intervening years -- studied. I photographed birds and landscapes near my home with a 70-300mm lens, and learned as much as I could from the photo magazines.
I also learned from studying the work of others on photo sharing websites like photo.net.
But the best way for me to learn, even now, is by making mistakes. When I blow a golden opportunity I make a personal vow not to repeat whatever mistake I made. The hardest lessons seem to have the most permanence.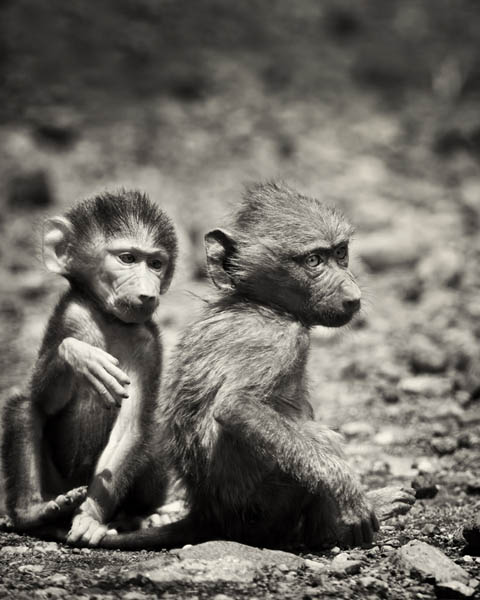 4) What photographic gear do you currently use?
My Africa package at this moment is:
• Nikon D300s married to Nikon 600mm lens
• Nikon D300 with Nikon 200-400mm lens
• Nikon D200 … this is the camera I use for different lenses in the field.
• Nikon 80-200mm, 28-70mm and 17-35mm
• Nikon D90 with 18-135mm lens. (Camera converted to infrared.)
• I also have a pretty complete set of filters. I use B+W polarizers and Singh-Ray graduated neutral density filters.
5) Professional photographers know that being successful is a combination of having the right equipment, knowing how and when to use it and then having photographic vision (creativity). You photograph animals (zebras, giraffe, lions etc.) that have been photographed by thousands of people yet you seem to be able to capture fleeting moments with unique moods and emotion. How do you ensure this constant creativity?
I just try to look for something more than a basic animal portrait, although sometimes those can work very well. I watch for the animals to interact and try to be in the ready position when something interesting happens. I also use what I refer to as the MCS photographic principle – that's a homemade acronym for "Multiple Cool Stuff".
For example, a profile shot of a giraffe is a fine thing, but if there's a bird on the giraffe's mouth it's much better. A head on shot of an elephant can be lovely, but if there's a shapely acacia in the immediate background the image is significantly improved.
In other words, you have a primary subject but there are at least two objects of interest. I'm currently working on an extensive blog post on the MCS photo principle.
I also watch for the animals to exhibit emotions that humans can relate to in a big way. This is most possible with those animals living in families like elephants, lions or baboons.
Because they are families, they love each other and their feelings can be captured by a patient and attentive photographer.
These images seem to resonate with the public more than any others.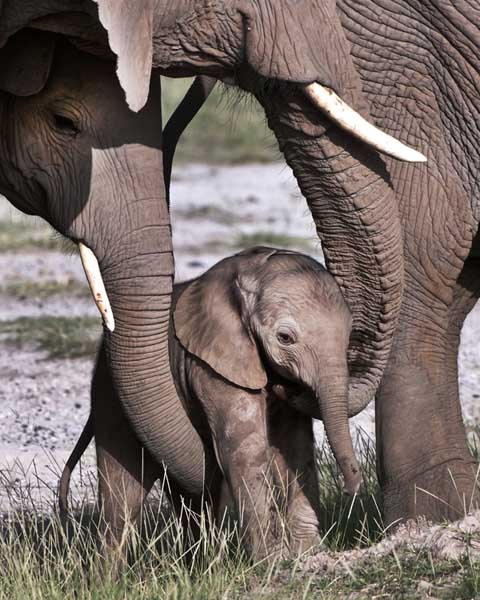 6) We hear about the Five-P's that together make a successful photographer - Purpose, Patience, Practice, Preparation and Passion. Did these 5 principles apply to your photographic progress?
I think these principles capture it all just about perfectly.
For me, passion is far and away the most critical.
I'm dedicated to my subjects and their preservation. I wouldn't be a photographer now had I not visited Africa in 2001, and I think I'd sell my gear if I knew I could never go back.
7) Then in 2007, just two years after starting with wildlife photography, your image of a Yellow-billed ox-pecker on a Giraffe won the Nature Conservancy annual photo competition! Were you surprised to gain such prestigious recognition so soon after starting out with photography?
I was very surprised. I have difficulty judging my own work, just because I have such a strong emotional attachment to each image. I think that's because I have the memory that goes along with the picture.
I remember entering two photos in the Nature Conservancy competition and liking the one that didn't win best (it was a finalist). The winning photo was a lucky capture for sure, but apparently it was unusual enough to stand out in the contest. Since the competition that winning image has earned me enough money for a return trip to East Africa.
It's been published globally and the prints still sell extremely well.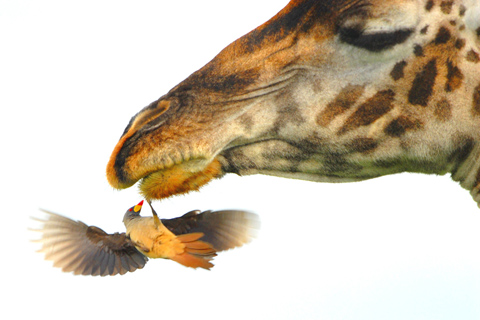 I was taking a profile photograph of this giraffe and had two shots of the bird before I realized it was there. By this time I'd noticed him on the giraffe and I recomposed to emphasize the bird! This picture is the one that won The Nature Conservancy's 2007 contest.
8) Many people who go to Africa on a photo safari are consumed with finding and photographing the predators and/or the 'big-five', which is termed 'subject-driven' photography. Would you say you are more a 'situation-driven' photographer (if you find an animal in good light you will spend time with it capturing its actions and moods instead of just chasing after the more 'exciting' animals)?
Excellent question Mario. There are times when I'm subject driven but those are the exception rather than the rule.
For example, last November I had a powerful urge to photograph baby cheetahs and my guide went all out to find them for me.
But usually I'm situation driven and encourage those who travel with me to approach things the same way. I try to take advantage of whatever nature offers.
Hell, if I have good light on a dung beetle and he's doing a splendid job of rolling up his material, I'll stay and photograph him for a half hour. That might be an exaggeration, but you get the idea. But I won't pass up a tight shot of a Secretary Bird or female ostriches going through the mating ritual to find lions or elephants!
9) What is your favorite animal to photograph and do you have any specific strategies for photographing them?
Zebras. I love the way they move - a perfect combination of wariness and aggression.
I love the way they arrange themselves in a herd...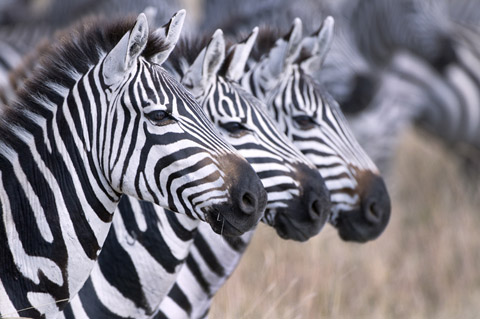 Two young male lions slept in a low spot just down the slope from this herd of zebras. When the wind shifted and they caught the lion scent, they all turned toward the big cats in unison and assumed the alert position.


and they are majestic when they're in a tussle...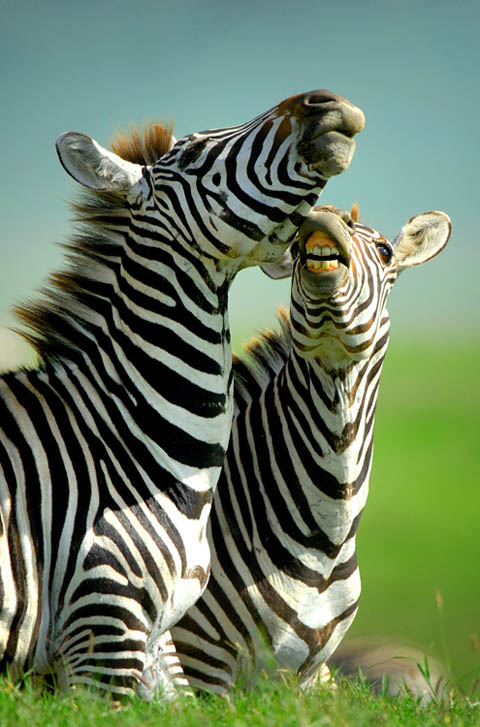 They seem to pose with every movement.
And, or course, the babies are just too cute...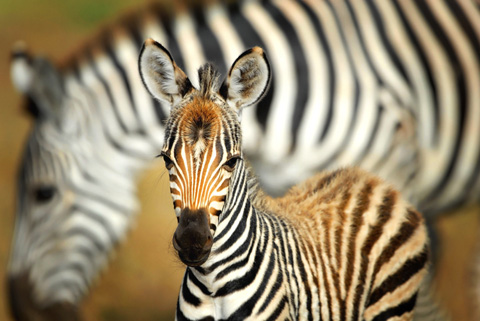 My photo gear was packed away for the trip home when we passed this young zebra foal in Amboseli. We took the time & trouble to break out the gear to capture this portrait with mom in the background.


I definitely have a strategy for photographing them (other animals too) but rather than fill up your pages, I'd just refer you to one of my most recent
blog posts
that happens to be on this very subject. It's on my blog site, dated April 18th, 2011.
10) Do you have a wish-list of shots you still want to get, maybe an animal that has eluded you or an animal doing something?
I'd like to get some photographs of baby leopards. I've never even seen one. But I'm researching it, and I think there are places in South Africa where I might just have a chance.
If anyone reading this has any ideas or recommendations I'd love to hear them. I also need to beef up my hippo portfolio, but I know where to go for this ... Mvuu Camp in Zambia on the lower Zambezi.
I visited there a couple of years ago and captured some quality hippo images. Unfortunately, I lost my hard drive on the way home. Another one of those hard lessons and a mistake that will never, ever be repeated!
11) Please give us an idea of a typical day on one of your East African Photo Tours.
An early start to catch the good light, which means we leave for the field with a boxed breakfast.
I try to arrange things so that I have an even number of travelers, including me. We have only two photographers per vehicle (I think this is critical … it optimizes the field of view for all), so I spend a half day with each person on a rotational basis doing one on one instruction.
We shoot all morning and then return to camp for lunch and download of images, then return to the field until sunset. In the evening we have a discussion (we may do this in conjunction with an adult beverage) and review some images from our day's work, then dinner and sleep.
It's a full day and very much a working trip.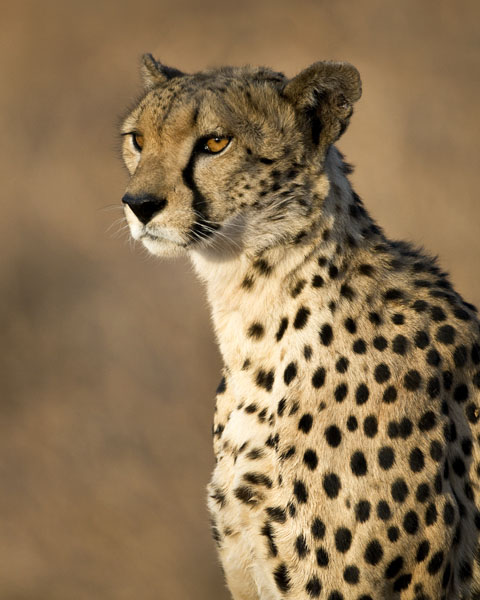 12) Before you go out on a photo safari each day have you planned your route and/or what animal/s you are wanting to shoot?
No specific routes, but many times we do have certain animals in mind. The guides talk to each other in the evening and that gives us an idea what to look for and where we might find it. Plans are often based on those discussions.
We located spotted dogs in Tanzania this way and, of course, the baby cheetahs in Kenya last year. I'm a photographer and tour leader, but good guides are critical to getting us to the best subjects. I have full confidence in my guides and the plans always remain flexible. That's because we are "situation-driven" 90% of the time.
13) Do you find landscapes to be more or less challenging than photographing birds and mammals?
African landscapes are usually less challenging for me. I travel to Africa to photograph animals but take an opportunistic approach to the landscapes. If I see a compelling landscape during the course of a game drive I simply ask the driver to stop so I can photograph it.
And there are so many opportunities. An interesting sky is critical to a quality landscape and East African skies are the most glorious in all the world.
I actually did a blog post on this some time back too (dated August 13, 2009). Believe it or not, I've found that the landscape photos sell almost as well as the animal shots.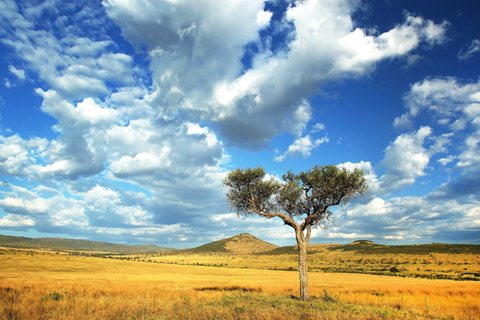 14) The professional nature photography market seems to be moving away from image and book sales to photographic workshops and eBooks. Have you found this to be so with your business?
Partially. My business is shifting gears slightly … I'm reducing the number of art shows and exhibits I do to focus more on the photography tours. But I've found that the print sales really haven't slowed much.
I've yet to do an eBook but am working with a friend on doing a traditional book. If we successfully produce it I'm going to donate 100% of the profits to the African Wildlife Foundation.
Having said that, I'm pretty sure there's an eBook somewhere in my future.
15) Do you use Photoshop, Lightroom or any other software programs for post-processing your images?
I use Photoshop, Nik Silver Efex, Nik Color Efex, and a suite of Topaz plug ins.
The Nik Silver Efex is becoming increasingly important to me because I'm transitioning more into black and white. Even the images originally captured with the infrared D90 are usually processed in Silver Efex. It's quality software.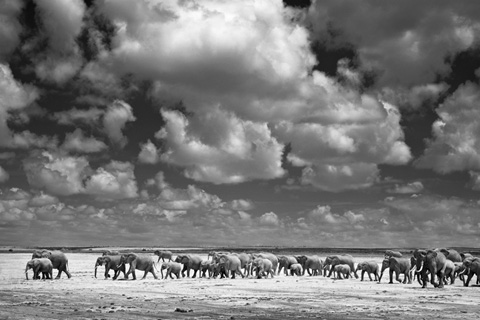 16) What is your digital darkroom process from when you download your files until you display them?
I'm a high volume shooter, so it literally takes me months to process my images after I return from a trip.
I initially do a triage on them and separate those worth a second look. Then I do another pass to segregate those I consider to be print worthy.
I open them in Adobe Raw and usually tweak the exposure, contrast and saturation. In Photoshop I fine tune them … crop if need be, de-noise, sharpen, etc. Then I decide if they'd be better as BW … if that's the case I work them over in Nik Silver Efex.
I save a completed "master" image in TIF format and send them to the printer as high resolution JPEGs.
17) Marketing is a crucial component for any professional photographer and we see that you have had a number of photos published in different magazines like Outdoor photography and Asian Photography - how else do you market yourself?
I think it's important to be easy to find on the internet, so I try to be highly "googleable." That's one of the main reasons I have both a website and a blog. Both are heavily tagged to make my work easy to find by search engines. I also post images on photo.net (this is where Outdoor Photographer magazine found me) and other photo sharing sites.
I enter competitions when it makes sense to do so. By placing in the contests you substantially increase your name recognition and your accessibility via the internet. And just last year I jumped on the social networking bandwagon.
I now have facebook pages for me personally and my Savanna Images photography business. I haven't yet paid for advertising but will do it if I feel it's necessary at some point.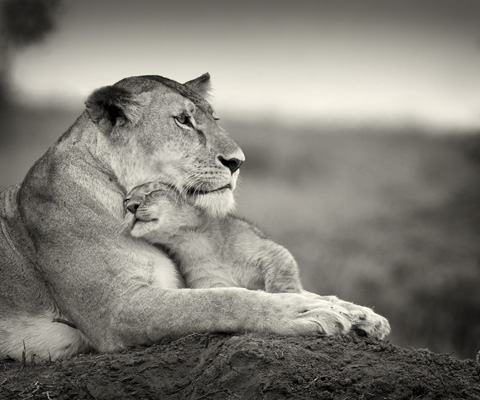 18) Are any of your family members involved with your business or have any of them also been bitten by the photo safari bug?
My oldest son, Joe, has been to Africa with me twice and he has a superb eye. He took some wonderful photos in Zambia in 2008 and I'm really anxious to take him back with me. Given the opportunity, I think his skills would surpass mine very quickly.
My youngest son, Tom, is also in the business in a different sort of way. He lives in the New York City area and does video work for MTV, HGTV and other television networks. He is a technical wizard.
I'm inexcusably proud of them both. And my saintly wife Cynthia tolerates it all with aplomb. We're a pretty difficult bunch to manage, particularly when we're all together. But she does it with patience, skill and more understanding than we usually deserve.
19) Any new projects coming up or plans to expand your photo safaris to other African countries?
I've talked to some friends and potential business partners about Botswana, Zimbabwe and South Africa, but I'm not quite ready to go forward with all that just yet.
I think I could do a more than acceptable job of capturing the photos in those spots but I need more expertise on the geography before I earn the right to lead a tour there. I think a couple of visits to each destination on my own should do it.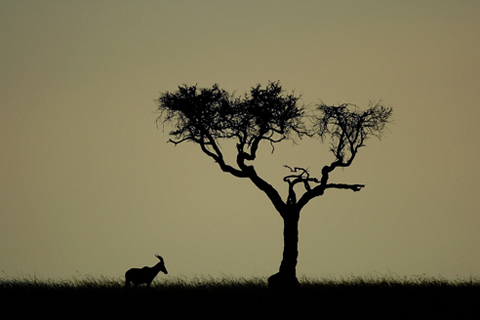 This image was captured in the Maasai Mara in the last light of day after a tremendous storm. No Photoshop! I doubt that I'll ever see light like this again in my lifetime.
20) Any final words of advice or encouragement to someone starting out with or wanting to improve their wildlife photography?
Absolutely. Stay smart on technology and software. If you don't, you'll be left in the dust very quickly.
But I think the most important thing is to photograph what you love. That makes it so much easier to capture the heart and spirit of your subjects.
---
About Billy Dodson...
Billy Dodson is a retired Naval Officer who has been a professional wildlife photographer since 2005.
His work has been published in the following magazines: Outdoor Photographer, Nature's Best Photography, Asian Photography and Virginia Wildlife Magazines. Both the African Wildlife Foundation and the Nature Conservancy use his photos extensively for public relations and fundraising.
To see more of Billy Dodson's exciting images or to learn more about his East African photo tours please visit his website.

You can also visit his blog where Billy Posts notes from photo trips, discuss cameras and equipment, and covers a wide range of other interesting topics.
All Images Copyright Billy Dodson / Savanna Images
---
Return from Billy Dodson to Interviews page
---
---

To make a safari rental booking in South Africa, Botswana or Namibia click here
---