The Big Six Birds
Kruger National Park's Big six Birds are a fanciful grouping aimed at mirroring what the traditional big five mammals do for public eagerness to spot species.
Where the big 5 represent the five game species that were most desired as hunter's trophies in times gone past and now represent the 5 species that visitors to Kruger (or other classic African savannah parks) most want to see, the big 6 represent a subjective grouping of the 6 most desired birds that visitors to Kruger want to see.
It is aimed at the layman birder, and hence the species are easy to identify and instantly recognizable. The species are also by and large restricted to Kruger and other conservation areas, as human encroachment; habitat degradation etc. has reduced their ranges.
Five of the six are seen relatively easily in the park and are found throughout the park - the Pel's Fishing Owl being the challenge to find!
1. Kori Bustard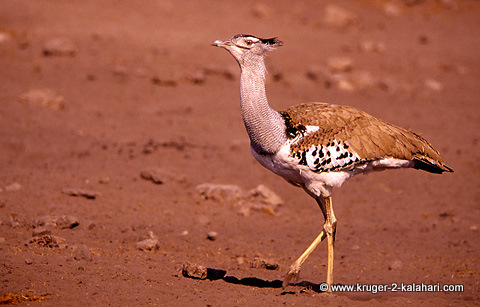 The Kori Bustard is Africa's heaviest flying bird and can weigh up to 20kg!
We have seen these birds in the Kruger Park, Kgalagadi, Pilanesberg and Etosha.
2. Martial Eagle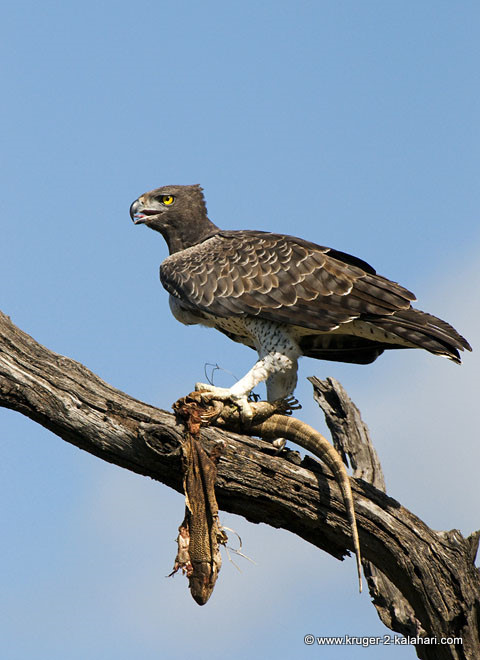 The Martial Eagle is the largest African eagle and is very powerful - capable of knocking an adult man off his feet!
We have seen them throughout the Kruger Park but mostly between Olifants and Crocodile Bridge camps. We also see them along the Nossob and Auob river roads in the Kgalagadi.
3. Lappetfaced Vulture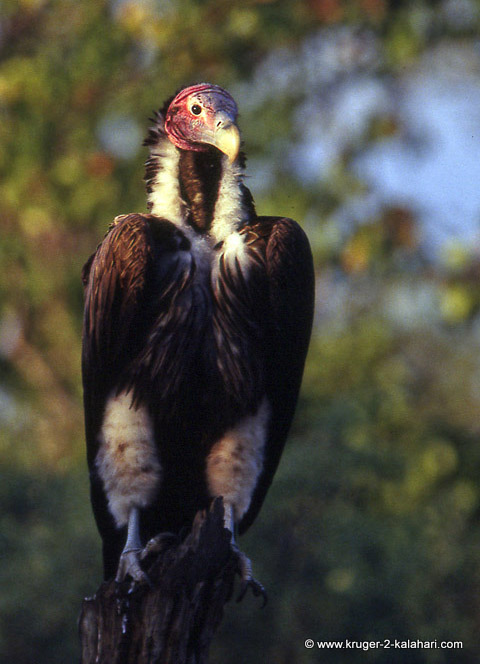 The Lappet-faced Vulture is Africa's largest vulture
The Head and neck are pink and bare, without any feathers. The strong bill is well adapted for tearing up flesh on carcasses.
We have seen these birds in the Kruger, Kgalagadi and Etosha.
4. Pel's Fishing Owl
The Pel's Fishing Owl is the rarest of the big six birds and is seldom seen, mainly because of its nocturnal habits and restriction to large watercourses. There are however populations along the Limpopo, Levuvhu and Olifants Rivers.
They are recorded less frequently along the Letaba, Shingwedzi and Sabie Rivers or from dams in the area. The best way to see them is to go on either the Nyalaland or Olifants Wilderness Trails, or do night drives from Olifants rest camp. Balule camp is also a potential place to see them, as is driving in the Pafuri region along the Levuvhu and being lucky enough to find one at roost.
5. Saddle-billed Stork
It is estimated that there are only between 25 and 30 breeding pairs of Saddle-bills in the Kruger Park, plus a handful of non-breeding individuals.
However, because they are so large and striking in appearance and are very prominent along major water points, visitors regularly see them. But these numbers make them far rarer and more threatened than animals such as cheetah and wild dog!
6. Southern Ground Hornbill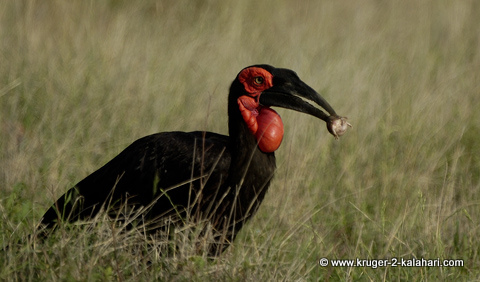 Southern Ground Hornbills are one of the most easily identifiable and most cherished bird species associated with trips to the Kruger National Park.
Often erroneously called Turkey Buzzards, they are the largest members of the hornbill family. Formerly far more widespread, they are now an endangered species, seldom seen outside conservation areas.
They are birds of great superstition in African culture and their booming calls are often mistaken for roaring lions!
These big six birds should be easy for visitors to find in the Kruger with the exception of the Pel's fishing owl. This owl is still on our wish list after spending nearly two years visiting the Kruger Park!
To see some more superb bird photographs please check out our Interview with Arthur Morris.Arthur Morris is widely recognized as the world's premier bird photographer and as one of the top nature photography educators of his time.
Another excellent bird photographer is Alan Murphy - check out our interview with him as well as some stunning photographs here
---
Return from Big Six Birds to the Big Five page
---
---

To make a safari rental booking in South Africa, Botswana or Namibia click here
---