Best Camera Bag
After using camera bags for the past 20 years on over 100 African safaris we have found that the best camera bag for us should conform to a number of criteria.
We have listed the criteria for our best camera bag in no particular order as follows:
Ease Of Use
Backpacks - allow the weight to be evenly distributed across your back and shoulders which is comfortable on long hikes. This also allows for a large amount of equipment to be carried. Downside is that it can often be difficult to get to your gear, requiring the backpack to be removed for access. We have two Lowepro backpacks for our smaller lenses.
Case - most often these have hard bodies, are waterproof, have wheels and have foam interiors that can be cut-out to suit your equipment. Downside is they can be heavy and bulky. Our Nikon 600mm f4 lens came with a case but we carry it in a Lowepro Lens Trekker 600 AW bag - much lighter!
Holster - allows easy access to the equipment, which make them great for travel situations where you have a small amount of gear. They normally have a removable shoulder strap and a belt attachment. Downside is they don't carry much.
Shoulder bags - designed to allow convenient access to your photo gear. They come in various shapes and sizes but the downside is that all the weight is carried on your one shoulder.
Sling bag - allows easier access to your photo gear as it is worn over one shoulder with a strap that comes across your chest allowing the bag to be pulled around from your back to your side without removing it. We have one sling bag that we use for our macro equipment.
You need to choose, based on the amount of equipment you own and what type of safari you will be going on, which will best suit you.
Build Quality
The material should be durable like sail cloth material and the stitching should be double stitched. The straps, buckles, snaps and zips should also be sturdy but there shouldn't be too much padding that it makes the camera bag too bulky.
My old Lowepro Trekker did not provide as much protection as my current Tamrac Expedition bag - it is heavier and bulkier but I wanted the extra protection. Camera gear is expensive so we should protect it as much as we can!
If there are any loops or straps not being used on the bag tie them up out of the way otherwise you risk getting them caught on something.
The bags that come with your lenses tend not to be the best camera bags. This bag that came with my Nikon 200-400 f4 VR lens is about five years old and already the straps are fraying and about to break...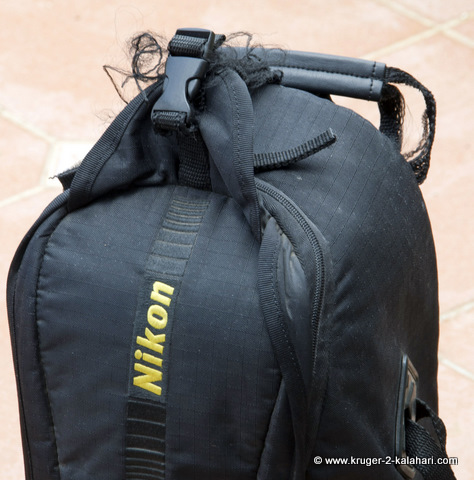 Comfort
here the ability to carry the bag is the main factor. The bag should have straps and handles and maybe even wheels providing you with carry options.
Speed of access
If you are doing a self-drive safari speed of access should not be a problem as you can lay out your gear on the seat next to you or keep your camera bag open on the seat.
For self-drive we have found the best camera bag to be one that can lay flat and where the whole top zips off giving access to all compartments...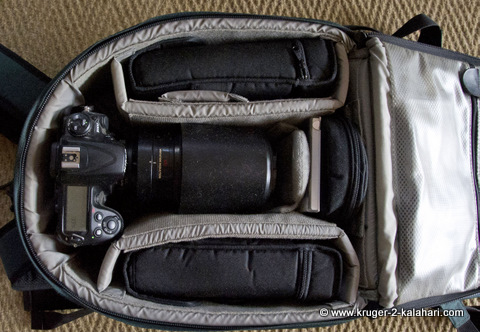 If, however, you will be going on a guided safari with other people you may be sitting shoulder-to-shoulder with other tourists and you will not have a seat to place your bag on.
In this case for the best camera bag we suggest you get one that stands upright and opens from the top. You can then stand the bag between your legs and keep the zip open for quick and easy access to equipment...
Compartmentalization
The bag should have removable panels that attach with velcro in order for you to customize the layout. You will want to ensure your bodies and lenses will not move and therefore cause damage to themselves and other items in the bag.
Some bags have extra pockets that can be strapped on the outside of the bag while others have external mesh pockets. We like the strap-on pockets but not the mesh as items can get caught in the mesh and will be difficult to remove.
Size
If you are flying ensure that the bag size is airline carry-on compliant as you do not want to hand in your photo gear! Try and get a bag a bit bigger than you currently need.
Most photographers will upgrade to a bigger lens, buy more accessories or get a backup body sooner or later and if your bag is just the right size for what you have now, you will end up buying a new bag every time you upgrade.
Here is a photo of my first camera bag...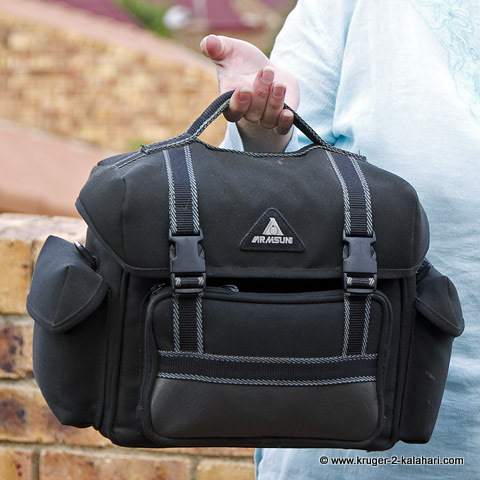 We now use this as our toiletry bag! Here is my current camera bag, the Tamrac Expedition 8X - it carries the Nikon D3S with Sigma 150-600mm Sport lens, Nikon D800 body plus four other lenses, batteries and accessories...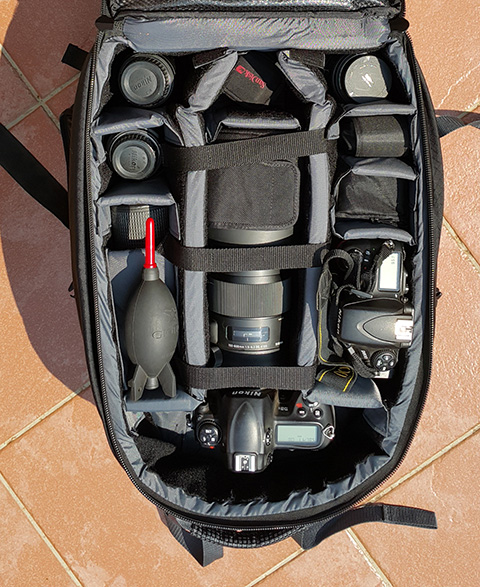 Jenny uses her Lowepro Mini Trekker that holds the Nikon D7100 with Sigma 150-600 Contemporary lens, a Nikon SB-800 flash, Nikon 16-35mm f4 lens and some accessories.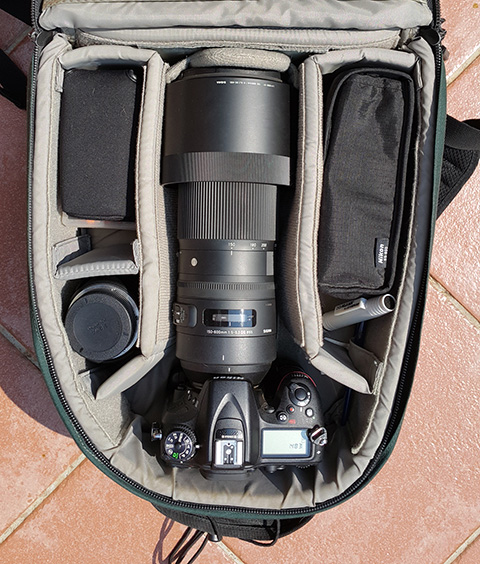 Security
People who are concerned that their bags may get opened could use the lockable Pelican cases but they are heavier and bulkier than most other camera bags.
Bungalows and tents in the Kruger, Kgalagadi, Etosha, Madikwe and Pilanesberg now all have locks and or safes so you can lock valuables away.
We always keep our photo bags with us - if we are in our cottage our equipment is with us, if we go on a game drive our equipment is with us in the vehicle - not because we are paranoid about thieves but because we are constantly photographing!
There are so many camera bag manufacturers such as Lowepro, Kata, Tenba, Thinktank, Domke, Crumpler, Tamrac, Naneu, Kiboko, Vanguard, and Pelican.
We have six camera bags four of which are LowePro bags that have lasted us over ten years each and a Tamrac.
We did not buy the bags because of the brand - we bought the bags based on the above criteria and it just so happens that in each case the best camera bag for us was Lowepro or Tamrac.
---
Return from Best Camera Bag to Nature Photo Gear page
---
---

To make a safari rental booking in South Africa, Botswana or Namibia click here
---