Panoramas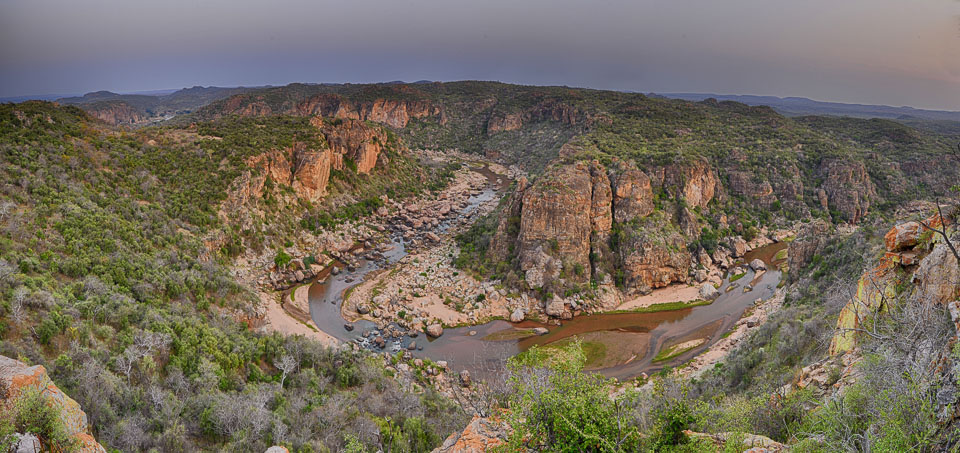 Lanner Gorge - 3-image panorams
Panoramas may seem out of reach of many visitors to the game parks but with the right technique and software they are a breeze to do.

The above panoramic photograph was taken with my Nikon 18-200mm lens and is three landscape photographs stitched together in Photoshop.
The herd was huge, numbering at least two thousand buffalos. This photograph is the leader group and the rest were following behind.
Panoramic pictures can be taken handheld but are more accurate when taken from a tripod. For each photo taken, leave an area of overlap about 30% with the preceding photo.
Try to capture some object within the overlap area, such as a tree or a boulder as this will make the stitching process much smoother.

Witsieshoek 3-image panorama of the Drakensberg
When taking landscape (horizontal) panoramas, try to not deviate by more than 10% from the horizontal axis. This is because you don't have much picture to play with and if each picture has more than 10% deviation it is going to be difficult to stitch them.
When we first started to shoot panoramic pictures we would shoot handheld and would concentrate on finding an object within the frame to overlap (therefore focusing primarily on the left and right edges of the frame) and would not be checking to see if we were keeping the top and bottom of each frame on the same lines.
A tripod is therefore a very useful piece of equipment as it will keep the top and bottom of each frame on the same line – you then just need to ensure sufficient overlap when taking each new frame. A spirit level indicator, such as the Hama double spirit level, will help you maintain the same horizontal movement with each photograph.
With portrait (vertical) panoramas you have more frame to play with from top to bottom but less from left to right so if you want to shoot hand-held use portrait but then just ensure adequate overlap, maybe as much as 40%.
You should maintain the same exposure value for each photo in the series so ideally you should shoot on manual and not autofocus.
If the focus, exposure, or white balance are set on automatic, the camera will most likely change the focal point, exposure, and color to reflect what it's pointing at Also, do not use a polarizer as this will change the color of the sky as you pan through the arc when taking the series of pictures.
If you use a zoom lens take care to not change the focal length.
Once you have taken all the photos in the sequence you need to stitch then together. Put all the images together in one folder and then open them in Adobe Bridge.
From the menu bar, choose Tools>Photoshop>Photomerge and the images will then open in the Photomerge dialog. Photomerge then automatically arranges the pictures for stitching. This process make take a few minutes depending on the number of pictures and their size – RAW files will take a bit longer than JPEGs.

If you're happy with your panorama in the Photomerge dialog, click OK and Photoshop will stitch the images together. In many cases the tops and bottoms do not line up and you have black areas – just crop these and then save the final image.
The above photograph of elephants crossing the Olifants River (taken from our bungalow with a 600mm f4 lens) is made up of ten portrait photographs stitched together in Photoshop. You end up with a huge file but then you just save as a smaller jpeg.
If you don't have Photoshop there are a number of software products available for stitching your pictures together. An excellent free product is Hugin Panorama Photo Stitcher.
---
Return from Panoramas to the Landscape Photography page

Return from Panoramas to the Safari Photo Tips page
---
---

To make a safari rental booking in South Africa, Botswana or Namibia click here
---