Kruger Gallery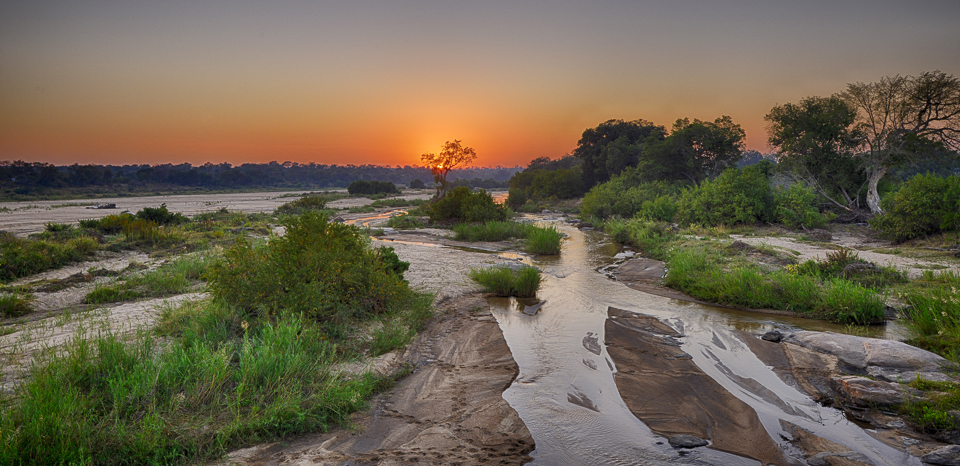 The aim of this Kruger Gallery is to give you a feel for the types of flora and fauna you could encounter in the Kruger National Park.
These images start in the north of the park (Pafuri and Punda Maria) and progress through the centre of the park and end in the south (Berg en Dal and Crocodile Bridge.
We have included common sightings as well as some rare sightings.
Click on each Kruger Gallery thumbnail for a larger view.
| | | |
| --- | --- | --- |
| | | |
| The Crested Guinea Fowl was photographed on Mahoni Loop near Punda Maria and is a rare sighting. We have had just one other sighting at Pafuri. | This koppie landscape was photographed on the dirt road between Punda Maria Camp and Klopperfontein waterhole. | In all our years of visiting the Kruger Park we have had just two Roan Antelope sightings. This one was photographed on the Northern Plains 4X4 trail near Punda Maria. |
| | | |
| --- | --- | --- |
| | | |
| The Chameleon was photographed in Bateleur Bush Camp. Chameleons are very active after it rains so please look out for them crossing the roads - they are very slow and cannot escape from a car bearing down on them. | This is Masbambela, one of the Kruger Park's 'Big Tuskers'. Only a handfull of people ever saw him and we took this photograph in April 2006 near Punda Maria just before he died in November 2006 near Shingwedzi. | This Buffalo was very wary of us and hid in the bush near Shimuwini Bush Camp. |
| | | |
| --- | --- | --- |
| | | |
| We left Punda maria camp at 04h30 in order to get the sun rising behind this Baobab tree on the Pafuri Road. | This Civet visited us at our tent in Punda Maria Camp. Another very rare sighting! | Velvet mites are found in sandy camps such as Shingwedzi and Sirheni and they come out after it has rained. |
| | | |
| --- | --- | --- |
| | | |
| This crocodile was basking in the sun on a sand bank right next to the low-level bridge at Shingwedzi Camp. | The Giant Kingfisher was sitting with his catch on the railing of the high-level bridge over the Letaba River. | And they say that the Mopani area has no lions! This one was one kilometer from the camp on the main road. |
| | | |
| --- | --- | --- |
| | | |
| Yellow Billed Oxpeckers are rare in the Kruger Park. These two were photographed north of Letaba Camp. | This Wild Parasol Flower was photographed in Olifants Camp. | The Leopard was lying in a dry riverbed near Olifants Camp. We had stopped to watch a Hammerkop and the leopard sat up and yawned! |
| | | |
| --- | --- | --- |
| | | |
| This European Roller was in the road near Satara Camp. He had caught a dung beetle and was trying to swallow it. | This Black Rhino Cow and Calf charged our vehicle on the Salitjie Road near Skukuza camp. | Late afternoon landscape over the Sabie River near Lower Sabie Camp. |
| | | |
| --- | --- | --- |
| | | |
| These two lionesses were resting on the koppies just before Nkumbe Hill, north of Lower Sabie Camp. | This summer-flowering Impala Lily, better known as the Sabie Star, was photographed in Berg en Dal Camp. | And we thought lions climbed trees only in East Africa! This one was photographed on the main road to Berg en Dal Camp. |
| | | |
| --- | --- | --- |
| | | |
| This Cheetah was photographed on a dead tree on the 'Southern Circle' near Crocodile Bridge Camp. | The Wild Dogs were also photographed on the Southern Circle near Croc Bridge Camp. | Yes, you guessed it - this Leopard was photographed on the Southern Circle near Croc Bridge! |
Did you enjoy this Kruger Gallery?
Have You captured any magical 'Kruger moments'?
Photographs freeze these moments and allow you to share them with others. Many visitors to African game reserves take hundreds of great animal or landscape pictures but then never look at them or share them – they remain on a computer or CD for the rest of their days – what a waste!!
Keep in mind that we have sold some of our photographs just by displaying them on this website.
This is how it tends to go - we get an email from a publisher saying that they have seen one of our photographs, while doing a Google image search, that they would like to use in their next magazine and they are prepared to pay us US$175,00 for the photograph!

Well, you now have two more opportunities to share and display Your Kruger Park photos in your own Kruger gallery...
1. General Kruger Stories and Photographs...
2. Your Kruger Stories relating to specific Camps...
Once you are on the above Kruger Park page, simply click on the relevant Kruger Camp where you will be able to upload your photograph and story as well as being able to appreciate other visitor's stories and photos.


---
Return from Kruger Gallery to Kruger-2-Kalahari home page
---
---

To make a safari rental booking in South Africa, Botswana or Namibia click here
---