Pilanesberg Gallery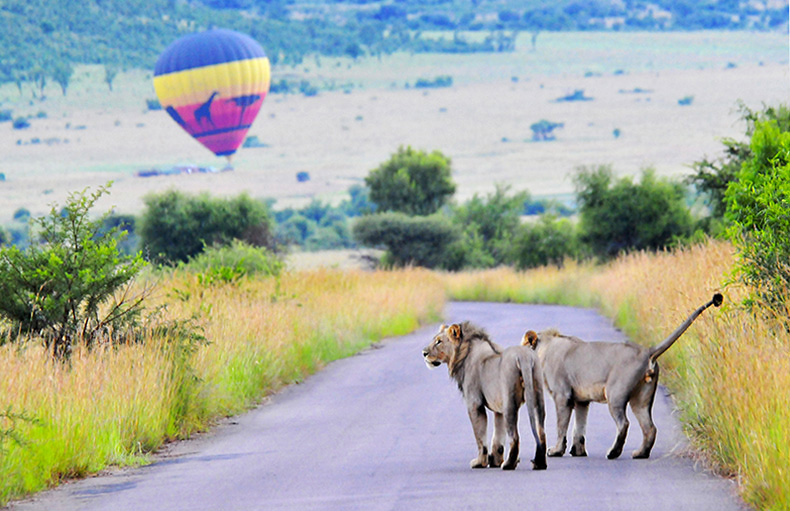 These Pilanesberg photographs are a sampling of the photos Jenny and I took on weekend visits (Saturdays and Sunday mornings) from 2005 to 2010.
We spend most of our time at the hides such as Mankwe and Rathlogo where we sit and wait for the animals to come to us.
Please click on each thumbnail for a larger view.
| | | |
| --- | --- | --- |
| | | |
| Lake Mankwe is a great spot to photograph birds in flight. This Cattle Egret was photographed landing on the bank opposite the hide. | This Spoonbill flew just a few meters in front of the hide - Jenny had the Nikon 80-400mm zoom so she had time to take just this one shot. | Black Rhinos tend to be either agressive or curious - this one was very curious and walked right up to our vehicle to inspect us. |
| | | |
| --- | --- | --- |
| | | |
| If you get to the Lake Mankwe hide before the sun rises you may be able to get some nice sihouettes such as the Cormorants. | The Herons tend to fly around the edge of the lake thereby providing good opportunities to photograph them. | Most mornings we see one or two balloons taking off. These can make impressive landscapes. |
| | | |
| --- | --- | --- |
| | | |
| The early visitor tends to get the good sightings. We normally enter the park when the gates open at 06h00 (in winter) while most other visitors are sleeping - this is what they could be missing. | Eland tend to be rare sightings in most national parks. We have had only three eland sightings in the Pilanesberg - these were drinking at Rathlogo waterhole. | This white rhino was drinking at a waterhole off the beaten track near Rathlogo. |
| | | |
| --- | --- | --- |
| | | |
| This Black-backed Jackal drank at the same "off the beaten track" waterhole but in the afternoon. See what a difference the lighting makes - compare side-lighting to front-lighting. | This wild dog was photographed near Mankwe Lake. They were feeding on an impala when this dog got the head and took off with another dog in pursuit. | Another wild dog feasting on an impala but this time in winter - note the colour of the grass. |
| | | |
| --- | --- | --- |
| | | |
| The hot-air balloons can make an interesting backdrop to your photographs as with this Rock Dassie. | This Cheetah was patrolling on Hippo Loop near Lake Mankwe. | The Balloons always take off from Lake Mankwe and can add interest to your photographs. |
| | | |
| --- | --- | --- |
| | | |
| Hippos are hardly ever seen in Rathlogo Dam but this particular year there were good rains and the dam was full thereby making a suitable home for this hippo. | The hides in Pilanesberg enable you to see many birds such as this Malachite Kingfisher at Mankwe hide. | Sable antelope are rare sightings - we have had just five sightings in pilanesberg but only one enabled good photographs to be taken. |
| | | |
| --- | --- | --- |
| | | |
| This squirrel was feeding on the flowers of the Black Thorn or Acacia Mellifera, along Dithabaneng Drive. | These two lions were resting in the early morning at Lake Mankwe. | Cheetahs often use the road signs to check for prey - this one jumped up onto the sign right in front of us, looked around and then jumped down. We had this sighting to ourselves as it was before 07h00 when most visitors are having breakfast. |
| | | |
| --- | --- | --- |
| | | |
| Lake Mankwe provides many opportunities for silhouettes such as this Tessebe. | This baby Vervet Monkey was photographed in a tree next to the Rathlogo hide. | The Blackshouldered Kite was photographed at the entrance to Lake Mankwe hide. |
| | | |
| --- | --- | --- |
| | | |
| A Brown Hyena is a rare sighting - this one was drinking at Rathlogo hide and is only the fourth one we have seen in the Pilanesberg. | These lions were playing in the early morning in a burnt area. Notice how nicely they stand out with the black background. The Pilanesberg has many fires each year and these fires provide good photographic opportunities as they primarily get rid of thick bush. | Scorpions fluoresce under UV (ultra violet) light - don't know why but they make unusual photographs! Note the cricket that the scorpion is feeding on. |
Did you enjoy this Pilanesberg Gallery?
Have You captured any 'Pilanesberg moments'?
Photographs freeze these moments and allow you to share them with others. Many visitors to Big-five African game reserves never look at their photographs or share them – they remain on a computer or CD for the rest of their days – what a waste!!
Keep in mind that we have sold some of our photographs just by displaying them on this website.
This is how it tends to go - we get an email from a publisher saying that they have seen one of our photographs that they would like to use in their next magazine and they are prepared to pay us US$175,00 for the photograph!
Click here to to share and display Your Pilanesberg photos and stories.


---
Return from Pilanesberg Gallery to Kruger-2-Kalahari home page
---
---

To make a safari rental booking in South Africa, Botswana or Namibia click here
---