Etosha Map
The first Etosha map below shows the three main camps; Okaukuejo in the West, Halali in the centre, Namutoni in the East plus the upmarket Onkoshi camp to the north, as well as the waterholes and tourist roads in Etosha National Park.
The distances between camps are as follows:
Namutoni to Onkoshi - 40 kilometers
Namutoni to Halali - 70 kilometers
Namutoni to Okaukuejo - 140 kilometers
Halali to Okaukuejo - 70 kilometers
Okaukuejo to Dolomite - 160 kilometers
The speed limit in the park is 60 kilometers per hour. We suggest travelling at 40 kilometers per hour as this will enable you to see more animals, so allow at least two to three hours to get from one camp to the other. Okaukuejo to Dolomite will take at least half a day if not more.


---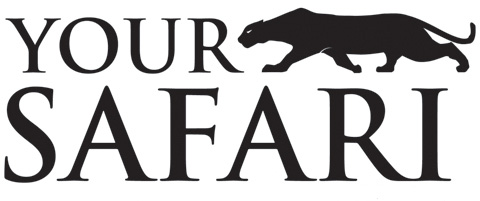 For self drive or guided safaris to Namibia contact Your Safari


---
Please keep in mind that if you are arriving at or leaving from the Von Lindquist gate near Namutoni that you need to add an hour to your journey to or from Windhoek as the Von Lindquis gate is 100 kilometers further from Windhoek.
We therefore tend to arrive and depart from Etosha from the Anderson gate near Okaukuejo in order to save this hour of travel time.
Please click on the Etosha map to open a larger file...
Now with the new Dolomite camp opening in the previously restricted far western part of Etosha you have the option of starting you trip by arriving at the Galton Gate or driving to Dolomite from Okaukuejo.
NB: The new Galton Gate Route through Western Etosha officially opened for all tourists on the 28th February 2014. This means any visitor can now enter Galton Gate, not just residents staying at Dolomite Camp.
Please click on the map of Western Etosha to open a larger file...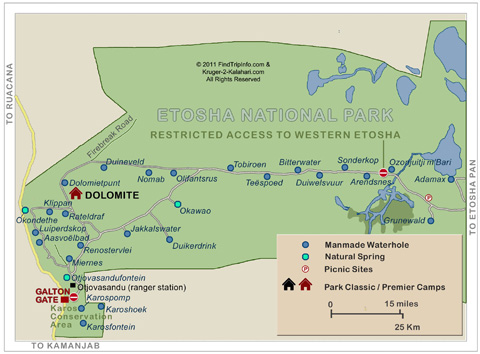 Below are the camp layout maps for Okaukuejo, Halali and Namutoni. Please click on each thumbnail for larger views...
| | | |
| --- | --- | --- |
| | | |
| Okaukuejo | Halali | Namutoni |
These are the maps provided to guests when checking in at each camp.
We have, however, often seen people roaming around the camps as they are lost and cannot find their chalet or room. This happens when tour guides drop the visitors off, give each person their room key and say 'see you at dinner'!
The tour guide / bus driver should get maps from reception when he gets their keys but most guides don't do this. We would therefore suggest you either print these camp maps out and take them with you or tell your safari guide that you want a map!

For the new high-res color map of Halali camp please click here



---
Return from Etosha Map to Kruger-2-Kalahari home page
---
---

To make a safari rental booking in South Africa, Botswana or Namibia click here
---