Madikwe Game Reserve
Madikwe Game Reserve is one of South Africa's best kept secrets! We have lived in South Africa all our lives and had heard of the reserve but did not consider it comparable to the likes of the Kruger Park, Kgalagadi or Pilanesberg – how wrong we were!
It's an amazing reserve that provides an authentic safari experience with many excellent photographic opportunities for wildlife and nature photographers.
It can be likened to the Sabi Sands Game Reserve that borders the Kruger Park as it has mainly up-market lodges that take you on guided safaris, meaning you cannot do self-drive safaris.  
Madikwe Game Reserve is situated in the far north of the North West Province, just 100 kms past the Pilanesberg and a few kilometres from the Tlokweng–Kopfontein border between Botswana and South Africa. The reserve is a 3-hour drive from Pretoria or Johannesburg and a 20-minute drive from Gaborone.
Joel Sartore has been a contributing photographer for National Geographic for nearly 20 years and after visiting Madikwe in search of the big 5 he had this to say:
"The thing that's surprising about Madikwe is that around every corner you see something new and different...I've searched the entire world for a place like this!"
Joel's  "Through the Lens" experience at Madikwe...
Here is some basic info on Madikwe Game Reserve and why we love going there:
• Madikwe was established in 1991 so it's a relatively new park created on mismanaged farmland. Nearly 10 000 animals were reintroduced to the park during Operation Phoenix over a seven year period.
• You can find the super-seven animals in the park – buffalo, elephant, rhino (both black & white), leopard and lion (the big-5) plus wild dogs and cheetah.
• Madikwe is most well-known for the regular wild dog sightings that visitors experience.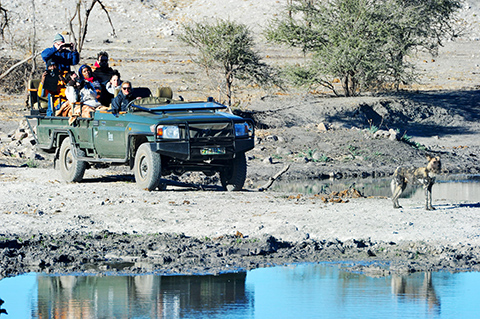 • The field guides of Madikwe, however, prefer to focus on the "Top 10" animals rather than just the Big Five. So they have added hippo, giraffe and hyena (brown and spotted) to the super-seven to make the Madikwe "Top-Ten".
• Madikwe has approximately 350 resident and migrant bird species.
• Madikwe is malaria-free
• The park is situated in a transition zone between the dry Kalahari thornveld in the west and the wetter bushveld in the east and therefore has many open areas that provide excellent photographic opportunities.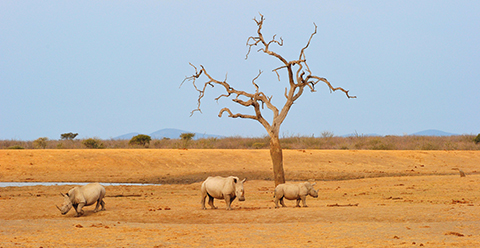 • There are about 21 lodges in the park (some 3 & 4 star but mostly 5-star) as follows:
3.   Impodimo Game Lodge
7.   Madikwe Hills Private Game Lodge
9.   Madikwe Safari Lodge
11.  Mateya Safari Lodge
12.  Molori Safari Lodge
13.  Morukuru Family
14. Mosetlha Bush Camp & Eco Lodge 
15. Motswiri Private Safari Lodge
16. Rhulani Safari Lodge
17. Royal Madikwe
18. Tau Game Lodge
20. The Bush House 
21. Tuningi Safari Lodge
• There are also a few private (corporate) lodges in the park (owned by companies who take clients on safaris)
• It is 79 000 ha in size, making it the fifth largest game reserve in South Africa; after the Kruger Park, Kgalagadi, Greater St. Lucia Wetland Park and Hluhluwe-Umfolozi. (The Barakologadi Community, on the 22nd of January 2016, signed a historic agreement to voluntarily incorporate former hunting farms into Madikwe. This incorporation increased the size of Madikwe by over 4,000 hectares). 
• The reserve consists of immense plains of open woodlands and grasslands, with the rugged Rant van Tweedepoort Mountain in the centre and bordered in the south by the Dwarsberg Mountains. The perennial Marico River forms the park's eastern boundary and the park also has many inselbergs (large rocky hills) dotted around inside it. 
• There are no day-visitor facilities and the reserve is only open to those who have made a booking at one of the lodges, which ensures that all guests are able to enjoy an exclusive safari experience.
• The reserve is successfully run as a joint venture between the North West Parks & Tourism Board, the private sector and local communities. 
How long should your safari be at Madikwe Game Reserve? 
We suggest a minimum 3-night stay as we have seen the big-5 and/or super-7 animals on nearly every 3-day safari in Madikwe. 
For more information on the park please visit the Experience Madikwe website or read one of our Madikwe Trip Reports.
---
Return from Madikwe Game Reserve to K2K Home Page