...ensure that your next Big-five photographic safari is a five-star experience with memories like this...




"How Can We also Get Good Wildlife Photographs?"

"Which Kruger and Kalahari Bungalows have the Best Views?"

"Which Pilanesberg Hides are Good for Photography?"

"Where is the Best Place for Us to See a Leopard in Etosha?"…


These are just some of the questions we get asked.

That's because we have been visiting famous African game reserves since 1995 - actually we have spent over 700 days in various Southern and East African wildlife parks on photo safaris!

Our favorites are the Kruger National Park, Kalahari (Kgalagadi Transfrontier Park) and Pilanesberg, in South Africa...
and Etosha in Namibia...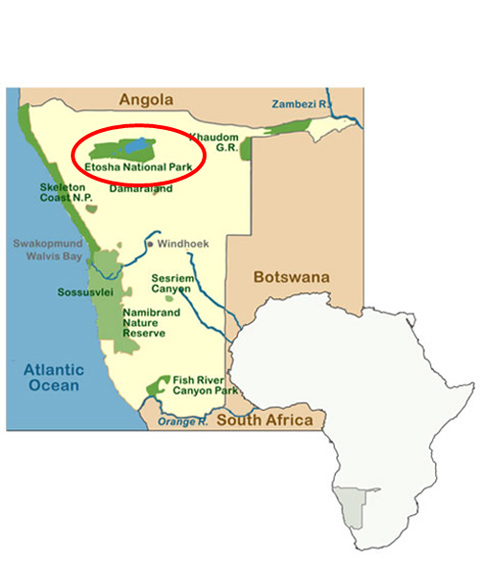 ---
To subscribe to our FREE newsletter and trip reports please CLICK HERE

and You will also receive this FREE 96-page Southern African Safari Guide...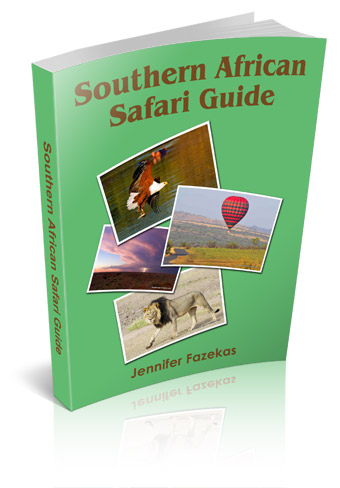 ---
We have stayed in every main camp, bushveld camp and wilderness camp during all four seasons of the year in the above four parks.
We have stayed at all types of lodges and camps - from the affordable rustic camps to the five-star bush lodges. We have experienced huts, cottages, bungalows, chalets, safari tents, family cottages, log cabins, dune cabins, rooms and guest houses, been on day walks, 4X4 adventure trails, eaten in all the restaurants and photographed all our favorite animals and places…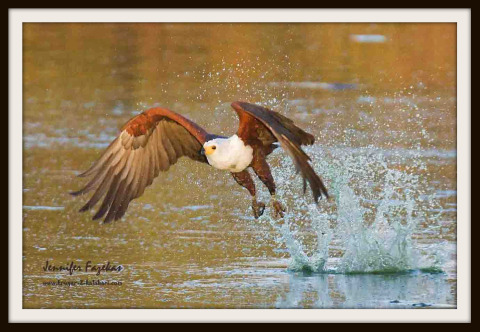 Fish eagle at Sunset Dam near Lower Sabie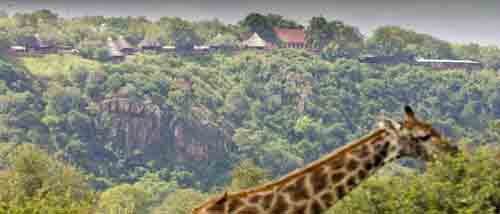 Olifants Camp, Kruger National Park
The Kruger, Kgalagadi, Etosha and Pilanesberg parks are magical places – we simply cannot get enough of them because they have so much to offer visitors. They are our four favorite photo safari destinations. So in terms of advice on 'where to go', we recommend the Kruger National park, Kgalagadi Transfrontier Park, Pilanesberg Game Reserve and Etosha National Park.
---
Where do You Get Your Information From?
---
Kruger-2-kalahari.com is a Southern African Wildlife Photography and Safari Information site owned by real people, Mario & Jenny Fazekas, who have 'been there and done it' - many times. We have experienced about 100 guided game drives and done over 1000 self-drive African photo safari game drives.
At Kruger-2-kalahari.com the advice we provide you is from our more than eighteen years of visiting African National Parks and having spent over 600 days and nights in these parks.
We only recommend places that we think are worth recommending and we don't sugar-coat our reviews - if we like/dislike something -- you will know about it!
We have had experiences of friends or acquaintances offering us advice or making statements like the following:
• 'Why do you visit the Kruger Park – it has horrible government rondavels and is expensive?' I then asked this person when last they had visited the park to which the reply was 'I have never visited the Kruger Park'! So here is a person criticizing a place they have never visited!
• 'My favorite camp in the Kalahari is Nossob', to which I asked the person why they did not like any of the six wilderness camps or the upmarket !Xaus lodge? The reply was that they have only ever visited the three main camps of which Nossob was their 'favorite'! Do you want to accept recommendations from this person?
• We have spoken to people who say that a guided safari is better than a self-drive safari - we then ask them where they have been on a self-drive safari and the answer is that 'we have never been on a self-drive African safari! They are simply assuming that their experience is better than the alternative and dishing this out as 'advice'!
• We have also seen web sites offering photographic advice and the first point is that 'you should put your rolls of film into a heat-proof canister'! How current is this advice? Would you feel comfortable following this web site's recommendations?
A big-five African photo-safari is a dream holiday for many people and the bottom-line is that whether you are a tourist from another continent or a local visiting our game reserves, you want to return home having enjoyed the safari experience with great photographs to show off.
That enjoyment is a collective experience from when you make the booking, travel to the park, your stay in the bungalow or tent, eating and then of course looking for and photographing animals.
When you return home you hope to show friends and family photographs such as this...
We spent a full day photographing these two Leopard cubs!
or this...
Wild dog with impala head
...yet we know people who have been bitterly disappointed as their holiday accommodation was not up to scratch or the food was lousy or their photographs turned out terrible.
This need not be the case if you do a bit of research beforehand. If you are going to spend your hard-earned money on a wildlife safari it makes sense to also invest in some research to make sure you return home with some great memories!
---
How To Use This Site
---
Kruger-2-kalahari.com has a simple and logical navigation structure. Just use the main site menu to your left (the black navigation bar containing site buttons) to navigate around the site.
The site focuses on the four main Southern African self-drive game reserves and national parks of Kruger, Kgalagadi (Kalahari), Etosha and Pilanesberg.
There are four pages for each park – there is a page explaining the park, then a Gallery page showcasing some of our photographs taken in these parks, a page containing Maps relating to each park and the relevant camps and then a page where You can share Your stories and photos for each of the four parks.
On each page explaining the parks there are links to each camp in these four parks. These pages contain photographs of the bungalows in the camps and also have photographs; uploaded by visitors to this site, on what animals they have seen at or near these camps. This will give you a better idea of what to expect when staying at each camp in the four parks.
We then have section on Nature Photography that covers photographic gear, photographic vision, interviews with professional nature photographers and many other photographic hints and tips.
The next section focuses on Safari Tips. Here we discuss Game Viewing tips, The Big-Five, Safari Myths, Dangerous Animals, Safari Gear, Self Drive Safaris, Safari Dining and much more.
Under Share / Community YOU ahve an opportunity to share your photographs and experiences with visitors and to read our Trip Reports.
These pages have links to other related pages providing advice that we have gained during our more than 500 days of staying in these four African game reserves.
If you ever get lost, just click on "Home" in the site menu and you'll return right here where you can reorient yourself. Other options would be for you to click on the Site Map button or to click on the SiteSearch button.
If you've visited any of these parks and game reserves we would love to hear about it, and so will our visitors of this site.
You have the opportunity to share your photographs and experiences – either click on the Share Your Stories button under 'Share / Community' on the main site menu or you can go to the Your Kruger Stories, Your Kalahari Stories, Your Etosha Stories, or Your Pilanesberg Stories buttons on the black Navigation bar where you can upload your pictures and stories relating to the four parks.
---
Add My Stuff To Your Site
---
If you enjoy this site, then please help other people to find it as well. If you have bookmarking or social networking space (Google, Facebook, etc.), a blog or a website you can use the bookmarks at the bottom of this page to link to this site.
Do you have your own website or blog? You can place articles written by me on your site. All the material on this site is copyrighted, but I posted a set of articles on Ezinearticles.com that you can reprint anywhere providing you give credit to the source - EzineArticles.com and myself. Just click here:
Mario Fazekas,EzineArticles.com Diamond Author
---
If you would like to earn commission on sales from our 'Photographer's Guide' eBooks then please Join our Affiliate Program!
---
So, after more than 16 years of visits, which parks and camps are the best?
Well, they are all unique and have their own charm. No two camps are alike, but Kruger-2-Kalahari will provide you with answers based on our experiences in regard to:
• Our favorite camps
• Our favorite bungalows and tents
• Cheap vs expensive lodges and reserves
• Pros and cons of eating out or braaing (barbeque)
• Most rewarding hides, waterholes and dams
• Shops and restaurants
• Self-drive safari or guided safari
• Where to find animals
• Best Photographic equipment for safaris
• Photographic tips
• More to come on these and other Kruger-2-Kalahari bests...
The Kruger-2-Kalahari Blog provides Nature Photography and Safari updates that keep you informed of all additions and changes to the kruger-2-kalahari.com web site. Subscribe here.
The Kruger Park is, in our humble opinion, the best of all big-five African game reserves for many reasons...
A Kruger Gallery of digital wildlife images taken in the Kruger National Park by Mario and Jennifer Fazekas...
Here you will find all the Kruger camp maps on one page
f you love the Kruger Park as much as we do, please do share your Kruger stories, experiences, advice and tips...!
The Kalahari / Kgalagadi is a wildlife photographer's dream destination. We provide hints and tips for visitors to this wonderful national park...
Kalahari gallery - photographs of animals in the Auob and Nossob waterholes of the Kgalagadi Transfrontier Park...
Here you will find all the Kalahari camp maps on one page
If you've been to the Kalahari and love it as much as we do, please do share your Kalahari stories, experiences, advice and tips...!
The Pilanesberg is a challenging game reserve for nature photographers so it helps to know when to go and where to look for game…
Gallery of photographs taken at the Pilanesberg Game Reserve
Pilanesberg map showing the various lodges and hides...
If you love the Pilanesberg as much as we do, please do share your Pilanesberg stories, experiences, advice and tips...!
The Photographers Guide to the Pilanesberg National Park - Your time and money are valuable and the information in this book will help you save both.
Etosha – the various waterholes in this world-famous park provide photographers with unique opportunities to get superb wildlife photographs.
Photographs taken on a six-day trip to Etosha
Here is an Etosha map showing camps, waterholes, roads and camp layout maps...
If you've been to Etosha and love it as much as we do, please do share your Etosha stories, experiences, advice and tips...!
The Photographers Guide to Etosha National Park - "Your time and money are valuable and the information in this book will help you save both."
Nature Photography encompasses wildlife photography, macro, landscape and bird photography
We provide you with our nature photo gear tips from our 15 years of photographing African wildlife.
Photographic Vision tends to be the missing ingredient for most amateur photographers.
We provide you with safari photo tips from our 15 years of photographing African wildlife. We look at nature photography basics and some specialist areas like star-trails
This Interviews section is dedicated to picking the brains of famous nature photographers out there who are ready and willing to share their expertise with us.
Photographers Guide ebooks: Your time and money are valuable and the information in these African safari eBooks will help you save both!
Why African Safaris - top three reasons people go on African Photo Safaris
When going on a self drive safari in Southern Africa there are some essentials that you should take with you. Here we discuss what we have been taking with us for the past 17 years...
With Guided Safaris, like most things, you get the good, the bad and the ugly. We have experienced many of the bad and ugly but here is one that is very good!
We provide game viewing tips and hints, gained from our 15 years of visiting African game reserves, on how to enhance your game viewing experience
Keep updated with the latest animal sightings from the Kruger Park, Kalahari, Etosha and Pilanesberg with our Safari Trip Reports
The e-zine for lovers of wildlife photography, or for those who simply want to stay in touch with what's happening in the African wilderness, please subscribe to the Lion's Roar newsletter…
Many visitors to Big-five game reserves never look at their photographs - they remain on a computer or DVD for the rest of their days – here you can share your stories and your pictures
These Photo travel links will link you to other interesting sites that are relevant to travel, photography, nature and African game reserves
Welcome to a photographic journey through the lenses of two South African photographers who have been photographing wildlife for over fifteen years - this page is about us...
K2K In the News - all articles and news items relating to Kruger-2-Kalahari
Please feel free to contact us with your comments, requests, or feedback relating to kruger to kalahari or photographing wildlife
A comprehensive SiteMap to enable you to find your way around kruger-2-kalahari.com with ease...
Can't remember where you found that interesting piece of information? Not to worry - just type it in and problem solved!
kruger-2-kalahari's privacy policy...