Interview with the Visual Wilderness Team of Darwin, Sam, Jay and Varina
1. How did the four of you very talented and inspiring nature photographers get together to form Visual Wilderness?

We first met on-line through www.naturphotographers.net and www.timecatcher.com and decided we should meet in person.
Jay was instrumental in making the meeting happen and we got together for a week of shooting in the Canadian Rockies.
We 'clicked' and hatched a plan for Visual Wilderness.
Thanks for saying such nice things about us!
2. When most people think 'nature' or 'landscape' photography they think wide-angle lenses - are these your key landscape lenses?

Darwin - My most-used lens is a 24mm tilt-shift that I use on a full-frame camera. I love the tilt-shift lens for its incredible control over depth-of-field.
Jay - My 2 favorite lenses are the Canon 17-40 F4 for wide angle subjects and Canon 180mm Macro. I often use the 180mm macro with a crop-factor camera in order to capture the images that a casual observer might not even notice.
Sam - I use a Nikkor 24-55mm lens quite a bit, but I also enjoy making intimate, detailed portraits of trees, and abstracting out segments of forests. For that I use a telephoto. I think style plays more of a role in lens choice than people think – even with landscape shooters!
Varina – My most-used lenses are a 180mm macro and a 10-22mm wide-angle. The macro lens lets me get up close and personal with tiny subjects, and the 10-22mm is perfect for my favorite minimalistic, wide-angle compositions.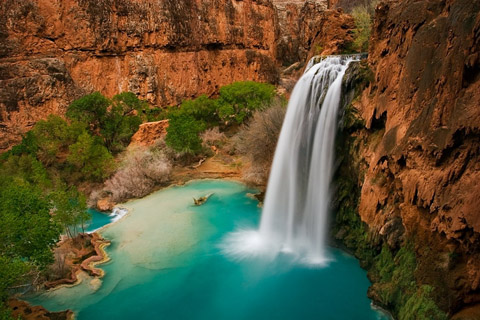 3. In addition to having the right equipment and knowing how to use it, the next criteria for a good wildlife photographer is knowledge of animal behavior. In order to be a good landscape photographer what are the 'other areas' of knowledge that are critical?

Darwin - The ability to see, the ability to plan your trip to get into your chosen location in the optimal light and time of year
Sam - I think responsiveness and openness, being present in the physical reality of the scene is critical for making good images.
Jay - The ability to create pleasing compositions – and knowledge of how to deal with different lighting conditions, geology, and weather. We do a lot of research about the locations we are planning to visit.
Varina - For me, it's about understanding the nature of light and placing yourself in the right place at the right time. If you can do that, you're half-way there. The next step is to really see what's there. Not just as a casual observer – but as an artist. You have to find your photograph in the chaos of the natural world.
4. Please give us an idea of a typical day on one of your workshops.

Darwin and Sam - On photo tours, we simply get up at dawn and shoot all day until after sunset with breaks for eating. On workshops, there will be classroom time, assignments, critiques and field practice scattered throughout the day.
Varina and Jay - Our workshop schedules are flexible to allow for changing weather conditions. We take our students to a variety of locations, and teach a variety of skills in the field. We shoot no matter the weather – sunrise, sunset, and midday – and we reserve one afternoon for an informal critique session. We have a free eBook "What happens at a workshop stays at a workshop"that gives a little bit of insight into what happens at our workshops.
To obtain the above free eBook, and others, just subscribe to our free InFocus Magazine.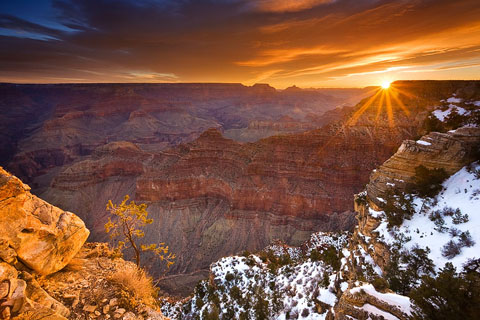 5. What are three of the most common mistakes your students tend to make?

Darwin and Sam - Having pre-conceived notions of what they want from a location, not understanding the basics of camera controls; trying too hard to copy other's successful photos are the three biggies. We try to encourage students to find their own voice on workshops and encourage them to experiment with learning. It should also be enjoyable!
Jay and Varina - Over-estimating your own technical and compositional skills. Believing that better equipment will make you a better photographer. The notion that Photoshop can fix anything. We try to help students examine their own strengths and weaknesses, so that they can really improve their photography. And we agree with Sam and Darwin on this one – it should always be fun!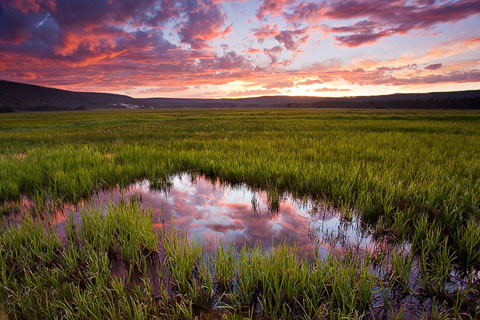 6. Do you also learn from, and get motivated by, your students?

Darwin, Sam, and Varina - Always. Students really keep you humbled, grounded, and open.
Jay - Absolutely. Every time I see a stunning photograph from one of our students, I say to myself: "WOW! That is fantastic!" It reminds you that I have a lot more to learn.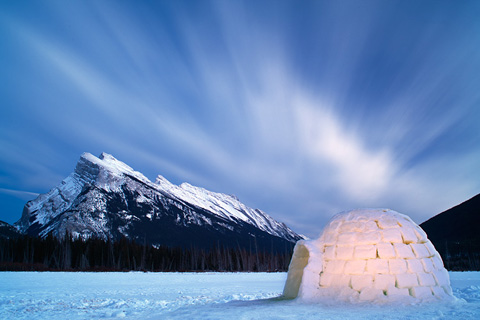 7. You guys seem to do a lot of hiking and carrying of heavy backpacks and tripods - this looks strenuous! What do you do to keep fit?

Darwin - Just carrying all the stuff around keeps you fairly fit.
Sam - Darwin eats peanut butter and jam everyday; it's his health food.
Jay - I run 2-3 times a week, bike once a week, and do some strength training to stay in shape.
Varina - I run every few days for a good cardio workout, and work on strength and flexibility with Martial Arts training.
8. In wildlife photography, we are limited by the subject's movements - but with landscapes your subject is stationary. How long does a typical landscape opportunity last? Do you have the luxury of minutes or hours to plan or set up the shot?

Jay and Darwin - Surprisingly, dramatic light is fleeting, and so you have to work fast. With intimate subjects you have a bit more time, but moments and optimal light is ephemeral.
Sam - It depends so much on where you are. In the north of Canada, light can be 'sweet' for hours with long, lingering, pale colour. When I visited the American southwest, I was surprised at how fast the light came up and turned into blazing sunshine. It also depends on what you are photographing. On overcast days, you may have more time to plan and set up.
Varina - I think the most important thing is awareness of the moment. Be ready for whatever comes your way. Sometimes, the light is right for just a few seconds… and at other times you can be leisurely about getting set up. I keep a close eye on the clouds, the position of the sun, humidity levels, and so on… and I try to think about a variety of possible compositions. That way, I feel prepared for whatever happens.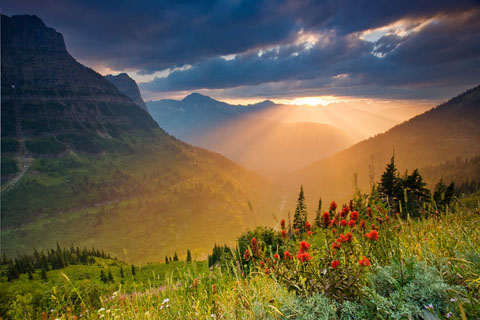 9. Your eBooks are really good! Why did you decide to start doing eBooks - were book publishers too narrow-minded and stubborn in what they thought the market wanted, or do people simply prefer buying online and reading PDFs?

All - Thanks! Publishers and retailers make all the money; artists make very little. With on-line eBooks, we can keep the price low and still make 100% of the profits. Plus, eBooks can deal with small, discreet topics which publishers would never put out as books.
10. Landscape photography means capturing a wide dynamic range. With the advent of Photoshop and HDR software, many photographers have discarded their filters in favor of these programs yet you have an eBook 'Essential Filters for Digital Nature Photography'. Do filters, such as the ND Grad and Polarizer, still provide better results than software can?

Darwin - No software can replicate what a polarizer does on the camera – period. ND grad filters let you get 'finished' results in-camera so you can spend less time on the computer. But if you prefer doing exposure blending, HDR or the like, then that is your choice as an artist. Many people prefer to get it 'right' in-camera.
Sam - It's also easier if you are starting out to invest in a filter or two and learn how to use it than buy a big program like Photoshop and master blending layers in it.
Jay - Both HDR and GND filters are tools that photographer can use. The key to becoming a good landscape photographer is to be proficient in using both these tools. We teach HDR webinar focused on blending 2 images manually, but we also teach our students to use GND filter in the field. Darwin and Sam's 'Essential Filters' eBook is one of our most popular Visual Wilderness offerings!
Varina - I think that filters and Photoshop are two sides of the same coin. The work you do in the darkroom (or in Photoshop) is as important as the work you do in the field. The finished product is a result of choices you make as you compose, choose camera settings and filters, and process the image. You need to know what your filters are for – and how to use them. And you need to understand their limitations, too. The same goes for Photoshop.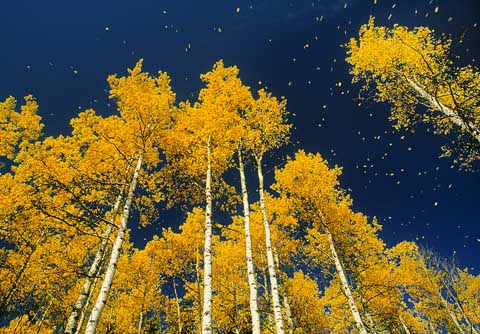 11. A lot of your eBooks focus on Composition, Perception and Learning to See. Would you say that creative vision is the key skill most amateurs are missing?

Darwin - For sure, too many people think that camera gear will make them great photographers when composition and learning to see is the ultimate skill to be a good photographer.
Sam - Although not as exciting as the 'new toy' factor with gear, the foundational skills of photography are artistic, not technical. So, learning how to compose and create unique works of art is the skill that is most important. I wouldn't say this is a key skill most amateurs are missing though; it depends on the person. Some beginners already shine as artists but struggle with catching up on the mechanics of photography while some so-called 'professional' photographers make very boring images.
Jay - Even some of the most advanced students struggle with composition. During our workshops we try to choose at least one location that will prove to be compositionally challenging to students.
Varina – Creative vision and technical skills go hand-in-hand. Sometimes, students can "see" exactly what they want – but they don't know which settings to use to create the image they see in their mind. Other students know all the technical details, but really struggle to find a nice composition. I think it's important to practice both sets of skills – they complement one another.
12. Have you experienced any 'e-book resistance'? This is where people have spent thousands of dollars on their photo equipment and are getting lousy photographs, yet they simply refuse to spend a few dollars on an e-book!?

Darwin and Sam - Not from us!
Jay and Varina – Nope! We have enjoyed an overwhelmingly positive response to our eBook offerings. It's great to see such enthusiasm!
13. Some of the locations that you photograph are visited by hundreds of photographers - how do you ensure that your photographs look so new and different?

Darwin - Shoot from your heart, shoot what moves you, and don't worry about what others are doing.
Sam - Setting out right away to 'be different' instead of setting out to make an artistic picture is exactly the wrong way to approach photography. Sure, we all want to be hailed as genius artists with unique vision, but we may not all be. But we can be true to our own gifts, and our work will be better if we do this than if our only goal is just to be different (and not necessarily talented).
Jay - If you stop shooting places because someone else have done it before, then you will certainly run out of accessible places to shoot pretty quickly. I enjoy the process of taking photograph just as much the photograph itself, so I worry less about what others have shot and make my decision based upon what interests me.
Varina - I couldn't agree more. Worrying about being "better" or "different" is a distraction. I love to shoot – and I try to put that passion into my photographs. It's a love affair.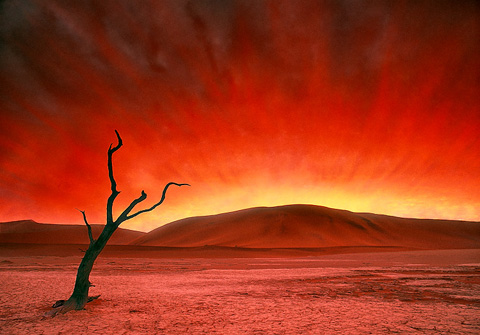 14. How do you plan a shoot? Do you go to a location and then decide what you are going to photograph, or do you decide on the photographs you want and then look for a suitable destination?

Darwin - I visit a location and let it 'speak to me' and then figure out the best way to photograph the place to let that voice out.
Sam - If I'm not trying to find an image for a specific product, then I don't pre-scout. I prefer to show up and be open to what the day and the scene are giving me at that point in time.
Jay - Light is my primary subject. I will shoot anything when the light is right. Given a choice between the right light and the right location, I will almost always choose the right light.
Varina – Jay and I agree when it comes to great light. We scout locations regularly – exploring as much as possible. We shoot while we're exploring, and we also make note of locations that might be better in different light. We may return to a location several times in order to capture it under great lighting conditions. However, I also agree with Sam and Darwin on this one. It's important to be able to immerse yourself in the moment and see creatively – no matter what the light is like. Work with what you have.
15. We have seen some people advertising photographic courses where they promise "All you need is one lesson and in just 20 minutes you can be taking astonishing photos like a pro". Are there any short-cuts in progressing from taking snapshots to making good images?

Darwin and Sam - No, that is like handing someone a guitar and giving them a 20-minute lesson and then expecting that will play like a professional musician.
Jay and Varina - Definitely not. With landscape photography, every situation is different…there is no one-size-fits-all solution.
16. What are your four top-tips for someone wanting to improve their landscape or nature photography?

Darwin and Sam - Study other forms of art to fill up your 'visual databank' with ideas. Become a student of light and observe the effects it has on your subject. Take your time and look around you with an open mind. Don't be afraid to try all sorts of photography types and techniques to help learn the tools of the art and avoid stagnation.
Jay - There is no such thing as bad light…only a lack of imagination. Learn to use every different kind of light to take photographs. Learn to use your equipment. Research the location before you head out to shoot. Pay attention to the weather.
Varina - There's some great advice here. I just want to add one thing. Ask for critiques – and really listen. Even the greenest amateur can teach you something.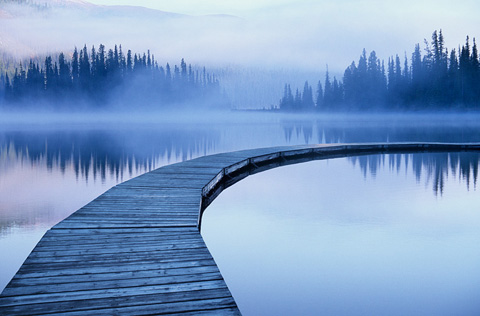 17. What struck me when I looked at photographs of the four of you is that you all are having fun and love what you do! Is this an accurate assessment?

All - The photography part is fun. The admin (emails, invoicing, organizing shoots) is not our cup of tea, and feels like work.
Varina - That said, I'm pretty sure this is the best job in the world. :)
18. Any new e-Books or workshops coming up?

As a group, we try to have a new eBook or workshop announced once a month, so stay tuned!
---
About the Visual Wilderness Team
The Visual Wilderness team comprised four very talented nature photographers:
Darwin Wiggett
Samantha Chrysanthou
Jay Patel
Varina Patel

Visual Wilderness was a fun and informative guide to everything photographic. From shooting tips to gear reviews… they offered a little bit of everything - but unfortunately Visual Wilderness is no more.
Here is the email from Darwin Wiggett:
What a year it has been here at Visual Wilderness! When we look back, we are humbled by the support of all the photographers who have visited the site and found useful instruction in our eBooks. Visual Wilderness was begun because we saw a need for accessible, high-quality instructional eBooks on how to photograph natural subjects. Based on your comments and support, this belief was affirmed. We truly appreciate your faith in us!
Looking back, we have also learned valuable lessons. The photography market has changed a lot over the last two years with many new excellent photography products and services proliferating across the internet.
Being a nature photographer and photo instructor requires the wearing of many hats: entrepreneur, graphic designer, book-keeper and marketer are just some of the skills of a successful modern-day photographer. All of these roles take time.
Sometimes in a business you need to take an objective look at future directions. Each one of the contributing photographers on this site has his or her own individual business offering services from stock, assignments, and prints to instructional products like seminars, webinars, workshops, tours, and eBooks.
For each of us, making our individual businesses viable is our first priority, and to do so requires much investment into marketing and promotion. In the end there is little energy left for a 'community' project like Visual Wilderness.
So it saddens us to announce that we will be closing the Visual Wilderness website and the Visual Wilderness store by the end of August 2011 to concentrate on our individual projects.
Thank you for your support and happy shooting!
Darwin Wiggett
---
Return from Visual Wilderness to Interviews page
---
---

To make a safari rental booking in South Africa, Botswana or Namibia click here
---